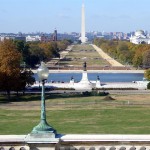 Run your memory back a decade or so ago if you will, especially in the run up to the invasion of Iraq.
Even before 9/11, there was a lot of discussion how as the WWII generation passed on and retired, that fewer and fewer members of Congress had military experience. With each generation, fewer and fewer people served in the military as a percentage of the general population, and you saw a similar drop in those in political power who had even a few years of seeing the world through that lens. When it came to making decisions about war and peace, that lack of experience at the national leadership and policy making levels was not seen as a net good.
While superior ideas, leadership, and vision can come from those who never served one day in uniform – it is always helpful to have a cadre of those who know the practical vice the theoretical working of the military. If they can do both, then even better.
As the build-up and discussions on if we should lead an invasion of Iraq gained steam, when you looked around the Hill, there were a scattering of WWII, Korean War Veterans, as well as a Cold War skirmisher here and there, and even closer in time – a core of Senators, Congressmen and members of the Executive Branch who served in Vietnam.
Experience with actual combat covered the spectrum. Some with quite substantial exposure to combat and sacrifice you could find humble in word, and often in the background providing counsel. On the other end, there were some with limited service who seemed to crow and remind everyone at every chance about their "special" perspective – and would take a peer out in the rush for a camera.
As their experience was varied, so was their advice in quality and quantity. What was generally appreciated, from exceptionally honorable service on left and right such as Senators Inouye (D-HI) and McCain (R-AZ) on down, was that in the Hearing Room and briefing table, there was someone who at least had an understanding of the "So What" and "What Next" when someone gave them the "What."
Some memories fade with time, and the experience in one conflict may not translate well from then to now – but for those being asked to go unto the breach once more – it was reassuring to know that someone knew what they were asking other to do.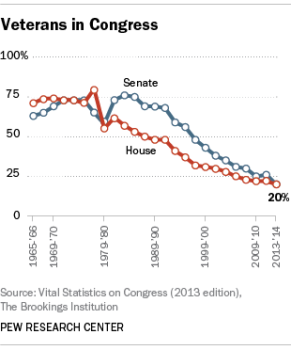 So, here we find ourselves a dozen years in to war – and of this cohort of veterans quite a few have made it in to Congress. Not just the professional politicians who are also Reservists JAGs and Intel Officers (not that there is anything wrong with that); but combat arms personnel who, after their service, decided to serve in another way.
As we look to opening a door to a dark room again, before we step in, to answer the question, "Where do these veterans in Congress stand?", I think we have our answer.
Via TheHill;
The majority of Iraq and Afghanistan veterans serving in Congress are lining up against President Obama's plan for military action in Syria.

Of the 16 veterans of those two conflicts serving in Congress, only GOP Reps. Adam Kinzinger (Ill.) and Tom Cotton (Ark.) have publicly supported the White House's plan.

Three other members — Iraq War veterans and Reps. Brad Wenstrup (R-Ohio, Steve Stivers (R-Ohio) and Mike Coffman (R-Colo.) — are undecided.

A fourth, Scott Perry (R-Pa.), said he hasn't made up his mind either, though he told a town hall this week he wasn't inclined to support a resolution authorizing force.

Ten of the remaining members have announced their opposition to a military strike.
As of Saturday when that article came out, that is 2/10/4, for/against/undecided.
Two of the more vocal opponents are of the President's own party – one from his own state and the other from his adopted state; both Army;
Rep. Tulsi Gabbard of Hawaii bemoaned the carnage in Syria after a chemical weapons attack, which the U.S. says killed hundreds of civilians, including children, last month. However, after participating in public and private sessions on Capitol Hill, she said a U.S. military strike would be a serious mistake.

"As a soldier, I understand that before taking any military action, our nation must have a clear tactical objective, a realistic strategy, the necessary resources to execute that strategy, including the support of the American people, and an exit plan," Gabbard said in a statement. "The proposed military action against Syria fails to meet any of these criteria."

Gabbard, who served near Baghdad for a year and was a medical operations specialist, is a member of the House Foreign Affairs Committee.

Gabbard joins other Democrats from Obama's native state, including Sen. Brian Schatz and Rep. Colleen Hanabusa, in opposing aggressive U.S. military intervention in the Syrian civil war.

Rep. Tammy Duckworth, D-Ill., lost both legs and partial use of an arm in a rocket-propelled grenade attack in Iraq. She has not made a final decision on whether she would vote for a resolution authorizing force, but the freshman lawmaker from Obama's adopted state has serious reservations about any strike.

"It's military families like mine that are the first to bleed when our nation makes this kind of commitment," Duckworth has said.
Seniority means a lot in DC – but so should personal authority, one would hope. Many in DC asked for more military experience in Congress, well they have it in both parties. The Long War Caucus seems to have reached a bi-partisan consensus.
Does it matter?

Posted by
CDRSalamander
in
Hard Power
Tags:
Politics
,
Syria
,
Veterans
,
women veterans