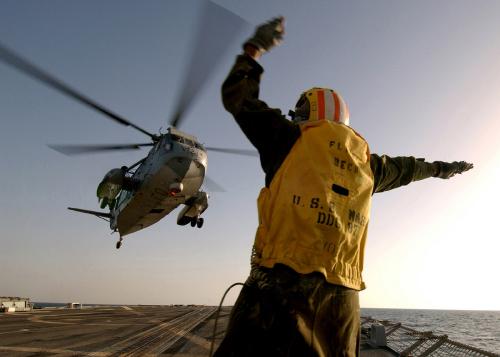 Over the Columbus Day weekend I had the great opportunity to participate in the first national Defense Entrepreneur's Forum conference. The event was hosted at The Booth School of Business at the University of Chicago and a number of other organizations, like USNI, sponsored events from breakfasts to happy hours. At its heart, however, the conference was independently organized by a group of mid-grade and junior officers to explore the nexus of innovation and entrepreneurship with military affairs and defense industry.
Off the top, the very existence of the event was something to behold. Over a hundred men and women from the junior ranks of the military, civilians from the defense world both inside and outside government, and innovation/silicon valley folks, got together for three days to talk about how to make the military better in the 21st century. They paid their own way. The government is shutdown. Even if it wasn't, sequestration meant there was no travel money. They filled out a leave chit and pulled out their personal credit cards. These individuals have such a belief in the idea that the military needs new ways of looking at things and doing things, and such an overwhelming desire to be part of that, that they all dropped hundreds of dollars and their long weekend to go to Chicago to meet with one another.
I do have a personal note about attendance that I think should be made: while many junior personnel had the guts to vote with their wallets and their time, only one General officer showed up, and a couple of Colonels. I'm not sure what any of that means, but it is worth noting because ALL ranks, rates, and grades were invited. In fact, there was some pretty significant outreach to the Flag and General Officer community by the organizers.
So, the Defense Entrepreneur's Forum 2013 set out in part to inspire, in part to educate, and in part to execute. The events were livecast with the support of Google, and there is a DEF Youtube Channel. The Tweetwall went up and participants were encouraged to tweet as the event went on to highlight ideas and lessons. You can read back through the tweets from the weekend at #DEF2013 if you are interested.
Over the next week or two I'm hoping that there will be a number of blog posts across the web about what we all experienced at DEF. LT Hipple has already reported back at USNI Blog and there are a few others (here, here, here) to get us started.
I just wanted to share one observation that I took away from the weekend. On Sunday, Sean Maday, a former USAF Captain who now works at Google pointed out in his Keynote that a few short years ago, when he was wearing baby blue with railroad tracks on his collar, a three or four-star wouldn't even acknowledge his existence, never mind listen to his ideas. Today, just because he put on a pair of jeans and a t-shirt instead of a uniform, they travel to Palo Alto to meet him, desperate to know what he thinks. This illustrates one of the great truths that was only hinted at in the excitement of DEF: Innovative junior officers don't have the power to execute their ideas.
One of the mantras of the weekend was that we must have results. Ben Kohlmann quoted fellow board member Micha Murphy that "execution is the new innovation." This is a valid observation, but only after the innovator is given the nod, a green deck if you will. Someone in a position of power and influence has to buy into the idea that a) there is a problem and b) this is a good solution. In the world of Silicon Valley they don't have Flag and General Officers who are part of a massive, centuries old bureaucracy. However, they do have the venture capitalists and money men, and if you can't get a money man to buy into your grand IT innovation or start-up it's going to be pretty tough to get anywhere.
It may be that the best way to look at this is to think about military strategy, maybe think a little bit about Sun Tzu and stir in some Liddell Hart with a touch of John Boyd, and look for an indirect approach. In the closing hours of the conference Colonel Michael-Bob Starr (USAF, one of the few senior officers at DEF) tweeted:
Implementation is not the goal. Goal is to INFLUENCE the implementers. #DEF2013

— Michael Bob Starr (@mbobstarr) October 14, 2013
So how do you influence the decision makers? While it was not formally talked about, it did come up again and again with comments about communicating your idea. As Howard Lieberman said on Sunday in a breakout: "Publish your idea and get credit for it."
So, here's my lesson observed from DEF 2013: It isn't good enough to have a great idea or to figure out how you would implement it. Neither of those things matter unless you figure out how to influence the influencer, how to get your idea in front of someone who can make a decision and get the green-light. We heard repeatedly this weekend that one of the best ways to get your idea in front of someone is to publish it. The hyperlink, the pdf, or the hard copy of the magazine are a lot more likely to find their way in front of the person with that power than you are just wandering aimlessly around your base with a great innovation in your head.
I think we've heard this before: Dare to read, think, write…publish.

Posted by
LCDR Benjamin "BJ" Armstrong
in
Innovation
,
Marine Corps
,
Navy
Tags:
DEF 2013
,
Innovation