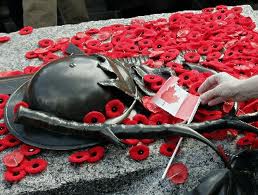 [republished from 11/11/12]
When I see someone walking around with a poppy on their lapel at this time of year, I always feel very nostalgic and pleased that someone has donned a symbol synonymous with service and sacrifice. It may be worthwhile to remind ourselves of the precise connection between the poppy and the day in which we take time to recognize and thank all of the Veterans who have sacrificed for our freedom.
Growing up the son of a Canadian Armed Forces officer, I was always pleased when my Dad would break out his collection of poppies every year and pin one on the lapel of my blue blazer in the days prior to November 11th. Both his father and my mother's father fought in the First World War. Both saw horrific combat and both were highly decorated for their service.
My Dad and his brother fought in the Second World War. My Dad arrived in Normandy after the invasion in July 1944 and in his words, crawled across Northern Europe through France, Belgium, the Netherlands and into Germany before the end of the war in 1945. He did not talk much of the war, but when he did, he always told me how violent and horrible an experience it was. Fiercely proud of his unit, The Lord Stratcona's Horse Regiment, he donned the poppy every year on the anniversary of "Rememberance Day." He captivated my attention with the story, as told by his father, of the end of World War One on the 11th hour of the 11th day of the 11th month of November 1918. Both belligerents fired every artillery shell possible across the lines to kill as many men as possible before the clock struck 1100. Many men died in those last minutes of the war. How senseless… how tragic… and how prophetic of a peace that would not last, requiring my dad to don the uniform and go overseas to finish the job that his father could not.
Every year at this time, my dad also loved to recite the poem, "In Flanders Fields" by the Canadian surgeon, LCOL John McRae from Guelph, Ontario. He was very proud of the fact that a Canadian had written this timeless testament to the brave young soldiers who lost their lives in the Second Battle of Ypres, near Flanders, in Belgium. McRae was a Major when he wrote the poem after an unsuccessful attempt to save the life of a young Canadian wounded in battle. He jotted down his emotions while looking across a brilliant field of poppies that peacefully swayed back and forth in the breeze and in stark contrast to the carnage that existed nearby in the trenches. The poem was published in London in 1915 and became world renowned almost overnight.
My dad had it memorized and I always listened intently when he repeated it to me.
In Flanders Fields the poppies blow
Between the crosses row on row, 
That mark our place; and in the sky 
The larks, still bravely singing, fly 
Scarce heard amid the guns below.
We are the Dead. Short days ago
We lived, felt dawn, saw sunset glow, 
Loved and were loved, and now we lie 
In Flanders fields.
Take up our quarrel with the foe:
To you from failing hands we throw 
The torch; be yours to hold it high. 
If ye break fait
h with us who die 
We shall not sleep, though poppies grow 
In Flanders fields
Sadly, McRae never made it back home as he died in the field of pneumonia and other complications while taking care of the troops.
Almost one hundred years have passed since Major McRae wrote the poem. He is but one of millions of selfless men and women under arms who have served and sacrificed for their country.
As we spend time with family and loved ones on 11 November, we remember the sacrifice of the countless young men and women who have served or are now standing the watch. Many have paid dearly for their service in Iraq and Afghanistan with life altering injuries. Others, sadly, have paid the ultimate sacrifice. It is essential that we take time out to remember them and thank them.
If you are so inclined, don a poppy… I will.

Posted by
RDML James Foggo
in
Air Force
,
Army
,
Foreign Policy
,
History
,
Navy