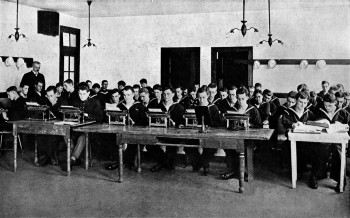 Mid 20th Century the "Happy Hour" was a common occurrence in the USN. It was an opportunity for sailors to blow off some steam, and maybe even get a little exercise. Also known as a "smoker," in those days a "Happy Hour" was usually series of boxing or wrestling matches when the ships weren't busy.
In our post-prohibition world it means something a bit different, but still gives us a chance to blow off some steam. On Thursday, 12 December, The Naval Institute will host a Happy Hour in Newport, Rhode Island for members, prospective members, or anyone who wants to show up to talk about daring "to read, think and write" about sea power and national security.
A member of our Editorial Board will be there to answer questions, and some writers and thinkers who have contributed to the Institute to share some of their experiences. While there will be no punches thrown, sparing over strategy and grappling with the naval issues of the day will be encouraged.
If you are in Newport, please join us to splice the main brace at the USNI Happy Hour/Social:
The Malt
150 Broadway
Newport, RI
12 December 2013, 1700 until the tab runs out or the grog runs dry.

Posted by
LCDR Benjamin "BJ" Armstrong
in
Naval Institute
Tags:
happy hour
,
Newport