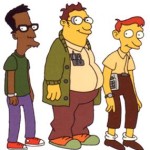 Don't be distracted about the Aegis, Russia, or China – the first thing you need to read in this December's Proceedings is the "Nobody Asked Me, But …" contribution by Lieutenant Alexander P. Smith on page 12.
The most important ingredient to a successful Navy is not its ships, aircraft, submarines or secure budget. No, the most important part of our Navy is its intellectual capital, specifically the education of its officers.
The naval service will face a multitude of challenges that will require a true diversity of experience and education in its leaders in order for the best decisions to be made. If everyone brings the same tool-set to the table, you are in trouble.
There has been a long-dwell discussion in our Navy about what type of education our leaders need. For the last few decades, there has been a heavy bias towards technical education; a bias that is about to get heavier;
The tier system was developed in 2009 as a result of fewer NROTC and U.S. Naval Academy graduates entering the nuclear-reactor community. The Regulations for Officer Development and the Academic-Major Selection Policy direct that a minimum of 65 percent of NROTC Navy-option scholarship midshipmen must complete a technical-degree program before receiving their commissions. A technical degree refers to Tiers 1 and 2, which comprise all STEM majors. Tier 1 includes most engineering majors, and Tier 2 refers to majors in biochemistry, astrophysics, chemistry, computer programming/engineering, civil engineering, physics, and mathematics. All other academic majors are non-technical, or Tier 3.

As a result of the new policy, a high-school senior's best chance of obtaining a Navy scholarship is to apply for Tiers 1 and 2, since CNO guidance specifies that not less than 85 percent of incoming offers will come from this restricted pool. In fact, an algorithm decides the fate of hopeful midshipmen, balanced in large part with their proposed major selection annotated in their applications.
This is a huge error. 65% one could argue if one wished, but 85% is simply warping to the collective intellectual capital of the Navy.
We don't even need to review all the English and History majors that do exceptionally well in the nuclear pipeline – but to put such a intellectual straight jacket on the entire Navy over the requirements of one part, that is a sure sign of a loss of perspective.
In last Sunday's Midrats, Admiral J.C. Harvey, USN (Ret) made an argument for technical education that is fine for the nuclear community, but the Navy is not the nuclear community. If you look at the challenges from Program Management to Joint/Combined Combat Operations; none of those are helped by a technically focused mind. Just the opposite, it begs for officers of influence with a deep understanding of economics, diplomacy, history, philosophy, and yes … even poetry.
One could argue that the problems we have had in the last few decades derive from a lack of nuance and perspective by officers who fell in love with theory and the promise of technology, who had no view to history, civilian political concerns, or even human nature. As a result we got burned out "optimally manned" crews, corrosion laden "business best practices" ships, and an exquisitely engineered if unaffordable delicate Tiffany Fleet – not to mention entire wardrooms in 2001 who couldn't place Afghanistan or Ethiopia on a map, much less even had a brief understanding of the background of Central Asia or the Horn of Africa. Back to LT Smith;
Does the tier system produce better submariners or more proficient naval officers? If less than 35 percent of our unrestricted line officers have developed the ability to think comprehensively through critical reading and reflection, what will the force look like in 20 years? These are questions to ponder regarding the benefits and disadvantages of STEM graduates. We ought not to forget the value of future officers developing a keen interest in foreign affairs, history, and languages.
We actually know the answers to that. To this day, once you leave the CONUS shores, we lack wardrooms and Staffs with sufficient knowledge of any of those areas.
It is about to get worse.
If we really have a problem getting well qualified nuclear engineering officers on our submarines and carriers – then instead of having negative 2nd and 3rd order effects throughout the Fleet – then let's focus on how we keep and manage the careers of our nuclear engineers. Do we need to look at the Commonwealth model? Do we need to look at compensation and non-Command career paths that can still get someone to CAPT at 30-yrs? Is the Navy having to serve the Millington Diktat as opposed to Millington serving the Navy?
Whatever the problem is – forcing a 85% STEM officer corps is not that answer.
What do we need our officers to be able to do? Be outstanding engineers? Well, as our friend LCDR BJ Armstrong, USN might ask, "What would Admiral Mahan say?"
Wouldn't you know – we know the answer;
The organizing and disciplining of the crew, the management under all circumstances of the great machine which a ship is, call for a very high order of character, whether natural or acquired; capacity for governing men, for dealing with conflicting tempers and interests jarring in a most artificial mode of life; self possession and habit of command in danger, in sudden emergencies, in the tumult and probable horrors of a modern naval action; sound judgment which can take risks calmly, yet risk no more than is absolutely necessary; sagacity to divine the probable movements of an enemy, to provide against future wants, to avoid or compel action as may be wished; moral courage, to be shown in fearlessness of responsibility, in readiness to either act or not act, regardless of censure whether from above or below; quickness of eye and mind, the intuitive perception of danger or advantage, the ready instinct which seizes the proper means in either case: all these are faculties not born in every man, not perfected in any man save by the long training of habit—a fact to which the early history of all naval wars bears witness.
Doesn't sound like an STEM heavy requirement to me.

Posted by
CDRSalamander
in
Proceedings
,
Training & Education
Tags:
ADM Harvey
,
Midrats