Archive for December, 2013
The 4th of July is one of the most loved and inspiring days of the year in the United States. However, in the early stages of the War of 1812, patriotism proved difficult, and inspiration was in scarce supply. USS Constitution's victory over HMS Guerriere helped coalesce and inspire the American citizens to fight against the British.
The Navy has always been a model of innovation, but this has not always been easy. Faced with a problem of a power source (wind) that was inconsistent, naval leaders and scientists set out to see if they could solve this problem. They did, and the first Naval steamship was produced. Today, the Navy is faced with another problem: how to operate independently without dependence on external sources of fuel. Today's object helps tie these two issues together.
Please join CDR Salamander and me on Sunday 8 Dec 13 at 5pm (Eastern U.S.) for Midrats
Episode 205: A 21st Century Navy With John C. Harvey, Jr, ADM USN (Ret)
In less than a month we will be firmly in the middle of the 2nd decade of the 21st Century. What path were we put on at the start 21st Century that got us here? How do we evaluate the right decisions, the neutral decisions, and the less than optimal calls of the last decade and a half? What lessons can we take away now in order to make decisions to best position the Navy on the approaches to 2030?

Our guest for the full hour this Sunday to discuss this an much more will be Admiral John C. Harvey, Jr, USN (Ret).

Almost a year since he joined the retired ranks, when in uniform Admiral Harvey was one of the of the more engaged, visible, and accessible Flag Officers of his generation – and in retirement he continues to be an influential voice.

Admiral Harvey was born and raised in Baltimore, MD and is a 1973 graduate of the U S Naval Academy.

In his thirty-nine year Navy career, he specialized in naval nuclear propulsion, surface ship and carrier strike-group operations and Navy-wide manpower management/personnel policy development.

He commanded the USS DAVID R RAY (DD 971), the USS CAPE ST GEORGE (CG 71), the THEODORE ROOSEVELT Strike Group/CCDG-8 and also served as the Navy's 54th Chief of Naval Personnel and as the Director, Navy Staff.

Prior to his retirement from the Navy in November, 2012, Admiral Harvey served as Commander, US Fleet Forces Command. He now makes his home in Vienna, Virginia where he resides with his wife, Mary Ellen.
Join us live or, if you can't make it live, pick up the show later by clicking here.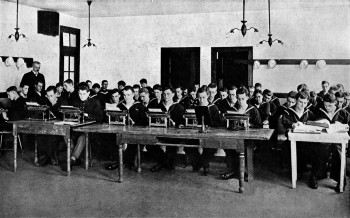 Mid 20th Century the "Happy Hour" was a common occurrence in the USN. It was an opportunity for sailors to blow off some steam, and maybe even get a little exercise. Also known as a "smoker," in those days a "Happy Hour" was usually series of boxing or wrestling matches when the ships weren't busy.
In our post-prohibition world it means something a bit different, but still gives us a chance to blow off some steam. On Thursday, 12 December, The Naval Institute will host a Happy Hour in Newport, Rhode Island for members, prospective members, or anyone who wants to show up to talk about daring "to read, think and write" about sea power and national security.
A member of our Editorial Board will be there to answer questions, and some writers and thinkers who have contributed to the Institute to share some of their experiences. While there will be no punches thrown, sparing over strategy and grappling with the naval issues of the day will be encouraged.
If you are in Newport, please join us to splice the main brace at the USNI Happy Hour/Social:
The Malt
150 Broadway
Newport, RI
12 December 2013, 1700 until the tab runs out or the grog runs dry.

Matt, Chris, and Grant are joined by Scott Cheney-Peters for a CIMSEC party on the China ADIZ, corvettes, procurement, and Iran. Grant checks out because he's has a sub-par phone. Remember to subscribe to us on Itunes, Xbox Music, and Stitcher Stream Radio. Without further ado, here is Sea Control 11: Sand Pebbles.
Also, as promised in the podcast, a link to some international law-y goodness: "Limits in the Seas, No. 114."
After nearly three decades of peace the U.S. Navy went to war again, this time with Mexico. This conflict was fought both on the Pacific coast and in the Gulf of Mexico, and marked the Navy's first large-scale amphibious operations.
Newer Entries »