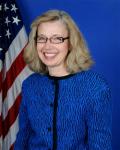 Block some time out today to watch the speech by Acting Deputy Secretary of Defense Christine Fox that kicked off the AFCEA-USNI West2014 Conference. She was strong, direct, and the substance of her comments should be considered a good source of Indications & Warnings for what our Navy will be faced with going forward.
In some ways, she spoke as a prophet of the Church of the Hard Truth, and that was refreshing. More of that tone from her and others. It is healthy and gets people's attention.
Some points to ponder from her speech as I heard it – with a little commentary from my part from what I saw, unspoken, between the lines;
Pacific Pivot: She rightfully reminded everyone of the fundamentals. The Pacific is predominately a maritime theater, and that aspect needs to be central to the military side of the refocus. This cannot be just a military effort, it must be a diplomatic, informational, and economic rebalance to the Pacific. Yep, she kicked off with D.I.M.E. It was at that point that I knew I was going to like a lot about what she had to say.
China: In the near term, we should look at the military growth of China in the maritime theater as a drive to thwart the freedom of movement of others in her sphere of influence, as China sees it.
Disengagement: If the influence and presence of the USA decreases, regional rivalries will increase. In the Pacific, American military presence is a stabilizing force, not a provocative force.
Complacency & Assumptions: We cannot assume American dominance going forward or that we can operate in the permissive environment we have enjoyed for the last couple of decades. We need to reassess our ability to bring force from over the horizon and under the surface in order to get around Anti-Access and Area-Denial systems.
LCS: Though she didn't address LCS directly, it was clearly there in her warnings that we cannot build a Fleet for a specific kind of fight. Our platforms need to be flexible, and more importantly, survivable in combat. "Niche" platforms are not what we need to invest our limited resources in.
Unsexy but Important: She reminded all that in previous drawdowns, enabling forces were ignored in a rush to save "combat" assets. When actual war comes, we are significantly hampered by the lack of those enablers we ignored in the lean years. Sacrificing enablers for combat units in peace is a false economy.
Hollow Force: We know what creates a hollow force, all we have to do is look at the 1970s. We need to make sure we don't ignore that history. This will be the 5th drawdown in living memory, and when the next conflict comes, forces will be used more than what was sold during the drawdown.
Personnel Compensation: The post-911 benefit plus-ups are not sustainable and the costs are impacting readiness and modernization. That and the fact we need a BRAC are well known, but there is no political will to address it.
Force Levels: The upcoming QDR will show that there will be no "Peace Dividend" from the last decade of conflict. That being said, the military must get smaller in the next 5 years. We just need to ensure a tighter fit between strategy and budget resources in order to get it right. In theory strategy should drive budgets, but the reality is that budgets force one to make strategic decisions and define priorities. Budgets and strategy are hard-linked together.
One final note on style. Yes, style. In both style and substance, Fox was strong. We are lucky to have someone like her at the front of the conversation, and if I may offer – whatever her future holds, the Pentagon needs to make sure a place is found to have her out front of the public and decision makers.
As you watch the video, remember that though superficial, it is true that regardless of how good or important the information you want to present, you have to deliver it in a manner that gets and keeps people's attention. You have to make sure your style matches your substance, or the substance is lost.
Fox was not dry, stilted, nervous, or excessively wonky. She was humble without being cheesy, but most important – the hard truths she delivered were presented with an upbeat but serious tone. Even a few smiles thrown in. The happy warrior style.
That is how you do it. Again, the national security community needs to encourage and create opportunities for Fox to come more from out of the background. This drawdown will be done right or wrong based on a the results of intellectual battles in the marketplace of ideas. In this conversation, I think we have identified a High Value Unit.
Transcript here.

Posted by
CDRSalamander
in
Hard Power
,
Maritime Security
Tags:
Budget Wars
,
LCS
,
Maritime Strategy