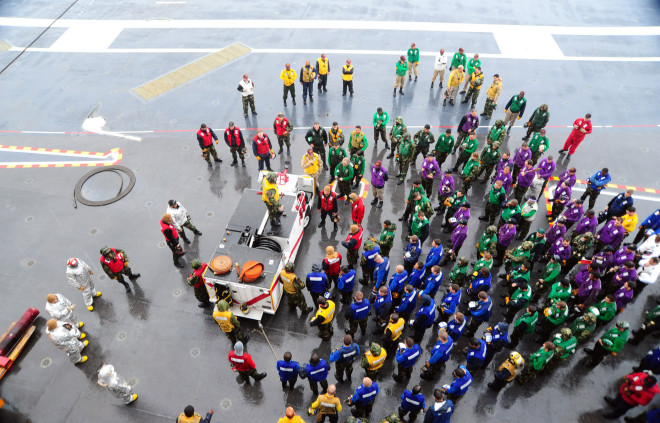 This post is part of a series titled "Perspectives on Military Leadership" by CAPT David Tyler.
For military professionals leading is not a collateral activity; it is a full-time, continuous responsibility. To be effective in any field of endeavor one must first know how to use the tools of the trade. While knowing the subject of one's profession can be gained through study and experience, unless that knowledge rests in the forefront of one's consciousness, where it serves as a backdrop for influencing daily activities, it will be as useless as an unread book.
Leadership is about convincing others to act in a desired way. Hence, the art of the profession lies in persuading others that it is in their best interest to pursuit a particular objective. Convincing then, is what distinguishes leadership from others methods that rely on compellence or coercion, such as dictatorships or subjugation to achieve objectives.
Yet getting others to willingly work to achieve a desired end takes more than eloquent talk or irrefutable evidence. The willingness to follow is a pivotal emotional commitment taken by an individual. It is an emotional investment by one individual in another based on the belief that the leader is a credible individual with worthy ideals. The currency exchanged in a follower – leader contract is trust. Thus, to reap the benefits of effective leadership, mutual trust must be continuously nurtured and reinforced.
With information abundantly available, the primary challenge for most leaders is not a lack of knowledge but the ability to pierce the fog of daily distractions and actively apply engrained leadership tenets.
Effective leaders are guided by prevailing winds of enduring principles, but informed by present realities. They do this by continuously learning and refreshing their thoughts about leadership. Professional leaders must study the subject of leadership regularly in much the same way a medical professional continuously studies and tools of his trade.

Posted by
CAPT David Tyler
in
Training & Education
Tags:
Leadership
,
Perspectives on Military Leadership