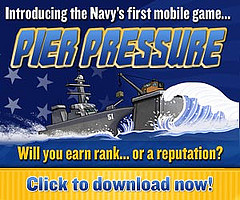 Just think about it for a moment – we have to find a way to reach young men and women who are looking to serve their nation, preferably those who wish to do so by going to sea.
Perhaps they have family members who have served, or someone they know. More likely, they have picked up the idea from something around them; movies, books, history, or even advertising from the recruiting side of the house.
That is why we have been very careful on what we put the "Navy" stamp on. Every outreach or project for public consumption does not have to be a cheerleading event smacking of Social Realism – but it should at least reflect a neutral, reality based view of what the Navy is.
We also need to know that when we refer to our Sailors, we need to send a message that will ring true to them, and that they have confidence that their leadership's view of them reflects what they see every day in the Fleet. That brings us to what is being called, "…the Navy' first mobile game…"
What story does it tell to the outside audience? What does it tell our Sailors about what the Navy thinks of them?
Who did we give responsibility to bring the Navy in to the mobile gaming market? Naval History & Heritage Command? Navy Recruiting Command? CHINFO? No, of course not. I'll let you soak in the background here, here, and here.
Does it tell the Navy's story? No. Does it inspire? Does it help people understand the Navy's role in the 21st Century? What does it do?
"Pier Pressure" gives sailors fingertip access to alcohol-related resources 24/7 and includes a blood alcohol content calculator and search of local taxi services.
There you go. I don't know what is worse; the patronizing tone, the assumptions, or the horrible "in the Navy, Sailors drop pallets on ships" actual game part.
Messages, external and internal, matter. I am curious, did they run this by a focus group of Fleet Sailors? At any point, did someone mention this might be a little out of phase?
I understand the good intentions. I fully understand the huge waste to personal and professional lives due to alcohol use, but really. Besides the ability to feel like someone is trying to do something – is this really the something needed to address the problem? Is it a net gain – is this really what the Navy should put out there as its initial mobile gaming entry?
Maybe, but what message does it send? Sailors are a bunch of drunks who can't wait until their boring day dropping pallets on ships is over so they can hit the bar, and once they get there, they don't have the good sense to handle their drink? That isn't the Navy I know.
It is bad enough that we accepted in whole cloth the unscientific and highly flawed study on sexual assault that painted all Sailors as either sexual predators or helpless victims led by tone-deaf enablers, but now we have to buy in to the old smear of the "drunken Sailor" as well?
Is that really what our Navy thinks our Sailors are like? Is that what we want to tell young men and women who might want to join the Navy to expect? If so, I might offer that on the "problem to solution" spectrum, this is a bit closer to problem than solution.
Enjoy the video.

Keep What You've Earned: Pier Pressure Mobile App Tools Trailer from US Navy NADAP on Vimeo.

Posted by
CDRSalamander
in
Navy
,
Training & Education
Tags:
popular culture