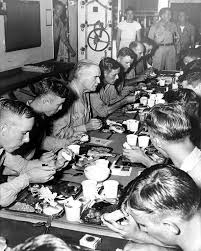 This post is part of a series titled "Perspectives on Military Leadership" by CAPT David Tyler.
Leaders are people professionals…and must master the subject matter of their vocation.
Military mindsets tend to be overly mechanical and process oriented. While mastering the tools of war and upholding procedures are extremely important, they are not the currency of leadership. Man is more than a rational, solitary being. Perhaps the most distinguishing characteristic of our species is its social nature. Humans have a strong desire to be esteemed within social networks. If leadership is the primary function of officers and non-commissioned officers, then leaders must comprehend the subject matter over which and through which they are to exercise their roles. That is, leaders must understand the psychological forces that cause individuals to act.
Components of effective leadership are two-fold; (1) mastering the position of a leader, and (2) managing the forces that move people. To help leaders exercise influence over a group, the Navy empowers certain positions with authorities. But these vested charges do not make one a leader. Leaders must earn their broader powers from their followers. As stated in the Declaration of Independence (itself a statement of terms between the led and their leaders), "to secure these rights, Governments are instituted among men, deriving their just powers from the consent of the governed." Before conceding any power "the led" must trust that their prospective leader will act in their best interest.
So back to the proposition that leadership is a contract between socially inclined creatures. The more "the led" trust their leader, the more power they will loan and thus the greater will be their equity and commitment to achieving group goals.
The virtue that exemplifies someone as trustworthy is integrity. Integrity is uprightness of character, the quality of truthfulness and honesty. It is the preeminent character of a leader because it the quality that individuals must believe is present before committing to followership. The relationship between leaders and followers is reflected in the ethos, moral nature, of the group.
Accordingly, leaders should focus a significant portion of their time and efforts toward nurturing trust-based personal relationships at all levels of the group. The goal and byproduct of building such a command relationship is confidence, respect, and loyalty. Leaders that take time to express a genuine interest in the aspirations, ideas, and problems of others reap the golden coin of leadership; trust.

Posted by
CAPT David Tyler
in
Training & Education
Tags:
Leadership
,
Perspectives on Military Leadership