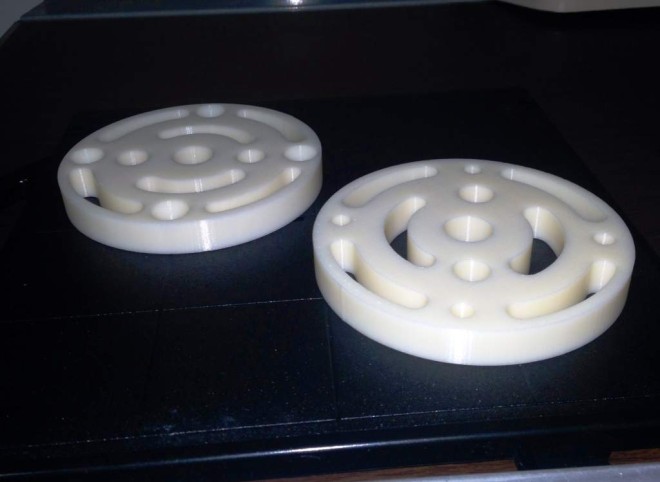 The CNO's Rapid Innovation Cell, in partnership with Combat Direction Systems Activity (CDSA) Dam Neck is dedicated to bringing 3D printing to the Fleet. We need your participation, and your ideas. We have set up a lab to print prototypes, training aids, and anything else you can think of that would make your lives easier.
With the ever changing landscape of warfare, new, unanticipated problems continue to emerge. Technology of yesterday may not meet the needs of today's warfighter. Our military must adapt to solve new challenges quickly and within present-day financial constraints. CDSA Dam Neck has the ability to provide affordable, rapid response solutions to the warfighter.
One of the ways CDSA Dam Neck is able to provide solutions efficiently is through the use of additive manufacturing, also commonly known as 3D printing. Engineers can design, model, build, and test their solution in a matter of days, as opposed to months or years. Usually these designs are sent to a shop for final fabrication, but, in some cases, we send our final "printed" designs for direct deckplate use.
Last year, the CRIC began a project called Print the Fleet (PTF), which was designed to improve sailors' access to additive manufacturing technology. The CRIC decided to leverage the knowledge, capabilities, and location near the Norfolk waterfront of CDSA Dam Neck. CDSA is now a technical lead for this project.
The PTF team is looking for problems that may be solved through the use of additive manufacturing. Sailors can bring urgent or non-urgent issues to the attention of PTF, where potential 3D printing solutions will be analyzed. If there is a feasible and cost-effective solution, PTF will use additive manufacturing technology to solve the problem, with the approval of the sailor's commanding officer. Upon completion of a project, we request input from the users to determine the usefulness, timeliness, and cost-effectiveness of the solution. These metrics will help us improve our ability to effectively and efficiently provide additive manufactured parts to the warfighter.
Recently, the USS Whidbey Island (LSD-41) ran into an issue with their new sound-powered phone boxes. The new composite boxes are strong, lightweight, and will not rust like the old brass ones. Unfortunately, these phone boxes have bolt holes in a different location than the original boxes. To solve this problem, sailors were going to have to cut the standoffs out of the bulkheads, grind down the bulkheads, and re-weld new studs in the correct locations. Instead, we are "printing" a variety of prototype adapter brackets to theoretically allow for the continued use of the old standoffs, cutting down the installation time of each phone box drastically. In this case, additive manufacturing is allowing us to provide an easier, cheaper, and faster solution to these sailors.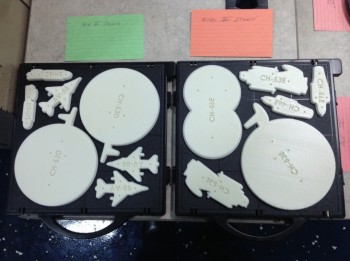 We have also sponsored a printer aboard the USS ESSEX to create medical devices and models for use with the Ouija board in the flight deck control in collaboration with Navy Medicine Professional Development Center (NMPDC) at Walter Reed National Military Medical Center. Sailors and their creativity, combined with the technical acumen of our technologists, are pushing this technology forward for integration in the Fleet.
In addition to the partnership between NWDC and CDSA Dam Neck, the PTF team is collaborating extensively with other organizations. CDSA Dam Neck and NWDC first consulted with NASA Langley Research Center to leverage their extensive knowledge and experiences with additive manufacturing. For PTF, a new 3D printer was not purchased, but is on loan from Explosive Ordinance Disposal Group Two. Naval Supply Systems Command (NAVSUP) is working to create a data repository to host model files. These files can be "printed" at a location other than CDSA Dam Neck if there is an approved 3D printer nearby. Users may soon be able to request parts from engineers through this data repository in the near future. Currently, correspondence is handled through email, phone calls, and in-person meetings. To assist us with upcoming challenges for PTF, we have developed a network of experts throughout industry, academia, and the defense community, including Virginia Tech DREAMS Lab, NASA, NMPDC, and several of the naval warfare centers.
Additive manufacturing technology is giving the Navy an opportunity to provide rapid response solutions to the warfighter, which will improve operational availability and reduce total ownership costs. Embracing these types of emerging technologies will be vital in creating the agile Navy of tomorrow.
If you want to participate simply, email Jim or Ben. We will make surlambe your idea gets a hearing!

Posted by
LT Ben Kohlmann and James Lambeth
in
Innovation
,
Navy
Tags:
3D printing
,
USS Essex
,
USS Whidbey Island