Archive for April, 2014
Please join us for Midrats
Episode 223: 12 Carriers and 3 Hubs with Bryan McGrath
on Sunday 13 April 2014 at 5pm (EDT).
"Where are the carriers?" Regardless of the writing, talking, and pontificating about "Why the carriers?" – when there is a real world crisis – leaders still ask, "Where are the carriers."

Since we waived the requirement for a floor of 11, we have drifted to the new normal of 10 CVNs – without dedicated additional funding, even 10 isn't an accurate number. With one undergoing nuclear refueling – you really have 9. Knowing what it takes to deploy, train, maintain and all other preparations – in normal times we require 9 carriers to make three available now – if you are lucky. If you have an emergency that requires multiple carriers on station – you can run out of options very fast, and the calendar gets very short.

Surge? If, as Rear Admiral Thomas Moore said last year, "We're an 11-carrier Navy in a 15-carrier world." – what risk are we taking with 9 carriers that can get underway?

Our guest for the full hour to discuss this and more will be Bryan McGrath, CDR, USN (Ret.), Managing Director of The FerryBridge Group. We will use as a basis for our discussion the article he co-authored with the American Enterprise Institute's Mackenzie Eaglen, America's Navy needs 12 carriers and 3 hubs.
Join us live at 5pm on the 13th or pick the show up later by clicking here.
If you are feeling daring, you can even join us in the chat room.
As the US prepared to strike back in Europe and the Pacific, the Navy prepared for the logistical challenge by creating construction battalions, the famous Seabees. Today's object chronicles the first time the Seabees went into combat at Guadalcanal.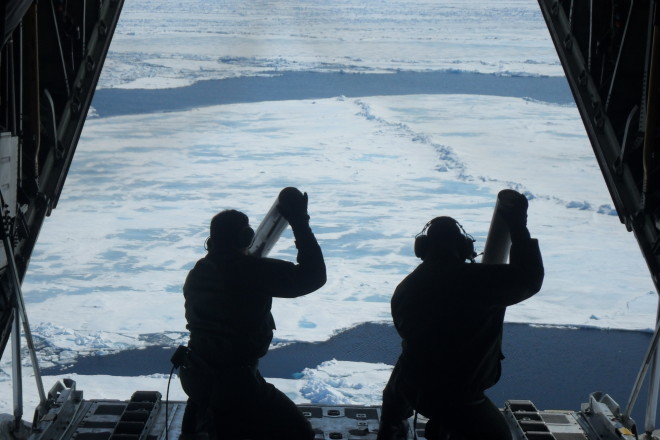 The famous polar explorer Richard Byrd once said, "As long as any part of the world remains obscure, the curiosity of man must draw him there, as the lodestone draws the mariner's needle, until he comprehends its secret."1
The Coast Guard has a long history of operating in the Arctic spanning from the purchase of Alaska to present day. In 1867 the Revenue Cutter LINCOLN was deployed to Alaskan waters to gain understanding of the newly acquired territory initiating a Coast Guard tradition of Arctic exploration.
Coast Guard icebreakers have supported scientific research in both the Arctic and Antarctic for decades and Coast Guard Cutters HEALY and POLAR STAR proudly continue this legacy. Recently Coast Guard Air Station Kodiak, under the 17th Coast Guard District, came into the fold and began providing a platform of opportunity for various members of the scientific community in the form of the HC-130H Hercules. With the increase in focus on the Arctic, the need to understand this foreboding region and to further the efforts to do so have never been greater. It is in the best interest of the country, in line with national, defense and Coast Guard strategic objectives, and necessary to ensure long term success of the Coast Guard, to support scientific research in the Arctic.
The Beginning of Coast Guard Arctic Domain Awareness Flights
Coast Guard Air Station Kodiak began conducting Arctic Domain Awareness (ADA) missions in 2007. The original intent was to increase U.S. and Coast Guard presence in the Arctic via the HC-130H Hercules while simultaneously exposing aircrews to the challenges and intricacies of operating in this high-latitude environment. The earliest missions were relatively simple, if any operation in the Arctic can be labeled as such, flying the Alaska coastline, noting strategic airfields and geographic points along the way. There were, however, missions of higher visibility such as the October 2007 flight to the North Pole and gradually they evolved to encompass numerous objectives including scientific support.
In 2008, University of Washington scientists, many of whom had worked extensively from Coast Guard icebreakers in the past, reached out to the Coast Guard 17th District and Air Station Kodiak to investigate the feasibility of deploying a series of data collecting buoys from the ADA flights for the interagency-sponsored International Arctic Buoy Program (IABBP). With keen foresight the 17th District supported this request and in 2009 the first delivery of an Airborne eXpendable Ice Beacon (AXIB) by a Coast Guard HC-130H was accomplished.
The deployment of this automated floating weather station, which transmits its data through the Iridium satellite communications system for years at a time, initiated a burgeoning partnership and marked the beginning of a new Arctic exploration opportunity for the scientific community.
The Growing Need for Arctic Accessibility for the Scientific Community
The current National Strategy for the Arctic Region states that, "Vast areas of the Arctic Ocean are unexplored, and we lack much of the basic knowledge necessary to understand and address Arctic issues. The changes in the Arctic cannot be understood in isolation and must be viewed in a global context."2
Furthermore the Coast Guard's Arctic Strategy, released in May of 2013 describes the need to "assist government-sponsored scientific exploration to develop a greater understanding of the changing Arctic environment"3
These statements highlight the fact that there is a significant amount about the Arctic that is unknown, and science is working to keep up with this changing environment.
"Every year the Arctic sea ice cover expands during the fall, winter and spring to a maximum extent essentially covering the whole Arctic Ocean. Over the summer, it retracts to a minimum in September. The most remarkable aspect of Arctic environmental change is that the minimum (September) extent has declined faster than climate models predict over the last two decades, reaching a new record minimum in 2012,"4 said Dr. James Morison, principal investigator of the Seasonal Ice Zone Reconnaissance Survey (SIZRS) project.
The explanation for this observed extra-rapid decline is a critical scientific question. The absence or presence of ice in any particular place in the Arctic is controlled by two different factors, thermodynamics and the kinetic effects of wind and sea currents. Measuring these two factors has become increasingly essential for answering that question. The balance of these two factors form the base of much of the scientific exploration of the Arctic, but the way in which they do or do not work together has a great effect on ice extent. If a major storm event forces ice out of the Arctic Basin, the greater amount of exposed, open water present allows more solar radiation to be absorbed into the sea rather than being reflected off a frozen surface. This added heat melts more ice from below creating more open water in a vicious cycle termed ice-albedo feedback. Further, the reduction in ice thickness and coverage makes the ice more responsive to the wind and more wind energy that is converted into wave action, which can further break up the ice. It is also theorized that the increase in ocean heat can affect the growth of ice well into the next year.
The increasing sea ice retreat in the summer increases the potential for ship transport and offshore resource exploitation off the coast of Alaska, and this increases the need for better predictions of ice conditions in the seasonal ice zone. The quality of these model-based predictions is critically dependent on knowing the initial conditions at the beginning of the melt season. However, the vast bulk of measurements are made in late August and September when conditions allow traditional icebreaker operations. This limit precludes surface-based observations in the critical May-June timeframe. According to Dr. Morison,
"Only ocean sections with aircraft expendable probes and buoys beginning in May or June repeated throughout the melt season can give the information we need to understand and ultimately predict the evolution of the seasonal ice zone."5
Coast Guard Hercs Answer the Call
Building on early successes, ties with the University of Washington and the Coast Guard through Air Station Kodiak have grown increasingly intertwined. The number of missions has expanded dramatically from one or two in the first test years to nine missions in 2013. To date five research sensors are deployed by Kodiak based Hercules crews.
The previously mentioned AXIB and the Upper Temperature of the Ocean (UpTempO) are buoys that are designed to survive for months at a time sending vital data on the atmospheric and ocean via satellite. The Aircraft Expendable Conductivity Temperature Depth (AXCTD) and Aircraft Expendable Current Profiler (AXCP) are probes that are deployed in leads in the ice at strategic stations in the Beaufort Sea and radio back to receivers on the aircraft information on the water's temperature, salinity and current down to a depth of 1000 meters. The DropSonde measures atmospheric condition as it drops through the air column from an altitude of 10,000 feet.
Concurrently in 2009 Air Station Kodiak began supporting an inter-government partnership with NOAA's Global Monitoring Division working on their Carbon Cycle Greenhouse Gasses (CCGG) aircraft project. This mission is also supported by the ADA mission flights and consists both real-time measurements of methane, carbon dioxide, carbon monoxide and ozone as well as flask samples that are sent back to Boulder, CO where the NOAA's CCGG group is based. The primary goal of these aircraft-based measurements is to understand how the large changes observed in the Arctic climate impact emissions of these gases in the Arctic. In particular the NOAA's CCGG group is most interested in documenting changes in emissions of methane and carbon. As with the ice-albedo feedback, enhanced methane or carbon dioxide emissions with a warmer climate would result in more warming because both methane and carbon dioxide are strong greenhouse gases. Although some studies have suggested methane emissions are increasing with warmer climates current measurements of methane in the Arctic by NOAA have not confirmed this.
By measuring different trace gasses NOAA hopes to link measured gas concentrations to natural and anthropogenic processes. For example if a high concentration of methane is recorded the scientists can use the presence or absence of other gases such propane or ethane to determine if of the release was due to thawing permafrost or thermogic processes like natural gas leaks that will also have large amounts of ethane and propane. There are a plethora of different processes that affect the gas concentrations in the atmosphere. These need to be studied and understood before trends and baselines can be established and before a declaration of change can be made. Air Station Kodiak's ADA flights are providing the data needed to model these.
"The ADA mission is a great opportunity to monitor what is happening in Alaska. Flights on Coast Guard HC-130H aircraft have given us access to multiple regions of Alaska, all reacting in different ways to the changing climate. Flying from March to November gives us a good snapshot of the entire seasonal cycle for [critical regions that are represented throughout] the Arctic,"6 said Dr. Colm Sweeney, head of the Global Monitoring Division's CCGG Aircraft Program.
This diversity of measuring equipment provides a large, effectively simultaneous picture of conditions over a desired locale in the Arctic. A typical ADA mission might see the deployment of an ocean going buoy followed by AXCTD, AXCP and DropSonde deliveries along a longitudinal line at up to six different stations along with taking the standard 24 CCGG air samples. Shift this effort 10 degrees of longitude on the following day's mission and an equivalent amount of data was collected to an entire ship-based expedition requiring weeks. And it can be done months before sea ice conditions allow the first research icebreakers on the scene. Combine this unparalleled collecting ability with the fact that Hercules flights are feasible from early March to November and suddenly the Coast Guard is in a position to facilitate unprecedented understanding of the Arctic environment.
Payoff for the Coast Guard
It is widely accepted that with the retreat of Arctic ice will come increased commercial vessel activity taking opportunity of beneficial sea routes, newly exposed resources and a growing tourism market. September 2012 marked the least extent of sea ice in recorded memory.7 Only four vessels utilized the Northern Sea Route in 2010, but 2012 saw 46 transits.8 Moreover, increased oil exploration drilling is scheduled to begin as early as summer of 2014. The Coast Guard will be required to increase capability and presence in order to respond future operational needs. This need is rapidly approaching and operators are facing unpredictable conditions. As any aviator or mariner knows it will be absolutely vital for crews to have accurate environmental and weather forecasts in order to safely complete a myriad of possible missions.
One of the most vital will be the ability to predict the ice edge. The National Ocean Policy Implementation Plan states:
"Sea ice forecasting is one of the most urgent and timely issues in the Arctic region. To ensure the best tactical and long-term ice forecasts are available for safe operations and planning, Federal agencies will work together to better quantify the rates of sea ice melt and regrowth, understand shifting patterns of distribution of ice, develop better maps of the ice edge, expand participation in the sea ice observation program, and coordinate with international partners to enable better model-based forecasting over larger areas. Improved observations will contribute to improved forecasts, which will better inform Arctic maritime safety and security activities."9
The ability to understand a shifting ice edge will enable planners to adjust the Coast Guard's Arctic posture for each season accordingly.
Having accurate forecasts of the weather and sea state will be important in responding to incidents such as search and rescue cases and oil spills. The ability to predict conditions in the marine domain is listed as one of the top research priorities for the National Science and Technology Council (NSTC) Joint Subcommittee on Ocean Science and Technology. In its Ocean Research and Implementation Plan this is highlighted: "Enhancing environmental observation, characterization, and forecasting of ocean and waterway conditions (e.g., currents, turbidity, surface waves, sea-ice extent, lake levels, biogeochemical conditions) across the global ocean is necessary for safe and efficient marine operations."10
With the increase in commercial activity already outpacing the Arctic modelers the Coast Guard is faced with operating in an area without the benefits of these accurate forecasts. Furthermore, increased awareness will not only aid operationally the Coast Guard's Arctic efforts but will assist in the modernization of Arctic governance, a mainstay of Coast Guard Commandant Adm. Robert Papp's Arctic strategy.
By providing stalwart support of this scientific effort the Coast Guard is poised to be amongst the first to benefit from the coming revelations, ultimately increasing the service's effectiveness at carrying out its 11 statutory missions.
Conclusion
The U.S. is an Arctic nation and this is a role that can neither be shirked nor ignored. It is vital that the nation and its agencies embrace this status and become a leading figure as Arctic development takes a frontal position on the international stage. Supporting scientific research in the Arctic is undoubtedly essential and in line with national priorities. The president has outlined in his National Ocean Policy that greater scientific understanding with respect to Arctic environmental conditions must be obtained.11 The National Security Strategy of May 2010 aligns with this policy by directing U.S. support of scientific research in the Arctic.12 Admiral Papp's vision has clearly placed the Coast Guard as leader in the advancement of U.S. national interests in Arctic waters. Air Station Kodiak and its intrepid Hercules crews are spearheading this effort with support from the 17th District. The relationships and partnerships within the scientific community that Air Station Kodiak has meticulously cultivated could forever change the understanding of the Arctic. Every piece of new data collected will further the nation's, and by extension the world's, ability to see with clarity the Arctic environment and the impact it may have on us all.
---
Women and men of the Class of 2002 may think they are in the shadow of their grandparents — "The Greatest Generation" who beat fascism, crushed nazism and crossed the Pacific to avenge Pearl Harbor and win the war in the Pacific in less than four years.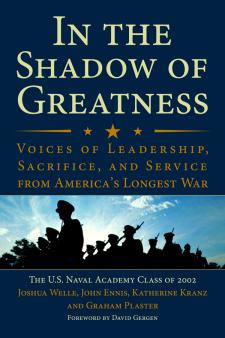 "In the Shadow of Greatness: Voices of Leadership, Sacrifice, and Service from America's Longest War" is a compilation by or about members of the U.S. Naval Academy Class of 2002. (USNI offers comprehensive reviews of the book, published in 2012; this is another look into the shadows.)
Put together with love and appreciation by Joshua Welle, John Ennis, Katherine Kranz and Graham Plaster — and including a foreword by David Gergen — the book is filled with essays and memories by and about members of the U.S. Naval Academy Class of 2002. The authors set the stage with a look back to the past:
"The magnitude of World War II provided the opportunity and experiences that shaped twentieth-century American leaders. As men served abroad, women provided support at home. All overcame great odds and faced adversity that gave them confidence and shaped their outlook in the decades to come. This 'greatest generation' returned from war, took advantage of the educational benefits offered through the GI Bill, and advanced the country's economy and transformed its society. World War II veterans, while fueling economic advancement, remained resolute in their value system: service, sacrifice, and community."
Among "Shadow's" contributors are aviators, surface warfare officers, submariners, U.S. Marines and mothers of junior officers killed during training or in action.
The book is filled with first-person, heartfelt accounts of triumph and hardships: what it's like in humanitarian assistance missions, duty at sea, Search and Rescue operations, and combat; what it means to face family separation, "setting aside the comforts a normal life in service to our country and the Constitution. The dark sides of these sacrifices are broken marriages, post-traumatic stress disorder, depression, and estrangement."
But there is plenty of triumph here, too, focusing on why and how Navy and Marine Corps leaders choose to serve — "not for self, but for country."
A highlight is the account by Meghan Elger Courtney, who served aboard USS John Paul Jones (DDG 53) of her commitment to promote warfighting readiness for Sailors aboard the Arleigh Burke-class guided-missile destroyer. Courtney recognized a need to improve shipboard physical fitness opportunities to help Sailors who would deploy forward — either aboard ship or as individual augmentees in Iraq and Afghanistan.
With the blessing of her commanding officer and strong support from the command master chief and Chief's Mess, j.o. Courtney planned for, procured and arranged for installation of a new fitness center that replaced outdated insufficient gear and space. Courtney writes, "Almost immediately, I saw a positive renewal in people's attitude toward fitness, healthy eating, and incorporating workouts into their daily routine as a way to relieve stress and stay in shape."
"What some may have viewed as my silly pet project, the command master chief took seriously, and he became my closest ally in seeing it through. I never really knew how much the experience had impacted him until I saw him become visibly choked up recollecting it during his closing remarks when he transferred off the ship. I don't think he thought that a young officer like me could have cared about his crew so much, but I did, and I still do…"
Courtney's story is just one of many inspiring reflections. She said she was inspired by a quote by explorer Robert E. Peary on a motivational placard in Halsey Field House at the academy: "I will find a way, or make one."
Other essayists share their sources of inspiration as President Teddy Roosevelt, President Dwight Eisenhower, President John F. Kennedy, Senator Daniel Inouye and Secretary of Defense Chuck Hagel, among others.
One essayist quotes the last two lines of a poem by Mary Oliver, "The Summer Day" in pursuing a life of purpose, wanting to make a difference:
"Tell me, what is it you plan to do
with your one wild and precious life?"
The authors and essayists show how core values of honor, courage and commitment make up an ethos that "forms the fabric of people's personality and drives them to a life of service, in and out of uniform."
"'In the Shadow of Greatness' was envisioned to recognize and chronicle the service of brave men and women and through their stories establish connections with the broader, nonmilitary community. These first graduates of the Naval Academy after 9/11 entered a global war at sea, in the air, and on land. This war would last more than a decade and define the United States in the early part of the millennium. The actions of the select few profiled here represent those of a much broader spectrum of patriots."
Attacks on 9/11/2001 changed the lives of the Class of 2002.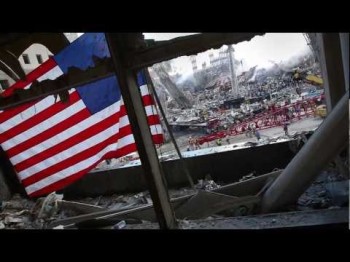 In a short introductory piece, "Inside the Gates of Annapolis," Adm. Sam Locklear (now Commander, U.S. Pacific Command) writes about the investment the country makes in the women and men who attend service academies, including the Naval Academy, reflecting on the morning of September 11, 2001 when he sat at his desk as commandant of midshipmen.
"I recall vividly watching the al-Qaeda attacks on the World Trade Center and the Pentagon and the plane crash in Pennsylvania. When the images reached the Brigade, and the uncertainty of the events rapidly became reality, I asked myself, Are these men and women, these young patriots, ready for the challenges that most certainly lay ahead. A decade of war has proven that they were more than ready. Fortunately for us all, they remain ready today. We are extremely proud of all they have accomplished and thankful that we chose the right men and women to lead the next great generation."
The book, published by the Naval Institute Press, is a key title on the CNO's Professional Reading Program essential list under "Be Ready."
A version of this post appeared on Bill Doughty's Navy Reads blog.

Sea Control interviews Erik Prince, former CEO of Blackwater. He describes the challenges of African logistics and how his new public venture, Frontier Services Group, will tackle them. We also discuss the future of private military contractors and the lessons learned from Blackwater.
DOWNLOAD: Sea Control 29 – Erik Prince
Remember, subscribe on iTunes or Stitcher Stream Radio. Leave a comment and five stars!
What's cooler than an "electromagnetic weapon at sea?" How about converting seawater to fuel?
Those wild and crazy Naval Research Lab folks and some Navy Reserve help have found way to convert sea water into hydrocarbon fuel. Proof of concept including fueling a model airplane for a test flight, as set out in "Scale Model WWII Craft Takes Flight With Fuel From the Sea Concept":
Navy researchers at the U.S. Naval Research Laboratory (NRL), Materials Science and Technology Division, demonstrate proof-of-concept of novel NRL technologies developed for the recovery of carbon dioxide (CO2) and hydrogen (H2) from seawater and conversion to a liquid hydrocarbon fuel.

Fueled by a liquid hydrocarbon—a component of NRL's novel gas-to-liquid (GTL) process that uses CO2 and H2 as feedstock—the research team demonstrated sustained flight of a radio-controlled (RC) P-51 replica of the legendary Red Tail Squadron, powered by an off-the-shelf (OTS) and unmodified two-stroke internal combustion engine.

Using an innovative and proprietary NRL electrolytic cation exchange module (E-CEM), both dissolved and bound CO2 are removed from seawater at 92 percent efficiency by re-equilibrating carbonate and bicarbonate to CO2 and simultaneously producing H2. The gases are then converted to liquid hydrocarbons by a metal catalyst in a reactor system.

"In close collaboration with the Office of Naval Research P38 Naval Reserve program, NRL has developed a game changing technology for extracting, simultaneously, CO2 and H2 from seawater," said Dr. Heather Willauer, NRL research chemist. "This is the first time technology of this nature has been demonstrated with the potential for transition, from the laboratory, to full-scale commercial implementation."

***

The predicted cost of jet fuel using these technologies is in the range of $3-$6 per gallon, and with sufficient funding and partnerships, this approach could be commercially viable within the next seven to ten years. Pursuing remote land-based options would be the first step towards a future sea-based solution.

***

The process efficiencies and the capability to simultaneously produce large quantities of H2, and process the seawater without the need for additional chemicals or pollutants, has made these technologies far superior to previously developed and tested membrane and ion exchange technologies for recovery of CO2 from seawater or air.
So, let's see – with a large enough ship with a large enough plant on it, you could fuel the gas turbine powered fleet and its aircraft for . . . or, each ship could …
Ashore? Making fuel from seawater? Why that's enough to help everyone with ocean access toward energy independence . . . I assume a small nuclear power plant could provide the energy to drive this process . . .
More from Physics.org. Might help with countering ocean acidification, too.
And about this from India's Economic Times "game changer":
The development of a liquid hydrocarbon fuel is being hailed as "a game-changer" because it would signficantly shorten the supply chain, a weak link that makes any force easier to attack.

The US has a fleet of 15 military oil tankers, and only aircraft carriers and some submarines are equipped with nuclear propulsion.

All other vessels must frequently abandon their mission for a few hours to navigate in parallel with the tanker, a delicate operation, especially in bad weather. ****
Way, way cool.
As WWII raged, supply convoys from the United States and Canada faced off with the German U-boat "wolfpacks" throughout the Atlantic Ocean. Although the Wolfpacks nearly crippled the allied war effort early in 1941 and 1942, eventually the Allies were able to turn the tide, culminating in the devastation inflicted inflicted on the German submarine squadrons in 1943. May 1943 became known to the Germans as "Black May." Today's object was captured from a German submarine by American sailors one year later in a daring boarding of a sinking u-boat.
Please join us on Sunday at 5pm (EDT) for Midrats
Episode 222: USS PONCE (AFSB(I)-15) Lessons with CAPT Jon N. Rodgers, USN
As with most concepts and good ideas, you really don't know what you need and how you need to do it until you put Sailors to task and head to sea.

The idea of an Afloat Forward Staging Base has, in a variety of forms, been a regular part of naval operations arguably for centuries under different names and with different equipment.

What about the 21st Century? More than just a story about the use and utility of the AFSB concept, the story of the USS PONCE is larger than that – it also has a lot to say about how one can quickly turn an old LPD around for a new mission, and how you can blend together the different but complementary cultures of the US Navy Sailors and the Military Sealift Command civilian mariners.

Our guest for the full hour to discuss this and more will be Captain Jon N. Rodgers, USN, former Commanding Officer of the USS PONCE AFSB(I)-15.
Either join us live or pick the show up later by clicking here.
The development of wireless communication in the late 19th and early 20th centuries was quickly followed by the development of encrytpion for coded transmissions. The ability of the US to decipher these coded transmissions played an essential role in helping the US and her allies to victory in World War II. Today, we discuss an iconic World War II enryption tool, the German Enigma Machine.
Newer Entries »