Since its publication in April's Proceedings, I've been pleased that "It's Time for a 'Sea Control Frigate'" has helped start a discussion about a new small surface combatant (SSC) on message boards, the blogosphere, and social networking platforms. The article describes how a modified version of the Coast Guard's National Security Cutter with improved survivability features and combat systems could offer a terrific supplement to the Littoral Combat Ship (LCS). With the attention the article received, various readers had questions concerning some ideas brought up, so I've taken the time to address them.
Analyzing Cost and Production
Many asked how the projected cost for the ship could cost $800 million with the last national security cutter price costing $735 million. Surely the upgrades mentioned in the article are greater than $65 million. They are indeed. However, what was probably missed is that the $735 million order for the last NSC was for a single ship – economies of scale can drastically reduce the cost per unit due to various efficiencies gained. For example, when the Coast Guard ordered several at a time, pre-NSC #5, the cost was substantially less. My math: the 2006 per unit cost for an NSCs (in a bulk order) was $584 million – when we account for inflation, it goes up to a current value of $650 million, or $85 million less than the last single contract. (The Coast Guard had to order the later ships one by one because it wasn't written into the budget at the time –and it was uncertain if the 7th and 8th NSCs would even be funded). Thus, a procurement cost of $684 million, which is used in the article and various other official reports, is an average between all the ships. Most likely a base hull would be even less than this, as the price doesn't include the initial hull design costs (this was incorporated into the NSC program), there are increased economies of scale, and various items included in the NSC price are not be needed on a navy frigate (eg: the complex stern boat launching apparatus). While I estimated $800 million by adding the cost of a VLS, an upgraded 76mm gun, a new radar, and various survivability upgrades, in accordance with navy and congressional reports, a fixed price will likely creep closer to the $900 million mark due to inflation over the next few years and other add-ons the Navy incorporates (this would happen with all of navy shipbuilding though).
Ship Force Numbers and Value Metrics
The latest LCS estimates are at $550 million per ship including mission modules vs. $800 million for a sea control frigate. Assuming we have the same budget to work with, and we're deciding between a basic LCS only, we'll either have to choose between 20 LCSs, or 13-14 frigates. This led many to question if it's worth having a lesser amount of warships for the same price. First of all, for the most part, comparing these numbers are like apples and oranges – who cares about the amount of a certain ship if they can't do the missions that we need them to do, especially cost efficiently? However, as much of a red herring the argument is, politically, it's still hard to rationalize, especially since many elected officials find it easier to talk about our ship count in terms of our budget, vice a thoughtful debate on capabilities and requirements. In contrast, one good metric to take into consideration is the average number of ships at sea on missions per day. 20 LCSs on a 3 crews-2 ships-1 deployed plan, averages 20 total days a quarter of underway time on assignments, or 4.5 ships per day. 14 stateside frigates on a traditional deployment cycle average 32 days a quarter out to sea on assignments, or 4.9 ships per day. This means that despite a lesser amount of ships, the sea control frigate still has more underway time doing planned missions than the LCSs. I calculated this data from the class average of underway hours per quarter, and verified this by known historic and planned deployment operational schedules for frigates/destroyers and littoral combat ships.
At first, this may seem contradictory to statements made by officials like Rear Admiral Rowden, who recently claimed that 26 forward deployed LCSs equate to 120 CONUS-based single-crewed ships. This kind of statement is misleading. The Admiral is correct for certain missions and events like foreign nation cooperation and training, humanitarian assistance and disaster relief (HADR), vessels in distress or under pirate attack, counter-narcotics operations, and little-to-no notice popup missions like special ops support. For example, let's take an earthquake in a Southeast Asian country. The LCS is perfectly fitted to get underway immediately from Singapore, speed to the location, and provide necessary humanitarian assistance, all within hours. However the same can't be said about the majority of tasking and deployments that have requirements already defined by combatant commanders relating to sea control, like naval escort, focused operations, and deep-water anti-submarine warfare. These missions all require more consecutive days-at-sea, which helps explain the reason why, by design, the LCS averages less mission days per ship than frigates and destroyers.
That's not to say the 3-2-1 cycle isn't the right method with the LCS. On paper, minus the sea swap trap, it's actually a smart plan that saves money and optimizes the ships very well. It's also necessary to have a flexible warship forward deployed for the reasons stated above, but only for quick back and forth missions in the littoral environment, not sustained blue-water deployments. If we do end up purchasing LCS variants, most of these ships will regrettably end up getting pulled from the presence and shaping missions they were designed for to support these missions.
Determining Feasible Designs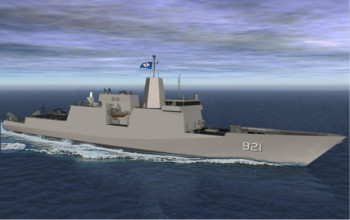 Earlier this month, a request for information (RFI) came out that asked the shipbuilding industry on input for a follow-on to the LCS from mature designs, which led many readers to ask what's actually on the table. The context of the RFI may seem like it's targeting a number of different ships and shipbuilders, but it's in fact just a formality required in the consideration process for any future acquisitions; there are actually only a few possibilities here. The foreign contender with the best shot, if any, is Norway's Fridtjof Nansen-class frigate because of its past relationship working with NAVSEA and Lockheed Martin. Although any proper frigate is preferred over the LCS because it's better optimized for operating in blue water environments, I'm partial to the sea control frigate because of its large flight deck and hangar spaces, which gives it the flexibility to support drones and manned helicopters together, something that will likely become the norm within the next 30 years. However, the truth is because of the timeliness of the request and decision making process, together with the red tape that a foreign design has to go through (which was touched on in the original article), it's probably too late in the process already to even consider a foreign design, regardless or not if it meets what the Navy's looking for. This is unfortunate; we've essentially locked ourselves in a box by not starting this process earlier (or coming up with an organic solution for that matter).
There are several different variants of the LCS that are likely to be considered alternatives– most concepts have been pitched publically in some manner, mostly to international navies under the banners of "International LCS" and "Surface Combat Ship". These variants could include similar features to a sea control frigate, such as a Mk 41 VLS supporting ESSM and ASROC, a CEAFAR or SPY-1F radar and fire control system, other survivability features, and for the LCS-1 class, an upgraded 76mm gun. However, there are still some problems with this: unlike the NSC hull which was built with reserved spaces that can accommodate a VLS and other systems without hull modifications, a variant of the LCS would likely require design changes more substantial than any NSC-derivative. One industry news source remarked that an international LCS design pitched to Israel that incorporated some of the above mentioned weapons features had an estimated cost of over $700 million (this was in 2008, so it would likely be even more today). Another claimed a rough order-of-magnitude cost would be $800 million, equivalent to a sea control frigate. However, the price pitched to the Navy by Lockheed or Austal might not even matter – with the trends of the LCS shipbuilding program, it's possible that whatever price is proposed will balloon up even further. This is probably not a risk the navy would want to already take for a program already under heavy scrutiny for its ever-rising costs, especially with a fixed-price option on the table for a sea control frigate. Secondly, it's likely that no design changes will be able to offer an improved endurance and range; therefore, even with upgrades in weapons and survivability, it would still be ill-suited for blue water missions. Moreover, the manning structure and contractor reliance wasn't made to accommodate long lasting blue-water missions either, which means even some small casualties that are normally fixed by a DDG/FFG ship's force could and throw off an entire mission; something probably not ideal for optimizing the readiness kill chain.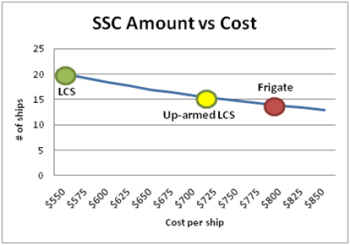 This leads us back into re-examining the numbers. With the same budget, an up-armed LCS design with a higher unit cost reduces the number of LCSs that are produced. For example, an improved LCS costing $650 million each (which by all estimates are very optimistic) buys only 17 ships, three less than planned. As the LCS cost continues to increase, the ship price per unit gap continues to close, until its relatively the same price.

Posted by
LTJG Zachary Howitt
in
Navy
,
Proceedings
Tags:
LCS
,
sea control frigate
,
small surface combatant