A SOLDIER'S STORY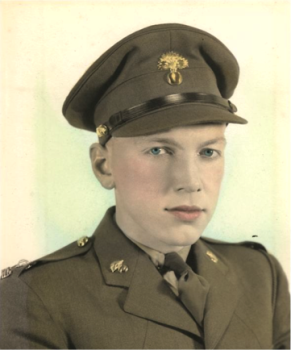 On Friday, the 6th of June, we will observe the 70th Anniversary of one of the greatest endeavors ever undertaken—Operation Overlord—the Allied invasion of Normandy which was the beginning of the end of World War II. Many veterans are already flowing into Washington, D.C. for ceremonies at the WWII Memorial, and others, including the President of the United States, will pay homage to those who paid the ultimate sacrifice on the beaches of Normandy. As Tom Brokaw is famous for saying, the men and women that made this happen are part of The Greatest Generation in our history.
My father was a veteran of World War II. He originally joined the Winnipeg Grenadiers, in his hometown of Winnipeg, Manitoba at the outbreak of the war. This was his father's regiment which won acclaim in WWI. My grandfather was a Captain of the Grenadiers and won the Military Cross at the Battle of Bourlon Wood. My dad's picture, in uniform, shortly after he joined up is attached with the characteristic regimental emblem of a flaming grenade.
After my dad joined up, he was supposed to ship out for Hong Kong with the Regiment. He missed the boat. He never talked about it much… something about a train not getting to the port of Vancouver on time. As fate would have it, the entire regiment was wiped out in the defense of Hong Kong. Those not killed in action spent the rest of the war in Japanese POW camps. This had to be painful for him as, in the Regimental system, the ranks were composed of young men and officers who grew up together.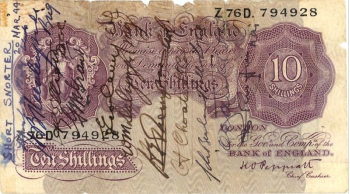 So my dad became part of a new unit, The Lake Superior [Scottish] Regiment of the 4th Canadian Infantry Division. As a kid, I was always interested in what happened during the war, but my Dad didn't talk much about it. I suppose I was a bit of a pest and I always wanted to know what he kept in his soldier's leather shaving kit in the top drawer of his dresser. I'd often see him looking at his keepsakes of the war but he chose to keep them private. Like most combat veterans, he abhorred war and used to tell me that it was something he hoped I would never have to experience. In the run up to Allied invasion, my dad found himself in England with his new regiment. While there, he attended an officer training course and was commissioned. He enjoyed the camaraderie of his army buddies in England and after he passed away I finally got the chance to take a peek inside that shaving kit. I found a signed, 10 Shilling note, labeled Short Snorter and dated March 1944, but I had no idea what it symbolized. Turns out, the Short Snorter was the "challenge coin" of its time. Your friends signed it and you kept it with you at all times. If asked for it in a bar, you had to produce it or buy everyone a drink.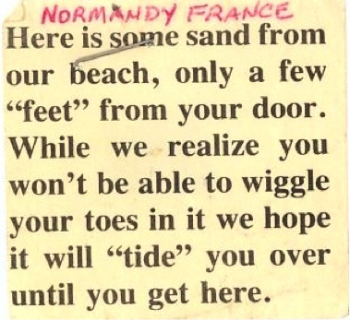 Ultimately, my dad made the trip across the English Channel to Normandy, but not with the main thrust of the invading force. A humble man, he was quick to say that he arrived in Normandy on D + 44 (days)–the 19th of July 1944, well after the initial onslaught took place on the beaches. He also maintained that he was never a hero, just a soldier doing his job for his country and his band of brothers. I found something else in his shaving kit after he passed away. It was a printed clipping with a small cellophane bag stapled to the back which contained sand. A photo is attached. He never mentioned it, but I presume this was from Resistance Forces in France and distributed amongst the troops as a souvenir or good luck charm before they departed England. My dad kept the sand until he passed away. When I found it, I was reminded of Tom Sizemore's character in Saving Private Ryan. You'll recall that he collected dirt in small canisters from all the battlefields he fought on.
My dad may have arrived on D +44, but when I stare at his personal copy of the 4th Canadian Infantry Division War Map, which hangs in my study, it is clear that the Division quickly entered the fray with the German Army (Wehrmacht) shortly after their arrival. As he worked his way through France, it was a slog. The dots on the map were spaced very closely together–a clustering early on around the places that he and his fellow Canadians fought and stopped to resupply, regroup and move on–Crepon, Caen, Vauchelles, Chateau de Mondeville, Verrieres, Cintheaux, Garcelles de Sequeville, Saint Sylvan, Falaise (where fierce fighting took place). Casualties were heavy on both sides.
My Dad often commented that the Germans fought hard against the Allies and in the beginning, they were not prone to giving up easily. Many of the units that he engaged were SS Panzergrenadiers–very capable troops. Trained as a "gunner" in the Winnipeg Grenadiers, I presume this skill set carried over in the Lake Superior Regiment. During combat, one of the things my dad told me he did as a young Sub-Leftenant was to order up lorries with .50 caliber machine gun mounts to bring to bear on Wehrmacht forces ensconced in the infamous "hedgerows" of Northern France. These weapons were effective and as enemy fires were suppressed, the unit moved on, not stopping to count the dead.
As logistics became a more and more difficult problem for the enemy, the German Army began to retreat towards the homeland or just give up when cut off or met with overwhelming firepower. Instead of hunkering down for the protracted fight, my dad told me that often in the middle of a firefight, some German units would raise a white flag or if they didn't have one, just stand up in the hedgerows with their hands in the air, signaling the end of their resistance.
Situations like this sometimes presented problems for him. In a lucid moment, he told me the story of the young Sub-Leftenant, faced with a large number of surrendering German soldiers and officers. My dad said, frankly, he and his men lined them up on the road and told them to keep their hands up and start marching to the Allied rear area. He said, we only had a few Canadians on this one particular day, and frankly we were too scared to try to disarm each German soldier and officer. It wasn't worth the risk of one of them going rogue on the Canadians. Many of the Germans officers still had their side arms but it was clear that the majority of them were finished, or fed-up, and ready to end the fighting in return for a hot meal and some rest. They chose life over death…
I remember mulling that story over and over again in my head as a kid… Wow, the Canadians didn't confiscate all their weapons? And my Dad scared? My Dad wasn't scared of anything. How could that be? What happened to them I asked quizzically?
I don't really know son, we just told them to march along this road with their hands up until they ran in to the major concentration of our forces behind us.
After Falaise and other battles, the Regiment moved quickly through France and into Belgium. My dad was part of the force that liberated Bruges, Belgium. The Allies arrived on the outskirts of Bruges with overwhelming force. The Germans put their artillery in defensive positions around the town and orders came from higher command to flatten Bruges in order to keep it out of Allied hands. The German Commander refused… He did not surrender but he chose not to destroy one of the most beautiful cities in Europe. This story is repeated in the new book and movie, The Monuments Men.
While I was in command and on deployment in 1999, I asked for and received a port visit in Zeebrugge, Belgium. Bruges was just down the road and I told the crew to forego the Irish Pub and learn to appreciate the culture of Europe. To the man, they all loved Bruges. I sent my dad a post card from the town square of Bruges and he later told me that he recalled spending his most memorable night of the war in Bruges just after the Allies liberated the town. It was an all-nighter in the restaurants and bars and the Belgians showed their deep gratitude and generosity for their freedom.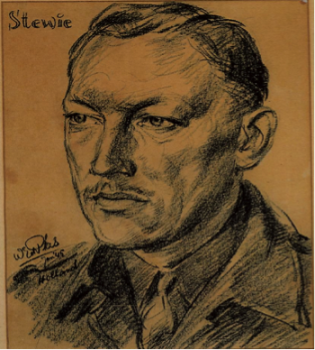 The fighting continued into Holland and ultimately into the heartland of Germany. My dad had a local artist in Holland do a charcoal of him in January 1945 to send home to his mother. He was proud of that picture as the artist did the drawing in return for a carton of cigarettes. What a contrast between the young Winnipeg Grenadier recruit and the combat seasoned soldier six months after landing in Normandy. Although gaunt, mustachioed, and with thinning hair, his face reflects a steely-eyed determination to get this thing over with.
Although my dad didn't wasn't big on telling stories, he loved watching movies about the Second World War. It was like he was reliving some of his experiences vicariously through the big screen. So I grew up on a diet of the classics–The Longest Day (one of my favorites); The Great Escape; A Bridge Too Far; The Bridge at Remagen; Patton; The Dirty Dozen; The Guns of Navarone. Richard Burton was one of my dad's favorite actors. He had gravitas and he brought reality to the big screen. As a kid, I was never as happy as I was when I got to go to a war movie with my Dad. That's when admission was about a buck fifty and popcorn and a coke only cost less than a dollar at the most. Sometimes, afterward, he'd open up and out would come another great story.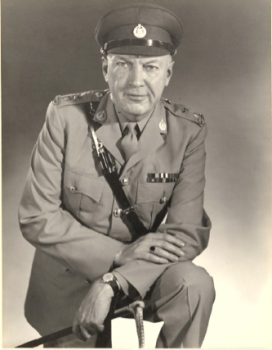 One of my favorites was the story of a German Panzergrenadier Unit that found themselves surrounded and retreated into a church in the middle of a small town. My dad couldn't remember the town… they all just blended together. The locals were quick to pinpoint the German location and there was no way out. Their choice–fight or give up. My dad found himself in the unenviable position of being the senior officer present so he had the responsibility to offer the Germans "terms." This time, he said, he was never so scared in his life—he thought he would surely be shot. He marched up to the church under a white flag and knocked on the door. The door opened and he was greeted by a German officer, a Major. There was a short discussion and the Major wanted to know what the terms of surrender would be. My dad told the Germans they were completely surrounded. Leave your weapons behind and come outside. You'll be escorted to the rear where you will be processed and held as POWs. The Major agreed. On the way out, the Major turned to my father and gave him his ring—a small gold ring with a flat brown stone. He said, this won't last in a POW camp, you take it. It was, I suppose, a symbol of respect—chivalry between combatants. My dad never attended college, so this ring became his class ring—he was a member of the class of '45—consisting of all those lucky enough to survive the war. He never took that ring off. He would have his official picture taken with that ring—it meant a lot to him. After the war, he left the Lake Superior Regiment and joined the Lord Strathcona's Horse Cavalry Regiment. He became Commandant of the Canadian Forces N-B-C Warfare School in Base Borden, Ontario. His picture is attached with swagger stick in one hand and the ring on the other.
Living on Walcheren Loop on Base Borden was pretty cool as a kid. Many of my friends' fathers had also fought in the war. Behind our house, there was an armored proving ground where Centurion Tanks maneuvered. The interior of the loop was a playground and ball field. Saturdays were the best day of the week. The baseball diamond was transformed into the scene of the movie The Sandlot. Kids of all ages and all skills would just show up and self-organize. There was no adult supervision… none was needed. You played all day until you were covered with red dirt, sweaty and exhausted. Sometimes when we tired of baseball, the field would turn into a war zone. Kids brought out every G.I. Joe they owned, all their accessories, all of our plastic helmets and Mattel rifles and set up the lines of battle. Trenches were dug on the perimeter of the field and the pitcher's mound became a machine gun nest. Close to Dominion Day (Canada's 4th of July celebration), every kid would come to this mock-war with his private stash of "ordnance." During the skirmishes, sparklers, firecrackers, cherry bombs and the occasional M-80 were tossed like grenades across no man's land. Windows would rattle in the Quarters on Walcheren Loop when the M-80s went off. It's a miracle someone didn't lose an eye or a finger, but they didn't. OSHA standards didn't apply back then. At the end of the day, the Canadians always won… so it is written.
Before the advent of iPads, iPhones, Laptops and Tablets, kids found traditional ways of entertaining themselves. I spent all of my allowance building models of the war machines that fought the campaigns of WWII. I liked airplanes the best. When I visited the Udvar-Hazy museum near Dulles Airport for the first time last year, I spouted off the designations and noun names of nearly all of the aircraft on exhibit: Messerschmitt ME-109; ME-262; ME-163 Komet; Supermarine Spitfire; Hawker Hurricane; P51 Mustang; P-40 Warhawk; F4U Corsair; F6F Hellcat and the Focke-Wulf 190 to name a few. Someone said, How do you know all this stuff?
Because I built them all, I said.
One day when I was putting the finishing touches on Revell's best scale model of the Focke-Wulf 190, my dad walked in. He did not like the fact that I sometimes dripped Testor's glue on the blotter of his desk. What are you up to, he asked?
I'm finishing up the Focke-Wulf 190 I said.
He stared at the aircraft and said, Oh, I remember that one… I sensed another great story coming and I was right.
I was walking back from the latrine [stuff always happened on the way back from the latrine] along a road to our camp during the war, he said. Out of nowhere, this single aircraft comes in fast and low and just as I turn around, he goes right over my head. So low, if I hadn't hit the dirt, he might have hit me!
WOW!!! That's incredible! What did you do dad? Did you shoot back? What happened?
No, I just lay there trying to regain my composure and I watched as he went over the hill. That guy scared the hell out of me and I have no idea why he didn't pull the trigger. He could have easily killed me… Then he just turned and walked out of the room.
My dad was a great father to me, but oftentimes, I felt like a soldier in the barracks at home. He reminded me of Darrin McGavin, who played the dad in the movie "A Christmas Story" and I think that's why the movie was so successful for the contemporaries of my generation. Life imitating art or vice versa. Mom was the one who always bailed me out when I was in trouble.
My dad believed in a balanced diet. He loved Brussels sprouts… I hated them. To me, Brussels sprouts were what broccoli was to President George H.W. Bush when he was growing up. With everything else on my plate gone, the Brussels sprouts always remained. My dad would say, you're not leaving this table until you eat your Brussels sprouts. I would protest and he would say, sometimes, during the war, that's all I got son–a plate of Brussels sprouts–now eat every last one of them! I could only manage about three in any one sitting and then my Mom would bail me out. Brussels sprouts are an acquired taste and in my adult years, I've learned that Brussels sprouts served with an aged balsamic vinegar sauce and grated parmesan isn't all that bad. My dad would be happy to know that.
He would also marvel over a simple can of peaches from the commissary. What's so great about canned peaches I would ask? He would say that these were a real treat during the war. On occasion, when closer to the rear area, the cooks would produce a few cans of peaches for the men. He would crack open that can and skewer one with a knife and slowly chew on that piece of fruit enjoying every savory bit as it slid down the back of his throat. As a kid, I could never comprehend why this was so great…
Then there was his favorite story about Calvados–the apple brandy indigenous to the region of Normandy, France. One day, after a trip back from the latrine, my Dad tripped on something he thought was a tree root in a field on his way back to the company area. When he looked back, he saw the neck of a bottle. He unearthed it and it happened to be the first of many bottles of Calvados buried out there, presumably to keep it out of German hands. My dad was a hero that day to the rest of the men in the company. Calvados remained his favorite liqueur until the day he died. Another acquired taste that I grew to appreciate as an adult myself.
My dad's last assignment in the army was the one he enjoyed most—Canadian Defence Liaison Officer to Combat Development Command at Fort Belvoir, Virgina. He relieved a contemporary named Lieutenant Colonel Ian MacDougal Grant. Colonel Grant was a great guy. He had the swashbuckling good looks of Errol Flynn and he used to give me a lift around Fort Belvoir in his convertible VW Karmann Ghia. He and my dad were great friends and it wasn't until my dad died that I noticed the name "I. M. Grant" on his Short Snorter… they had obviously been comrades-in-arms for a very long time.
My dad retired from the Canadian Forces in 1972, after the decision was made to integrate all combined arms into one force and go to one green uniform. My dad had to give up his Crimson Red Mess Dress jacket and his Full Dress Blue Tunic replete with chain mail on the shoulders. All symbols of the Lord Strathcona's Horse Regiment. Some traditions die hard. He'd done 32 years in the Forces. It was time to go.
He was never so happy when I became an American citizen because he loved America and Americans. He was unhappy when Canada chose not to fight in the Vietnam War because partnerships, alliances and coalitions were very important to him. They are to me too…
When he died in 2000, I was in command and at sea. When I returned to Charleston, SC, to take care of his affairs, I inquired as to the possibility of arranging military honors from the Government of Canada at his funeral. Nothing could be done in the United States. He would have to be returned to Canada and that was not possible. My mom and I were insistent that he receive military honors, so I arranged a memorial service before my next underway on USS OKLAHOMA CITY from Norfolk, VA and I planned a formal burial at sea for his cremains. My dad was a proud Scotsman so I hired the best bagpiper I could find and a Canadian in a tartan kilt to boot! As the ship cast off all lines and pulled off the pier, the piper started to play Amazing Grace, one of my dad's favorite hymns. The piper's gait perfectly matched the speed of the ship as he marched in perfect unison alongside USS OKLAHOMA CITY while we backed into the harbor. On the pigstick [submarine flagstaff] of the bridge, my national ensign was accompanied that day by the Canadian Maple Leaf flag of my father. The piper finished his tribute and I ordered All Ahead Standard. It would be our last trip together as we sailed to the dive point.
I ordered the Quartermaster to plot a course to intercept the Gulf Stream, which passed through our assigned waterspace. The Gulf Stream flows out of the warm waters of the Gulf of Mexico, around Florida and up the east coast towards Canada. The natural power of the sea would take my father home. His service was short and dignified and I laid a wreath in his honor to accompany his ashes on their journey north.
This Friday, I will remember and give thanks for all the members of the Greatest Generation. Many of my friends like RADM Barry Bruner, whose dad was a member of the original Band of Brothers, or RADM Mike Franken, whose dad survived a torpedo attack and the sinking of his ship at the Battle of Savo Island, have similar stories to tell. If you see a WWII Vet around town, please stop and say hello and thank them for their sacrifice.
On this D-Day, the 6th of June, I'm going to go home, put on my DVD of Saving Private Ryan and sit down for a meal of Brussels sprouts, canned peaches and a shot of Calvados. Je me souviens…

Posted by
RADM James Foggo
in
Army
,
History