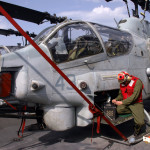 Earlier this spring, the former commanding officer of the Blue Angels was relieved of his duties as Executive Officer of Naval Base Coronado, CA, after he was found guilty at mast of "condoning crude practices on the F/A-18 flight team that led to a sexually hostile command climate." I don't know exactly what happened during CAPT McWherter's second (or first, for that matter) tour as the commanding officer of the Blue Angels. Having read the Command Investigation from start to finish (available on multiple sources, but CDR Salamander has it posted on his site and it's also available here), I am still unsure of the sequence of events and whether or not this is cause for alarm or celebration. I tried to read between the lines of the Command Investigation and failed at that too. Much of what is described sounds distinctly like regular squadron life, albeit on a more high-profile scale due to the nature of the Blue Angels.
Media reports and discussions focus on the pornography (or porn-lite as it may be), whether or not what happened was offensive, and the actions of the female members of the Blue Angels relative to the rest of the team. But those discussions miss the point, as does most of the ongoing commentary.
Having spent the majority of my Marine Corps time in a skid squadron, I think I have an idea for what gets said and done in such an environment. Skid pilots are not Blue Angels, but they are no shrinking violets either. Let's just say my learning curve on such matters was steep. I was not offended by porn, nor was I bothered by dirty jokes, and there were plenty of both to go around. Luckily, however, I had a strong and close peer group with several amazing commanding officers. If something had felt wrong, I think that I could have spoken up with few repercussions. There were guys who were bothered by pornographic material, off-color humor, and similar things; out of respect for them others toned it down. That wasn't the important part of squadron life, anyway, nor did it take up much of our time. What was important was whether or not you knew your job.
Pornography, sexual innuendo, et cetera, while raucously funny to some and at the right time, do not bring about unit cohesion. People don't need porn to bond, or dirty jokes to trust each other. Humor is needed; smut, not really. Common interests and shared goals and standards, yes. Strong leaders to offer guidance versus camaraderie, yes. Giant phallic symbols on the roof? Not required. Those things are just not that important, but trust, mutual respect, and the understanding that we all have a job to do are. Creating and encouraging that kind of environment among a bunch of type-A, strong-willed pilots—or anyone, for that matter—does not require heavy doses of testosterone, porn, or raunchy humor. I belonged to some great squadrons, led by great COs, who led by example and were strong enough to stand up and do the right thing at tough times. That makes a cohesive Ready Room.
The point—regardless of the outcome of the investigation or the actual events in questions—is not that pornography, dirty jokes, and painted phalluses run rampant throughout naval aviation. It is that when a member of a unit asks others for some respect, a CO needs to take charge of the situation and lead. According to the investigation, CAPT McWherter inherited a broken, "fractured" Ready Room, and to fix it he allowed the pilots to follow the "will of the majority," "failed to set limits," and "returned the Ready Room to a more democratic style of leadership." That sounds like putting the cart before the horse, and the ensuing mess suggests that it was. If people don't trust each other, don't respect each other, and cohesion is low, relaxing the rules and fostering overly familial relationships seems like a misstep, not leadership. Maybe that's not really what happened, but the fact that none of the postmortem discussions note this bothers me.

Posted by
Jeannette Haynie
in
Aviation
,
Navy