Archive for July, 2014
Please join us at –
2pm (1400) EDT
on 27 July as we time shift Midrats for
Episode 238: "The Horn of Africa – still the front lines, with RDML Krongard, USN"
:
A special time this week, 2pm Eastern, in order to have a reasonable time for our guest on the other side of the world.

This week we are going to visit an AOR that may have dropped of a lot of people's scan, but in the Long War – it is still the front lines; the Horn of Africa.

Somalia, Eritrea, Ethiopia, Kenya, and the waters around the Arabian Peninsular – from terrorism to piracy – America and her allies and partners are at work every day to keep the beast over there, and not here.

Our guest for the full hour will be Rear Adm. Alexander L. Krongard, USN, Deputy Commander, Combined Joint Task Force-Horn of Africa at Camp Lemonnier, Djibouti, Africa. In this position, he supports the CJTF-HOA Commander to counter violent extremism in East Africa, foster regional security cooperation, strengthen partner nation security capability, and build and maintain U.S. strategic access in the region. Krongard is also responsible for developing relations with senior military leaders in African partner nations and directing CJTF staff and subordinate commanders' support to deployed personnel and units of all Services across the Horn of Africa. DCJTF-HOA.

A Navy SEAL by training, RDML Krongard is a graduate of Princeton University and the National War College.
Join us live or pick the show up later by clicking here.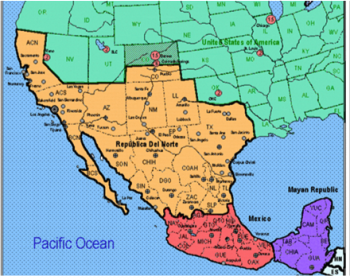 The United States is currently undergoing a massive influx of Central American immigrants along the Southwest border. Due to gridlock and political interest in courting the Latino vote, federal policies have been ineffective in resolving this looming national crisis. The consequent bureaucratic quagmire, in turn, prevents states from protecting the interests of their citizens. A dangerous situation looms, where local communities and citizen groups feel compelled to take action to preserve property and maintain their way of life.
Resolving this immediate crisis is important but the nation's political leaders must also examine the migration and demographic trends which threaten the geographic cohesiveness and prosperity of the United States. This existential threat could be turned into a strategic opportunity if viewed through a different, long-term lens.
In his final book Who Are We? The Challenges to America's National Identity, Harvard political scientist Samuel Huntington addressed what he viewed as an impending crisis posed by Hispanic immigration. He argued that Anglo-Protestant culture, the fundamental reason the United States has prospered as a nation, was eroding because of this northward population shift. He also noted that Hispanic immigration differed from past such movements for six reasons: contiguity, scale, illegality, regional concentration, persistence, and historical presence. It is this last factor that requires further examination.
People from no other immigrant group in America's history can make a claim of ownership of U.S. territory. Most of the Southwest region from Texas, to California, to Utah was incorporated into the United States after wars with Mexico in the mid-19th century. Peter Skerry of Boston College notes:
Unlike other immigrants, Mexicans arrive here from a neighboring nation that has suffered a military defeat at the hands of the United States; and they settle predominantly in a region that was once part of their homeland…. Mexican Americans enjoy a sense of being on their own turf that is not shared by other immigrants.
This history certainly challenges assimilation of the migrants, potentially leading to the bifurcation of a national culture.
Huntington further posits that blood relationships are thicker than national borders. The concentration of Hispanic immigrants along the Southwest border, with relatives nearby but outside the US, poses a true stressor on the political line drawn between the two states. Despite long- established borders, cross-border networks, often based on family connections, have the potential to spawn a unification movement. Historically, such culturally divisive borders have been a source of bloodshed, with Rwanda, Korea and Vietnam as recent examples.
Huntington was not alone in this school of thought. Another academic, Charles Truxillo of the University of New Mexico, predicts the Southwestern American states and the northern states of Mexico will form a new republic by 2080. "Southwest Chicanos and Norteño Mexicanos are becoming one people again," he said and it should happen "by any means necessary." What this new political entity would look like – a semi-autonomous region or an independent state – no one knows.
While this notion may seem absurd, recent polls indicate measures of trust and confidence in the US federal government are at an all-time low and nascent movements are underway in several states (Maryland, Colorado, and California) to change existing borders to create more representative political entities. In democratic republics, can this type of secession occur without bloodshed if demanded by its citizens? Recent events in Crimea may portend the future of state borders not supported by the populace. So something should be done.
In the thought-proving book The Revenge of Geography, Robert Kaplan compares the current crisis along America's Southwest border with the decline of the Roman Empire. Political overreach elsewhere while ignoring problems close to home contributed to the demise of Rome. Kaplan argues that the influx of immigrants along the Southwest Border poses a similar strategic security concern for America. Like Huntington and others, he highlights the dangers of ignoring the long term effects of unbridled illegal immigration and concludes some form of conjoining Mexico and the United States may be inevitable. Conversely, Kaplan also identifies opportunities from such a situation.
Obviously, a more vibrant Mexican economy would lower the push of migrants seeking work in the United States. If Mexico were to achieve first-world economic status, Kaplan asserts, a stable and prosperous republic south of the Rio Grande, working in concert with United States, would be an unbeatable combination in geopolitics. Considering the much younger population of Central America, the natural resource abundance, particularly energy, of Canada, and economic infrastructure in the US, a tri-lingual "supra-state" of the three North America countries would serve as an effective global balancing force.
Elevating Mexico to this status is a daunting challenge needing the same level of American commitment that it has demonstrated with distant nations around the globe. While economic development and reducing the income disparity across the border are critical components to stabilizing the region, economic efforts alone will fail unless security problems are resolved, too. Unlike other security alliances where the sale of expensive weapon systems serves as the foundation, Mexico needs a different form of security assistance.
Mexico needs a capability to disrupt sophisticated transnational criminal organizations. US military, intelligence, and federal law enforcement agencies must expand their support to Mexican law enforcement and military forces. After a decade of honing irregular warfare skills in Iraq and Afghanistan, US Special Forces and US Marines are ideally prepared and suited for this mission.
The mountainous terrain and sparse population of northern Mexico makes it difficult to eradicate the para-military transnational criminal organizations that occupy the region. And UN peace keeping forces have deployed to places less dangerous than some northern Mexican cities, such as Ciudad Juarez. In contrast, US Marines have a long history of operating in the region, dating back to the Mexican wars of the 1800s, the Banana Wars of the early 1900s, Veracruz in 1914 and operating as part of a Joint counter-drug task force in the 1990s. Further, the Marines have the ability to partner with the Naval Criminal Investigative Service to create a capable hybrid law enforcement-military team, similar to the Delta Force – FBI unit that reportedly captured terrorist Ahmed Abu Khattala.
This role may seem inappropriate for the US military. But while nearly three thousand people tragically died in the 9/11 terrorist attacks, this number is dwarfed by the number of deaths along both sides of the Southwest border since that fateful day in 2001. Since then, America's national security enterprise has been distracted by fighting the global war on terrorism; vast intellectual capital was expended and national debt accumulated to rebuild nations of little strategic interest to the United States, all the while allowing security conditions to deteriorate much closer to home. This is a national security issue, pure and simple.
The Pentagon is transitioning from fighting the wars in Iraq and Afghanistan to contending with the rise of China as a regional power. Making this shift will be an impossible task unless America's domestic problems are resolved, however. Chief among those problems is developing a long-term solution to the immigration problem and forming strategic partnerships with Mexico, Canada, and other Latin American States. An effective partnership with a stable Mexico not only contributes to American prosperity but will create a powerful geopolitical balancer in the future.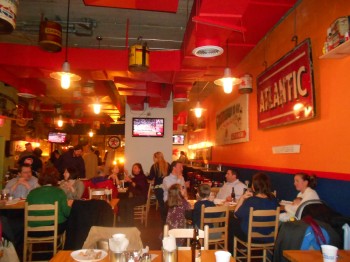 Over at CIMSEC our DC chapter has monthly informal happy hour meet-ups. This month's meet-up might be of particular interest for readers of this blog as it features USNI author LCDR Claude Berube, USNR, to discuss his recent War on the Rocks article and the arguments surrounding the "Global Network of Navies" concept put forth in the pages of Proceeding. We'll be meeting at Fuel Pizza (Farragut Square Location) beginning at 1730, Claude will give a brief presentation at 1800, and we'll continue the discussions over drinks and food for the next several hours.
Time: Wednesday, 30 July 1730-2030 (Discussion with Claude will begin at 1800)
Place: Fuel Pizza (Ask up front if you can't find us)
1606 K St NW, Washington DC
Farragut North / Farragut West metro stops
Additional suggested reading material:
– ADM Jonathan Greenert and RADM James Foggo: "Forging a Global Network of Navies"
– CDR Salamander: "When Your Buzzword Becomes a Punchline"
– Robert Farley: "Managing the United States' Global Naval Partnerships"
All are welcome – RSVPs not required, but appreciated: [email protected]
August Meet-up: August 20th with Nilanthi Samaranayake, CNA, location TBD.

We are joined by RADM Rowden: OPNAV N96 (CNO's Director for Surface Warfare), future Commander, Surface Forces, and author of the CIMSEC Article Surface Warfare: Taking the Offensive. We discuss his concepts for Sea Control, the development of LCS, perspectives on DDG 1000, and his plans as incoming Commander, Surface Forces.
DOWNLOAD: RADM Rowden – Sea Control, LCS, DDG 1000
Remember, subscribe on iTunes or Stitcher Stream Radio. Leave a comment and rate five stars!
Please join us (live!) on Sunday 20 July 14 at 5pm (DST) Eastern U.S. for Episode 237: Military Sealift Command – Past, Present and Future :
Whatever confession of maritime strategy you adhere to, there is one linchpin that all will survive or fail on – the Military Sealift Command. Our guest for the full hour to discuss the entire spectrum of issues with the MSC will be Salvatore R. Mercogliano, Ph.D., Assistant Professor of History at Campbell University.

Sal is a 1989 graduate of SUNY Maritime College, with a BS in Marine Transportation. He sailed on the USNS Neosho (T-AO 143), Mohawk (T-ATF 170), Glover (T-AGFF 1), Comfort (T-AH 20) during the Persian Gulf War, and John Lenthall (T-AO 189). Ashore, he was assigned to the N3 shop for the Afloat Prepositioning Force and focused initially on Marine Corps MPF vessels, but later working on the new Army program, including the construction and conversion of the LMSRs.

In 1996, he transitioned to his academic career. Receiving a MA in Maritime


 

History and Nautical Archeology from East Carolina University, focused on the merchant marine in the Vietnam War. He later then went to the University of Alabama and graduated with a Ph.D. in Military and Naval History with his dissertation on entitled Sealift.

He has taught at Methodist University, East Carolina, University of North Carolina-Chapel Hill, and the U.S. Military Academy, prior to being an Assistant Professor of History with Campbell University since 2010, In addition, since 2008, he has been an Adjunct Professor at the US Merchant Marine Academy teaching a graduate level on-line course on Maritime Industry Policy.

He has been published in the Northern Mariner, Sea History, Naval History, and Proceedings.
As always, join us live if you can or pick up the show for later listening by clicking here.
Some references for our conversation:
Stars and Stripes – With Navy strained, Sealift Command crews eye greater military role
Military Sealift Command: MSC: 60 years strong (2009)
USN/MSC Photos Upper MC3 Erik Foster; Lower MC3 Dustin Knight
Reviews by Bill Doughty
The United States Navy is making and living history right now in Hawaii in the world's largest maritime exercise: Rim of the Pacific (RIMPAC 2014), fostering collaboration and cooperation and promoting international understanding. Among the participants in this year's RIMPAC are navies from 22 nations, including UK, Japan, and China.
Two books give perspective on the past two centuries of naval history and provide context for the history being made by the U.S. Navy this summer.
A lot has happened in the two centuries since the Revolutionary War and War of 1812: from wooden ships to littoral combat ships; the birth of naval air forces, airpower and UAV; nuclear-powered fleet ballistic submarines; computers and cyber-security. The world is changing too, as captured in the Maritime Strategy, from world war confrontation to global cooperation. Think about the evolution of the fleet and the world in which it operates today.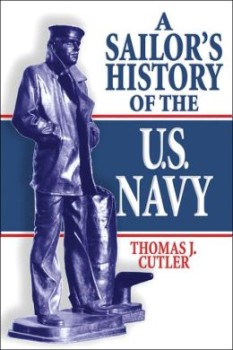 Thomas J. Cutler thinks and writes about changes and challenges over the past 200-plus years in "A Sailor's History of the U.S. Navy." His Naval Institute Press book is a mainstay and now a top pick on the "Be Ready" list of the CNO's Professional Reading Program suggested reads.
Cutler writes about the "magic" of the lore, language and legacy of the United States Navy, and invites Sailors to reflect on the "club" to which they belong. His book recounts — and makes relevant — history through the stories of Sailors in the past and present.
"The more you know about the Sailors who served before you, the more prepared you will be to do your job, and do it well. It is your turn to follow in the wakes of those who went before you, to lead the way for others who will follow you, and to make your contributions to the Navy's ongoing legacy of honor, courage, and commitment."
In a Chapter 6, "Don't Give Up the Ship," Cutler sets the stage with a brief description of Master Commandant (Commander) Oliver Hazard Perry, his famous pennant and the sailors who fought in the face of adversity at the Battle of Lake Erie. Cutler then gives more recent history, including the story of the five Sullivans brothers lost aboard USS Juneau in Guadalcanal Campaign, 70 years ago this year.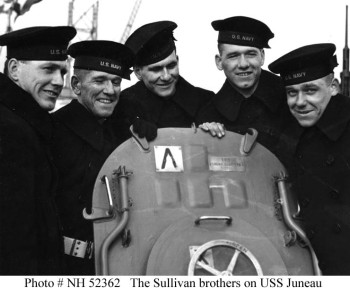 Cutler ties in the brothers' namesake ships, including the current USS Sullivans (DDG 68), showing how the ship was targeted in a failed attack by al Qaeda in Aden, Yemen in January 2000. That same year, on the day before the Navy's 224th birthday, terrorists launched another attack on an Navy ship, this time against USS Cole (DDG 67).
He recounts the heroism of the Sailors who all focused on three tasks, "caring for the injured, providing security against further attack, and saving the ship." Don't give up the ship…
The author packs a lot of history in this easy-to-read overview that contains stories and photos about JFK's PT-109, Rear Adm. "Amazing" Grace Hopper, 1776's gondola Philadelphia, Commodore Matthew C. Perry, battleship USS Maine, Master Chief Boatswain's Mate Carl Brashear, and naval aviator and astronaut Alan Shepard Jr., among others.
In the appendix he offers synopses of key engagements through battle streamers, showing the operational history of the U.S. Navy.
The streamers demonstrate a commitment to always "Be Ready."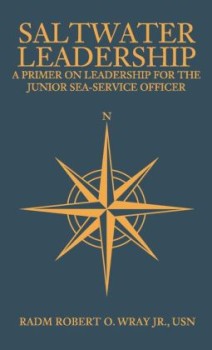 Speaking of "back to the basics," also recommended is a new book by Rear Adm. Robert O. Wray Jr., "Saltwater Leadership: A Primer on Leadership for the Junior Sea-Service Officer."
The book, with a forward by Sen. John McCain, is endorsed by retired Adm. Gary Roughead, former chief of naval operations, and former President George H. W. Bush, who served as a naval aviator and "junior officer at sea."
Wray offers self-described bite-sized "sea stories" and practical, pragmatic "salty advice" along with plenty of lists, including traits and tributes, rules and advice, and a list of 35 books on leadership!
Interestingly, the book opens with advice from ancient philosopher from China Lao Tzu:
A leader is best
When people barely know that he exists,
Not so good when people obey and acclaim him,
Worst when they despise him.

"Fail to honor people,
They fail to honor you";

But of a good leader, who talks little,
When his work is done, his aim fulfilled,
They will all say, "We did this ourselves."
— Lao Tzu's "Tao Teh Ching," verse 17, 6th century BC
Wray's book is published by the Naval Institute Press and is in the same "Blue and Gold Professional Library" series as "The Bluejackets Manual," "Command at Sea," and "A Sailor's History of the U.S. Navy" (above), among others.
(An earlier version of this post appeared on Navy Reads — http://navyreads.blogspot.com. Recent posts include reviews of "Cybersecurity and Cyberwar," "Thomas Paine: Enlightenment, Revolution, and the Birth of Modern Nations," and "Zumwalt: The Life and Times of Admiral Elmo Russell 'Bud' Zumwalt, Jr.")
A couple of weeks ago the U.S. Naval War College hosted the Current Strategy Forum, 2014. It was a two day conference which brought the soon-to-be graduates of the War College programs together with fleet planners and strategists, some of the world's top scholars, and a few of us strap hangers to discuss maritime and military strategy in the 21st century. The lectures and panels were all livestreamed and then posted to Youtube, so you can watch them yourself here.
One of the things Admiral Greenert said, and was repeated a number of times by the other Admirals, was that the OPNAV staff is looking for help in working on the new iteration of the Cooperative Strategy for 21st Century Seapower (CS21). One of the things the organizers of the conference failed to offer, however, was an obvious outlet to provide the feedback. This is reflected in some of the internet "after action" writing, including a post written with obvious frustration by a War College student and published at Steeljaw Scribe and CDR Salamander.
Luckily, the anonymous student stumbled upon the perfect way to provide the feedback: writing about it. CAPT "Barney" Rubel (ret), the outgoing Dean of Naval Warfare Studies in Newport, points this out in his recent monograph "Writing to Think." He tells us that taking the time to sit down and write about professional subjects like strategy has the ability to clarify and organize things, making our thoughts more useful.
Dispositions of Navies
One of the names which came up a few times at Current Strategy Forum was Alfred Thayer Mahan. One of the godfathers of the Naval War College and professional military education, his name has also become a nearly mandatory cliché when discussing naval strategy. Much of the Mahanian discussion focuses on "The Influence of Sea Power Upon History." Because of the book's focus on the age of sail we hear that it's a shame he didn't write something more useful for us in the 21st century. If only he had written something relevant to navies with engines instead of sails, that discussed how to dispose of a global fleet in a time of relative peace, with rising great powers. If only.
In 1901 Mahan wrote an essay for the British journal National Review entitled "Considerations Governing the Dispositions of Navies." It was a study of why, where and how a nation should exercise their naval forces in times of relative peace, "for the dispositions of peace should bear a close relation to the contingency of war." While the essay is little known compared to his seminal book, the noted strategist of the 1930s and 1940s Herbert Rosinski wrote it was probably some of Mahan's best work. It gets directly to the heart of the questions a document like CS21 must answer, what are the ideas which govern how we deploy and use our fleet today?
Three Thoughts from The Prophet
The first thing Mahan calls for in his essay is "an antecedent appreciation of the political, commercial, and military exigencies of the state." At the turn of the 20th century the world was experiencing globalization with an unprecedented scale and speed. Mahan believed any strategic appreciation of how or why to use navies had to be informed by that reality. Because naval power plays a role in military affairs, commercial or economic interests, and the political or diplomatic interaction between states, they should be seen as "an articulated whole," and all three must be addressed by today's strategic thinkers. The drafters of a strategic document like CS21 must consider these three factors, and should explain how the Navy views its interaction with each of them individually, as well as a whole, around the globe today.
Another area of the essay for today's writers to consider is Mahan's discussion of forward deployed naval forces. Mahan believed America was safest when threats were dealt with far from our own shores. That required not just a navy, but a forward deployed navy which was able to respond quickly because it already had presence around the world. He also highlighted the relationship between offense and defense in naval war, a balance that was a bit different than the way land power strategists have thought about it.
Mahan reminds his readers, "he who has but half way to go does double the work." Because of this, he writes that the locations for overseas bases are critical and must be selected with strategic elements in mind. He touches on the maintenance of allies and partners as well as the facilities needed to repair and resupply ships in theater, rather than always having to bring them back to the United States. In modern terms he's talking about the value of forward basing and forward stationing and some of his ideas will likely have direct relevance to those who are working on CS21.
The final element of "Considerations Governing the Dispositions of Navies" I will point out is Mahan's discussion of technology and fleet constitution. One of the pieces of conventional wisdom about the great navalist is that he was a bit of a Luddite and did not understand the advance of technology, or its importance to naval operations. Thinking about it for a moment, it seems a bit silly to suggest an officer whose career straddled the shift from sail to steam wouldn't understand how technology impacts naval affairs. In his essay Mahan's writing also helps to dispel some of that myth.
The airplane and the tactically useable submarine were still a few years away when he wrote the piece. However, he does discuss the importance of the new wireless telegraph technology. He suggests that by using their radios ships could network together and cover much larger distances. Scouting (or what we today call ISR) could be impacted dramatically and the wireless would present the ability for numerous small ships to come together and operate as a massed and coordinated group when needed, but also provide the ability for them to disperse for presence operations.
Importantly, Mahan also discusses the constitution of the fleet. The kinds of ships a naval force needs, the balance of numbers or types, is a vital part of any vision for naval affairs or sea power. In the 21st century we add aircraft, submarines and other platforms and systems to the question as well. Starting with Mahan's outline isn't a bad idea. We are commonly taught he was a battleship man and was focused on big guns and big ships. His writing in this essay clears up some of that conventional wisdom as well. Mahan wrote a Navy needed three elements which made up a balanced fleet. The battle fleet was the obvious starting point and required battleships and armament which could defeat another nation's fleet. Mahan also wrote that a navy needs numerous cruisers to work with the battle fleet, but which can also deploy independently for the protection of commerce and naval diplomacy. Finally, Mahan suggested a balanced naval force required small craft which could serve as scouts as well as move toward the shore and serve in close to the enemy's coast.
Mahan was writing about ships, but obviously today aircraft and submarines can complete some of the tasks he discusses, though not all of them. A new version of CS21 will require a discussion of fleet constitution and technology, but it must focus on the "why." At the very end of his essay Mahan points out that after the qualitative must come the quantitative. Establishing how many ships and assets you need is a vital part of peacetime naval policy.
Sea Power and the 21st Century
Reading Alfred Thayer Mahan's work will not provide a prescription for today's issues or a checklist the drafters of a new CS21 should follow. One of the other great myths about Mahan is that his purpose was to provide step by step instructions for maritime success. He is frequently called the Jomini of naval strategy. But Mahan didn't believe in checklists, he didn't believe in maxims as hard and fast rules. When he used words like principles or maxims, he was describing historical precedents providing naval officers and strategists with ideas to consider. He wrote the purpose of studying and learning historical principles isn't to tell you exactly what to do to get things right, it's to give you a hint that you're about to do something wrong.
The officers working on the new document likely already have many of these concepts in mind. However, there is a great deal more in "Considerations Governing the Dispositions of Navies" which the modern navy can learn from. I've just highlighted three elements I think are particularly interesting and relevant to CS21. But don't trust me, read Mahan himself. You can find the essay either in Chapter 2 of "21st Century Mahan: Sound Military Conclusions for the Modern Era" or you can do a little bit of searching on the internet and probably find it for free download. Mahan's great value isn't in telling us what to do or think; it is in helping us ask the right questions. As he told us in another essay, "the instruction derived from the past must be supplemented by a particularized study of the indications of the future."
Yesterday,

under a beautiful sky and with the Navy Memorial in downtown Washington, D.C. as back drop, hundreds of uniformed officers, Navy civilians and members of the retired community gathered to say goodbye to an American icon–Mr. Trip Barber. Mr. Barber bid farewell to the Navy he loved with a simple ceremony–no pomp and circumstance–and one that was commensurate with the manner in which he conducted business in the halls of the Pentagon over the course of his 41 year career. They say that in any organization, no one person is indispensable, but Trip Barber will be hard to replace.
Trip has been the Navy's shepherd for the last 26 Program Objective Memorandum (POM) cycles. In short, the POM is the final product of the budget process or programming cycle that dictates how we spend the Navy's money. Executing 26 POMS is an absolutely amazing statistic and Trip Barber has done so with tenacity and steely-eyed determination over the years. As analysts go, he's the best of the best. In his humble remarks, he thanked some of the great Senior Executive Service (SES) Civilians like Mr. Ken Miller or Mr. Irv Blickstein and one of the finest uniformed officers in the realm of programmatics–the late Admiral Don Pilling–for teaching him his tradecraft. In my opinion, Trip joined the ranks of these giants in the Planning, Programming and Budgeting and Evaluation (PPB&E) world long ago and we learned much from him
Before becoming a Senior Executive himself, Trip enjoyed a highly successful career in the Surface Navy, culminating in his stewardship and command of one of the largest Fleet Concentration areas in the world–Naval Base, Norfolk, Virginia. That is where I first met him, while I was in command of an SSN on the waterfront. Trip's leadership and management skills were highly effective at sea or ashore, so it is no surprise that he rose to be one of the most respected and revered SES in the Department of the Navy.
In his farewell address, Trip made a statement that was an inspiration to all of us when he said, " I did not come to N81 to be a faceless bureaucrat, I came to build a team that could analyze with technical rigor and operational skill how to make our Navy better, and I intended to be as relentlessly forceful as that team's spokesman as it took to use their work to roll over any obstacles to making the Navy the most capable that it could be within the funds it had." That statement is the very essence of what Trip Barber stands for and he leaves an important legacy in his wake for all of us to follow.
Trip trained and mentored 10 different Admirals in the last 12 years as the Deputy Director of the Assessments Branch, N81. I was one of the fortunate recipients of his training, mentorship, and friendship. There were many "Trip-isms" that will live in infamy after his departure. RADM Herm Shelanski relayed one today that we all subscribe to in the makings of a good briefer and the mark of a good brief. First, the Senior Leader (and recipient of the brief) should remain in the room for the duration of the brief. Second, under NO circumstances should there be any "back-up" slides included in the brief. Third and finally, if the brief is "stand-alone," then there should be NO follow-on taskers associated with the brief. 'Nuff said.
We ALL emulated this model, but few of us could ever get there on our own… Trip would often say in our morning meetings, "That's OK, HARD is authorized!"
Trip didn't train just the Admirals, he trained scores of the best Operations Analysts and Operations Researchers ever to wear a Navy uniform. He said, " I see it as my duty as the senior continuity in N81 and as the Navy's senior analyst to nurture a culture of intellectual excellence and energy in all who work in N81, to focus us on the right issues, and to provide a logical structure to our efforts." When I served with Trip at N81, I used to joke with the young officers going into their first encounter with Trip to present a briefing that they believed was ready for scrutiny by our venerable Deputy. I would say, you are about to make your first trip to the "Barber" Shop, and you won't go in just once. This was an iterative process and part of Trip's training and mentoring of future analysts. Graduate school doesn't teach you everything and being the best at what you do requires on-the-job training and experience under the watchful eye of a good mentor. If the briefing was really really good, you might just get a "trim." If it needs rework, you might end up with a "high and tight." If the brief just doesn't pass muster, you could get "scalped," but Trip always did so with a grandfatherly touch. His aim was to make us better. We all learned so much from him.
Trip opined that when he came to N81 over a decade ago, he found an organization that operated behind closed doors with a very high opinion of itself. He evoked the memory of Admiral Sam Locklear, one of his former bosses, who put N81 on a different path that he called "Excellence without arrogance." Trip, Admiral Locklear and the N81 team embraced and inculcated this new approach. Trip eradicated the term "honest broker" from N81's vernacular, because he thought it implied that others on the Navy staff were somehow dishonest or unwilling to face the truth–just simply not the case. Trip preferred the mantra that N81 was "dispassionate" because although N81 does not own programs, it has a duty to analyze programs with all due rigor, so that the Navy gets the best bang for the buck, and dollars are precious nowadays.
By his own choosing, Trip is departing the pattern here on a high note. He could have stayed and continued to be very effective, but he recalled the words of his MIT classmate and NASA astronaut, Jay Apt, who described the standards in his community as follows, "90 percent is just not good enough."
If you run the risk of running out of new ideas and becoming just another part of the bureaucracy, it's time to go.
So we say goodbye to a great American and a patriot. Once upon a time, CAPT Trip Barber worked alongside CAPT Jon Greenert in the "Bullpen" of OPNAV N80, and so it was fitting that Admiral Jon Greenert shared the dais with SES Trip Barber at the Navy Memorial today. Admiral Greenert's remarks were moving and appropriate to honor a man who has given so much to the nation and our Navy.
Fair winds and following seas Trip. Enjoy your well-earned retirement! You've earned it!
Ladies and Gentlemen, the "Barber" Shop is now officially closed.