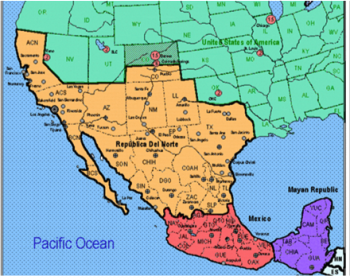 The United States is currently undergoing a massive influx of Central American immigrants along the Southwest border. Due to gridlock and political interest in courting the Latino vote, federal policies have been ineffective in resolving this looming national crisis. The consequent bureaucratic quagmire, in turn, prevents states from protecting the interests of their citizens. A dangerous situation looms, where local communities and citizen groups feel compelled to take action to preserve property and maintain their way of life.
Resolving this immediate crisis is important but the nation's political leaders must also examine the migration and demographic trends which threaten the geographic cohesiveness and prosperity of the United States. This existential threat could be turned into a strategic opportunity if viewed through a different, long-term lens.
In his final book Who Are We? The Challenges to America's National Identity, Harvard political scientist Samuel Huntington addressed what he viewed as an impending crisis posed by Hispanic immigration. He argued that Anglo-Protestant culture, the fundamental reason the United States has prospered as a nation, was eroding because of this northward population shift. He also noted that Hispanic immigration differed from past such movements for six reasons: contiguity, scale, illegality, regional concentration, persistence, and historical presence. It is this last factor that requires further examination.
People from no other immigrant group in America's history can make a claim of ownership of U.S. territory. Most of the Southwest region from Texas, to California, to Utah was incorporated into the United States after wars with Mexico in the mid-19th century. Peter Skerry of Boston College notes:
Unlike other immigrants, Mexicans arrive here from a neighboring nation that has suffered a military defeat at the hands of the United States; and they settle predominantly in a region that was once part of their homeland…. Mexican Americans enjoy a sense of being on their own turf that is not shared by other immigrants.
This history certainly challenges assimilation of the migrants, potentially leading to the bifurcation of a national culture.
Huntington further posits that blood relationships are thicker than national borders. The concentration of Hispanic immigrants along the Southwest border, with relatives nearby but outside the US, poses a true stressor on the political line drawn between the two states. Despite long- established borders, cross-border networks, often based on family connections, have the potential to spawn a unification movement. Historically, such culturally divisive borders have been a source of bloodshed, with Rwanda, Korea and Vietnam as recent examples.
Huntington was not alone in this school of thought. Another academic, Charles Truxillo of the University of New Mexico, predicts the Southwestern American states and the northern states of Mexico will form a new republic by 2080. "Southwest Chicanos and Norteño Mexicanos are becoming one people again," he said and it should happen "by any means necessary." What this new political entity would look like – a semi-autonomous region or an independent state – no one knows.
While this notion may seem absurd, recent polls indicate measures of trust and confidence in the US federal government are at an all-time low and nascent movements are underway in several states (Maryland, Colorado, and California) to change existing borders to create more representative political entities. In democratic republics, can this type of secession occur without bloodshed if demanded by its citizens? Recent events in Crimea may portend the future of state borders not supported by the populace. So something should be done.
In the thought-proving book The Revenge of Geography, Robert Kaplan compares the current crisis along America's Southwest border with the decline of the Roman Empire. Political overreach elsewhere while ignoring problems close to home contributed to the demise of Rome. Kaplan argues that the influx of immigrants along the Southwest Border poses a similar strategic security concern for America. Like Huntington and others, he highlights the dangers of ignoring the long term effects of unbridled illegal immigration and concludes some form of conjoining Mexico and the United States may be inevitable. Conversely, Kaplan also identifies opportunities from such a situation.
Obviously, a more vibrant Mexican economy would lower the push of migrants seeking work in the United States. If Mexico were to achieve first-world economic status, Kaplan asserts, a stable and prosperous republic south of the Rio Grande, working in concert with United States, would be an unbeatable combination in geopolitics. Considering the much younger population of Central America, the natural resource abundance, particularly energy, of Canada, and economic infrastructure in the US, a tri-lingual "supra-state" of the three North America countries would serve as an effective global balancing force.
Elevating Mexico to this status is a daunting challenge needing the same level of American commitment that it has demonstrated with distant nations around the globe. While economic development and reducing the income disparity across the border are critical components to stabilizing the region, economic efforts alone will fail unless security problems are resolved, too. Unlike other security alliances where the sale of expensive weapon systems serves as the foundation, Mexico needs a different form of security assistance.
Mexico needs a capability to disrupt sophisticated transnational criminal organizations. US military, intelligence, and federal law enforcement agencies must expand their support to Mexican law enforcement and military forces. After a decade of honing irregular warfare skills in Iraq and Afghanistan, US Special Forces and US Marines are ideally prepared and suited for this mission.
The mountainous terrain and sparse population of northern Mexico makes it difficult to eradicate the para-military transnational criminal organizations that occupy the region. And UN peace keeping forces have deployed to places less dangerous than some northern Mexican cities, such as Ciudad Juarez. In contrast, US Marines have a long history of operating in the region, dating back to the Mexican wars of the 1800s, the Banana Wars of the early 1900s, Veracruz in 1914 and operating as part of a Joint counter-drug task force in the 1990s. Further, the Marines have the ability to partner with the Naval Criminal Investigative Service to create a capable hybrid law enforcement-military team, similar to the Delta Force – FBI unit that reportedly captured terrorist Ahmed Abu Khattala.
This role may seem inappropriate for the US military. But while nearly three thousand people tragically died in the 9/11 terrorist attacks, this number is dwarfed by the number of deaths along both sides of the Southwest border since that fateful day in 2001. Since then, America's national security enterprise has been distracted by fighting the global war on terrorism; vast intellectual capital was expended and national debt accumulated to rebuild nations of little strategic interest to the United States, all the while allowing security conditions to deteriorate much closer to home. This is a national security issue, pure and simple.
The Pentagon is transitioning from fighting the wars in Iraq and Afghanistan to contending with the rise of China as a regional power. Making this shift will be an impossible task unless America's domestic problems are resolved, however. Chief among those problems is developing a long-term solution to the immigration problem and forming strategic partnerships with Mexico, Canada, and other Latin American States. An effective partnership with a stable Mexico not only contributes to American prosperity but will create a powerful geopolitical balancer in the future.

Posted by
Robert Kozloski
in
Homeland Security
Tags:
immigration
,
Mexico