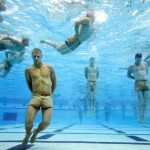 Back in 2009, in his Proceedings article The Navy Can Handle the Truth: Creative Friction Without Conflict, regular USNI contributor Claude Berube provided a great observation about how important the give and take of debate is in addressing the challenges we face, and the great opportunity we have with the internet to broaden the reach and scope of those involved.
In the current environment, due to largely to changing missions, budgetary constraints, and varying priorities, the Navy continues to shrink in terms of both ships and personnel, decreasing the already minimal familiarity of the general American public with its Sea Services. Bullets and shells may win the battles, but words and ideas define the war and mobilize or sway the requisite public opinion to win it. Therefore, it is important for the Navy to recognize that one of America's greatest strengths—its freedom of speech—can be its own force multiplier. This freedom allows for creativity, the engine of culture, the economy, and the military; dictatorial powers largely experience the relative creative stagnation regnant in a closed society.
Earlier this week over at my homeblog, in a discussion about another Proceedings article by CDR Darcie Cunningham, USCG; Millenials Bring a New Mentality: Does it Fit?, I brought in a White Paper that found its way to me, Training Millennials: Improving Quality in an Environment of Austerity, by LCDR Gordon "Judy" Faulkner, USN, at that time the VFA-106 Training Officer. Yesterday Judy sent me an updated version of the White Paper which I've embedded below.
Not taken aback by the boisterous romper-room that exists over at my homeblog, as I asked, Judy reached out to me – and the results are exactly what Claude was outlining.
I liked his email so much, with only minor changes, I asked his permission to publish it as a guest post. I originally was going to post his response over at CDRSalamander, but I wanted instead to bring it over here, as Judy brings up exceptionally important challenges that need to get a broader exposure.
Though I remain in disagreement with some of his observations about Millenials and think that discussion is a distraction, the other part – and I would argue the most important part of the White Paper – is what I would recommend the greatest focus by the reader.
Read the updated paper at the link above and draw your own conclusions, but the rest of the post I would like to turn over to Judy. The quotes are from my commentary on his White Paper, but otherwise the rest is his response. Over to you Judy.
---
Perhaps this piece would have been better as two separate articles, each addressing what I perceive as two very different topics. 1) Chronic under-resourcing coupled with mission creep, resulting in an inadequate training pipeline. 2) How to recognize, address and lead in light of generational friction, which you seem to agree is real and exists between most generations. Alas, the version you posted is the one that most people have read.
My use of the term "Millenials" in the title belied the real point of the paper. Alternatively I could have called it "How under-resourcing is threatening to destroy the Navy by forcing us to push through sub-par officers in an effort to meet requirements." Even my long-winded literary namesake would assault this as verbose.
"He is not happy with the condition of the swimming hole he is playing in and has a rough idea that the issues are upstream … but besides a sniff and a passing glance, he has not started asking – or at least feels he has the top-cover to even bring up – the harder questions of "why" these personality types are floating down to his part of the river."
Let's put one thing to bed – during my time at VFA-106, AIRLANT fully supported every Field Naval Aviator Evaluation Board (FNAEB) that VFA-106 submitted; there were several. I was VERY happy with the swimming hole I was playing in (VFA-106) and those Commanding Officers who went to the mat to support me. In fact, it was my most rewarding tour thus far. Top cover existed in spades – to the point where VFA-106 failed to meet production metrics in part due to historically high attrition.
I have thought extensively about, " "why" these personality types are floating down to his part of the river."
It has a lot to do with the "fiscal austerity" in my title (sorry again for the drudgery there). Chronic under-resourcing creates a training dilemma.
How do we access, indoctrinate, train, and retain the best officers while culling those not suited to military service? Even more importantly, how do we do that in an environment where the best are leaving (or are not signing up in the first place), and we are forced in some cases to retain the worst to meet requirements? You point that out yourself here:
The problem is not with the Millenials – it is with senior leadership's inability to select, cull, and lead junior personnel. Do that, and any "problem" people simply won't show up.

That is the rub. Setting standards from officer accession, entry in to aviation pipeline, and then each milestone along the way.
Agreed. In fact, that is why six of seven proposed solutions have nothing to do with changing Millenials. Leadership is the solution, and as I state in my paper we need to tailor leadership to those we lead while enforcing or improving upon existing standards. That begins with understanding those we lead.
If I sound a bit like a curmudgeon, perhaps it is because 23 pages seemed long enough. Another paper written today might be about all of the positive aspects of Millenials that we should be tapping into and harnessing as leaders.
That being said, as you point out in your conclusion, generational friction is real. Understanding that friction and your audience are critical to effective communication, which is fundamental to sound leadership. Dr. Jean Twenge is doing a sound and scientifically based job of explaining current generational friction. In my opinion, she offers excellent insight for officers attempting to improve their communication skills. She is not selling snake oil out of the back of a wagon. She is attempting to quantify and explain generational friction in an effort to foster understanding. This is not at all about blaming Millenials; it is about understanding them. To quote my paper: "Developing Millennial officers requires a concerted leadership approach. Officers cannot lead in the ways that they believed worked for their generation. They must study, adapt and lead in the way that their Sailors require them to. Leaders must adjust their approach to their Sailors, not the other way around."
There is also the problem of second guessing of who can or cannot meet standards. The multiple chances and training jackets measured in inches of thickness and pounds of weight … the pushing to the right and the next command people who should be invited to find another way to serve their country earlier on – wasting their time and the Navy's money. That story is not new. May be worse – but not new.
Bingo. I could not agree with you more. Here's the three million-dollar question – when we have fewer candidates who meet the standard than we have required billets, what gives, the requirement or the standard? This is where the rubber meets the road in today's Navy. The most recent Aviation Department Head Screen Board is yet another example of this dilemma, albeit rooted in some different issues.
The Sailors of VFA-106 expend tremendous energy to train every officer who arrives at our door. In some cases, those officers should not have arrived in the first place. That does not mean they do not deserve our full effort. Some of the best leadership I have ever seen came from the Lieutenants whom VFA-106 assigned as mentors to our most difficult officers. We did not attrite those problem children them without first trying to lead and develop them.
There is a balance between healthy attrition and production. The former fosters competition and appreciation for the privilege of serving in the Navy. The latter ensures that we meet requirements in a way that is fiscally responsible to the US taxpayer. One of the most difficult decisions as a Training Officer or Commanding Officer is when to remove a student from training. In some cases it is easy; in most cases it is a gut wrenching progression of doing everything possible to train and lead (we all want to believe that we can get through to anyone) and finally admitting that some people are not suited for Aviation or for the Navy. The point where that decision occurs will vary based on leadership style and experience. In all cases, it is critically important that the Fleet provides unfiltered feedback on their nuggets and that the Fleet Replacement Squadrons provide the same to the Training Command. That flow of information should continue all the way to assessment. The bottom line is that ownership at every level ultimately ensures that we do not matriculate sub-standard officers to the fleet. Each command should see itself as a brand and every officer that passes their doors as a ambassador of that brand. Ultimately, a certain amount of undermanning is preferable to having sub-standard officer, aviator, SWO or Submariner in a Wardroom.
If you are not given the tools to force shape those that float down stream to you, then your bosses are the problem.
Boom goes the dynamite. In this case, the tools you speak of are resources matched to requirements. And in my opinion, the bosses are the elected ones, not the ones in uniform; however, it is our responsibility as officers to dutifully advise our elected officials when we can no longer meet stated goals given current fiscal constraints; however, as an O-4 at the Fleet Replacement Squadron those conversations are "a little out of my element."
In summary, the entire cadre of junior officer instructors at VFA-106 is comprised of Millenials. They are some of the best officers with whom I have had the opportunity to serve. They are harder working, smarter and in many cases more dedicated then my contemporaries. Given adequate resourcing those same instructors of VFA-106 will set to meeting fleet requirements, providing the Navy with high quality Officers and aviators. And given adequate resourcing, we might just improve their morale and retention at the same time.
---
That, my friends, is how it is done.
As a final note – if you wonder if Aristotle, Chesterton, Socrates or other of history's great thinkers ever yelled at the kids to get off their lawn, I recommend

Posted by
CDRSalamander
in
Navy
,
Training & Education
Tags:
Leadership
,
millennials