The public opinion pendulum seems to be swinging away from the post-9/11 clamor to enhance our homeland security readiness, even while the threats to the US proliferate and evolve. What does that mean for a service that is both a law enforcement agency and a military service?
The Coast Guard's dual military/law enforcement status is a rare exception to posse comitatus, which requires the service to balance Title 10 and Title 14 responsibilities. In its law enforcement capacity, the Coast Guard must be judicious in its observance of legal procedures and careful to cultivate the trust of the American public. As a military service that provides critical capabilities to the Joint Force, the Coast Guard must train and equip for defense operations that demand a combat-oriented skillset and ethos. Recent events remind us of why it remains important to keep those roles distinct, even as our enemies make it ever more difficult to distinguish criminals from combatants.
Law enforcement agencies in the United States recently came under national scrutiny as a result of indications that the public is growing alarmed at the "militarization" of US police forces. The civil unrest in Ferguson, Missouri brought the issue to a head when images of local police confronting protestors while outfitted with camouflage uniforms, heavy body armor, and assault rifles streamed across major media outlets with the effect of further escalating the already volatile situation. The controversy over police wielding military-grade equipment elicited a promise for Congressional review by the Senate Armed Services Committee and a personal letter from House Armed Service Committee member Duncan Hunter to Defense Secretary Hagel encouraging a formal review of a federal program that allows DoD to transfer excess military equipment to police forces.
This latest outcry reminds us of an inexorable truth: free societies tend to vacillate about their desire for security. From Athenians condemning Themistocles to exile after the Persian menace waned, to the widespread vilification of the Patriot Act within the US only a few years after its near-unanimous passage, history demonstrates a consistent pattern wherein an existential threat will motivate the populace to demand greater security from their government, only to later denounce those same security measures once the threat appears to dissipate.
For the US Coast Guard, the recent backlash against militarized police is cause for reflection. The Coast Guard relies on a high degree of public confidence to maintain its dual status as both a law enforcement and military organization. Any erosion of that confidence compromises its ability to fulfill its diverse mission set. Yet there can be little doubt that it has adopted a much more overtly military appearance in recent years. The twin catalysts of 9/11 and Hurricane Katrina produced major organizational changes in the service's missions, capabilities, and identity. The most readily-apparent difference is the enhanced security posture the service adopted to mitigate the terrorist threat to the homeland. The Coast Guard added Maritime Safety and Security Teams and a Maritime Security Response Team, and aligned itself closer to the Department of Defense both for Homeland Defense missions and contingency operations abroad. Coast Guard response boats patrol our waterways with crew-served weapons mounted, armed Coast Guard helicopters circle the Capitol daily, and Coast Guardsmen perform a variety of maritime security missions in SWAT-like tactical gear. The result is that the Coast Guard's public image has evolved from a primarily humanitarian, life-saving and law-enforcement service that performs a combat role in time of war, to one that remains all of those things, but also wields distinctly-military capabilities close to home and in full view of the American public.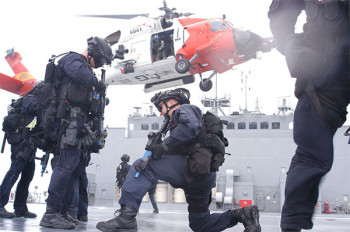 So far, the Coast Guard has not been subjected to the condemnation currently being heaped upon other domestic law enforcement agencies. However, with public confidence in government nearing an all-time nadir and many Americans weary of war abroad and enhanced security measures at home, the service must consider how it will continue to balance its domestic security responsibilities with its humanitarian and law enforcement missions.
That balance promises to grow ever more difficult in the future. Once-clear lines separating criminals from terrorists and military forces are blurring into amorphous inter-dependent networks labeled simply "irregular threats." Confronting irregular threats and irregular warfare (CIC/IW) garners a lot of attention within DoD, but its ambiguous nature frustrates attempts to frame a consistent interpretation of where such threats transition from a law enforcement to a military responsibility. The Coast Guard seems ideally suited for taking a lead role in the CIC/IW mission due to its statutory authority and operational capability to act in both capacities, but there is risk to that approach because American principles have historically required maintaining a bright line between the two. The challenge for the Coast Guard will be determining how best to leverage the authorities and capabilities that make it well-adapted for CIC/IW, while remaining within legal boundaries and out of the crosshairs of public condemnation. Equally challenging will be preserving the service's humanitarian reputation (critical for gaining access to regions wary of US military presence) while some Coast Guard sub-communities evolve to more closely resemble their DoD brethren.
Relaxing the Coast Guard's domestic security posture is certainly not the right answer. Doing so would be a gross abdication of its homeland security responsibility. Many will recall that the modal conclusion that emerged from numerous post-9/11 "how did this happen?" tribunals was that the clues were there that should have alerted us to improve our security measures, but for a variety of reasons we choose not to. The universal vow that followed was "never again." Thirteen years hence, we are perhaps reaping the consequences of our own success (at great cost and sacrifice that few fully comprehend) in preventing another major attack on the homeland. To many, the threat is simply not salient enough anymore to justify remaining loaded for bear on the homefront. Yet compared to the current security environment, the decade leading up to 9/11 seems like a halcyon era of relative tranquility. Bin Laden is dead, but that fact is little solace amidst the unraveling of Iraq and Syria, rampant narco-violence throughout the Western hemisphere, sophisticated horizontal weapons proliferation to non-state actors, and technical accelerators that are producing dangerous new capabilities available for commercial consumption. At no time in the nation's history has "semper paratus" demanded a higher degree of readiness from its Coast Guard.
So how does the Coast Guard maintain necessary readiness without triggering the ire of a war and security-weary public?
Foremost, it must have a convincing strategic narrative that informs the public why an assertively-postured Coast Guard is in their best interest. That narrative needs to clearly detail the nature and magnitude of the threat, what capabilities the Coast Guard needs to confront that threat, and why the Coast Guard's enhanced domestic readiness does not undermine American civil liberties or detract from its humanitarian missions.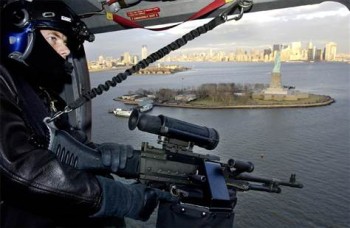 The Coast Guard has done pretty well in this respect so far. The avuncular "Smokies of the Sea" image from the 80s and 90s evolved into "America's Maritime Guardian" and the "Shield of Freedom" images after 9/11. Media coverage of the service during the Hurricane Katrina response and on popular television shows such as Coast Guard Alaska and Miami help to educate the public on the breadth of the missions that the Coast Guard performs. But more work remains. Evolving attitudes toward issues that the Coast Guard is directly involved with promise to invite more scrutiny into how and why the Coast Guard performs some missions. For example, how does growing support for legalization of certain drugs affect the cost/benefit calculation of further prosecuting the drug war and the related threats posed by narco-terrorism? Does it continue to justify, for example, employing airborne use of force against non-compliant drug smugglers? What about illegal immigration? Those and other missions will certainly come under scrutiny in the future and the Coast Guard must be ready to justify its policies. The best way to maintain support for robust interdiction capabilities is to reinforce their importance to maritime security and conduct them with irreproachable skill and professionalism.
Communicating a clear strategic narrative is not just for public consumption. The Coast Guard needs to internalize it as well. Coast Guardsmen need to understand the precarious balance that their unique status demands and why that requires going out of their way to avoid any instance of excessive force or unwarranted intimidation. That obligation is nothing new. The same guidance traces back to a passage from a letter written in 1791 by Alexander Hamilton to commanding officers of the Revenue Cutter Service (predecessor to the Coast Guard) that remains required reading for all Coast Guard law enforcement personnel:
"They will always keep in mind that their countrymen are freemen, and, as such, are impatient of everything that bears the least mark of a domineering spirit. They will, therefore, refrain, with the most guarded circumspection, from whatever has the semblance of haughtiness, rudeness, or insult. If obstacles occur, they will remember that they are under the particular protection of the laws and that they can meet with nothing disagreeable in the execution of their duty which these will not severely reprehend. This reflection, and a regard to the good of the service, will prevent, at all times a spirit of irritation or resentment. They will endeavor to overcome difficulties, if any are experienced, by a cool and temperate perseverance in their duty–by address and moderation, rather than by vehemence or violence."
However simple that passage might appear, it may at times prove difficult in practice. Law enforcement and combat require very different mindsets and training approaches, even if some of the missions and capabilities overlap. The potential conflict between developing a resilient "combat ready" mentality that facilitates effective action under fire and ingraining restraint and humanitarian sensitivity was highlighted in the "Kill Company" case study, and explored in Lt. Col David Grossman's book On Combat. "Cool and temperate perseverance" is appropriate in the course of normal operations, but reacting to a situation that suddenly changes from law enforcement use of force to rules of engagement (such as happened here and here), or homeland defense such as interdicting an inbound terrorist attack, requires the ability to instantly shift mental gears. Because of the diversity of Coast Guard missions and unpredictability of the threat environment, Coast Guardsmen must be ready to instantly transition from one extreme to the other.
The challenge remains to further refine the Coast Guard's strategic narrative in what promises to be a tumultuous future. The Coast Guard must remain an outstretched hand that saves and a clenched fist that defends; a conscientious maritime constable and a combat-ready naval force. In looking for an effective narrative to emulate, it would be difficult to find one better than the 2003 "All Hands" that General Mattis sent his Marines on the eve of Operation Iraqi Freedom. His succinct, three-paragraph message concluded with "Demonstrate to the world there is 'no better friend, no worse enemy' than a U.S. Marine." Guided by a similar maxim, the Coast Guard will ensure that the public it protects continues to feel reassured, not threatened by its presence, while those who seek to perpetrate violence or criminality at sea can count on a formidable and ready "maritime guardian" standing by to oppose them.

Posted by
LCDR Craig Allen, USCG
in
Coast Guard
Tags:
Homeland Security
,
law enforcement