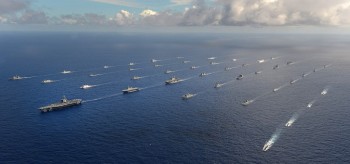 We have a new CNO, and now we have his view of where he sees the Navy and where he wants us to go; A Design for Maintaining Maritime Superiority.
Let's do something a bit different and go through it together. I don't feel like crafting a broad overview, and I don't want to Fisk the document either. Let's go Old School blogger and put this together as I read it.
Before we get started at page 1, let's define what it is not. If you are looking for a strategy paper, then this is not the publication you are looking for.
You can go to the embedded document below, or click here and open it in another tab, but let's get started.
The initiatives laid out in this Design represent initial steps along a future course to achieve the aims articulated in the Revised Cooperative Strategy for the 21st Century (CS-21R) in this new environment.
Oh no. Off the bat we have all sorts of staff failure. I am disheartened. As a recidivist staff weenie, I can be scrappy on such things, but really folks. From the "planning to plan" school, we lead with "initial steps" … following a MAR15 update to a 2007 document? This does not inspire confidence, but let's push though and assume that we have not been marching in place for eight years. We'll give you a mulligan.
Clunk. Just as we step forward, we clang our nogg'n in to the overhead; What was that again?
Revised Cooperative Strategy for the 21st Century
Oh no. It is actually "A Cooperative Strategy for 21st Century Seapower." Not good golf so far, but I'll try not to be too pedantic. After all, this is only from the staff of a 4-Star, ahem.
I really want to like this, so let's take a deep breath and see if we can make it to page 2.
Hey, we can call page 2 the BJ Armstrong memorial page, as we kick it off with Mahan. You can never go wrong quoting Mahan for a good review of the fundamentals … but … oh no again …
The essence of Mahan's vision still pertains: America's interests lie beyond our own shores. What was true in the late 19th century holds true today – America's success depends on our creativity, our entrepreneurism, and our access and relationships abroad. In an increasingly globalized world, America's success is even more reliant on the U.S. Navy.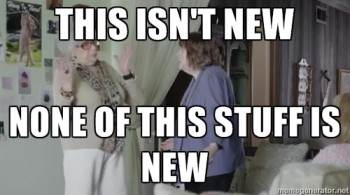 No, no, no. None of this is new and the tone here is a bit too excitable. There is a difference between enthusiasm and excitability. Harumph.
Wait, we're warming up;
this Design will address three major and interrelated global forces that are increasingly used, increasingly stressed, increasingly important, and increasingly contested. These three forces energize the quickly changing environment in which the Navy must operate, and if required, fight and win.
Good, increasingly.
The first global force is the traffic on the oceans, seas, and waterways, including the sea floor – the classic maritime system.
OK, standard.
A second increasingly influential force is the rise of the global information system – the information that rides on the servers, undersea cables, satellites, and wireless networks that increasingly envelop and connect the globe.
OK, standard as well.
The third interrelated force is the increasing rate of technological creation and adoption. This is not just in information technologies, where Gordon Moore's projections of exponential advances in processing, storage, and switches continue to be realized. Scientists are also unlocking new properties of commonplace materials and creating new materials altogether at astonishing speeds.
Helpful review, but let's keep going to the middle of page 3, and there it is.
For the first time in 25 years, the United States is facing a return to great power competition. Russia and China both have advanced their military capabilities to act as global powers.
…
Russia and China are not the only actors seeking to gain advantages in the emerging security environment in ways that threaten U.S. and global interests. Others are now pursuing advanced technology, including military technologies that were once the exclusive province of great powers – this trend will only continue.
We have named names. Excellent and the right call – and a solid departure from previous such documents. This brings focus to the mind.
On to page 4, we also have a very welcome datapoint,
There is also a fourth 'force' that shapes our security environment. Barring an unforeseen change, even as we face new challenges and an increasing pace, the Defense and Navy budgets likely will continue to be under pressure. We will not be able to "buy" our way out of the challenges that we face. The budget environment will force tough choices but must also inspire new thinking.
Bravo Zulu CNO. As we get within range of the Terrible 20s, an understanding of this will be essential for everyone to understand.
So far, we seem to have a King Cake of a new year's document. A fun little prize in the middle of a bunch of cake, but that is OK. I don't think this is designed for the maritime chattering classes, think tankers, or keyboard armed pontificators. This is an introductory document; a "Design."
As you get to page 5, you get the "Core Attributes;" Integrity, Accountability, Initiative, Toughness.
Do these seem like sound fundamentals? Sure, and welcome. These are refreshingly time tested, clearly delivered, and a absent some of the socio-political agenda checklist items found in previous such documents. These are solid items leaders in the field can build things around.
Sometimes the first duty of intelligent men is the restatement of the obvious.
George Orwell
Page 6 brings the Four Lines of Effort; 1;
Strengthen Naval Power and and From The Sea
Outstanding. All of this is related to projecting national will from the sea and builds off the previous CNO's "Warfighing First." More of this.
2;
Achieve High Velocity Education at All Levels
An education focus with four specifics on page 7. Fine, especially;
Understand the lessons of history so as not to relearn them
So, we will expand history requirements in line with STEM requirements? Asking for a friend.
3;
Strengthen Our Navy Team for the Future
Weak leaning towards fluff in the beginning, but strong at the end. Five points that mention leader/leadership five times … in the last two bullets. I do have some embedded issues with Sailor 2025 the first two bullets seem to be rubb'n on it like a dog on fresh deer skittles. 2025 is worm eaten with divisive, quota driven, Social Justice, and retrograde items in its "Culture" section – but I've always assumed much of it is harmless feeding of Vaal, so no deal killer.
4;
Expand and Strengthen our Network of Partners
A bit from the "take-charge-and-carry-out-the-plan-of-the-day" item bin, but in line with Orwell's quote above, workable.
That is about it.
As stated in the opening, if you expected more, you won't find it. This is good at what it is, a broad directional outline of what a leader wants you to keep in mind as you focus on your area of responsibility.
My takeaway?
– Focus on how you will project force in a more challenged sea, with more constrained resources.
– This is a service that has time tested fundamentals that you should use as a benchmark.
– Don't get distracted by shiny objects other have thrown in your way.
More to follow.

Posted by
CDRSalamander
in
Navy
,
Policy
Tags:
CNO