Archive for December, 2016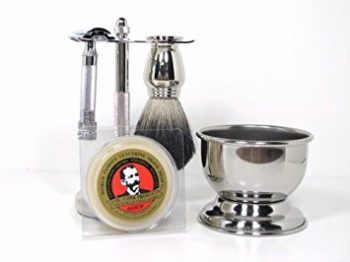 As we work our nogg'n's to find a reasonable path to a realistic and sustainable fleet of 350 ships – do we need to look at the challenge a bit differently than our habit of throwing bags of IOU's in our children's name at it?
Matt Cavanaugh over at MWI has a fun bit about of all things, men's shaving kit and what it can tell us about Russia vs. the USA – and how we buy the ability to force our will on others.
A sample. Stick with it;
In America, the most commonly used instrument is a plastic-handled, multi-bladed cartridge (usually three to five blades lashed together), which typically costs $3-5 per cartridge (though some lower-cost options are emerging—Harry's, for example, are $2 each). The estimated lifetime cost of a daily shave for multi-bladed cartridges ranges from $7,000 for a Gillette Sensor3 to $22,000 for a Gillette Fusion ProShield (not including shaving cream!).

Russians and eastern Europeans, on the other hand, shave differently. In that part of the world, common usage is a steel-handled safety razor, designed to lock a single blade with two sides/edges into place—which is about a dime per blade. Estimated lifetime cost: $400.
Embarrassing, but enlightening. In this context, what a waste of capital – and are we really that much more smoothly shaved?
What would it be like to retrograde? What can a simple shave tell us about how we build our fleet of Sailors and ships?
So I bought a safety razor and have used it for the past six months … My observations: it's not quite as good as a four- or five-bladed cartridge, and I did get a little bloody in transition, mostly owing to adjusting from a movable head to an inflexible steel variant. But the safety razor is at least 90 percent as good at 2–5 percent of the price. Put another way, I dropped 10 percent in performance to save 95–98 percent of the cost. That's quite a bargain.
Let that set in. Now, think about what you have read about Russia's economy, her military, her capability. Now, think again about shaving.
How does this translate?
…the F-35 Joint Strike Fighter (48 percent over budget on a program already planned to cost hundreds of billions of dollars), the DDG-51 guided missile destroyer (619 percent over on a hundred-billion-dollar-plus program), and the V-22 Osprey tiltrotor aircraft (44 percent over on a roughly sixty-billion-dollar program). [Note: figures cited in print and not digital edition.] But also recently, the New York Times published a massive cover story on Russian cyber efforts, calling it a "low-cost, high-impact weapon. … For Russia, with an enfeebled economy and a nuclear arsenal it cannot use short of an all-out war, cyberpower proved to be the perfect weapon: cheap, hard to see coming, hard to trace." Even if contrasting these capabilities is apples to giraffes—the American/Russian strategic spending gap is noteworthy.
For each billion dollars increase in the Russian defense budget – how much more bang do they get compared to each billion of US defense spending?
Do you like the performance of the Russian corvettes in the Caspian and Mediterranean Seas? Do you, like me, sigh with longing at the SU-34?
As our good friend Jerry put it many moons ago; should we "Buy Fords, Not Ferraris?"
As Matt ended his article;
And as war inputs do not necessarily equal outputs, high investments will not guarantee optimal outcomes. From time to time, particularly in conflicts that appear to feature longer time frames, Americans could seek out simpler, less expensive options for strategic sustainability's sake.

As with the Merkur handle, there is a shiny, silver-plated lining to this culture contrast: Americans willing to fight through the weight of cultural bias might acquire new tools for strategic success by appreciating the virtues of value and waging war on the cheap.
Ponderable.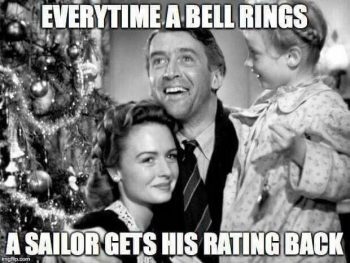 Life comes at you fast.
Take a moment to click here to see where we were just a couple of months ago;
Mabus, sources said, was determined to put ratings reform in motion — and on the record — before he leaves office.
…
Mabus declined to speak with Navy Times. He and other top Navy officials, including Richardson and Burke, have said that the change, while a nod to gender neutrality, will facilitate sailors' professional development and career advancement by freeing them to cross train and attain broader skills spanning multiple specialties. That should make them more marketable when they leave the military, too, they've noted.
…
"Course of action number one was simple: Remove man from titles," Stevens said. "What we found was that you could in most cases, remove the word 'man' and replace it with the word specialist or technician…
…
The second proposal built upon the first and sought to determine whether the job titles in fact aligned with the work being done. An example here is yeoman; it's a historic title, but it was decided that "administrative specialist" was a better fit for the work being performed, …
…
But none of the changes seemed right, he added. Taken in total, they did not amount to the profound change he felt the Navy needs. That's when Stevens suggested something groundbreaking.

"What if we just eliminated rating titles altogether and simply referred to ourselves by our rate? That's the traditional Navy word for rank. You could feel the air leave the room," he said.
In a sign of what a critical issue this was for our Navy – on social media Tuesday and burning through emails everywhere – a neck-snapping leak announced that a 180 took place just in time for Christmas.
Leaked early message below;
SUBJ/NAVY RATING MODERNIZATION NEXT STEPS//
RMKS/1. This NAVADMIN announces updates to the implementation effort to transform current Navy Enlisted Career Management processes.
2. This NAVADMIN supersedes NAVADMIN 218/16 and directs the restoration of Navy Rating Titles.
3. Our goals for modernizing the enlisted career development program – rating modernization – are to provide greater choice and flexibility for our Sailors with respect to detailing and training, to provide greater flexibility for the Navy in assigning highly trained personnel, and to increase professional alignment with civilian employers. We strongly believe that providing this flexibility will make us a more capable Navy.
4. Since we made the initial rating modernization announcement in September, the SECNAV, MCPON and I, along with other Navy leadership, have had the opportunity to speak with thousands of Sailors during our travels throughout the fleet. The feedback from current and former Sailors has been consistent that there is wide support for the flexibility that the plan offers, but the removal of rating titles detracted from accomplishing our major goals. Furthermore, there has been a solid body of thoughtful input that pointed out that there is a way to have the benefits of the rating modernization program without removing rating titles.
5. I have been adamant that our Navy needs to be a fast-learning organization – that includes our leadership. The Design for Maintaining Maritime Superiority states that our most junior teammate may have the best idea and that we must be open to capturing that idea. We have learned from you, and so effective immediately, all rating names are restored.
6. This course correction doesn't mean our work is done – rating modernization will continue for all the right reasons. Modernizing our industrial-age personnel system in order to provide Sailors choice and flexibility still remains a priority for us. As we execute the rating modernization plan, more Sailors will have multiple occupational skill sets or ratings. We will need to tackle the issue of managing rating names. We will continue to involve Sailors throughout the Fleet, using the Rating Modernization working group to figure out how to best do that.
7. Every Fleet, Force and Command Master Chief, and all Navy Counselors know how to provide input to our working groups. You also have a direct line to send your ideas to me at "[redacted]@navy.mil".
8. Learning faster requires having a plan, getting feedback, and quickly acting on that feedback. This adjustment reflects our commitment to fast learning at every level. As this process moves forward we will continue to assess our performance and correct our course as appropriate.
10. Released by Adm. John Richardson, CNO.//
BT
#0001
NNNN
UNCLASSIFIED//
The official message should be out by early Wednesday, but to his great credit and his staff, CNO Richardson took to facebook to let everyone know that, yes, it is going to happen.
Bravo Zulo to all behind the scenes that made this happen. This clears an unnecessary distraction out of the way of the new team that will be leading our Navy next year so they can concentrate on moving our Navy forward in to more productive changes.
In the fullness of time, we'll know the story about how this change took place, but that will be for another time.
This is a great day for our Navy and its Sailors. Put a bow on it, we'll call it an early Christmas.
Please join us at 5pm EST on 18 Dec 2016 for Midrats Episode 363: The South African Border War and its Lessons, with LT Jack McCain
If you define the Cold War as lasting 44 years from 1947 to 1991, then

for over half the Cold War there was a simmering proxy war in southern Africa that involved, to one extent or another, the present day nations of Angola, Namibia, Zambia, and South Africa.

Over the course of time, it would involve nations from other hemispheres such as Cuba, and brought in to conflict two political philosophies of the 20th Century now held in disrepute in the 21st Century; Communism and Apartheid.

The last decade of the Cold War brought the conflict in fresh relief as part of the Reagan administration's push back against Communist aggression in South Africa, Central America, Afghanistan and elsewhere. Acronyms such as UNITA, and SWAPO were as well known then as AQAP and Boko Haram are now.

What does that relatively unknown conflict have to teach us about the nature of war today?

Our guest for the full hour to explore that answer will be Lieutenant Jack McCain, USN.

LT McCain is a helicopter pilot with operational experience in Guam, Japan, Brunei, the Persian Gulf, and the Western Pacific and is a graduate of the United States Naval Academy and Georgetown University's School of Foreign Service. He is currently assigned as an instructor at the U.S. Naval Academy.

The opinions he expresses are his own and represent no U.S. government or Department of Defense positions.
Join us live if you can (or pick the show up later) by clicking here. Or pick the show later from our iTunes or Stitcher pages.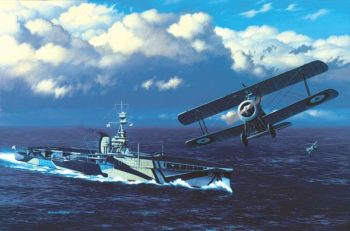 Last week we saw the 75th Pearl Harbor Day pass us by. There are libraries full of books about how it should not have been a surprise. Some of the examples given as to why it was not an "unknown" threat can be attributed from the Japanese history of surprise attacks from the sea, to the example of the British attack on the Italian Fleet 13 months earlier in Taranto.
Even before then – if you were looking (and many were) – the direction towards the aircraft carrier being used to negate power ashore was already set.
On a summer day in July of 1918, seven Sopwith Camel took off from the proto-CV HMS FURIOUS for the Zeppelin sheds in what was then Tondern, Germany.
The only thing between that day and a beautiful Sunday morning 23 years later was time and the progress of technology.
Today, there is a lot of speculation of how our Navy should progress with unmanned systems as the experience with the MQ-25 Stingray (AKA CBARS or Carrier-Based Aerial Refueling System) grows.
This isn't the start of unmanned systems, not even close. In one way or another, we have been doing this for decades. The post 2001 Long War requirements have upped the progress. CBARS is just another chapter in that – or will be once we start deploying with it.
As we started this post with the British, let's return to them to make the point. I would highly recommend a read of the British Ministry of Defence aircraft statistics during operations in Afghanistan, or as they call it – Op HERRICK .
– Harriers were used in Afghanistan from 2004 to 2009, when they were withdrawn from service and replaced by Tornados, which were used up to the end of Op HERRICK. Harrier and Tornado flew more than 56,000 hours in total, averaging about 500 hours per month between 2007 and 2013.
– Reaper was introduced in Afghanistan in 2007. Unlike Harrier and Tornado, Reaper is remotely piloted and is primarily tasked in an Intelligence, Surveillance and Reconnaissance role, but also has an armed capability. Reaper's annual flying hours steadily increased between its introduction in 2007 and 2011, due to a staged increase in Reaper platforms arriving in Theatre and the subsequent increase in missions flown. Reaper flew more than 71,000 hours in total, averaging just over 1,000 hours per month in 2011 and 2012. This increased in 2013 and 2014.
– … Hermes aircraft flew over 85,000 hours in Afghanistan in total, and the Desert Hawks more than 18,000 hours.
Look at those numbers again.
For the more visually minded, I offer to you these two graphs from our friends over at ThinkDefence;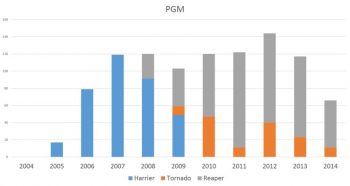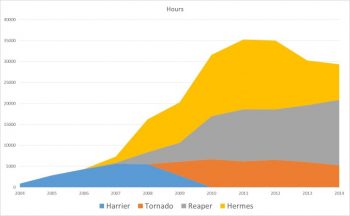 All caveats apply about bandwidth, air supremacy, electromagnetic dominance, etc … but still – this is what it is.
Look at it close. Ponder; what next?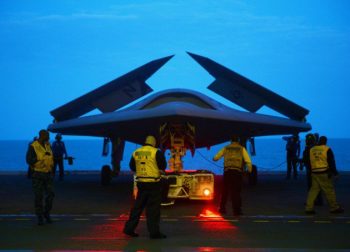 Please join us at 5pm EST at 11 Dec 2016 for Midrats Episode 362: Towards a 350 Ship Navy, with Jerry Hendrix:
Even before the election, President-elect Trump mentioned he wanted to get to a 350 ship Navy. The outgoing Secretary of the Navy has put us on a path to 308, and in his waning months is fighting a holding action on the shipbuilding budget giving as good of a turnover in this area to his relief.

What are the viable paths to 350 we could see in the opening years of a Trump Presidency? How long could it realistically take? What would a fleet look like 5, 10 or 20 years down the road?

What will this fleet be built to do? Will we need new designs to meet the evolving maritime requirements of an eventual national strategy?

To discuss this and more Sunday from 5-6pm Eastern will be one of our favorite guests,

Dr. Jerry Hendrix, CAPT USN (Ret.), Senior Fellow and the Director of the Defense Strategies and Assessments Program at the Center for a New American Security.

His staff assignments include tours with the CNO's Executive Panel, the Office of the Undersecretary of Defense for Policy, and the OSD Office of Net Assessment.

His final active duty tour was the Director of Naval History.

He has a Bachelor Degree in Political Science from Purdue University, Masters Degrees from the Naval Postgraduate School (National Security Affairs) and Harvard University (History) and received his doctorate from King's College, London (War Studies). He has twice been named the Samuel Eliot Morison Scholar by the Navy Historical Center in Washington, DC, and was also the Center's 2005 Rear Admiral John D. Hays Fellow. He also held the Marine Corps' General Lemuel C. Shepherd, Jr. Fellowship. He authored the book Theodore Roosevelt's Naval Diplomacy and received a number of awards, including the United States Naval Institute's Author of the Year and the Navy League's Alfred T. Mahan Award for Literary Achievement.
Join us live if you can (or pick the show up later) by clicking here. You can also get the show later by visiting our iTunes page or from our Stitcher page.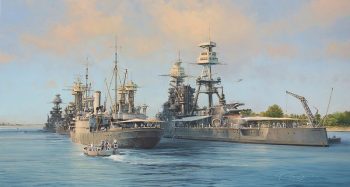 So much is written about the Japanese attack on Pearl Harbor that I don't think much more could be added here this year.
Instead, let's use the power of color to bring to the front one of the most important lessons of this attack. This isn't ancient history that is best looked at in the abstract. On the fading edge of living memory, yes, but still every bit of why we were caught flat footed applies to what we do today.
Perhaps part of the problem is that we see it in grainy black and white photographs and a few bits of video. It seems a long time ago, an "other."
From false assumptions, habits worn in peace, and the natural belief that bad things only happen to other people in other places – it is all there.
As such, I find this collection of color video from that day and the world it took place in to be helpful, if for no other reason than to recall that their world is our world. What happened to them, with other players and with a slightly different set, could very well happen again.
Please join us at 5pm EST on 4 December 2016 for Midrats Episode 361: Where Youth and Laughter Go; With "The Cutting Edge" in Afghanistan
For the full hour this Sunday our guest will be Lieutenant Colonel Seth W. B. Folsom, USMC the author of Where Youth and Laughter Go. Described by USNI Books:

Where Youth and Laughter Go completes LtCol Seth Folsom's recounting of his personal experiences in command over a decade of war. It is the culminating chapter of a trilogy that began with The Highway War: A Marine Company Commander in Iraq in 2006 and continued with In the Gray Area: A Marine Advisor Team at War in 2010.
***
The chronicle of Folsom's command of 3rd Battalion, 7th Marine Regiment, "The Cutting Edge," and his harrowing deployment to Afghanistan's volatile Sangin District presents a deeper look into the complexities and perils of modern counterinsurgency operations in America's longest war.

We will discuss not just his latest book, but also larger issues related to command, the nature of the war in Afghanistan, and the Long War.

Please join us live if you can or pick the show up later by clicking here.

You can also find the show later at our iTunes page here or on our Stitcher page here.