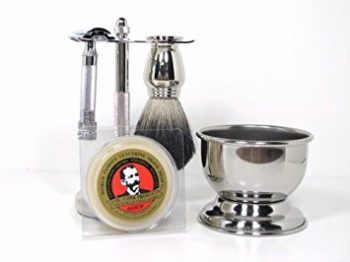 As we work our nogg'n's to find a reasonable path to a realistic and sustainable fleet of 350 ships – do we need to look at the challenge a bit differently than our habit of throwing bags of IOU's in our children's name at it?
Matt Cavanaugh over at MWI has a fun bit about of all things, men's shaving kit and what it can tell us about Russia vs. the USA – and how we buy the ability to force our will on others.
A sample. Stick with it;
In America, the most commonly used instrument is a plastic-handled, multi-bladed cartridge (usually three to five blades lashed together), which typically costs $3-5 per cartridge (though some lower-cost options are emerging—Harry's, for example, are $2 each). The estimated lifetime cost of a daily shave for multi-bladed cartridges ranges from $7,000 for a Gillette Sensor3 to $22,000 for a Gillette Fusion ProShield (not including shaving cream!).

Russians and eastern Europeans, on the other hand, shave differently. In that part of the world, common usage is a steel-handled safety razor, designed to lock a single blade with two sides/edges into place—which is about a dime per blade. Estimated lifetime cost: $400.
Embarrassing, but enlightening. In this context, what a waste of capital – and are we really that much more smoothly shaved?
What would it be like to retrograde? What can a simple shave tell us about how we build our fleet of Sailors and ships?
So I bought a safety razor and have used it for the past six months … My observations: it's not quite as good as a four- or five-bladed cartridge, and I did get a little bloody in transition, mostly owing to adjusting from a movable head to an inflexible steel variant. But the safety razor is at least 90 percent as good at 2–5 percent of the price. Put another way, I dropped 10 percent in performance to save 95–98 percent of the cost. That's quite a bargain.
Let that set in. Now, think about what you have read about Russia's economy, her military, her capability. Now, think again about shaving.
How does this translate?
…the F-35 Joint Strike Fighter (48 percent over budget on a program already planned to cost hundreds of billions of dollars), the DDG-51 guided missile destroyer (619 percent over on a hundred-billion-dollar-plus program), and the V-22 Osprey tiltrotor aircraft (44 percent over on a roughly sixty-billion-dollar program). [Note: figures cited in print and not digital edition.] But also recently, the New York Times published a massive cover story on Russian cyber efforts, calling it a "low-cost, high-impact weapon. … For Russia, with an enfeebled economy and a nuclear arsenal it cannot use short of an all-out war, cyberpower proved to be the perfect weapon: cheap, hard to see coming, hard to trace." Even if contrasting these capabilities is apples to giraffes—the American/Russian strategic spending gap is noteworthy.
For each billion dollars increase in the Russian defense budget – how much more bang do they get compared to each billion of US defense spending?
Do you like the performance of the Russian corvettes in the Caspian and Mediterranean Seas? Do you, like me, sigh with longing at the SU-34?
As our good friend Jerry put it many moons ago; should we "Buy Fords, Not Ferraris?"
As Matt ended his article;
And as war inputs do not necessarily equal outputs, high investments will not guarantee optimal outcomes. From time to time, particularly in conflicts that appear to feature longer time frames, Americans could seek out simpler, less expensive options for strategic sustainability's sake.

As with the Merkur handle, there is a shiny, silver-plated lining to this culture contrast: Americans willing to fight through the weight of cultural bias might acquire new tools for strategic success by appreciating the virtues of value and waging war on the cheap.
Ponderable.

Posted by
CDRSalamander
in
Policy
,
Strategy
Tags:
Defense Budget