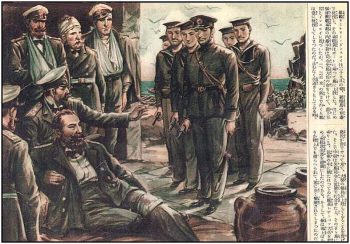 Navalists from Norfolk to Yokosuka have spent the last few months since the election pondering the what, how, and when of the 355-ship navy that the incoming Trump Administration is using as a planning goal.
I've enjoyed the conversation and seeing the arguments about different constructs to get there, but as shiny and attractive the topic is, there is a background stage-whisper that keeps getting louder. We all know it is there, but like makeup on a growing skin lesion, you can only mask it and pretend to ignore it so long.
There is something that is even more important than strictly numbers; there is the training of your Sailors, proper manning levels of your ships, and correct maintenance and upkeep of your ships that you plan to bring to battle.
As Admiral Rozhestvenski's tired, reeking, barely seaworthy fleet chugged in to view of Admiral Togo's fleet, it wasn't the numbers that sealed the Russians' fate; it was training, maintenance, and training that sealed their fate.
This fact comes up throughout naval history, and it applies now as well.
At the Surface Navy Association meeting on 11JAN17, the Vice Chief of Naval Operations, Admiral Bill Moran, USN played the Bishop of the Church of the Hard Truth to anyone who can only see new hulls;
The message Navy leaders are sending to President-elect Donald Trump's team is: We need money to keep the current 274 ships in the fleet maintained and modernized first and then give us the money to buy more ships.
…
Moran said the Navy is "lucky to get 90 percent" of what it needs in its readiness accounts.

In talking with the press and in his address, he said, "It is really hard to see the light at the end of the tunnel" if maintenance is continuously deferred, causing ships to be in the yards far longer in the yards than expected with costs rising commensurately.

"Deferred maintenance is insidiously taking its toll."

Not only does this add greater risk and a growing gap between the combatant commanders' requirements and what the service can deliver, "you can't buy back that experience" and proficiency sailors lose when they can't use their skills at sea.

"At some point, we have to dig ourselves out of the hole,"…
What is that dollar figure? How many years and how much per year, have we been deferring? What is the aggregate total of deferred maintenance?
Deficit spending leads to bankruptcy. Unaddressed deferred maintenance of a fleet leads to death, defeat at sea, and strategic risk to the nation it serves.
We need more of this conversation.

Posted by
CDRSalamander
in
Navy
Tags:
Budget Wars
,
sequestration