Author Archive
How does a leader best organize people to achieve a common goal?
What is it he or she possesses – certain intelligence, behavior, vision, values, power, or charisma – that inspires progress in fellow men? What is it in a force of personality that creates a solution? We know we can't go at it alone – how do we succeed, together?
Is leadership innate? Can it be taught? Better yet, can it be learned? What leadership style works best? In which profession? And in which situation?
Do those that follow you appreciate consistency or appreciate your ability to adapt your leadership style to the situation?
Does it all depend?
I'm confused.
No matter the type of leader you are now, or your answers to the above, a nod must be given to the immutable law of learning…that is to say, it never stops. A leader never stops learning. This much I know.
My first rule of leadership was simple: never say 'never', never say 'always.'
Or, better put by Everett Dirksen: "I am a man of fixed and unbending principles, the first of which is to be flexible at all times."
We had something we use to say in my last platoon that went beyond being flexible. We asked ourselves three questions from time to time and when we could and as often as we remembered – three simple questions meant to inspire us to live each day to our maximum potential and to remind ourselves we were leaders of men in austere conditions: Did I get stronger? Did I get smarter? Did I help someone?
Recently I realized I have not been asking myself those questions often enough and so I started on the second question – did I get smarter? – specifically as it relates to leadership.
I spent the weekend pouring over old notes from Annapolis, from lectures of the likes of Captain Bob Schoultz and others of his pedigree, and next thinking of scenarios from deployments or stories told by other mentors, teachers, fellow Marines and friends that I've known in my life. It was a brief exercise in an attempt to, well, get smarter.[1]
While rummaging through an old box of notes and papers and books I found a fascinating article from two professors at the University of Nebraska, John Barbuto and Daniel Wheeler. Their essay was entitled: "Becoming a Servant Leader: Do you Have What it Takes?"
The essay began with a series of questions that aimed to determine if you were a servant leader or not and went on to explain the composition of a such a leader…
-Calling. Do you believe that you are willing to sacrifice self-interest for the good of the group?
-Listening. Do you believe that you want to hear their ideas and will value them?
-Empathy. Do you believe that you will understand what is happening in their lives and how it affects them?
-Healing. Do people come to you when the chips are down or when something traumatic has happened in their lives?
-Awareness. Do others believe you have a strong awareness for what is going on?
-Persuasion. Do others follow your requests because they want to or because they believe they "have to?"
-Conceptualization. Do others communicate their ideas and vision for the organization when you are around?
-Foresight. Do others have confidence in your ability to anticipate the future and its consequences?
-Stewardship. Do others believe you are preparing the organization to make a positive difference in the world?
-Growth. Do people believe that you are committed to helping them develop and grow?
-Building community. Do people feel a strong sense of community in the organization you lead?
The ethics behind the 'servant leader' appeals to me. So much so that on the corner of the white board in my office I've written Dr. Albert Pierce's points for "moral leadership" which are based on the leadership example of Admiral Stockdale. 1.) Set noble goals. 2.) Take active steps to pursue them. 3.) Pay a price yourself. 4.) Ask or order others to a pay a price as well.
I was taught that at Annapolis. They still teach that. It's taught because it matters a great deal. More than anything else, I think.
Yes. This was the sort of leader I want to emulate. But can I? Am I capable of such a thing? I'm not sure. And I ended the weekend with the same two questions that I started with: Can I finish this move in two days? Perhaps. What is the best way to lead? I'm not sure. Not sure at all. But then again, as it goes with leadership, so it goes with life itself, if you're not confused, you're not paying attention.
—————————
---
[1] To be fair, I actually spent most of the weekend moving apartments, but, whatever.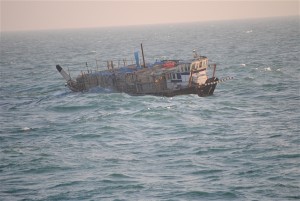 Ya-Hussayn. Photo: U.S. Navy
Last week the VBSS team from the USS Kidd (DDG 100) boarded the Al Molai, an Iranian flagged fishing dhow, and freed a 13-man Iranian crew. The 15 pirates, 'suspected pirates', were using the dhow, 'allegedly', to conduct mother-ship operations in the Indian Ocean.
At the sight of the SH-60s and the mighty warship Kidd, the pirates decided discretion was the better part of valor and threw their weapons overboard and surrendered at once. Images taken after the boarding show an extremely grateful Iranian crew hugging American sailors and being sent on their way with USS Kidd ballcaps, water, food, and a smile.
Yesterday, there was yet another story of American vigilance and courage at sea as US Coast Guard cutter Monomoy saved six Iranian mariners from their disabled dhow, the Ya-Hussayn, in the North Arabian Gulf.
According to a statement from George Little, Pentagon Press Secretary, the Monomoy's attention was alerted by flares and flashlight at 3am (local) from the crew of the Ya-Hussayn. The engine room was flooding and things were going south fast, said the dhow's master, "without your help, we were dead."
Of course Iranian "news agencies", are reporting these incidents are mere U.S. propaganda.
High stakes theater or not, as Iran threatens to block Hormuz Strait, Washington is pushing right back on Tehran in all the right places…and while it's unlikely that the effects of sanctions will have the desired result of turning the Iranian people against Khamenei, it might set the conditions for the necessary Persian Gulf two step that is about to ensue.
Does Tehran really want a conventional surface warfare showdown in the Indian Ocean or Persian Gulf?
No matter the affects of sanctions on the true sentiment (and living conditions) of the people on Valiasr Street (and it will affect them), I have to think that the institutional memory from the 1987/88 tanker wars remain and the Admiralty surely wishes to avoid a conventional surface engagement with any grey hull in 5th Fleet.
But then again, 'unlikely' battles are often begun with the inverse of just that logic. Cannons fire when we operate under the assumption that prudence, institutional memory and history have any real leverage over politics, emotion, and cynical, desperate fear mongers with too much power and too little time.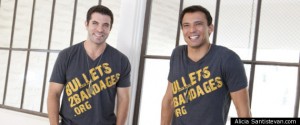 I ate lunch yesterday with my life-coach, Mason. At 87 he's as quick as a whip and a walking encyclopedia of life-knowledge. He's also a Marine. Entrepreneur. Dear friend. He is now and always has been – in magnificent Robert Service fashion – le grand aventurier.
Central to lunch are broad ranging narratives told in an absolutely artful and entertaining way. Mason weaves moralizing stories with life lessons and humor and wisdom and humility. And for me, learning occurs as it did for the ancients and for our American ancestors – by listening and asking questions and being asked questions and by thinking. In this way Mason is the anti-internet. And I sort of love that more than anything else.
(No technology will ever be able to replace the experience of the story told through war-weary eyes.)
Mason and I talked about pretty much everything, as we always do. But near the end, over coffee, we talked about courage.
Mason told me that what we needed so desperately in this country was teamwork. Teamwork in business. Teamwork in our families. Teamwork in our politics. Teamwork in all we do. And I agreed.
"You might not change the world," he said (referring to those of my generation who were willing to exhibit courage and promote teamwork), "but you sure as hell can make a difference."
"What if that difference could indeed inspire change that would affect the world?" I asked, in a Jobbsian tone.
He smiled, as if to tell me that he knew that it could. And then we talked about the importance of the entrepreneur.
All day and into the night I thought about veteran entrepreneurs of the past, like Mason, and I wondered about the veteran entrepreneurs of the present. I thought about how much these men and women sacrificed to defend their country and now continue to sacrifice in starting their companies. And I found that relationship to be an elegant one.
But can the veteran entrepreneur make a difference? Does it promote the social good? Can the veteran entrepreneur make a real difference that can inspire change that can affect the world?
Based on the example of these four Naval Academy graduates and veteran entrepreneurs, I think that it just might…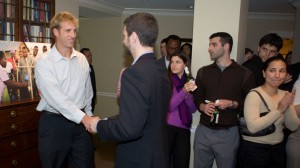 Jake Harriman founded Nuru International, a company dedicated to ending terrorism by eradicating extreme poverty. Jake served in the infantry and Force Recon and was awarded the Bronze Star for valor. After graduating from Stanford's Graduate School of Business, he formed Nuru and has been working tirelessly in East Africa ever since.
Learn about Jake's story here…
Jake's story is inspiring and his message transformative. The work his company does each day educates and saves lives. Nuru is perhaps the most inspiring example of the veteran entrepreneur leveraging courage and teamwork to start a company that truly makes a difference to the world.
But I'm sure Jake would agree that making a difference starts small…
Bullets2Bandages (http://bullets2bandages.org/#) was formed by two of my classmates Erik Spalding and Cole Evans. After leaving the Navy as Explosive Ordnance Disposal (EOD) Officers they launched a company that created a fashionable line of bullet jewelry created from demilitarized bullets and decorative dog tags.
Their vision is to turn an instrument of harm into a symbol of hope and healing.
A dedicated amount of the company's proceeds go to specific programs that directly help our veterans. The Veteran's Village of San Diego and the Travis Manion Foundation (named after our fallen classmate-hero-warrior Travis Manion).
Spalding told the Huffington Post: "I wouldn't be where I am today if it wasn't for the country I grew up in. I've traveled all over the world and the unique thing about America is the opportunities are endless. But with that comes responsibility for those who are successful to reinvest in our country. I wanted to do something for domestic nonprofits. For us to continue to be in this country, we need to reinvest in our country. We were leaders in the military, now we want to be leaders in the civilian sector and create awareness for veterans. It's kind of hard sometimes when you get out. Some people might be physically disabled, and some might have mental issues. A third of all homeless people are veterans. Some are sleeping on the streets tonight and that just doesn't sit right with me. There are all these different challenges of changing into civilian life, and we just want to help along that process and be a leader for that in business."
http://www.huffingtonpost.com/2011/11/11/erik-spalding-and-cole-evans-bullets-2-bandages-veterans_n_1085095.html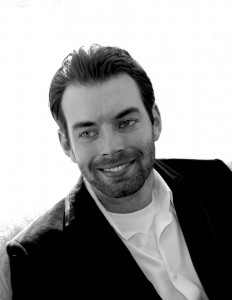 And there are more and more examples out there that I'm hearing about each week. Another classmate of mine, Nick Karnaze (pictured left), has started an incredible company that will bring stabilization solutions to high risk environments…
Nick cofounded The Stabilization Group with Mike Schraft a former USAID Development Officer and Air Force veteran. They are pioneering the use of Expeditionary Stabilization Teams (ESTs) designed to rapidly insert into pre-conflict, conflict, and crisis regions working at the grassroots level utilizing full-spectrum,population centric micro-economic development, capacity building training, civil society and local governance development as means of targeted stabilization. Seems to me like they'll have their hands full as the landscape of the post-9/11 decade will no doubt be one of dangerous uncertainties and complex problems that will no doubt require their sort of business solutions.
http://www.thestabilizationgroup.com/
And I'm aware of other innovative businesses that have launched as well – such as one that will teach veterans how to run for office in order to promote the election of individuals of sound character and proven leadership experience serving this country in war. And there's more. Many more.
Does the veteran entrepreneur promote the social good? Can the veteran entrepreneur make a real difference that can inspire change that can affect the world?
If Cole, Jake, Erik, Nick and others like them are any indicator, the answer is decidedly 'yes' as a new generation of civic minded businessmen are about to make a big bang in corporate America.
And that's a story I know Mason will like to tell.
I woke this morning to an email from a friend in Germany. It is the greatest holiday message I've received this season. Perhaps one of the greats of all time. I thought I'd share it with the Naval Institute family for a laugh…and then I'm going to send it all the lawyers I know. And then to all of my uber PC friends. Let the feeling hurting begin…
—–Ursprüngliche Nachricht—–
Von:
Gesendet: Freitag, 23. Dezember 2011 11:55
An:
Betreff: Merry Christmas and a Prosperous New Year
Dear Clients, Partners, Kith and Kin,
I wish you and yours a Very Merry Christmas and a Happy New Year. May 2012 be prosperous, successful and free of negative incidents.
And now, from me ("the wishor") to you ("hereinafter called the wishee"):
Please accept without obligation, implied or implicit, my best wishes for an environmentally conscious, socially responsible, politically correct, low stress, non- addictive, gender neutral, celebration of the winter solstice holiday, practised within the most enjoyable traditions of the religious persuasion of your choice, or secular practices of your choice, with respect for the religious/secular persuasions and/or traditions of others, or their choice not to practice religious or secular traditions at all… and a financially successful, personally fulfilling and medically uncomplicated recognition of the onset of the generally accepted calendar year 2012, but with due respect for the calendars of choice of other cultures or sects, and having regard to the race, creed, colour, age, physical ability, religious faith, choice of computer platform or dietary preference of the wishee. By accepting this greeting you are bound by these terms that:-
* This greeting is subject to further clarification or withdrawal
* This greeting is freely transferable provided that no alteration shall be made to the original greeting and that the proprietary rights of the wishor are acknowledged.
* This greeting implies no promise by the wishor to actually implement any of the wishes.
* This greeting may not be enforceable in certain jurisdictions and/or the restrictions herein may not be binding upon certain wishees in certain jurisdictions and is revocable at the sole discretion of the wishor.
* This greeting is warranted to perform as reasonably may be expected within the usual application of good tidings, for a period of one year or until the issuance of a subsequent holiday greeting, whichever comes first.
* The wishor warrants this greeting only for the limited replacement of this wish or issuance of a new wish the sole discretion of the wishor
* Any references in this greeting to "the Lord", "Father Christmas", "Our Saviour", or any other festive figures, whether actual or fictitious, dead or alive, shall not imply any endorsement by or from them in respect of this greeting, and all proprietary rights in any referenced third party names and images are hereby acknowledged.
Yours faithfully,
Bjorn

This year I attended the Army-Navy game for the first time since having graduated. I secured Club Level seating (or standing, as it were) to calm my post-traumatic-midshipman-memory-response; the promise of central heating, leather couches and reuniting with old shipmates over a steady flow of spirits seemed a more comfortable homecoming than braving the elements with the masses. One day I'll be married with kids, I told myself as I completed my decadent, self-interested Club Level transaction, and then I'll return to the cold. To the stands. To the game the way it was meant to be enjoyed…drunk on emotion and pride with my fellow Americans. And cold.
This morning a banner on the Naval Institute's website caught my eye and took me to a preview of the must-watch documentary of the season. It will be airing this Wednesday, December 21st on Showtime. I recommend it to everyone who would like to know (or be reminded) why the Army-Navy game is indeed, a Game of Honor.
On this very important day in our nation's history – the 7th of December – we must give pause and remind ourselves….
Last night I spent the Marine Corps' 236th birthday at the San Diego Yacht Club. It was an intimate black tie affair in a breezy, open, dark-wooden room overlooking a dazzling harbor attended by hero-Marines that bled on Saipan and Iwo Jima, fought through the Chosin, repelled Viet Cong during Tet, and sustained terrible wounds from violent skirmishes with the Taliban in Afghanistan's RC South.
Amazing.
During the cocktail reception I sipped on a young Dewar's and listened to old stories. And I marveled. Marines of all ages stood, soaring, like granite statues in black tuxedoes telling war stories and laughing and remembering. I tried to memorize each detail of the landscape. Each story, each handshake, each 'Happy Birthday Marine' was for me a nod from the great hoplites I have been reading about since I was a child.
The evening's super narrative was elegant and palpable and it was this: here gathered to celebrate a birthday bigger than any one soul are but a few humble ambassadors of America's finest tribe, Marines, who, after playing with the House's money for all these years, pause to drink and dine and let their eyes and hearts swell.
I always revel in the unspoken, all-felt storyline…
Golden city lights poured through open glass doors into glasses of rocked-scotch and bounced from Silver Star to Silver Star to Silver Star worn on marvelous black tuxedos by silver haired warriors; this light instantly reflecting and refracting among dozens of Naval Academy rings and Eagle Globe and Anchor pins that swirled the light as hands waived and waived depicting stories of war days, past.
It's hard to write this without sounding romantic; but Marines are romantic figures, and the Marine Corps a romantic service. Romantic in that the execution of each human action is deliberate and from the heart, transcendent.
Transcendent discipline. Transcendent violence. Transcendent sacrifice. Transcendent love.
On this Veteran's Day I'm reminded by those Marines I drank with last night just how important they are to our country's survival. I am humbled by their sacrifices, their courage, and their transcendence.
My generation has a great deal to learn from these men and women. From those who have spent all these years doing their best, playing with the House's money.
A stark and inspiring reminder of the thankless work our Marines are doing day in, day out, in our defense.
Wed, 26 Oct 2011 16:31:13 -0500
Somalia: U.S. Citizen Kidnapped
Taken Question
Office of the Spokesperson
Washington, DC
October 26, 2011
---
Question: What is the status of the American kidnapped in Somalia? Have we confirmed citizenship? Are we in touch with the family? What are we doing to assist?
Answer:  The Department of State can confirm that a U.S. citizen has been kidnapped in northern Somalia. We remain concerned about the individual's safety and well-being. We are working with contacts in Kenya and Somalia to ascertain further information and have been in contact with the individual's family to provide all appropriate consular assistance.
The United States condemns kidnappings of any kind, and we call for the immediate release of all of the victims involved. Due to the privacy laws, we have no further information at this time.
http://www.state.gov/r/pa/prs/ps/2011/10/176235.htm
Wed, 26 Oct 2011 16:25:48 -0500
Taking Diplomatic Action Against Piracy
Fact Sheet
Office of the Spokesperson
Washington, DC
October 26, 2011
---
Piracy off the coast of Somalia is a crime of growing global concern. Piracy has significant and direct implications for every nation, from rising danger to seafarers to impacts on humanitarian aid deliveries and global commerce. To address this shared security challenge, the United States is actively pursuing a broad, coordinated, and comprehensive multilateral approach to combating piracy focused on security, prevention, and deterrence.
The United States is proud to be a founding partner in the Contact Group on Piracy off the Coast of Somalia. Established in January 2009 pursuant to the UN Security Council Resolution 1851, the Contact Group is a voluntary ad hoc international forum of more than 70 countries, organizations, and industry groups with a common interest in bringing pirates, their financiers and facilitators, to justice.
Among its accomplishments to date, the Contact Group has:
Facilitated the operational coordination of an unprecedented international naval effort from more than 30 countries working together to protect transiting vessels.
Partnered with the shipping industry to improve and promote the full implementation of Best Management Practices that merchant ships and crews can take to avoid, deter, delay, and counter pirate attacks.
Worked to build the capacity of Somalia and other countries in the region to combat piracy, in particular by contributing to the UN Trust Fund Supporting Initiatives of States Countering Piracy off the Coast of Somalia; and
Launched a new Working Group aimed at disrupting the pirate enterprise ashore, including its associated financial networks, through approaches similar to those used to address other types of organized transnational crime networks.
When I think about the traits that embody a United States Marine, many words come to mind. This clip captures some of the most important, I think: a smart, straight-talking, hard working, beer drinking, no-nonsense professional with the ability to kill the Taliban hordes using nearly every T/O weapon organic to a rifle company (save perhaps a 60 MM mortar), all the while possessing an unrelenting spirit and sense of humor.
In this absolutely perfect segment on late night television Sgt Dakota Meyer made his forefathers proud by demonstrating to audiences across America the different sort of ethos that makes the Marine-tribe so special, in or out of active service…
Lace up your boots. Work hard. Meet the enemy. Do your job. Laugh when possible. If you're lucky, come home. Be grateful. Remember your comrades. Laugh when possible. Lace up your boots. Work hard. Do your job. Laugh when possible. Work hard. Remember. Laugh. Work….ask the President of the United States to have a beer with you, and never forget to "grease your bobcat."
I'm proud to see the Corps represented by Ambassador Meyer.
« Older Entries
Newer Entries »