Author Archive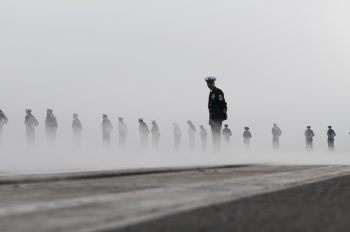 Last week, the Navy's top leadership announced the swift transition from traditional rates to alphanumeric Navy Occupational Specialty (NOS) codes. In the matter of a three minutes and thirty-four second video, over two-hundred years of U.S. Navy Ratings – and traditions – were history. Gone. Finished. Dead. Never-to-be-talked-about-again.
But not so fast, everyone. Just minutes after the release of NAVADMIN 218/16, Facebook and social media seemingly deteriorated into a bomb box of antipathy, false equivalencies, and irreverent commentary. Public manifestos protesting the continued tyranny of Secretary Mabus's tenure inundated message boards and status updates. Nuclear meme proliferation.
To be fair, the observed reaction among the force has ranged from tranquil ambivalence to outright hostile rejection. In typical hyperbolic fashion, the Navy Times pounced on the announcement and labeled it "the most radical personnel overhaul in a generation." Not to be outdone, the San Diego Union Tribune called it a "tsunami of a cultural shift." Duffel Blog headlined their page with a satirical news story entitled, "Ray Mabus Admits he Just Hates the Navy," which like most articles attacking SECNAV resort to the usual talking points: he likes to give women a fair shot, he names ships after civilian heroes and leaders, and he doesn't play very well with Marines.
The announcement dissolving Ratings is not an epochal policy change. It's a tweak in syntax to ensure the personnel structure is securely in place for the future Navy. Bigger, more imperative changes have already been instituted over the last decade. Every specialty is open to women; gays can serve openly; maternity and paternity leave is guaranteed; and men and women can come to work without fear of sexual harassment or assault. These types of policies took generations of political will to develop and bring to the force, then were implemented and executed by all of us in a short period of time, sometimes despite initial and widspread resistance. Evidence clearly suggests that the aforementioned personnel changes have enhanced us as a fighting force.
Notwithstanding our increasingly connected Navy, it almost seems like Sailors are more self-compartmentalized than ever. Exhibit A is our rating system. Purely designed to categorize people based off professional skill sets, the Rating system mysteriously became a means of singular identity. Although each rate is exceptional (because each sailor is exceptional), perhaps the "Subject Matter Expert" exceptionalism spurred beyond its intended tactical structure and self mutated into hyper-compartmentalized hues of Rate camaraderie. Over time, some sailors identified themselves more according to their Rate as opposed to their service.
Therefore, beyond the minutia of personnel policy, a broader question has clearly emerged. How is it that our sailors identify more with their job title than the credos of a Sailor? Or, better yet, why such a languid and tepid response to something so clearly beneficial to enlisted sailors for the sake of the benign and often mischaracterized zeitgeist that comes with terms like "tradition?"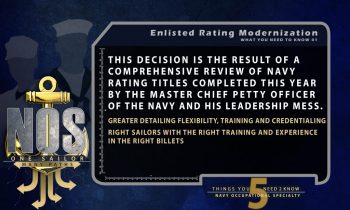 Change is hard in an organization, especially when our organization has a predisposition to divide forces into ranks and rates and rules and flow charts. So embedded are our social traditions in the military orthodoxy that even the slightest of changes seem to throw earth off its axis. And to be clear, this policy will result in tangible improvements for everybody in nearly every quantifiable category. With promotion rates in particular rates stagnant, good sailors will be get to stay in, learn new skills, and continue a rewarding career. Shore Duty billets previously reserved for specific ratings can open up to more sailors, thereby placing even more emphasis on performance at sea. Sailors who earn new skills stand to be offered incentives in the form of increased monetary compensation or other substantial benefits.
In other words, the playing field will continue to level out and provide hard-working sailors the opportunity they deserve.
The second order effects are also clear.
The system will tap into the brilliance of our sailors, allowing for ideas and best practices studied in a different NOS to be applied in new ways and in new fields.
If properly managed, critical NEC's can be adequately covered despite an unforeseen personnel loss.
In the age of autonomous airplanes, unmanned underwater submarines, and sophisticated computer networks, the revised system will naturally find new jobs for sailors displaced by technological improvements throughout the force.
As most of us know, an organization glued to tradition is an organization drifting off course and not innovating.
I confess that I have never wore an enlisted uniform, so my nondescript commentary should be rebuffed with enlisted perspectives, but I must admit, I have found it is interesting to watch people fill the void of change with the call of action to go back to a system so unprepared for the future force. Rather than quibble, we should focus our effort by demanding transparency in the Navy's new policy so we can all adequately craft the future force.
Under Mabus's leadership, our personnel changes have occurred with admirable swiftness and efficiency. But we should be clear about the dissolvent of the Rating system. This is not a change. It's merely a data-driven adjustment to ensure our personnel system is aligned to meet the demand of the 21st Century. Our sailors deserve more opportunity, more flexibility, and more options, even if they choose to get out.
As we transition out of a Navy that once relied on sheer manpower with adequate supervision to a Navy that cherishes specific, individual skill sets, our force structure must change. So before we sign on to more petitions and lay waste to social media, perhaps we can let ideas breath and allow everyone to absorb a new innovation and consider its broader implications.
When a cargo ship casts off its lines and sets sail towards distant lands and men of strange speech, it vanishes from society's collective memory and drifts into our unconscious like a dream. So rarely do we think about ships underway that it seems only headlines like "tragedy at sea" reaffirm their existence.[1]
But the ships are out there, beyond the visible horizon delivering our oil, our clothes, our cars, and our phones. Ninety percent of trade is delivered by ships. There are over one hundred thousand ships at sea carrying everything we need to live.[2]
And on those ships are people who toil with the unpredictable nature of our oceans.
A sailor's life is not typically marked by bravery or enthusiasm. It is an existence fraught with industrial hazards in the bowels of sweaty engine rooms and the challenges of navigating unfamiliar waterways. Satisfaction comes by earning respect from your peers but only when the quality of your work is good and your effort sincere. Out there, men and women learn how to be alone in an environment unfavorable to happiness.
Day-to-day existence for sailors is barely discernible, that is, until the proverbial storm catches us.
The presumed sinking of the containership El Faro shakes mariners' to their core. We quiver when we learn she was adrift without propulsion, slipping down 50-foot waves and battling hurricane force winds. Under that type of tension the ship makes sounds – haunting sounds – that make any man tremble.
The only remnants discovered thus far include a badly damaged lifeboat, some empty life rafts and one life ring with the ship's name stenciled on it – El Faro – which means "the lighthouse," the place historically reserved for sailors safe haven after long voyages.
A lone, deceased sailor in an immersion suit was found, but not identified.
Before Americans collectively try to understand why a ship got underway with a tropical storm dead ahead, we should begin the dialogue with a realization. Our needs for cheap gadgets and widgets sometimes push seafarers out to sea into unsafe conditions. Like most delivery businesses, shipping companies depend on transporting their customers' cargo on time and at a price dictated by the market. When freight is not offloaded when a shipper guaranteed its delivery, customers will inevitably seek a competitor.
But seafaring is different because the terrain is different. It's uncontrollable. Sometimes safety has to be managed, not avoided. And although market forces put pressure on shipowners, we ought not forget who bares the true burden when the decision to set sail into a storm is made – sailors. They know the oceans are lonely and perilous, but they still muster the courage to say farewell to their families and work in the most challenging environment known to man.
Before El Faro entered the storm, Danielle Randolph, a deck officer aboard the containership, sat down on the ship's communal desktop and wrote an email to her mother. Despite the ship's course into almost certain danger, she did not lament or try to cause alarm. It was another day at sea. Outside, the winds were picking up and the waves were growing larger. "There is a hurricane out here and we're heading straight into it," she wrote.
All we can do is hope they made it safely to the other side.
[1] "Men of strange speech" from Homer, Book 1.178 in The Odyssey with an English Translation by A.T. Murray, PH. D. in two Volumes. Cambridge, MA, Harvard University Press: London, William Heinemann, Ltd. 1919
[2] Rose George, Ninety Percent of Everything (New York: Metropolitan Books, 2013).
On a muggy and overcast day this past March, I set out to the Gulf of Guinea with members from the U.S. State Department in Lagos, Nigeria. It was just past sunset. Our pilot, an athletically built Nigerian with dark skin and a shaved head, greeted us on the pier and welcomed the delegation aboard his Boston Whaler. All of us were overdressed in suits and sweat was noticeably percolating through our shirts.
That time of day is particularly charming in Lagos. The water and the sky interweave in a deep cerulean palette, transforming the landscape into a wondrous countryside.
The smell of stagnant petrol consumed us as we sailed past bulk freighters and crude carriers loading cargo. Containers slammed onto chassis on the adjacent piers and oil sheens along with garbage and debris saturated the waterway. Throughout the channel, campaign billboards promoting President Goodluck Jonathan's reelection were omnipresent
VOTE JONTHAN FOR EQUITY, INTEGRITY AND GOOD GOVERNANCE.
I ASSURE YOU OF FRESH AIR IN NIGERIA – VOTE FOR ME.
And the most dubious promotion of all: #BRINGBACKGOODLUCK2015, which was a campaign slogan based off #BRINGBACKOURGIRLS. This one did not resonate well in northeast Nigeria.
Off our port bow, donned in orange life jackets, were locals taxiing home together in motorized canoes. They stared at us uneasily as our boat sprinted past their starboard beam. A few yelled in detest when a member in our delegation snapped off a photo with his iPhone.
On the other side of the river, directly across from the commercial shipping terminals were residents of Lagos' notorious floating slums. Many of the lagoon's inhabitants are immigrants, who earn less than $2 a day and use the river to dump trash, excrement, and everything else they cannot keep on their makeshift homes. Our guide told us that the people along the sprawling bamboo community subsist largely as fishermen and workers in the nearby sawmills, cutting up timber that floats regularly into the city. They, too, looked perplexed when a boat full of whites drove by at 30 knots.
It took fifteen minutes to reach Takawa Bay at the southern entrance of Lagos harbor. We gazed southeast and saw scores of anchored ships dotted along the horizon like a cityscape at dusk. Our boat idled for a few moments, swaying to and fro in the trough of the seas and all of us were silent. A sea breeze kicked up and the cool air felt good. It was as if at that moment we could sense all of Nigeria's potential in the idle ships a few miles distant, waiting offshore to deliver cargo and with it, a better future for the people ashore.
Our pilot turned sharply to starboard, sped up and headed back toward Lagos. My shock in Nigeria was total.
Over the past two decades, Lagos and several other ports along the Gulf of Guinea have evolved into a major hub for global energy supplies for North America, Europe, and Asia. With several natural harbors throughout the region – from Cape Verde to Angola – and a coastal terrain rich in hydrocarbons, the countries along this fertile coastline have flourished.
This uninterrupted growth had not come about by accident. Many West-African governments have enhanced their infrastructure, liberalized trade policies, and reduced barriers to emerging transcontinental businesses. As a result the Gulf of Guinea increasingly relies on the seas for their economic prosperity. After all, it's their only lifeline to remain competitive in the global marketplace.
This transit hub and facilitator to the world, however, is threatened. Despite West Africa's continuing economic boom, three years ago the Gulf of Guinea surpassed East Africa and became the region with the highest number of piracy attacks in the world. Nigeria is said to be losing a staggering $2 billion to maritime insecurity each year. Maritime experts agree that the nation loses $800 million yearly to unchecked poachers who come to take away fish from Nigeria's Economic Exclusive Zone (EEZ), in addition to about $16 million to oil theft and $9 million to general piracy.
Given the limited number of ships providing security off the West African coast, narcotics traffickers are using West African ports to smuggle and then distribute drugs in Europe. Oil theft and illegal bunkering also continue to rise uncontrollably. According to the Africa Center for Strategic Studies, Nigeria loses between 40,000 and 100,000 barrels a day due to theft.
These attacks also tend to be violent. Unlike Somalia, where pirates attack ships transiting through the region, West African pirates typically prey on ships berthed or anchored waiting to berth. These attacks typically occur within twelve nautical miles. The International Maritime Bureau (IMB) and the Oceans Beyond Piracy Group have shown that more seafarers were killed in the first nine months of 2014 than the whole of 2013, when over 1,200 were affected.
This is a conservative estimate. IMB reported last year that about two-thirds of all West-African piracy attacks go unreported.
Piracy in West Africa are different from those associated with East Africa in a variety of ways. First, unlike Somali pirates who attach ships in transit, pirates operating in and around the Gulf of Guinea prey on ships berthed or anchored within territorial waters. As noted by the Oceans Beyond Piracy Group, this changes the character of operations tremendously. Pirates have access to infrastructure and robust intelligence ashore, which provide them with the content and structure of ships operating in the area. It is thought they have access to information shared with the maritime sectors in the region.
Robbery, kidnap and ransom, and oil theft are the three main piracy models being monitored in West Africa. Pirates hijack vessels and often force ship captains to navigate the vessel to an unknown location where the cargo is lightered to another vessel or a storage facility shore side. Eventually, the oil finds its way to the black market or in some cases, back into the mainstream supply to be sold domestically or in the global marketplace.
If threats of piracy are left unchecked, the economies of West Africa will suffer. The waters off Nigeria, Togo and Benin are deemed a "war risk area," thereby pushing up insurance costs and deterring maritime traders from even entering ports.
Most scholars and military planners would agree the root of the problem in Nigeria stems from state corruption, lackluster job creation, and a hollow security force. With only a couple dozen ships and a poorly trained military facing Boko Haram on their eastern flank, it seems unlikely that Nigeria and the surrounding nations will be able to control this problem alone. Regional actors are taking promising steps, but their coordination efforts are not developed enough to thwart terrorist networks.
Nigeria received two 1700 ton P-18N offshore-patrol vessels in 2014, which are based on the Chinese Type 056 corvette. Built in China and fitted out in a Nigerian shipyard, the 312-foot warships complement the Okpabana and the Thunder, former US Guard WHEC class cutters transferred in 2014 and 2011, respectively.
The revised Cooperative Strategy in the 21st Century (CS-21R) aptly points out that the sea services must continue working alongside partner security forces to combat terrorism, illicit trafficking, and illegal exploitation of natural resources through initiatives such as the African Maritime Law Enforcement Partnership and the Africa Partnership Station. We should not delay in executing this blueprint – the moment is ripe for changes to West African maritime security. On May 29th, Muhammadu Buhari will succeed Goodluck Jonathan as the President of Nigeria. The election of Buhari has created a potential breakthrough for American diplomacy and with it, a chance for us to work hand-in-hand with the largest nation and economy on the continent. Through public-private partnerships, along with interagency work by USAID, America has the opportunity to establish a better long-term relationship with Nigeria's incoming executive government.
Amphibious Ready Groups (ARGs) or destroyers are not needed to assist our partners in Africa. Afloat Forward Staging Bases, coupled with Joint-High Speed Vessels, Patrol Craft and Littoral Combat Ships can fulfill this mission with ease and bring the necessary equipment to the inshore zones that need the most attention. Utilizing UAVs like ScanEagle and Firescout will help discover patterns of piracy and provide security for oil platforms and anchored vessels throughout the region.
Navy SEALs and Special warfare combatant-craft crewmen (SWCC) should liaise with the Special Boat Service (SBS), a special operations unit of the Nigerian Navy. Their mission is focused on littoral and riverine operations, including reconnaissance and surveillance; covert beach reconnaissance in advance of an amphibious assault; recovery or protection of ships and oil installations subject to hostile state or non-state action; maritime counter-terrorism; and offensive action. In order to strengthen partnerships and protect international interests in the region, this must be done year-round.
If we don't step in, then expect China to dominate the region with short-term investments that will fail to lift African nations out of poverty and conflict. The imbalance in trade is staggering. According to John Burnett of U.S. News and World Report, China made $75 billion in investments from 2000 to 2011 compared to our $14 billion. Given the number of natural resources throughout the region, it would be foolish for American business to sit out as the needs of economies throughout West Africa grow. But security is paramount for potential investment from the West.
Ensuring secure littoral sea lines of communication within Nigeria's territorial seas require trust and over time we can help alter West Africa's perception of the West. Like Americans, Nigerians are proud and stubborn. They want to solve problems on their own. Unfortunately, more than anything, West Africa needs a naval presence to help shore up their ongoing problems with piracy. Our Navy can and should do more, especially with an incoming president bent on ending corruption and improving Nigeria's security.
This will be a war of attrition, but it's a fight worth undertaking. After all, success in Nigeria means potential success for Africa, which translates to economic benefits throughout the continent.
Every 22nd of May, unbeknownst to nearly all Americans, the United States celebrates National Maritime Day. It is a day to celebrate our nation's rich maritime lineage, cherish our goods delivered by sea-going ships, and remember the importance of our officers and sailors who sail in the far-flung corners of the world. In Washington, D.C., the Department of Transportation held a ceremony at their headquarters. Salutes were smartly rendered and rousing speeches delivered. At the end of the ceremony, eight bells were rung to signify the end of the watch and honor the Merchant Marine.
The next day, Maritime Administration (MARAD) officials went back to regulating one of the most poorly funded (under $500 million annually) and misguided (only one top official is a past merchant mariner) administrations in our nation's capitol. Since the founding days of our nation to the recent conflicts in the Middle East, the need for a strong militarily-useful and privately-owned U.S. flag merchant marine to protect, strengthen, and enhance our nation's economic and military security has been clear. In times of peace and war, our U.S. flagged vessels effectively answered our nation's call and provided unprecedented sealift capability to support our economy.
According to Rose George in Ninety-Nine Percent of Everything, trade carried by sea has grown fourfold since 1970 and is still growing. Three years ago, 360 commercial ports of the United States received in international goods worth $1.73 trillion. There are more than one hundred thousand ships at sea carrying all of the material we need to live.
Despite the amount of wealth reaching our shores, there are fewer than one hundred oceangoing U.S. flagged ships. Only 1 percent of trade at U.S. ports travels on an American-flagged vessels, and our fleet has declined by 80% since 1951. Less than 2% of all seagoing mariners are women. In a world of progressive ideology, it would seem that the other world – on the sea – is adrift and heading in the wrong direction.
It is seemingly unimaginable that most Americans are ignorant to the world of shipping. Play a game the next time you go out to a restaurant or visit your local coffee shop and see how many items you can count that came from a sea-going vessel.
Plates: Made in China, containership
T-Shirt on young child: Made in India, containership
Chair and table set: Looks expensive, but likely IKEA: containership
Gap Jeans: Made in Bangladesh, containership
Cell Phone: Made in China, containership
Coffee: Beans from Latin America, containership
European car parked outside window: German, roll-on roll-off ship
Fuel presumed in said European car: Crude from Middle East, tanker
The list is extensive. Better game: what was not brought over by maritime shipping?
Proceedings focuses mostly on developments in the maritime security domain, but a deeper conversation should revolve around the status of our civilian mariners. After all, one of our primary missions as sailors of the U.S. Navy or U.S. Coast Guard is to uphold the umbrella convention as mandated by the United Nations Convention on the Law of the Sea (UNCLOS). Even though the United States has not ratified the convention (we do not like its deep-sea mining stipulations), we uphold its core meaning. Over 300 articles aim to create "a legal order for the seas and oceans which will facilitate international communication, and will promote the peaceful uses of the seas and oceans, the equitable and efficient utilization of their resources, the conservation of their living resources, and the study, protection and preservation of the marine environment."
Simply put, our maritime security organizations exist to support the global merchant marine and to promote free trade domestically and abroad. But when we lose American flagged vessels and shipyard workers lose their contracts, their income and their wealth of knowledge is lost. For our government – and in particular the Department of Transportation and Department of Defense – this means that an insufficient number of American mariners will no longer be there to support the industry. The next time we need to support a global war, we will have to rely on foreign shipping companies to move U.S. war material abroad.
RECOMMENDATIONS
Outside thinking. Fund and stand up an independent, outside think tank that can meet the maritime challenges of the 21st If we do not try and sort out the maritime industry, the stability necessary for U.S. flag companies to attract the investments they need and for maritime labor to recruit and retain the mariner our country needs will simply not be there. Create a long term
Bi-Partisan Support. MARAD should continue to lobby and build coalitions to ensure proper funding efforts to build a robust, seagoing merchant marine. If the United States is serious about the declining state of our maritime industry, we must modify existing programs and create new ones that would increase the number of vessels operating under the U.S. flag, the amount of cargo carried by U.S. flag vessels, and the shipboard employment opportunities for licensed and unlicensed merchant mariners.
Reward companies that flag their vessels under the United States. Under the auspices of the intricately elusive tool of "flag of convenience," where ships can fly the flag of a state that has nothing to do with its owner, cargo, crew or route, many shipping companies have chose to dodge taxes and pay mariners less. Consequently, many civilian mariners can't find work. We should create tax incentives for companies that fly under the American flag and hire more mariners, rather than allow ships that maintain a crew of twenty to reap in the benefits of maritime trade.
Subsidize shipbuilding in the United States. In order to compete with South Korea and other major shipbuilding nations that construct vessels on the cheap, we need to craft private-public contracts to allow our shipbuilding to flourish. Explore new ways to meet the capability and capacity to meet the most demanding wartime scenarios that might lie on the horizon.
Rethink maritime officer and crew placement. Even though ships are getting considerably larger, crew sizes are getting smaller. Nearly a thousand professional mariners graduate from the US Merchant Marine Academy and state maritime academies each year with no prospective deep-sea job opportunities. Most sea-going accidents occur due to fatigue and most mariners have reported working over 80 hours in a given week. We should expand Military Sealift Command employment so U.S. Naval Reserve / Merchant Marine Reserve can serve on 'active duty' in the merchant marine. If this model works, we can incentivize a program in the private sector where larger crews are rewarded with tax breaks for operating safely.
Trade has always traveled and the world will continue to trade in our globalized society. The United States relies on a few VLCCs (Very Large Crude Carriers) to bring in two-thirds of our oil supply every day. Without the assured commercial sea power capability provided by the U.S. flag merchant marine and civilian manpower, we will find ourselves at the mercy of foreign vessels that are owned and operated by foreign interests.
The symbolic ringing of eight bells was superfluous this past National Maritime Day. Through bad policies over the last several decades, we have left the U.S. maritime industry at the whim of Adam Smith's 'invisible hand,' then wondered, what happened to the Merchant Marine? Answer: it was turned over decades ago to the rest of the world.
You have been properly relieved America. Maersk has the watch.
Since coming ashore as an NROTC Assistant Professor, I have come to wonder why poems and literature at sea are losing popularity amongst our ranks. Perhaps the mystery and feel of navy life has been diminished – Electronic Chart Data Information System (ECDIS-N) does not have the feel of a sextant and receiving storm data vis-à-vis Meteorological Officers in Hawaii isn't the same as predicting gales using weather gauges.
Many officers and sailors have talked to me about "how interesting navy life used to be," or have confessed, "it isn't the same anymore." These are accurate observations and I think that an organization with a rich history such as ours deserves admiration. Nevertheless, this is the best time to be in the Navy. Women and minorities serve at equal status with their white male counterparts; sailors have more support networks then ever before; and social media allows many of us to communicate with our families in nearly real time. Our sensory connections with the duties we perform at sea are indeed not what they once were, but does this necessarily mean we are less inclined to write about the encompassing power of our planet's restless and mysterious waters?
Despite the interest our careers inspire amongst men and women of all ages, there has been a considerable decline in literary reminiscences over the last few years. Instead of using turning to pen and paper to share and confess our thoughts, we merely use hash tags and click 'share.'
The nineteenth century gave us Walt Whitman, Herman Melville and Joseph Conrad; the early twentieth century produced Jack London and Patrick O'Brien. They were sailors with the ability to portray sea life from a variety of perspectives that engaged readers at their core. Although their work was primarily fiction, I'd offer that the difference between fiction and reality is razor thin. The stories poignantly reveal human nature at sea and provide meaning that all of us can relate to. Like these famed authors, we too must strive to make meaning in what we do and then portray this cogently to the public domain and each other.
Popular writers have weighed in, but their contributions are not necessarily accurate. The April 19 New Yorker article "Shipmates: Life on an Aircraft Carrier" by Geoff Dyer, ended with the same dubious colloquialism every landlubber surmises. "When, at last, I was back on the very dry land of Bahrain, I checked in at a hotel, went up to my room, and showered for a long time. The water felt cleaner, more sparkling [. . .] I looked out the window at the empty cityscape and experienced another revelation: I could go for a walk!" Similarly, the only question Thomas Friedman asks a young junior officer when he rode the USS New Mexico for one night was "how do all of you stand being away from your families for so long underwater, receiving only a two-sentence 'family-gram' once a week?"
I would contest we are not simply motivated by the same social connotations that our civilian counterparts enjoy. We are sailors. We come from a different breed and our lives by nature do not possess the homogeneous social norms of our civilian counterparts. Although we may have put to sea for a variety of reasons – service to our nation, learn new skills, earn the GI Bill – all of us have been affected by the wonders of navy life; our lives sharpened by the life on the seas. Some of the mystery is gone, but the beauty still remains.
Proceedings and other naval publications primarily exist to discuss and debate naval doctrine, but it should also reflect on our social experiences in a meaningful way. To be honest, I have never mused about the powers of Aegis beneath the vast night sky, with the dust of the Milky Way scattered as far as the eye can see. Even though the Main Propulsion Assistant and the senior gas turbine technician could recite each valve within the main drainage system by memory, we never argued too much about engineering improvements that our senior leaders should be pursuing. We told sea stories, discussed books and history, laughed as we reenacted scenes in our favorite movies, and then went about our duties.
Mahan's diary as a junior officer is a fascinating read. Many of his entries lament about his fear of drinking too much and his abhorrence of superior officers. "The Captain has annoyed me, and I have felt and spoken angrily and sullenly." And, like so many of us, he does not always complete tasks on time. "Have failed in my duty concerning the reading of the Articles of War." Yet, within his complaints and small victories, a portrait of life at sea emerges. His ability to reflect on sea life, both positive and negative, ultimately led to him thinking more critically about naval tactics and the naval profession as a whole. Simply put, it gave him meaning and persuaded him to remain at sea.
Over the years, I have found that life itself is like the sea. Our lives ebb and flow like a foaming tide. We attempt to seize each moment, try to live one day at a time, hang on tightly to lifelines and trust that our faith in each other will get us there. So much we do in our lives as sailors is wandering and I do profess that wandering the ocean is the most exciting profession in the world.
Perhaps John Masefield says it best in Sea Fever.
Oh I must go down to the seas again,

To the lonely sea and the sky,

And all I ask is a tall ship

And a star to steer her by

And the heel's kick and the wind's song,

And the white sail's shaking

And a grey mist on the sea's face

And a grey dawn breaking
Before my final deployment aboard USS Milius, my wife gave me the finest gift anyone could: a journal. It was an impeccable idea. After all, there's nothing like a day at sea, to meditate about this earth and to think of all the challenges that await us afloat and ashore. So, as naval officers who experience the daily grind, let us tell the evolving story of our Navy. One hundred years from now these entries will capture us for who we were and where we were going.
Geoff Dyer, "Shipmates: Life on an Aircraft Carrier," The New Yorker, April 2014, 6; Thomas Friedman, "Parallel Parking in the Arctic Circle," The New York Times Sunday Review, March 29, 2014.
Diary entry on August 6, 1868 and May 11, 1869 in Letters and Papers of Alfred Thayer Mahan, vol. I (Annapolis: Naval Institute Press, 1975), 201; 301.
John Masefield, "Sea Fever" in Salt Water Ballads (1902).
A few weeks ago, my friend and Proceedings colleague LCDR Benjamin "BJ" Armstrong posted an important thread on the USNI Blog revealing the challenges that the 2014 Current Strategy Forum. In predictable fashion, many participants at the Forum asked the age-old, paradoxical question, what would Mahan do? It would seem Mahanian legend is firmly embedded within our policy planners' imagination. When faced with the revision of the Cooperative Strategy for 21st Century Seapower (CS21), instead of asking how Mahan would handle the next century of naval warfare, the War College should be asking "what should our junior officers do?"
I assert that our strategy in naval warfare still permeates from the Zeitgeist of Mahan, when it should be more focused on the explosive energy that many of our junior officers possess. Rather than look to an individual who merely conveyed the ideas of others, continue to foster outlets – like the Naval War College – that allow our junior officers to create, build, test, and revise their ideas.
How did Mahan gain so much notoriety?
As he matured his theories of sea power, drawing from the selective histories he provided the world, Mahan became more and more interested in the actual application and implementation of policy. In "Preparedness for Naval War," an article published in Harper's in 1897, he argued that America was "to all intents an insular power, like Great Britain." As a result, every "danger of a military character to which the United States is exposed can be met best outsider her own territory at sea." Offensive capabilities would be in the function of a sea-going Navy – battleships, cruisers, and torpedo boats, capable of accompanying a fleet, but not impending its movements – which could uphold an adaptive Monroe Doctrine.1
Mahan was delighted when his friend Theodore Roosevelt was appointed Secretary of the Navy, for he knew the effects this could have on the financially-strapped Navy. He immediately wrote Roosevelt and called attention to Japan's naval program and urged annexation of the Hawaiian Islands. "Do nothing unrighteous," he told Roosevelt, but "as regards the problem, take the islands first and solve the problems afterwards." In response to the danger from Japan, the Assistant Secretary of the Navy replied that no strong nation "should be allowed to gain a foothold in the Western Hemisphere." As the year continued, Mahan's imperialist visions grew deeper. He had become the definitive voice in the political-navy arena with the support of sympathetic spirits like John Hay, Theodore Roosevelt, and Henry Cabot Lodge, but also with a gradually convinced public opinion.2
Technological improvements, especially in regard to photoengraving and printing, enabled Mahan to reach phenomenal popularity. The introduction of the Merganthaler Linotype machine changed the face of publishing and the character of periodicals. Allowing users to print quickly and cheaply and to use real pictures, publishers attracted a mass market, especially by Joseph Pulitzer and William Randolph Hearst. Magazines at every level began competing for the American literary market. Captain Mahan had a wide audience both among the intellectuals and in popular magazines and newspapers. In November 1897, Little, Brown, and Company published a small volume entitled, The Interest of America in Sea Power: Present and Future, which included nine of Mahan's most important articles. The articles provided an easily understood, broad perspective in understanding the problems facing America's organic fleet. These immediately enlarged Mahan's following and at the same time provided his influential supporters with verses to convert the non-believers.3
The Importance of the Naval War College
Established in 1884 and only a decade in existence, the Naval War College in Newport, Rhode Island, was already preparing unrestricted line officers intellectually and strategically. As former Secretary of the Navy William Chandler put it, "the constant changes in the methods of conducting naval warfare imposed by the introduction of armored ships, swift cruisers, rams, sea-going torpedo boats, and high-power guns. . . render imperative the establishment of a school where our officers may be enable to keep abreast of the improvements going on in every navy in the world." When the Cuban insurrection broke out in 1895, the officers in charge at the Naval War College thought it necessary to undertake a study of a possible Spanish-American conflict. They gave the class of 1895 a "special problem" concerning a war with Spain where the objective was to secure independence for Cuba and called for an early joint operations again Havana. The U.S. fleet, based out of Key West, would intercept any Spanish expedition attempting to reinforce the defenders in Cuba. In 1896, the Office of Naval Intelligence submitted Lieutenant William Kimball's plan, which would later win an audience in Newport, Rhode Island.4
After graduating the Naval Academy in 1869, William Kimball entered a post-Civil War navy of obsoleted warships, outdated organizational structures, and few opportunities for promotion. Kimball looked the part of a quintessential officer; he was well groomed, he kept his mustache pointed on both sides, and he parted his brown hair down the center. While at the Brooklyn Navy Yard in 1885, he met John P. Holland – the inventor of the new submarine boat – and formed an immediate friendship. Kimball helped Holland secure navy contracts for the submarine and contributed in the later development of the torpedo boat, then went on an extended intelligence-gathering trip through the Isthmus of Panama in 1885. His experiences in the Central Americas would eventually result in a special intelligence report on a possible canal route.5
Between 1894 and 1897, Kimball served in the Office of Naval Intelligence and developed an inner circle around the assistant secretary of the Navy, Theodore Roosevelt. During that time, he assembled information for his plan "War with Spain, 1896," which would later serve as the blueprint in case of war and offered 'Mahanian' objectives. Supporting attacks against Manila and the Spanish coast would, as he believed, further induce Spain to negotiate an end to the conflict. After an attack on the Philippines, Kimball proposed a war plan that depended on a stringent naval blockade of Cuba as the primary means of persuading Spain to release control of her colony. Although this plan was heavily scrutinized, both at the War College and the Bureau of Navigation, it would later become the outline for future naval operations.6
Rear Admiral Francis Ramsay, chief of the influential Bureau of Navigation –and Mahan's nemesis from the Naval Academy – had long been an opponent of the War College, and it is likely he was the one who persuaded Secretary of the Navy Hilary Herbert to convene a board in the summer of 1896 to draw up a separate plan for war with Spain. Like the Kimball plan, the Ramsay Board focused on the naval blockade, but added the deep-water ports of Puerto Rick and those of Cuba. Although the strength of the Navy in 1896 was sufficient to meet and defat a fleet arriving from Spain, the board called for the purchase of a number of small, fast steamers to enforce the blockade. The destruction of crops in Cuba led the Board to believe the Spanish garrison needed to import food to survive, hence the reasoning behind acquiring more ports. Some members of the board dissented, stating that large operation in Spanish waters were "too dangerous," and a naval blockade would not be sufficient to subdue the Spanish forces in Cuba. A later board, called together by Rear Admiral Montgomery Sicard, in June 1897, accepted the Kimball Plan as the primary means of fighting Spanish forces. The plan called for the reduction and garrisoning of principal ports and recommended the idea of using the Asiatic Squadron against the Spaniards.7
President McKinley regarded Teddy Roosevelt's views as effective and used Roosevelt as an expert adviser on naval strategy and America's preparations for defense. But they weren't actually Roosevelt's ideas – they were Kimball's. On September 21, 1897, Roosevelt conferred with the President over dinner and the two men continued their conservations the next while horseback riding. During their meetings, the Assistant Secretary of the Navy gave McKinley a thorough summary of the war plan, which constituted official Navy Department policy at the time. Additionally, he discussed with the president the location of every US warship, the availability of other ships for purchase, and gave an endorsement of the major assumptions of attack made by Kimball. If the president still did not know the location of the Philippines, as he claimed in early comments once war broke out, he certainly knew that the Philippines was one of the Navy's first targets commanded by his appointee, Commodore George Dewey.8
Although the correspondence between Roosevelt and key policy planners have historically been used to justify Roosevelt's impulsive and imperialist philosophies, they should actually be viewed as a lens in understanding his political strength. Kimball's plan – not Roosevelt's rhetoric or penmanship – was the decisive catalyst and elusive first cause of the American victory in the Spanish-American War.9
One Final Thought
Americans, particularly seagoing junior naval officers, who by 1900 were one of the most educated singular bodies in the world, were more active and were ready to move from the shadows of geographical isolationism into a world that would eventually have to accept America as a global power. In that regard, perhaps there is no finer example of blossoming, contemporary Americanism, then within our junior officer ranks.10
---