Author Archive
On Sept. 11, 2001 Michael P. Murphy was an ensign in Basic Underwater Demolition/SEAL training.
Michael Murphy, a graduate of Penn State University, who grew up in Patchogue, Long Island, New York, internalized and personalized what happened on 9/11, according to colleagues, mentors and writer Gary Williams, author of "SEAL of Honor: Operation Red Wings and the Life of Michael P. Murphy, USN."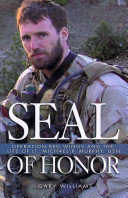 The book is on Adm. Greenert's bookshelf as an essential Warfighting First selection of the CNO Professional Reading Program.
Murphy led a SEAL team into Afghanistan in 2005 where he faced a profound ethical dilemma after capturing some civilian non-combatants. (His dilemma and moral decision is examined in detail in another book about Operation Red Wings, "Lone Survivor" by Marcus Luttrell.)
The team then endured a prolonged firefight against a larger Taliban force. At the end of the terrifying and deadly fight, Murphy faced a second, more personal moral choice. At great personal risk, he put himself directly in the path of enemy fire in order to call in help for his team.
In "SEAL of Honor" Williams introduces us to Murphy's family, shows in detail his training regimen as a Navy SEAL, describes the mission Murphy led in Afghanistan during Operation Red Wings, and shows the honors paid to Murphy and his family after he was killed. "SEAL of Honor" preserves history and offers a well-documented biography of an American hero.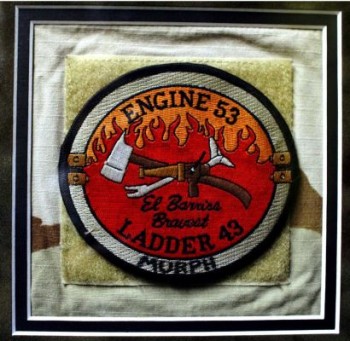 Murphy's bond with first responders from his home state is legendary. He had his unit wear the bright orange patch of FDNY Engine Co. 54, Ladder Co. 43 — "El Barrio's Bravest" — on their uniforms as a team symbol and constant reminder of 9/11 and why the SEALs were in Afghanistan, according to Williams.
Marcus Luttrell also refers to the patch several times in "Lone Survivor."
Like Williams's "SEAL of Honor," Luttrell's book is understandably an autobiographical account. Before describing Operation Red Wings, "Lone Survivor" explores Luttrell's upbringing in Texas, his SEAL training in San Diego and a mission in Iraq desperately searching in vain for weapons of mass destruction: "chasing shadows out there in that burning hot, sandy wilderness."
Luttrell's telling of the firefight with the Taliban in Operation Red Wings is gripping and graphic, but at the end of Luttrell's book the reader is left with a hunger to know more about the hero, leading protagonist Michael P. Murphy.
"Seal of Honor" shows us how Murphy's qualifications as a leader developed starting in early childhood. As a toddler, Michael's favorite book was Wally Piper's "The Little Engine that Could." He was a voracious reader at Canaan Elementary School.
According to Williams, Murphy's favorite book as an adult was "Gates of Fire" by Steven Pressfield, a historical fiction novel about the 480 B.C. Battle of Thermopylae, in which 300 brave Spartans protected their homeland and democracy from an invading Persian Army. Greek warrior culture is part of the SEAL tradition.
The never-give-up attitude, willingness to sacrifice for a cause and strong personal ethos all contribute to what makes a Navy SEAL, provided the individual can tough it through BUD/S training, described in detail by Williams.
"Despite the brutal training, Michael soon realized that almost anyone could meet the physical requirements of the SEALs, but the unending challenge from day-one would be the mental toughness, that never-ending inner drive that pushes you forward when every nerve and muscle fiber in your body tells you to stop — to quit. That warrior mind-set — the mental toughness — is what separates a Navy SEAL…"
"SEAL of Honor" includes inspiring SEAL Creed excerpts or, in some cases, complete remarks from SEAL leaders like Adm. Eric T. Olson, Chief Warrant Officer Mike Loo and Commodore Pete Van Hooser. All focus on leadership expectations and maintaining high standards.
Williams describes the tragic rescue attempt in which Lt. Cmdr. Erik S. Kristensen and 15 other would-be rescuers were killed when their MH-47E Chinook helo, call sign Turbine 33, was shot down by the Taliban.
Both "Lone Survivor" and "SEAL of Honor" showcase the importance of the concept: "no one left behind."
Near the end of "SEAL of Honor," Williams lists each of the warriors who died trying to rescue Murphy and his team.
He describes the many tributes to Lt. Michael P. Murphy, including the awarding of the Medal of Honor by then President George W. Bush. One of the most significant tributes, especially as far as Sailors are concerned, is the naming of an Arleigh Burke-class guided-missile destroyer for him, dedicated May 7, 2008.
During his remarks, then Secretary Donald C. Winter predicted, "Every Sailor who crosses the bow, every Sailor who hears the officer of the deck announce the arrival of the commanding officer, and every Sailor who enters a foreign land representing our great nation will do so as an honored member of the USS Michael Murphy," writes Williams.
Osama bin Laden haunts both books, written prior to President Barack Obama's authorization to kill or capture the terrorist leader of al-Qaeda, the group responsible for the attacks of Sept. 11, 2001. After a Muslim ceremony, bin Laden was buried at sea from USS Carl Vinson (CVN 70) just days before the USS Michael Murphy christening.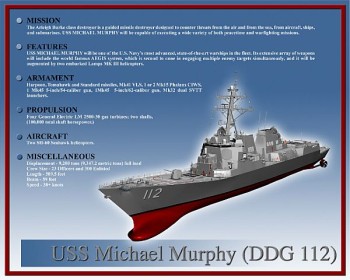 USS Michael Murphy (DDG 112) was christened at Bath Iron Works, Maine on May 7, 2011 (after publication of Williams's book), on what would have been Murphy's 35th birthday.
"It is my sincere belief that this ship will build on the momentum gained by our special operations forces in the fight against extremism and sail the seas in a world made more peaceful by sustained American vigilance, power and dignity," said then Chief of Naval Operations Adm. Gary Roughead. "This ship will carry Michael's legacy and values to Sailors several decades from now and to a new generation of Americans…"
USS Michael Murphy's homeport is Pearl Harbor.
(A version of this review was originally published Sept. 10, 2011 on Navy Reads.)
Reviews by Bill Doughty
The United States Navy is making and living history right now in Hawaii in the world's largest maritime exercise: Rim of the Pacific (RIMPAC 2014), fostering collaboration and cooperation and promoting international understanding. Among the participants in this year's RIMPAC are navies from 22 nations, including UK, Japan, and China.
Two books give perspective on the past two centuries of naval history and provide context for the history being made by the U.S. Navy this summer.
A lot has happened in the two centuries since the Revolutionary War and War of 1812: from wooden ships to littoral combat ships; the birth of naval air forces, airpower and UAV; nuclear-powered fleet ballistic submarines; computers and cyber-security. The world is changing too, as captured in the Maritime Strategy, from world war confrontation to global cooperation. Think about the evolution of the fleet and the world in which it operates today.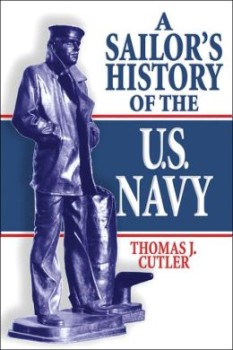 Thomas J. Cutler thinks and writes about changes and challenges over the past 200-plus years in "A Sailor's History of the U.S. Navy." His Naval Institute Press book is a mainstay and now a top pick on the "Be Ready" list of the CNO's Professional Reading Program suggested reads.
Cutler writes about the "magic" of the lore, language and legacy of the United States Navy, and invites Sailors to reflect on the "club" to which they belong. His book recounts — and makes relevant — history through the stories of Sailors in the past and present.
"The more you know about the Sailors who served before you, the more prepared you will be to do your job, and do it well. It is your turn to follow in the wakes of those who went before you, to lead the way for others who will follow you, and to make your contributions to the Navy's ongoing legacy of honor, courage, and commitment."
In a Chapter 6, "Don't Give Up the Ship," Cutler sets the stage with a brief description of Master Commandant (Commander) Oliver Hazard Perry, his famous pennant and the sailors who fought in the face of adversity at the Battle of Lake Erie. Cutler then gives more recent history, including the story of the five Sullivans brothers lost aboard USS Juneau in Guadalcanal Campaign, 70 years ago this year.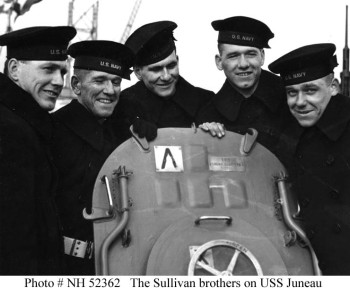 Cutler ties in the brothers' namesake ships, including the current USS Sullivans (DDG 68), showing how the ship was targeted in a failed attack by al Qaeda in Aden, Yemen in January 2000. That same year, on the day before the Navy's 224th birthday, terrorists launched another attack on an Navy ship, this time against USS Cole (DDG 67).
He recounts the heroism of the Sailors who all focused on three tasks, "caring for the injured, providing security against further attack, and saving the ship." Don't give up the ship…
The author packs a lot of history in this easy-to-read overview that contains stories and photos about JFK's PT-109, Rear Adm. "Amazing" Grace Hopper, 1776's gondola Philadelphia, Commodore Matthew C. Perry, battleship USS Maine, Master Chief Boatswain's Mate Carl Brashear, and naval aviator and astronaut Alan Shepard Jr., among others.
In the appendix he offers synopses of key engagements through battle streamers, showing the operational history of the U.S. Navy.
The streamers demonstrate a commitment to always "Be Ready."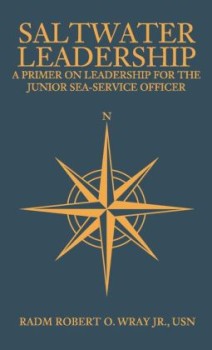 Speaking of "back to the basics," also recommended is a new book by Rear Adm. Robert O. Wray Jr., "Saltwater Leadership: A Primer on Leadership for the Junior Sea-Service Officer."
The book, with a forward by Sen. John McCain, is endorsed by retired Adm. Gary Roughead, former chief of naval operations, and former President George H. W. Bush, who served as a naval aviator and "junior officer at sea."
Wray offers self-described bite-sized "sea stories" and practical, pragmatic "salty advice" along with plenty of lists, including traits and tributes, rules and advice, and a list of 35 books on leadership!
Interestingly, the book opens with advice from ancient philosopher from China Lao Tzu:
A leader is best
When people barely know that he exists,
Not so good when people obey and acclaim him,
Worst when they despise him.

"Fail to honor people,
They fail to honor you";

But of a good leader, who talks little,
When his work is done, his aim fulfilled,
They will all say, "We did this ourselves."
— Lao Tzu's "Tao Teh Ching," verse 17, 6th century BC
Wray's book is published by the Naval Institute Press and is in the same "Blue and Gold Professional Library" series as "The Bluejackets Manual," "Command at Sea," and "A Sailor's History of the U.S. Navy" (above), among others.
(An earlier version of this post appeared on Navy Reads — http://navyreads.blogspot.com. Recent posts include reviews of "Cybersecurity and Cyberwar," "Thomas Paine: Enlightenment, Revolution, and the Birth of Modern Nations," and "Zumwalt: The Life and Times of Admiral Elmo Russell 'Bud' Zumwalt, Jr.")
How did the United States Navy achieve victory at Midway and turn the tide in the Pacific so early in World War II? An anthology from the Naval Institute Press shows the answer: Sailor ingenuity, science and skill blended with Nimitz's wisdom and determination — along with some luck.
Other factors contributed, including miscalculations and overconfidence of Imperial Japan, whose military leaders were set on taking out "Hawaii's sentry," Midway Atoll. But fortune favored many of the U.S. carrier aviators who fatally damaged three enemy carriers, writes John B. Lundstrom in historian Thomas C. Hone's "The Battle of Midway: The Naval Institute Guide to the U.S. Navy's Greatest Victory." Imperial Japan would lose four carriers that attacked Pearl Harbor and more than 100 of its aviators.
Lundstrom notes, "The actual sequence of events was stranger than anyone could have imagined; as [Rear Adm. Murr] Arnold wrote in 1965, it was 'the most god-awful luckiest coordinated attack.'"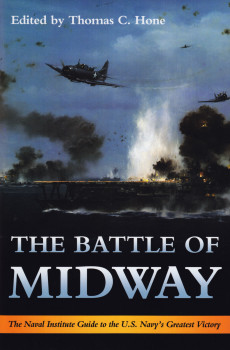 In "The Battle of Midway" editor Hone brings together a gifted roster of writers and leaders including Craig L. Symonds, E.B. Potter, James Schlesinger, Adm. Raymond A. Spruance, Rear Adm. Edwin T. Layton, Elliot Carlson, Mitsuo Fuchida, Masatake Okumiya, Lundstrom and Mark R. Peattie, among others.
Throughout this book of mostly essays written over a span of seven decades, Hone adds context and analysis. In his introduction to Chapter 9, "Prelude to Midway," he explains Imperial Japan's motive for the attack.
"The Midway operation had two central objectives. The first and more limited one was the seizure of Midway as an advance air base to facilitate early detection of enemy carrier forces operating toward the homeland from Hawaii, with the attack on the Aleutians as a diversion … The second, much broader objective was to draw out what was left of the United States Pacific Fleet so that it could be engaged and destroyed in decisive battle. Were these objectives achieved, the invasion of Hawaii itself would become possible, if not easy."
Hone's "The Battle of Midway" opens with Part I, which explores Nagumo's kido butai (air fleet), presents Admiral Yamamoto from a Japanese perspective, and shows why Imperial Japan's carrier pilots were so skilled in the first year of the war with the U.S. Navy; it was because they had already gained experience in the previous decade in China. Part II is titled "Approach to Midway" and includes a brief but powerful piece from Proceedings, "Lest We Forget: Civilian Yard Workers," by Lt. Cmdr. Thomas J. Cutler, USN (ret.). Cutler is author of "Bluejacket's Manual," "A Sailor's History of the U.S. Navy" and numerous other books.
Part III, "The Battle," recounts the battle Kurosawa-like, from different angles and viewpoints including several from an Imperial Japanese perspective. "I Sank the Yorktown at Midway," by Yahachi Tanabe and Joseph D. Harrington, is one provocative title. Parts IV and V deal with the aftermath of the battle, its finale and the official report by Commander-in-Chief, U.S. Pacific Fleet.
Part VI of "The Battle of Midway" explores the personalities, strategies and relationships of the commanders: Nimitz, Spruance, Nagumo, Yamato, Fletcher and Mitscher. Part VII shows how code-breaking helped provide some of the "god-awful luck" that gave U.S. Navy the edge against the enemy fleet. Editor Hone leads with an analysis of the complicated state of affairs with regard to code-breaking, and he includes an excerpt from Elliot Carlson's excellent "Joe Rochefort's War: The Odyssey of the Codebraker Who Outwitted Yamamoto at Midway."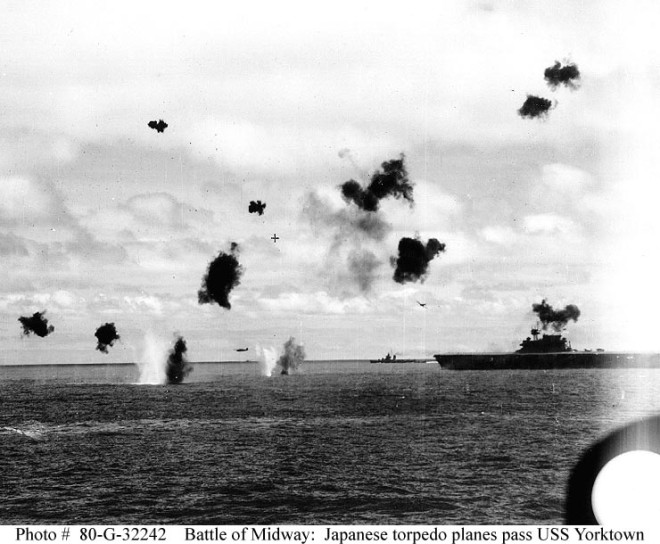 Hone's book concludes with Part VIII "Assessments of the Battle" and appendixes, including the USS Enterprise Action Report and Spruance's Letter to Fletcher of June 8, 1942.
The source materials, oral histories, chronologies and analysis in "The Battle of Midway" make this book a compelling overview of the heroic battle while leaving some mysteries, fog-of-war questions, and the impact of luck as still part of the story and lessons of Midway.
An extended version of this post appears on Doughty's Navy Reads blog, along with a recent review of Robert D. Kaplan's "Revenge of Geography."
Women and men of the Class of 2002 may think they are in the shadow of their grandparents — "The Greatest Generation" who beat fascism, crushed nazism and crossed the Pacific to avenge Pearl Harbor and win the war in the Pacific in less than four years.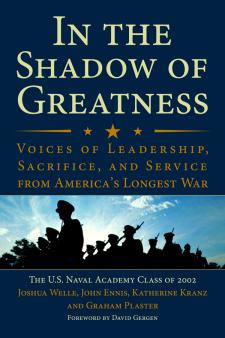 "In the Shadow of Greatness: Voices of Leadership, Sacrifice, and Service from America's Longest War" is a compilation by or about members of the U.S. Naval Academy Class of 2002. (USNI offers comprehensive reviews of the book, published in 2012; this is another look into the shadows.)
Put together with love and appreciation by Joshua Welle, John Ennis, Katherine Kranz and Graham Plaster — and including a foreword by David Gergen — the book is filled with essays and memories by and about members of the U.S. Naval Academy Class of 2002. The authors set the stage with a look back to the past:
"The magnitude of World War II provided the opportunity and experiences that shaped twentieth-century American leaders. As men served abroad, women provided support at home. All overcame great odds and faced adversity that gave them confidence and shaped their outlook in the decades to come. This 'greatest generation' returned from war, took advantage of the educational benefits offered through the GI Bill, and advanced the country's economy and transformed its society. World War II veterans, while fueling economic advancement, remained resolute in their value system: service, sacrifice, and community."
Among "Shadow's" contributors are aviators, surface warfare officers, submariners, U.S. Marines and mothers of junior officers killed during training or in action.
The book is filled with first-person, heartfelt accounts of triumph and hardships: what it's like in humanitarian assistance missions, duty at sea, Search and Rescue operations, and combat; what it means to face family separation, "setting aside the comforts a normal life in service to our country and the Constitution. The dark sides of these sacrifices are broken marriages, post-traumatic stress disorder, depression, and estrangement."
But there is plenty of triumph here, too, focusing on why and how Navy and Marine Corps leaders choose to serve — "not for self, but for country."
A highlight is the account by Meghan Elger Courtney, who served aboard USS John Paul Jones (DDG 53) of her commitment to promote warfighting readiness for Sailors aboard the Arleigh Burke-class guided-missile destroyer. Courtney recognized a need to improve shipboard physical fitness opportunities to help Sailors who would deploy forward — either aboard ship or as individual augmentees in Iraq and Afghanistan.
With the blessing of her commanding officer and strong support from the command master chief and Chief's Mess, j.o. Courtney planned for, procured and arranged for installation of a new fitness center that replaced outdated insufficient gear and space. Courtney writes, "Almost immediately, I saw a positive renewal in people's attitude toward fitness, healthy eating, and incorporating workouts into their daily routine as a way to relieve stress and stay in shape."
"What some may have viewed as my silly pet project, the command master chief took seriously, and he became my closest ally in seeing it through. I never really knew how much the experience had impacted him until I saw him become visibly choked up recollecting it during his closing remarks when he transferred off the ship. I don't think he thought that a young officer like me could have cared about his crew so much, but I did, and I still do…"
Courtney's story is just one of many inspiring reflections. She said she was inspired by a quote by explorer Robert E. Peary on a motivational placard in Halsey Field House at the academy: "I will find a way, or make one."
Other essayists share their sources of inspiration as President Teddy Roosevelt, President Dwight Eisenhower, President John F. Kennedy, Senator Daniel Inouye and Secretary of Defense Chuck Hagel, among others.
One essayist quotes the last two lines of a poem by Mary Oliver, "The Summer Day" in pursuing a life of purpose, wanting to make a difference:
"Tell me, what is it you plan to do
with your one wild and precious life?"
The authors and essayists show how core values of honor, courage and commitment make up an ethos that "forms the fabric of people's personality and drives them to a life of service, in and out of uniform."
"'In the Shadow of Greatness' was envisioned to recognize and chronicle the service of brave men and women and through their stories establish connections with the broader, nonmilitary community. These first graduates of the Naval Academy after 9/11 entered a global war at sea, in the air, and on land. This war would last more than a decade and define the United States in the early part of the millennium. The actions of the select few profiled here represent those of a much broader spectrum of patriots."
Attacks on 9/11/2001 changed the lives of the Class of 2002.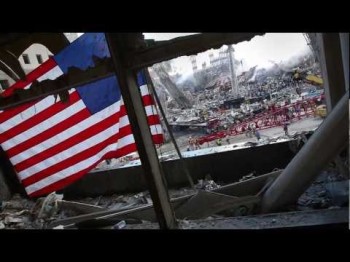 In a short introductory piece, "Inside the Gates of Annapolis," Adm. Sam Locklear (now Commander, U.S. Pacific Command) writes about the investment the country makes in the women and men who attend service academies, including the Naval Academy, reflecting on the morning of September 11, 2001 when he sat at his desk as commandant of midshipmen.
"I recall vividly watching the al-Qaeda attacks on the World Trade Center and the Pentagon and the plane crash in Pennsylvania. When the images reached the Brigade, and the uncertainty of the events rapidly became reality, I asked myself, Are these men and women, these young patriots, ready for the challenges that most certainly lay ahead. A decade of war has proven that they were more than ready. Fortunately for us all, they remain ready today. We are extremely proud of all they have accomplished and thankful that we chose the right men and women to lead the next great generation."
The book, published by the Naval Institute Press, is a key title on the CNO's Professional Reading Program essential list under "Be Ready."
A version of this post appeared on Bill Doughty's Navy Reads blog.