Author Archive
This post was originally published on Defense Entrepreneurs Forum's Whiteboard blog.
On Sunday, 26 October, the Defense Entrepreneurs Forum hosted an innovation competition sponsored by the United States Naval Institute. $5,000 in prizes were awarded after the eight contestants made their pitches. We will feature the one-pagers from the competition over the next few days.
Contestant: Graham Plaster, The Intelligence Community LLC
Problems
Individuals
o Rising unemployment among veterans
o Long wait times for government positions
o Salary cuts
o Shifting regional focus from Middle East to small wars, Africa, Asia, Russia, etc.
o An educational pipeline mismatched to the government job market
o Need for a wider on ramp and off ramp between public and private career options
Business
o Contracts are being steered to small businesses who lack the depth of expertise and the infrastructure to meet government requirements
o Companies are trying to scale up to meet government demands while slimming down on brick and mortar costs (through 1099 independent contractor hires)
Government
o Failing to meet quotas for hiring small businesses
o Eager to harness a fee-for-service model to manage costs and eliminate overhead
o Need cross pollination of public and private work experience for the future of publicprivate partnerships to keep pace with innovation
Solutions
o The tool will be similar to other freelance marketplaces currently available such as oDesk- Elance, Guru, Freelancer, Fiverr, and others. However, this marketplace will be tailored to the US national security sector which has many special legal and professional requirements.
o The marketplace will help both small and large businesses scale to manage indirect labor costs, meet contractual government requirements, and also, broadly, give the government the ability to tap a global market of talent for emergent needs. The government is always looking for a "bench" of talent without having to carry the huge overhead of unused experts.
o This also gives unemployed veterans including wounded warriors a way to serve as consultant from home, as part time support for important work.
Why Us
The Intelligence Community LLC ("TIC") is a US veteran owned business that moderates a worldwide network of over 47,000 national security professionals growing at over 1200 new members every month. TIC is also a member of the Defense Intelligence Agency's Innovation Gateway and will be collaborating with companies to discover ways to assist DIA with crowdsourced analysis. There has already been strong interest from government agencies on leveraging this emerging community of expertise.
This post was originally published on Defense Entrepreneurs Forum's Whiteboard blog.
On Sunday, 26 October, the Defense Entrepreneurs Forum hosted an innovation competition sponsored by the United States Naval Institute. $5,000 in prizes were awarded after the eight contestants made their pitches. We will feature the one-pagers from the competition over the next few days.
Contestant: Ben Bines, HBS Student, Former F/A-18 pilot
Thesis: Creating a catalyst for military members that drives them to engage in proper wealth management strategies early in their careers will result in increased career satisfaction and hence higher retention and recruiting rates.
Our military has a problem; members are not comfortable creating and executing personalized investment plans that can help them create long term wealth.
Often our members rely on too little information to make potentially life-altering decisions. If the government can find a way to unlock this wasted potential, the results could be significant for its members. The question we need to ask ourselves is why isn't this happening without intervention?
We submit that the answer can be traced to three facts:
The financial services industry is incentivized to be confusing, resulting in less sophisticated users not investing, over/underinvesting and/or investing without a holistic plan.
The financial industry's professional advice fee structures (typically 1% of assets being managed) are too costly for most peoples' financial needs and are set up to cut out lower net worth families, thereby exacerbating point 1.
The government has only attempted to engage this issue from the retirement account (TSP) perspective, not the holistic strategy perspective.
The idea that a person can create value through very long term investing in a broad market based portfolio that reflect an individual's personal situation and risk tolerance is well known, however, this fact does not seem to equate to this strategy being well implemented. Why?
We believe the disconnect results from two factors.
People tend to give up because of the perceived execution complexities.
People take a segmented view on their portfolios and accept the simplicity of cookie cutter investment strategies (target date retirement funds) that result in under or over exposed positions. The misunderstood exposure results from these strategies' attempts to control costs by relying on bucketing dissimilar individuals based solely on retirement time horizon.
The fact is the investment world is simply too complex for the average person to feel confident that the decisions they are making are based on a complete understanding of the financial tools they are employing. The financial costs of misallocating short, medium and long term funds based on miscalculated or misunderstood short, medium, and long term cash flow requirements results in forced selling and emotional investing, which destroy enormous amounts of wealth accumulation potential.
So how can we help create the cost effective catalyst that gets people over the execution hump and provides individualized portfolio strategies without asking our members to become trained financial professionals?
We believe the answer lies in merging education and execution services via virtual meeting technology with trusted, proven financial institutional partnerships. We will create a process which will allow us to walk individuals through the setup and initial execution stages of their investment plan using a fiduciary relationship standard that gets them going down the correct wealth management path. We'll couple that with robust financial planning software that allows them to easily track goals, sets reminder, and provides easily understood instructions when it's time to make adjustments. By getting our people confidently through the uncomfortable stages where many give up, we'll add enormous potential value to our members' and the military.
This post was originally published on Defense Entrepreneurs Forum's Whiteboard blog.
On Sunday, 26 October, the Defense Entrepreneurs Forum hosted an innovation competition sponsored by the United States Naval Institute. $5,000 in prizes were awarded after the eight contestants made their pitches. We will feature the one-pagers from the competition over the next 8 days.
Contestant: James la Porta, Assistant Editor, Blue Force Tracker
The problem: "America doesn't know its military and the United States military doesn't know America"
-Adm. Mike Mullen, former Chairman of the Joint Chiefs of Staff
The American people have a fundamental misunderstanding of the military, and an unrealistic perception of the threats facing our nation because the voices of veterans, and others with real-world "boots on the ground" experience are underrepresented in the media. The mission of Blue Force Tracker is to fix that.
The solution: In the military there is a tool called "blue force tracking," which depicts with icons on a satellite image of the battlespace where every U.S. military unit is positioned. We want to give the American people something similar. Our intent is to help close the growing civilian-military divide by giving our audience an unbiased, unfiltered and realistic account of what the military does and the world in which it operates.
The mission of Blue Force Tracker is to report on and analyze issues related to U.S. national security, foreign affairs and veterans issues from a team of journalists with backgrounds in the military, intelligence services or diplomatic corps, as well as those who have unique first-hand knowledge of foreign regions where U.S. national interests are at stake. We aim to reach our audience with an innovative smartphone app and website, which matches the news consumption patterns of our target demographic—veterans of the wars in Iraq and Afghanistan and active duty military personnel.
Most of this target demographic is part of the millennial generation, who prefer accessing their news through mobile devices and web-based platforms. Media consumption is moving increasingly toward mobile platforms, and we want to capitalize on this trend. But we also aim to counter the parallel trend of decayed journalism standards.
Just because readers access their news on mobile devices doesn't mean that there isn't still a need, and an audience, for quality journalism. So, while we have put a lot of work into designing an innovative, userfriendly portal through which our audience can access our product, we also realize that quality content is the No. 1 way to grow an invested and loyal audience. To do that we leverage the unique, real-world experiences of our writers to educate Americans about the threats facing our country and provide a realistic account of the challenges facing the military—both abroad and in the transition back to civilian life.
Additionally, as our armed forces transition out of more than a decade of sustained combat operations, we need to hear from veterans and their families about their needs. The transition to civilian life is often a difficult one, and we need to hear that story from the people who are living it. Finally, Blue Force Tracker is a push back against the decline in the standards of worldwide journalism. We believe in well-written, profound, original content that educates the reader and has a societal benefit. We believe that quality journalism is just as important to the survival of a democracy as the armies guarding its borders.
But all these lofty goals cannot be accomplished unless we place our stories, and the unique opinions and analysis of our writers into the palms of the people who matter. So our overall challenge is developing content that breaks the mold while constantly evolving and experimenting with ways to deliver that content in a way that best matches the lifestyles and habits of our audience.
This post was originally published on Defense Entrepreneurs Forum's Whiteboard blog.
On Sunday, 26 October, the Defense Entrepreneurs Forum hosted an innovation competition sponsored by the United States Naval Institute. $5,000 in prizes were awarded after the eight contestants made their pitches. We will feature the one-pagers from the competition over the next 8 days.
Contestant: Josh Steinman, US Naval Officer
Software is increasingly becoming the defining mechanism by which the Army, Navy, Air Force and Marine Corps achieve tactical, operational, and strategic decision dominance. Previously the Department of Defense had achieved this ability through industry.
As software takes on increasingly prominent roles in the Department of Defense, we will need to establish closer relations with the industry that builds it, much like the Department of Defense built long-standing ties to the industrial base during the pre-War, inter-War, and post-War periods of the early 20th century. These close links will ensure that the DOD retains the ability to rapidly integrate cutting edge digital technologies into our operations, as well as influence their development at all stages.
One high-impact, low cost way to advance this goal is to establish a small joint detachment of hand-picked DOD personnel to operate primarily in Silicon Valley that would act as an intellectual "long-range reconnaissance squad".
This entity would consist of approximately 10 personnel nominated by a small group of senior officers and civilians (plus 1 support and 1 General or Flag Officer), stationed in the greater San Francisco Bay Area.
Their mission would be to help integrate the defense and software industries by achieving the following tasks:
a. Ensure continuity of action before, during, and after senior officer and civilian visits with entities in the non-Defense technology sector. Achieve this by acting as travel agent for senior officials before they depart (coordinating visits with local technology companies), local guide upon arrival, note-taker and action officer while engaged on the ground, and execution agent upon the senior's departure.
b. Identify early-stage ventures with potential DOD applicability and connect them with appropriate resources to utilize their technology for DOD purposes. Interface with DOD and service-centric early-stage and midstage venture capital firms, and liaison with entities such as DARPA, IARPA, US Army REF, CNO's Rapid Innovation Cell, and OSD RTTO.
c. Educate students, entrepreneurs, academics, and venture capitalists on DOD challenges and process with an eye towards changing attitudes towards the DOD. This would include conducting "presence missions" at regular events like SXSW, TECHCRUNCH DISRUPT, and even Burning Man.
My proposed first step is to send an exploratory detachment of 3-5 officers out to Silicon Valley for a one-month site survey mission that would result in a full proposal white-paper, to be submitted to the Joint Chiefs of Staff within 90 days of their return. Costs for such a survey are on the order of $6,000 per person, for one month.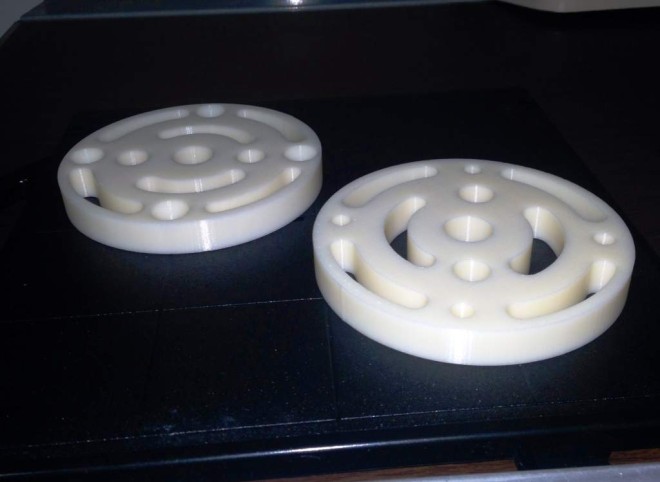 The CNO's Rapid Innovation Cell, in partnership with Combat Direction Systems Activity (CDSA) Dam Neck is dedicated to bringing 3D printing to the Fleet. We need your participation, and your ideas. We have set up a lab to print prototypes, training aids, and anything else you can think of that would make your lives easier.
With the ever changing landscape of warfare, new, unanticipated problems continue to emerge. Technology of yesterday may not meet the needs of today's warfighter. Our military must adapt to solve new challenges quickly and within present-day financial constraints. CDSA Dam Neck has the ability to provide affordable, rapid response solutions to the warfighter.
One of the ways CDSA Dam Neck is able to provide solutions efficiently is through the use of additive manufacturing, also commonly known as 3D printing. Engineers can design, model, build, and test their solution in a matter of days, as opposed to months or years. Usually these designs are sent to a shop for final fabrication, but, in some cases, we send our final "printed" designs for direct deckplate use.
Last year, the CRIC began a project called Print the Fleet (PTF), which was designed to improve sailors' access to additive manufacturing technology. The CRIC decided to leverage the knowledge, capabilities, and location near the Norfolk waterfront of CDSA Dam Neck. CDSA is now a technical lead for this project.
The PTF team is looking for problems that may be solved through the use of additive manufacturing. Sailors can bring urgent or non-urgent issues to the attention of PTF, where potential 3D printing solutions will be analyzed. If there is a feasible and cost-effective solution, PTF will use additive manufacturing technology to solve the problem, with the approval of the sailor's commanding officer. Upon completion of a project, we request input from the users to determine the usefulness, timeliness, and cost-effectiveness of the solution. These metrics will help us improve our ability to effectively and efficiently provide additive manufactured parts to the warfighter.
Recently, the USS Whidbey Island (LSD-41) ran into an issue with their new sound-powered phone boxes. The new composite boxes are strong, lightweight, and will not rust like the old brass ones. Unfortunately, these phone boxes have bolt holes in a different location than the original boxes. To solve this problem, sailors were going to have to cut the standoffs out of the bulkheads, grind down the bulkheads, and re-weld new studs in the correct locations. Instead, we are "printing" a variety of prototype adapter brackets to theoretically allow for the continued use of the old standoffs, cutting down the installation time of each phone box drastically. In this case, additive manufacturing is allowing us to provide an easier, cheaper, and faster solution to these sailors.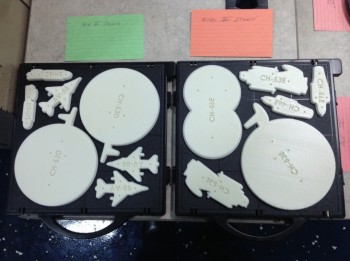 We have also sponsored a printer aboard the USS ESSEX to create medical devices and models for use with the Ouija board in the flight deck control in collaboration with Navy Medicine Professional Development Center (NMPDC) at Walter Reed National Military Medical Center. Sailors and their creativity, combined with the technical acumen of our technologists, are pushing this technology forward for integration in the Fleet.
In addition to the partnership between NWDC and CDSA Dam Neck, the PTF team is collaborating extensively with other organizations. CDSA Dam Neck and NWDC first consulted with NASA Langley Research Center to leverage their extensive knowledge and experiences with additive manufacturing. For PTF, a new 3D printer was not purchased, but is on loan from Explosive Ordinance Disposal Group Two. Naval Supply Systems Command (NAVSUP) is working to create a data repository to host model files. These files can be "printed" at a location other than CDSA Dam Neck if there is an approved 3D printer nearby. Users may soon be able to request parts from engineers through this data repository in the near future. Currently, correspondence is handled through email, phone calls, and in-person meetings. To assist us with upcoming challenges for PTF, we have developed a network of experts throughout industry, academia, and the defense community, including Virginia Tech DREAMS Lab, NASA, NMPDC, and several of the naval warfare centers.
Additive manufacturing technology is giving the Navy an opportunity to provide rapid response solutions to the warfighter, which will improve operational availability and reduce total ownership costs. Embracing these types of emerging technologies will be vital in creating the agile Navy of tomorrow.
If you want to participate simply, email Jim or Ben. We will make surlambe your idea gets a hearing!