Author Archive
On May 26, Secretary of the Navy Ray Mabus and Columbia University President Lee Bollinger signed an agreement aboard USS Iwo Jima "formalizing their intention to reinstate Naval Reserve Officers Training Corps (NROTC) programs at Columbia" after an absence of 40 years. The history between the Navy and Columbia dates back to at least the Jacksonian era.
On February 3, 1830, Columbia College President William Alexander Duer wrote to Commodore Isaac Chauncy – then in command of the Brooklyn Navy Yard – offering schooling at Columbia for local young naval officers under certain specified terms. Chauncey forwarded the suggestion to Secretary of the Navy John Branch: "This proposal is a liberal one, not more expensive than the navy yard schools…I certainly should prefer a Naval School, if Congress would authorize one." He echoed this sentiment to Duer: This proposal seems to me to be liberal and fair, and I am sure that great good would result to the service by accepting it." Chauncey recommended to Branch attaching a naval officer to the college for "superintending the young officers, and enforcing discipline."
It's unclear if any naval officers were non-matriculated students at Columbia that decade, but if President Duer made the recommendation to the Navy, perhaps it was because he had some familiarity with the organization.
Following is a summary from Christopher McKee's A Gentlemanly and Honorable Profession: The Creation of the U.S. Naval Officer Corps, 1794-1815*:
Duer was the son of William Duer, a former Assistant Secretary of the Treasury under Alexander Hamilton; his maternal grandfather was Revolutionary War General William Alexander (aka Lord Stirling.) Duer went bankrupt when his extensive private speculations collapsed and he died in debtor's prison in May 1799. The younger Duer was "forced to abandon legal studies at the height of the Quasi-War with France to accept an appointment in the navy" and assigned to the frigate John Adams in the Caribbean On June 16, 1800, in Martinique, one of his fellow midshipman claimed Duer stabbed him in the thigh. Admonished by Lieutenant Francis Ellison, Duer again attempted to draw his dirk then struck Ellison and stated that he would murder him and others on the ship. He was ordered to stand trial by court martial.
Duer's mother, Lady Catherine Duer appealed directly to President John Adams that her son be allowed to resign his commission rather than stand trial. Adams "urged [Secretary of the Navy] Stoddart to accept the resignation of 'this unhappy youth,' and threw most of the blame on [the frigate] Adams's commander, Richard V. Morris, for not controlling the amount of wine consumed by the midshipmen's mess at Dinner." Duer returned to law school, practiced law, and became a politician and judge before becoming president of Columbia College.
LCDR Claude Berube is a member of the USNI Editorial Board and teaches at the U.S. Naval Academy. He is currently writing his doctoral dissertation about Andrew Jackson's navy.
*This correspondence can be found at the National Archives, Center for Legislative Archives (House Committee on Naval Affairs, HR21A-D17.5).
*Duer/Chauncey Correspondence courtesy of Columbia University Archives
The Past is Prologue: A Brief Survey of Proceedings Contributors from 1875-1919
There are many theories on the genesis of military innovation. One theorist, Vincent Davis, suggested in his 1967 work "The Politics of Innovation: Patterns in Navy Cases," that the innovation advocate in the Navy is "usually an officer in the broad middle ranks." If this is true, then the concepts which help the United States Navy and Marine Corps operate in the next maritime conflict may very well come from today's junior officers. It's why it's important for those same mid-grade and junior officers to critique rather than criticize policies, programs, processes and platforms and articulate them respectfully in an appropriate forum. Who among those of us over forty would have predicted the respective roles of Youtube as political campaign game-changers, or Facebook and Twitter as a communication method during Iran's Green Revolution in 2009 or the recent riots in Tunisia? Yet those who are half our age employed those tools daily as second-nature much as my generation grew up with a rotary phone and that seemingly musical necessity – the 8-track tape. Might some of our sailors have predicted the social media applications for military operations if they had written about them in a naval forum?
As a member of the U.S. Naval Institute for nearly twenty years and as a recent addition to its Editorial Board, I conducted a brief survey last month on the founding of USNI as a forum for understanding the country's naval force to see what role, if any, our more junior officers had in writing for the magazine, building a dialogue on critical issues, and advancing concepts that would propel the U.S. Navy as a global power in the 20th century.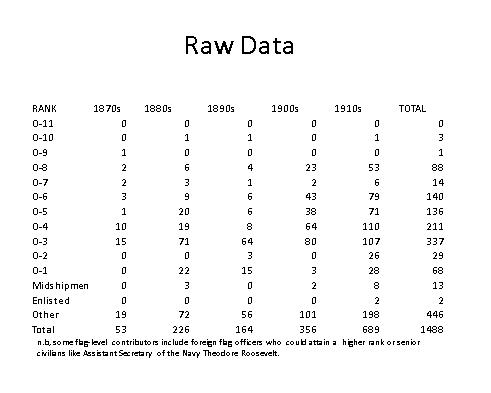 For this exercise, nearly 1,500 articles were tabulated from 1875 to 1919 by contributor rank and then sorted by decade. Civilians contributed a large number; these largely included civilians employed by the Navy as naval constructors or instructors at the Naval Academy.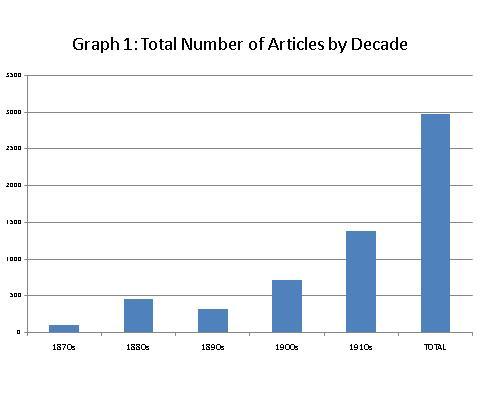 The number of articles increased over the course of the first four decades (see Graph 1) due primarily to the increased frequency of publishing Proceedings as it developed from a quarterly, to a bimonthly, to a monthly journal. A brief drop in the number of articles during the 1890s was a result of longer articles, professional notes, and war reports, leaving less space for more articles.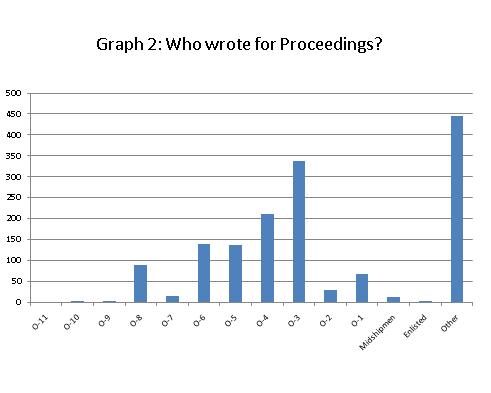 Who wrote for Proceedings? The top group of contributors was, surprisingly, civilians with approximately 450 articles (see Graph 2). They were followed by lieutenants with nearly 350 articles. Combined, however, lieutenants and lieutenant commanders published 748 articles – half of all articles published in Proceedings. Interestingly, lieutenants and lieutenant commanders also accounted for most of the annual prize essay contests.
Among only officer contributors, junior officers led the way. More than half of all officer contributors were ensigns, lieutenant junior grades, and lieutenants. (see Chart 1) Among the mid-grade officers, the majority of contributors were lieutenant commanders. Admittedly, this was a period in the navy's history when senior billets were rarer, resulting in older junior- to mid-grade officers.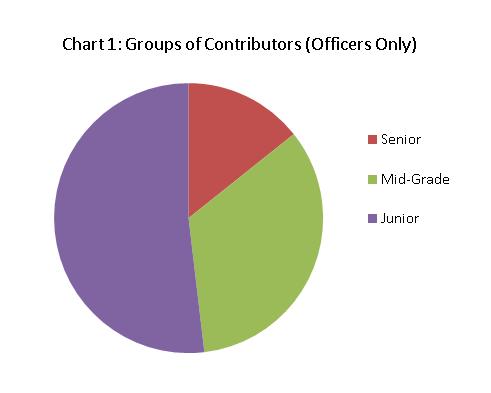 The demographics changed throughout this time period (see Graph 3). During the first two decades of Proceedings, most officer contributors were O-3s and O-4s; absent were writers at the rank of commander and above. This changed dramatically from 1900-1909 not because senior officers suddenly participated, but because many were the same officers, such as Bradley Fiske, who had written for Proceedings at more junior ranks.
Some of the first authors for Proceedings from 1875 to 1889 were names later known for their naval contributions: Bradley Fiske, known for several inventions and prescient concepts, wrote at several ranks including as a Rear Admiral, later becoming President of the U.S. Naval Institute. During his tenure, the USNI secretary was a lieutenant commander who had first written for Proceedings as a lieutenant in 1909 and who eventually rose to the rank of Fleet Admiral, Ernest King. A subsequent secretary was Lieutenant Commander Isaac Kidd. Commander Alfred Thayer Mahan contributed an article on naval education in the 1870s. The 1880s witnessed articles by Lieutenant – later Rear Admiral – Reginald Rowan Belknap on the naval policy of the U.S., Lieutenant Richard Wainwright who later won the Medal of Honor.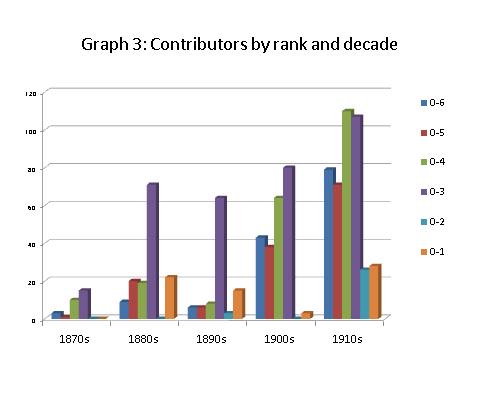 While the time required to flesh out a concept may sometimes seem daunting in the face of long hours deployed or otherwise on duty, there are opportunities. For example, the Naval War College requires papers for its courses. Consider writing those papers not simply with the intent of getting a grade, but in the hope that it can be published (two of my NWC papers were published in Orbis and Vietnam Magazine while others were rejected, but it is possible.)
Was every article superior, every concept groundbreaking from 1875 to 1919? Perhaps, perhaps not, but at least they got the dialogue started on important issues to our Navy and Marine Corps. As it should be today. Just as it is important that the wisdom of today's leadership foster the dialogue and provide guidance for more junior personnel, it is equally important that junior and mid-grade officers and sailors to see the Navy, Marine Corps and the world around them, to identify trends, recognize emerging challenges, and to challenge the status quo itself respectfully, logically, and in an articulate and persuasive manner. Just as they did at the end of the 19th century.
Lieutenant Commander Claude Berube, USNR is a member of the USNI Editorial Board and frequent contributor to Proceedings and Naval History. He teaches at the U.S. Naval Academy. The opinions expressed are his own and not those of the Department of the Navy.
In 1883, Moses Gulesian legally emigrated from Armenia to the United States. Reportedly penniless, his hard work and ingenuity made him a self-made millionaire. In 1905 when Secretary of the Navy Charles Bonaparte proposed sinking the USS Constitution by using her for target practice, Gulesian's sense of patriotism for his new country led him to send a telegram to Bonaparte: "Will give ten thousand dollars for the Constitution, Old Ironsides. Will you sell?"
Although the offer was refused by the U.S. government, it created the same groundswell of support for the ship that had once compelled Oliver Wendell Holmes to pen his own poem in 1830 that saved her from being scrapped. The USS Constitution remains the oldest commissioned warship afloat (only Britain's HMS Victory is older but she is in permanent dry dock). USS Constitution remains an integral part of this country's naval heritage, a reminder of the maritime dangers that led the early Republic to build her and sail her in harm's way. She is a visible reminder for every one who passes through Boston and the half million people who walk her decks every year.
Today another historic ship faces numbered days. Commodore George Dewey once stood on Olympia's deck commanding the U.S. fleet at the Battle of Manila Bay during the Spanish-American War and issuing the order: "You may fire when ready, Gridley." Today, she remains unique – the world's oldest steel warship afloat. More importantly, she represents the beginning of America as a Mahanian power.
According to the Independence Seaport Museum's website, raising the estimated $20 million in capital necessary to restore and maintain her has been difficult. The Museum stated it's approached "the City of Philadelphia, the Commonwealth of Pennsylvania, the Navy, the federal government, and private funders." Given the current fiscal challenges in both the public and private sectors, raising the funds can be problematic. But some have pointed out that even within government, funds for projects might be diverted to the Olympia. As pointed out by at least one milblogger, according to a July 7 article in the Philadelphia Inquirer, "Pennsylvania's new budget includes $20 million to housing the papers of the late Democratic Congressman John P. Murtha, and the soon to be retired Democratic Senator Arlen Specter." On the federal level, approximately $20 million was spent for road signs promoting the so-called "American Jobs and Recovery Act."
As a result of the inability to raise funds, the cruiser Olympia may be sunk, possibly as an artificial reef. According to ISM's website, "the Navy has advised ISM that they are willing to authorize ISM to responsibly dispose of the Olympia."Because of lack of funds, the museum was to cease public tours today, November 22, but recently announced that it had received sufficient funds to keep it open temporarily. To address this issue, "the museum also said it's going to hold a summit early next year to discuss the ship's future and funding. Officials from the Navy, National Park Service and Pennsylvania Historical Museum Commission are expected to attend."
If neither public nor private funds alone can be identified, then the answer may be in a third way: recommission Olympia.
There are many precedents for recommissioning ships for operations but perhaps the best precedent is that of the USS Constitution, recommissioned several times, the most recent in 1931. Like Japan's Mikasa or England's Victory, Olympia could simply be placed in a permanent drydock on exhibit, if not in Philadelphia, then perhaps at the Naval War College or the Naval Academy. Both sites have direct and historical ties to our Navy and maritime heritage, tourists, and students.
Recommissioning should not be a catch-all justification to preserve any ship, but should be reserved for those few that hold a unique status in our nation's maritime heritage. If USS Constitution represented the boldness of a young, inventive republic challenging great powers in single-ship actions (not including her defeat of Cyane and Levant), the Olympia reflects the industrial and military force of the republic as it took its place among the great maritime powers.
If Olympia is allowed to be scuttled or scrapped, we might paraphrase a World War II quote: "Where is our naval heritage? The world wonders."
LCDR Claude Berube, USNR, teaches at the U.S. Naval Academy. He is a frequent contributor to Naval Institute Proceedings and Naval History. The views expressed are his own and not those of the Naval Academy or the Navy.
Observing the 2010 Milblog Conference
Every academic semester, I include in my introduction to the course my three teaching principles: 1) what I know and you don't know, I'm going to teach you; 2) what you know and I don't know, you're going to teach me; and 3) what neither of us knows, we're going to learn together. Principle #2 has usually held more interest for me since I get the opportunity to learn something new and the midshipmen have the opportunity to express themselves. In the course of the past five years teaching at the U.S. Naval Academy, one issue my students tried to teach me was about social media, which was foreign to someone who had written his first graduate school papers on a typewriter and whose first computer (a MacPlus) was now an artifact on display in Michelson Hall. Two years ago, at their suggestion, I decided to learn about blogs.
I focused on military bloggers, specifically those who wrote about some aspect of the Navy. I interviewed them via email and there they remained as non-corporeal bits and bytes, not at all to the face to face interviews I had conducted over the years. The result was part of an article I later published in the February 2009 issue of Naval Institute Proceedings titled "The Navy Can Handle the Truth: Creative Conflict Without Friction." The question I posed was "should they be taken seriously as part of the discussion and commentary." What I learned then was that each blogger tended to specialize in issues based on experience or interest, that other blogger experts tended to self-regulate the blogosphere in terms of distinguishing between accurate and inaccurate information, and that there tended to be a civility among them and their readers despite occasional outbursts from a few anonymous posters. Since then, I have posted one or two articles including one on a military policy on Naval Institute's blog which generated a lot of comments, which supported that last point – that getting that initial feedback and discussion can help a great deal when exploring and learning about an issue.
As a follow-up to that article, thanks to the Naval Institute, I had the opportunity to spend a day at the 5th Annual Milblog Conference. While I'm sure the milbloggers can do it far more justice, I offer the following observations from an objective outsider:
Milbloggers are not unprofessional. Milbloggers aren't a bunch of unemployed twenty-year olds typing away at a computer in their parents' basement. While very few bloggers do so as a fulltime job, or even a part-time, they are motivated and organized. The conference itself was as well organized as any other conference I had attended with excellent, high-profile guest speakers, good questions, and a technical proficiency that rivaled other events. Of the some 200 hundred attendees, there appeared to be more women than men and most attendees were above 30 if not 40 years old. There was a lot of gray hair in that room (with the exception, of course, of Boston Maggie and USNI's Mary Ripley!) Many milbloggers seems to have military experience or family in the military. There simply wasn't civility in that room, there was genuine collegiality which is often missed elsewhere. Milblogger Michael Yon called in live from Afghanistan having recently been embedded with a unit and was now following stories as a disembedded journalist; this from a milblogger, and not a well-funded journalist with one of the major news networks.
Milbloggers are not misinformed. Former CNN correspondent Jamie McIntyre put it best when he said that bloggers make no more or less mistakes than in traditional media. In fact, he noted, they are more credible because they are not bound by the constraints of editorial staffs who may desire particular perspectives on issues or determine which stories to cover.  Colonel Gregory Breazile, USMC, suggested that the more people his command reaches through their blog, the more people will get the real story of what is happening with the military.
Engage them because they are informed. The military community seems to have accepted, if not reluctantly, the viability of milbloggers as a legitimate news source if the program is any indication. Senior officers like General David Petraeus offered a taped introduction, Major General David Hogg had a live video question and answer period, and Admiral John Harvey was a panelist as was Principal Deputy Assistant Secretary of Defense Price Lloyd. Several active duty military were in the audience, likely public affairs officers. Perhaps Admiral Harvey illustrated this point when he discussed the Haiti humanitarian assistance operation as he had to turnaround personnel who had only recently returned from a deployment. He stated that his command blog would get the story out to the taxpayer, but more importantly, it helped to explain to military families why their loved ones were called upon so soon – to do important things to save thousands of lives. "They saw and they believed," he said.
If more people attended that conference, they might see and believe as well.
Claude Berube teaches at the U.S. Naval Academy and is a frequent contributor to Proceedings and Naval History. He is a lieutenant commander in the U.S. Navy Reserve. The opinions expressed are his own and not those of the Naval Academy.
Newer Entries »