Author Archive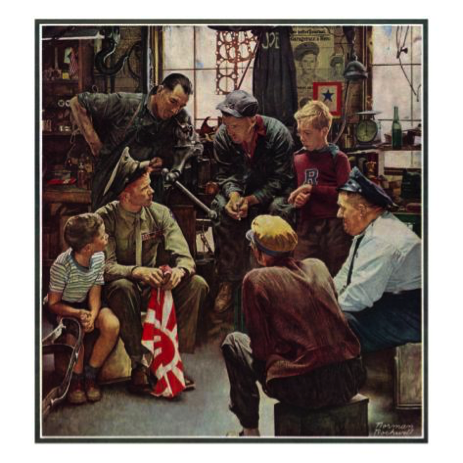 The citizens of our great country know little about the military, even less about what military members do, and scarcely are informed about the issues of the day. I did not serve in the military, but my kids do. All have served our country, whether in Teach for America or in the Navy. As I see it, most of my neighbors understand and appreciate service. Our volunteer fire companies are generally well manned. The Parent-Teacher Association and local service groups may have an ebb and flow, but they maintain a public presence, and my neighbors understand what they do. I don't think that this awareness is so prevalent about contemporary military service. My neighbors' understanding of training, deployment, geography, or mission might be generously described as "foggy".
Concept
Being community minded (and an educator by trade), I propose a simple outreach program to alter the nation's understanding of military service. To get us started, some math might help. There are 1.4 million in current service, and nearly 22 million veterans. We all have personal and community networks. These networks leverage from dozens to hundreds of contacts for each military person. If even a small percentage of those with military experience were to work their networks, the entire country could be exposed to this new information several times over. A local community will relish a short overview of veterans' military perspectives. This overview might include a post-deployment discussion of what it means to be deployed, what you did, how important is it to get care packages, or what it means to trust your shipmates. I am not advocating lobbying or any persuasive posturing here, simply bridging the gap from those who have knowledge and experience to those who do not. The chasm is currently deep. It need not be. Like a mountaineer setting some pins for a safer traverse, are not we all better informed with enlightenment?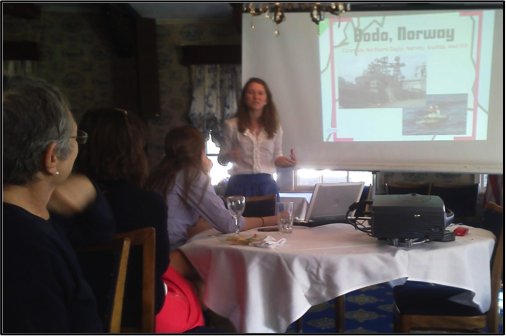 Template
Against such a concept, I have asked our kids to share some of their thoughts with local audiences. Each time, they have graciously responded and prepared some thoughts for delivery and fielded questions. A local restaurant has donated their back room on a weeknight for the event, and I have made some postcards for hand delivery to the librarian, butcher, UPS deliveryman, teachers, neighbors, local government folks, and friends of all stripes. I buy a few trays for appetizers and leave the cash bar to the audience for drinks. The topics have been fascinating: "How the Navy prepares future leaders," "Deployment 2013 – Who, What, Where, When and Why," and " The Rise of China's Naval Power". Every time, the question and answer periods have been wide-ranging and penetrating. Neighbors look at former school kids in a whole new light of respect, and the local business community gains confidence in our local citizens in service.

Case studies
I have five daughters, four of whom have attended the Unites States Naval Academy. The fifth is a Duke grad who worked two years in Teach for America. LT Ashley O'Keefe is our eldest. Upon her return from her first deployment, she spoke to a gathering of more than 40 people about her experience on her destroyer. She made a map of the port stops, clarified her role on the ship, and talked about enlisted and officer roles. Her perspective was very helpful to the uninitiated and veterans in the audience alike. She also found it personally helpful to put her thoughts together in a logical sequence – to make sense of the major milestones and accomplishments that she had just achieved. LT Lindsey Asdal just returned from her second deployment, and will put together a similar program on her next trip home.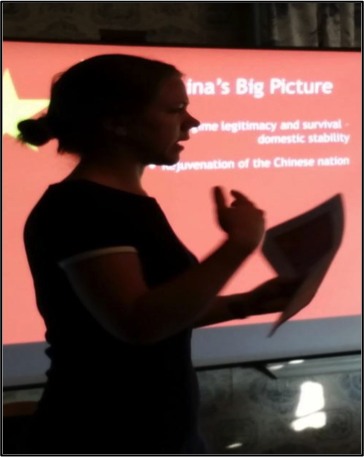 Sharing our insights to interested audiences can take many forms. Annie Asdal is a smart senior staffer for a regional real estate investment firm, and has spoken several times to a local hometown audience about return on investment, financial analysis, and investment models.
Finally, LTJG Kirsten Asdal recently reported to her first ship at Pearl Harbor. Before she reported, she completed a Masters' in Contemporary China Studies, so she chose to mesmerize 50 or so attendees with a talk on "The Rise of China's Naval Power". She is well versed in the subject matter and her graphics and maps made sense to all in attendance. They were rapt with the implications of these global policies at work. Our youngest, MIDN 2/C Charlotte Asdal, is still a student at the US Naval Academy, yet she held the audience in crisp attention telling how the Navy trains future officers. She detailed leadership lessons, the mission of the Academy and how some of her many experiences shaped her ability to lead.
Where next?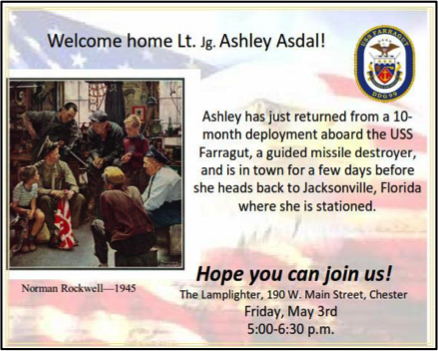 The French call these local discussion groups "salons" – they have existed for several hundred years. It would be my hope that a simple outline template could be circulated, perhaps by local public affairs offices, so that everyone in the military might utilize their existing community networks to chat about our military. The immediate benefits include keeping the community tight, a fun night in town with a strong speaker, and some national and international perspectives. Longer term benefits might include enhanced support for the military and a softening of the distance between military and civilian sectors. What topic would spark your community's interest? I hope you can join us.
The Navy's knowledge of its own human terrain is like using a map of the world from the 14th Century. The Navy can do better.
Before we get too far into the weeds on one possible way to improve our talent management in the Navy, we are doing a survey to better understand the detailing process. Its for all officers and can be reached here.
And now back to your regularly scheduled programming.
Wouldn't you want $2.7 trillion more without a lot of effort?
A recent study by McKinsey Global Institute was headlined with the following:
Labor markets around the world haven't kept pace with rapid shifts in the global economy, and their inefficiencies have taken a heavy toll.
This study on connecting talent with opportunity in the digital age found that online platforms could boost global GDP by 2.7 trillion dollars. The Navy (and DoD) can benefit from similar thinking.
I'm tired of this touchy-feely stuff – the military is for warfighting
Over the last fifty years, our manpower strategy was built on the assumption that the correct operation of superior platforms would ensure victory in a 20th century, system-centric conflict. However, the proliferation of disruptive technologies and the growing budgets of assertive near-peer competitors challenge this industrial-era model in an age of fiscal austerity. Meanwhile, demographic shifts complicate the latest cyclic officer retention challenge, especially among highly trained individuals such as cyber operators, special warfare personnel and aviators. And ultimately, millennial sailors display generational personality traits with diverging views on work from prior generations, including a tendency to switch careers. The consequences of the "war for talent" could have far reaching implications in the military's ability to win the wars of the future. Talent management IS about warfighting.
Yeah, but we've been down this road before
Talent management is not a new topic, but during the last twelve months the stars and suits have aligned to begin to provide much needed reform on the military's personnel management systems. Our leaders all appear to feel the budgetary pressure to do more with less in an increasingly complex security environment. The Secretary of Defense ordered a sweeping review of civilian and military systems this summer. Secretary Mabus' Task Force Innovation (TFI) is undertaking broad reforms focused on developing a data-intensive approach to personnel assignments and career management. Last year, the CNO tasked his Strategic Studies Group to focus on "Talent Management in the 21st Century" rather than developing operational concepts. The Chief of Naval Personnel (CNP), VADM Moran, sounded the initial horn and is championing a basket of reforms to bring the Navy's personnel system into the 21st century.
So what should we do?
We currently understand the richness and capabilities of our people about as well as the early explorers understood the world beyond the horizon. To meet emerging security challenges in a fiscally austere environment, the Navy must map its human capital to better understand and best utilize the unique talents of its individual Sailors.
A talent management system must know enough about its users to put the right person in the right job at the right time. However, the Navy's own systems don't provided the necessary data needed to truly understand and maximize the capacity of its personnel. Nor can IT alone deliver the force needed to maintain our competitive advantage in the mid-21st century. Innovative HR policies that give commands and officers increased influence in the assignment process are needed, along with the necessary digital systems to enable them.
Coming soon to a detailer near you?
We, the CNO's Rapid Innovation Cell (CRIC), think a data-enabled, internal labor market approach to officer detailing might enhance unit effectiveness, improve human capital allocation, and engender greater trust within the service. We are working together with Navy Personnel Command on this project to examine the impact a market-based approach will have on detailing officers. The prototype will work with members of the Information Dominance Corps (IDC). The IDC provides a heterogeneous community with a robust requirement to field a wide bench of experts. The ability to match individual talents with billet requirements provides a large potential impact in this community, so it's a great place to start.
Some considerations for a data-enabled, market-based approach
The efficacy of this market-based approach rests upon advances in cultivating, managing, and accessing large amounts of information. Current software technology allows us to quickly assimilate all the relevant personnel data about our Sailors into an easily configurable user interface. The resulting talent profiles would gather data from a variety of sources. These might include past education, language skills, demographics, and evaluations. Officers would then input additional information onto a LinkedInTM style profile to capture granular data that the Navy currently doesn't have about its people.
Additionally, unit commanders could put forth detailed billet requirements onto a digital information exchange. As officers approach their rotation date and commanders approach the time to fill a billet, they would have the opportunity to communicate during a designated window of time. When the window closes, Sailors and commanders would then have to submit their preferences, and a detailer acting as a HR agent will facilitate the appropriate placement of each billet.
We don't claim to have all the answers; this is an iterative learning process. We are spending time with detailers, COs, and members of the IDC to better understand their needs and requirements. We are also conducting this survey for officers. We hope our prototype system will add granularity to officer talents and billet requirements, increase transparency in the detailing process and offer the potential for a more accurate talent-to-billet pairing than industrial-era fill processes, and increase officer agency in the detailing process.
Ultimately, we are testing the hypothesis that injecting more agency, flexibility and transparency into the detailing process will improve it. We'll measure results through interviews, fit/fill metrics, and job satisfaction surveys. Regardless of outcome, the lessons we learn will help the Navy continue to shape the force it needs to meet future threats.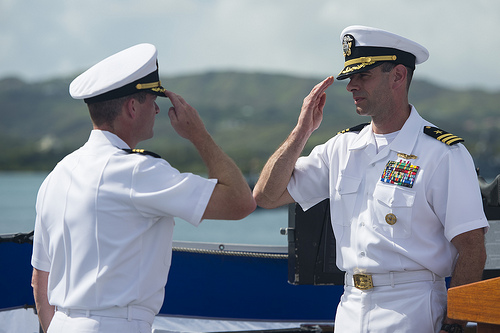 During the period of August 17-21, a short informal survey querying desire for command was promulgated by junior officer across junior officer forums. When the survey closed on the 21st, we had collected 442 responses, from all of the unrestricted line communities, plus many more. We found that of the survey respondents, 53% did not desire command, 23% did desire command, and another 23% were unsure. These results anecdotally validate our hypothesis that fewer than half of today's junior officers seek command. In the unrestricted line communities, where we had enough responses to draw some conclusions from our data, we found that while men and women desired command at approximately the same rate, that rate was not uniform across communities. In the Surface Warfare Community, 33% of respondents desired command, while only 13% of Aviators and 14% of Submariners did.
Methodology
We promulgated our five survey questions via the US Naval Institute Blog, the JOPA Facebook page, the Female Navy Officers' Facebook page, and our own personal accounts. The survey was available online for four business days.
Analysis
This survey serves as a baseline, and is not sufficient to analyze trends. Additionally, the survey methodology does not guarantee an unbiased respondent population; it is likely that we are seeing a response bias in favor of those with strong opinions about the likelihood of their continued service. We do hope that these results will serve to help gauge the current climate amongst the JO corps.
A few questions for discussion:
Are these numbers actually a problem?

Junior officers tend to be instructed that they should aspire to command. Do these numbers indicate a disconnect between the institutional expectation of command aspiration and the reality?

Should we "do something" about the aviation community's apparent lack of desire for command? If so, what?

What other questions should we ask in future surveys?

Is there a place in the Navy for those who desire continued service, but don't aspire to command?
Results
Representative Responses
We found that the responses we received from our 442 survey-takers were extremely thoughtful. Most respondents wrote us at least a paragraph; some wrote several. We have curated a representative sample below:
Yes
Any other reason to stay in is wasting my time. If I stay in, then I stay in for the whole deal. Too much time away from my family to just sluff off and not add value to my community, get an opportunity to lead a squadron into combat, set my expectations for leadership and mentorship within the squadron. I like that it is very hard to get to be a skipper, it makes me want to be the best and eventually (if the almighty timing is right) get selected for command.
In my limited 6 years of submarine service, I have had both good and bad leaders (Dept Head and above). When I was leaving my last submarine, I had a check out interview with my CO. I asked one final question before shaking his hand and walking off the ship: "Sir, has your command tour been worth it?" He responded, "I always thought that being a CO would be very tactical, but I am often surprised that tactics in today's navy make up a smaller percentage of the job. I often have to take a moment to look past the fact that I am mostly getting the ship ready for inspections and evaluations to I realize that I am afforded the opportunity to go on deployment and do what we constantly train to do. In those moments, I feel very satisfied. I was somewhat shocked to find out that my CO (a great CO by the way) had the same perspective as that of a Junior Officer. It was at this moment that I aspired to be a CO and could possibly do his job someday.
It's an exciting time for the SWO community – where we're placing an emphasis on talent, tactics, innovation, options, work-life balance, and FUN! I want to mentor JOs and help change SWO culture for the better.
You don't spend a career as a SWO to execute someone else's command philosophy.
I love working with Sailors. I've served under two amazing Captains and an amazing Executive Officer now moving on to CDR command of his own. Their mentorship, guidance, and leadership have been inspiring and refreshing in a sometimes negative climate/community.
All the pain and suffering up until command is the investment that pays off when you're sitting on the bridge wing of your own ship watching the sunset. Not striving for command wastes all of the effort that comes before. I'm in it to win it! — NOTE: No interest in Flag.
I can think of no better test of my personal will, creativity, character, and moral courage than to command an operational squadron. The number of people and value of the mission make it a task that seems immensely daunting but equally rewarding.
Command at sea is the pinnacle of the leadership challenges that the Navy offers to me as a Surface Warfare Officer. At no other point in my career do I have the enormous responsibility that command at sea requires. I am responsible for the ship and its most important asset, the Sailors and Marines that serve aboard the ship. I chose to continue serving in the Navy because of the incredible leadership opportunities that this job presents to those lucky enough to have the honor of command.
My happiest moments in the Navy are building successful teams. No better way to do that then be a CO. Because I'd like to change and be a positive leader. Especially for so many enlisted females that we have, I've never had a female DH, much less female CO and I think it is important for our sailors to see both
I desire the opportunity to test my leadership and decision making capability in a harsh, remote environment. I believe in our mission and am committed to leading our country's brightest men and women to achieve victory in battle.
I aspire to only early command, and want no part of CDR command or major command. Command is not what it used to be, and I do not want to be second guessed on every single decision I would make as CO. As with many things in the SWO community, I believe a mentality shift would be required away from our zero-defect and administrative warfare obsessions before I would put any serious thought into CDR command or higher.
I desire to have the ultimate responsibility for a ship, her crew, to craft her into state of readiness that reflects my standards, and to slip the lines, sail over the horizon to do our job. I love Sailors, I love the pressure, I've thrived on the competitiveness required in getting to the precipice of command, and I think there's something supremely traditional about command at sea; I think across all warfare areas, commanding a ship at sea reflects the core warrior ethos of the American Navy.Did I always want command? No, I didn't as a division officer. Not at all. However, once I made a decision to be a department head and really began to thrive professionally, my heart changed. I think if you're committed to your profession, and for me, I'm a professional mariner-Surface Warfare Officer, then why wouldn't you aspire to have the opportunity to do things your way, change it up, apply your standard, train a ship how you see fit, sail a ship down range under your guidance to fight and win? If you haven't committed to a career, then I get it—I didn't aspire to command at that point. But if you're in for the long haul, why wouldn't you? I speak strictly as a straight-stick SWO; I acknowledge there are alternative career paths.
No
It seems every O-4 and O-5 I've worked for is chained to a desk and email. I have yet to talk to LCDR that said they actually enjoyed their job.
Politicization of the officer corps and the loss of reality that comes with it.
Our department heads are miserable and we are taught that the only way to make CO is to follow the Golden Path, a path that no one actually wants to take. The amount of time we waste at work to "show face" is absurd. Most of our "work" on days when we are not event planning or flying could be accomplished in two hours, but we stay at work all day so that we can be "seen" because in the long run this is what influences your fitrep. I just feel that so much time and talent is being wasted at the JO level and that the job is not what we all thought it would be.
The challenging nature of the job has been lost; furthermore, I have spent enough time away from family. I performed the last 6 months of my DIVO tour essentially performing a DH job. I lost the enjoyment in the job and I do not want to spend 2 years performing that job. I explored other communities, but the ones of interest won't allow me to lateral transfer into them, even though I am in most cases qualified if not overqualified with schooling.
Because it seems the number one goal of COs these days is to NOT get fired. Everywhere you look there is some ridiculous reason why a CO is getting fired. Publicly elected officials and political appointees are held less accountable for their actions. I joined the military to join the military, not to work on the Hill or in politics. Command should not be viewed or held equal as to someone in politics. We don't "elect" our COs. Firing COs don't solve the problems for certain issues. Their job is to make sure the job gets done. If the Commodore or Admiral didn't personally select them for command of a ship or boat in their squadron, then they should fire themselves. There is WAY too much overhead in the Navy and an organizational structure that is in place right now within the Navy would never last or even be put into place within a corporate environment. It also seems that the overhead takes the wind out of sails of CO to actually take command and run the ship how they want to run it. Within the first 6 months as an Ensign onboard a DDG, I knew that I had zero aspirations to shoot for Command at Sea. The COs I've had just seemed like puppets vice leaders.
There was a time when I would have served the Navy for no compensation at all and now seeing the models that I have to follow of "look better than the next guy" and DH's who use you and your work as a stepping stone whilst slandering your name for not being as good as they are, I have little interest in playing a game to stay on a golden path instead of doing something I love. Think I'm being melodramatic? Observe, if you will, your DH's when FITREPs are rounding the corner and also then note the number of JO's that don't have a DH living inside their behinds. How could command ever seem appealing when I would apparently have to make up things to do to appear busier than the next guy as a stepping stone to the next job and where I've got to monkey around instead of focusing on how to actually be good at something useful, meaningful, and important for my growth as a naval officer? Admittedly, many JO'S of my generation tend to expect success to fall into their laps but I believe it's because we don't have the right kind of mentorship, someone to clone good habits into us. What we do have are entitled and jaded O-4's and O-5's that just want you to know they've been there/done that already without considering that young JO's will emulate that same attitude which in turn only inspires the people who want to step on the next stone to command without considering the magnitude of the responsibility to people other than yourself and your career. This path is just extremely unappealing and just sucks the enjoyment out of what I once thought would be a really satisfying job.
I feel as though CO's are always needing to "look over their shoulder." CO's fear getting fired for "poor command climate" or worse, collision at sea. I feel like if I were to take Command at Sea, I would need to literally live on the bridge to ensure that if anything happened, I felt I did everything possible to not get fired. I do however, feel like I would love to take command of a Small Boat Unit, ACU or something "non-due-course." This is not what the Navy wants from its SWO's though. And I think that is a real issue with the SWO community. There needs to be other options for SWO's that don't necessarily want to take command of a warship, but still want to continue their career in the Navy.
Transitioning to civilian work force and spending time with family. Tired of moving every 2 to 3 years; Doing more with less; Inability to tell Chain of Command that we can not accomplish a mission or project without the fear of getting fired; Big Navy saying "Taking Care of Sailors", when it is all lip service; Right sizing or down sizing, or what every catchy phrase they dream up that utilizes the slash and burn technique vice targeting the Sailors who really are not doing anything for the Navy vice your star performers; Navy not getting ride of more E7-E9 personnel that are underperforming; Get ride of CMDC rating, they have become bureaucrats and have lost touch with deck plate issues; The ugly and uncomfortable NWU's that make us the circus clowns of the DOD; The crappy PT uniform; Intrusive leadership, I really don't want to know or care if a 21 year old Sailor is out drinking at 2 AM, they are adults and such be treated like it. Sorry for rattling on. Some of these items are trivial, but I was on a roll.
Someone in the comments said a piece of it best… It's not (necessarily) that I don't aspire to be a CO, it's that I don't want to grind in the bureaucracy to get there.
1- we are required to change duty stations and jobs almost every 2 years
2- we package crap jobs with the best (IA/GSA to Bahrain, get xxxxx job) so performance doesn't help me get the best job, no one wants does.
3- we've become a "GS" mentality Navy. Instead of working to get a job done, the vast majority of commands require their personnel to be present during certain hours, regardless of op-tempo, duty, deployment schedule, etc. As a Suppo, I'm busier at the end of the month, so I stay late then- why must I keep my folks until 1600 at the beginning regardless of workload, etc.
4- training – NKOs and training have literally wasted HUNDREDS of hours of my life. They do NOTHING to stop criminals, rapists, sexual assault, computer hacks, etc.
5- stop being zero fault… Everyone screws things up. Not everything has to go into the system, or people's personal records. You can teach and most great sailors by mentorship and LEADERSHIP, vs using njp, drb, xoi, etc.
6- Evals/fitrep system is COMPLETELY broken. EACH CYCLE is and should be independent of the previous one, and have nothing to do with it. "Progressing" and "improved superior performance" is crap. If I'm the best, and I leave one command and go to another- odds are, I'm the best there. Why do I have to come in as an MP so I can progress to an EP?! And if someone who's been at the command longer than me was "pretty good" before I got to the command and was the EP, why is his career crushed, if I get an EP he moves down to an MP? EVERY CYCLE IS SEPARATE from the one before.
7- stop being risk averse. Let people make decisions and mess things up. Let JOs speak out at meetings, and question decisions… In the end, the CO is going to make the decision, but we have become a navy of "yes men," and if I speak up, KNOWING I'm right, it doesn't matter. "HEAD DOWN, MOUTH SHUT-PROMOTE".
Complete a technical PhD outside the Navy, on my own terms, own time, and take control of my career.
Why leave? We are less about warfighting and more about the sanctification of the bureaucracy, careerism and political manipulation at the highest levels of government, and increasingly delusional about the reality and nature of today's threats. Commanders do not command anymore – they are simply cogs in a greater machine, and when they get squeaky or deviant, are either smashed back into place or replaced altogether. Perhaps when we lose a few ships and subs in some yet unforeseen calamitous conflict, the Navy will rediscover it's gritty purpose. Until then, not interested in playing full time! Two days per month will do it for me.
Does not look like any of my three COs were having any fun. Angry, plagued by so many regulations and directives that their hands are tied when it comes to being able to make decisions that actually affect people in any positive way. Submarine COs are no longer, and have not been for some time, the maverick independent actors given wide latitude in judgement – they feel the heavy hand of a cautious, risk-averse bureaucracy every day and night.
The Navy has a system set up for officers that essentially forces everyone who stays in long enough to lead more and more people and eventually lead an entire command. "Force" isn't really the right word since if you do not show forward progression by leading more and more people as you progress through to the O-3 ranks, then you will not get promoted to O-4 and get booted out of the Navy. The Navy has to realize that not everyone who join the officer corps are meant to be leaders. Some can lead small teams but will fail when they are in charge of a larger group. Some have no desire to lead but instead want to spend their time as operators. The Navy has to be willing to accommodate different people's character traits. If someone starts off their Naval career as an extraordinary operator, whether it'd be operating keyboards for a computer network operation, or standing engineering officer of the watch on a nuclear submarine, they should be allowed to remain at that level. Imagine how good they would be if that's all they ever did and that's all they ever wanted to do? Leadership and command isn't for everyone and the career pipeline shouldn't be catered specifically towards that. They should be given the option to stall at a certain level and have a successful and fulfilling 20 year career doing what they love. It's unfortunate, the Navy will lose a lot of good talent to private industry due to the way the current system is set up.
I'm not sure
I started my career as a submarine officer and command was clearly not my goal because I was fortunate enough to transition into a career in medicine. I stayed in the Navy to pay for school and I enjoy the sailors in the Navy and would like to serve them. Aspiring to be the skipper of my own submarine didn't interest me because it's an extreme sacrifice of your time and life for a mission that wasn't particularly rewarding. Driving boats and going on deployment for me didn't justify the strain it puts on a family. It's difficult to not sound bitchy talking about this because the overwhelming sentiment during my time on a fast attack was negativity. Alcoholism was a major problem for officers and enlisted alike, it was a toxic environment to be in. Some guys really liked being on a submarine, it's certainly unique and the enlisted sailors on subs are generally great people who for one reason or another ended up enlisting instead of finishing college. For me I realized that the submarine force is just a job, and it's a ****ty one. When you deploy you can't communicate at all with home for months at a time, the work you are doing is usually tedious and is dictated to the letter by rules and regulations, and it's thankless. Outperforming your peers meant you got more responsibility while the ****bags got less, and that doesn't translate into better pay or faster promotions or a bigger bonus, just better fitters, maybe a medal, and eventually screen for rank and put it on a little faster. If you're competent and work hard you can be infinitely more successful elsewhere, have a better family life, make more money, do work that is rewarding and maybe even helps others. That's obviously specific to my own aspirations but I know a lot of guys who share that sentiment. The Navy is good at dangling a carrot for people and convincing them they have it good.
Too much guide by wire from upper echelons. Command by negation is nearly extinct in the surface fleet. Rather than reading the DIMs and executing smartly, we have Chat terminals and Voice over IP phones at every command and control station- including next to the CO's chair on the Bridge – so his boss can take him in close control and essentially assume command authority instead of relying on him to execute IAW the "special trust and confidence" commensurate with his position of authority. I may stay for Command, but it would take a drastic change in culture to move back to trusting your subordinates… In our increasingly connected world and reliance on technology to execute C2 and avoid risk at any cost, I don't think we'll get there before I'm in the right-hand seat.
Women in Writing Week: From 18 October 2013, part of the stellar series "A History of the Navy in 100 Objects" by LTJG Chris O'Keefe.
Women in the military today is the norm, but this was not always the case. Today's object, a non-descript woman's naval officer uniform, helps tell the story of the thousands of women who blazed the trail for the women serving today. This podcast is the first of several episodes that will address the broader narrative of women in the Navy. And since these objects all are located at the Academy, today's episode focuses on the first women to enter the Academy in 1976. This is the first of a two part episode. The second half is an interview with Sharon Disher, member of the first class of women at the Academy and author of the book First Class.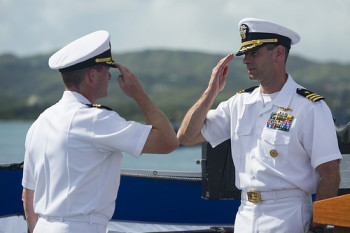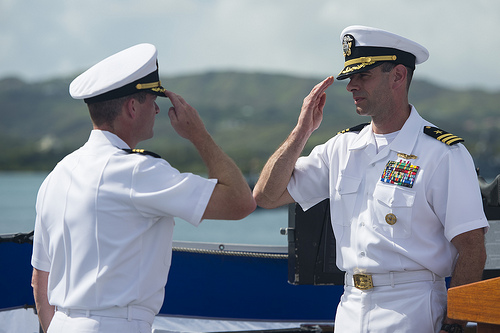 At lunch yesterday, I had the pleasure of being involved in a scintillating conversation among "millennial" peers. Shockingly, we didn't spend the better part of two hours adhering to our generational stereotype and discussing important issues like how to work "only the bare minimum number of hours required," (apologies, but CDR Cunningham's article is the gift that keeps on giving).
We did, however, discuss the leadership changes ongoing throughout the Army and the Navy, and the concept of aspiration to command.
In 2014, the DoD Retention Survey gave us a valuable look at junior officer viewpoints, so I dusted off the data set. The following statistics jumped out:
"One of the most pointed and straightforward questions in the survey was whether or not Sailors aspire to have their boss's job. 49.4% of Sailors overall report they do not want their bosses job, a significantly negative response when compared to the 38.8% who say they do. A plurality of enlisted Sailors (46.5%) desire their boss's job, while a majority of officers indicate they do not want their boss's job (52.6%)."
While having your boss's job doesn't necessarily equate with aspiring to command, when not even 50% of junior officers seek said job, it's probably time to have a discussion on what that means.
But what the JOs in our lunchtime discourse yesterday really wanted to know is, does our generation aspire to command, because as CAPT Sean Heritage points out, we are told that we ought to; but the DoD retention survey indicated otherwise. This engendered a broader discussion about aspiration to command versus a desire to lead.
And as discussion of this important distinction and resulting question progressed, we enjoyed and were informed by it so much that we wished that we could put a broader group of our peers in a room in order to have this same conversation with viewpoints from across the fleet. So we put our millennial, tech-savvy heads together and figured out how we could do so.
The result was the following brief survey that we are circulating (unofficially and informally) to our peers regarding junior officer command aspirations (and yes we understand that the chosen survey domain name is ironically synonymous with a specific archetype of naval service.)
If you are an actively-serving junior officer, to take the survey, click here:
We will leave the survey available through Thursday and publish the results whether we have two entries or two thousand. It will be interesting to see what we find out.
Battleships ceded their primacy to aircraft in WWII, but they still played an important role. Today's object comes from one of the more unusual ship to ship engagements during the war, that between the USS Massachusetts (BB-59) and the French battleship Jean Bart, in Casablanca as part of Operation Torch.
As the US prepared to strike back in Europe and the Pacific, the Navy prepared for the logistical challenge by creating construction battalions, the famous Seabees. Today's object chronicles the first time the Seabees went into combat at Guadalcanal.
As WWII raged, supply convoys from the United States and Canada faced off with the German U-boat "wolfpacks" throughout the Atlantic Ocean. Although the Wolfpacks nearly crippled the allied war effort early in 1941 and 1942, eventually the Allies were able to turn the tide, culminating in the devastation inflicted inflicted on the German submarine squadrons in 1943. May 1943 became known to the Germans as "Black May." Today's object was captured from a German submarine by American sailors one year later in a daring boarding of a sinking u-boat.
The development of wireless communication in the late 19th and early 20th centuries was quickly followed by the development of encrytpion for coded transmissions. The ability of the US to decipher these coded transmissions played an essential role in helping the US and her allies to victory in World War II. Today, we discuss an iconic World War II enryption tool, the German Enigma Machine.
With the battle fleet damaged at Pearl Harbor, carrier-based aircraft became the US Pacific Fleet's main weapon. A small group of veteran naval aviation pioneers led the US carriers against the Japanese Imperial Navy, including Admiral Marc Mitscher, to whom our object today belonged.
« Older Entries