Author Archive
President Barack Obama's National Security Advisor, GEN James Jones Jr., USMC (Ret.) reportedly made the difficult decision last month to call off a massive hostage rescue effort that was to have been undertaken by German counter-terrorism forces and launched from the USS Boxer, a U.S. Navy amphibious assault ship that was also involved in the April rescue of Captain Richard Phillips of the Maersk-Alabama.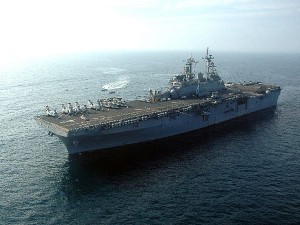 According to the German weekly magazine Der Spigel, the United States was asked by its close NATO ally to assist with logistics for the German assault force, said to involve over 200 members of GSG-9, German law enforcement's most elite hostage rescue and counter-terrorism team. The plan was to retake the German freighter Hansa Stavanger and free the 24 crew members seized by Somali pirates in early April. 
The German rescue forces were already in place aboard the American ship when Jones called off the mission. Deeming the planned assault far too risky and a possible "suicide mission," Jones apparently felt the risk outweighed the benefits of the rescue attempt. German federal police leaders who oversee GSG-9 (a unit roughly equivalent to the FBI's Hostage Rescue Team) are likely relieved that the Marine General turned White House advisor vetoed the rescue plans, as they too were said to have been concerned that the bureaucratically convoluted and tactically complex hostage rescue effort might result in a "bloodbath." German Interior Ministry State Secretary August Hanning also noted that the pirates seemed well prepared to repel any attack.
As I've noted in Combat Fleets of the World, 15th edition, a ship with the size and capabilities of the USS Boxer is uniquely suited to help with the type of operation for which Germany reportedly requested assistance. Displacing over 40,000 tons fully loaded, the USS Boxer can carry more than two dozen helicopters or fixed wing AV-8B Harrier aircraft and well over a thousand troops. All U.S. Navy ships of this type also have extensive hospital facilities that include multiple operating rooms and the capability to treat hundreds of patients.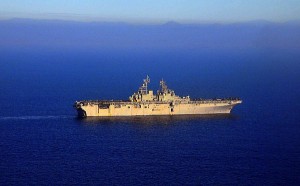 If these reports are confirmed, the German attempt to free its hostages with the help of U.S. military assets, including the USS Boxer, demonstrates the high level of international cooperation required to control the spread of global piracy at both the tactical and strategic levels. Though this particular operation seems to have been called off for good reason, the high level of international and interagency collaboration should, nonetheless, be applauded and must continue. No nation has a monopoly on the military, economic or political tools that are required to end the piracy problem. It will only be though international teamwork that the world can hope to find a real solution. As Admiral James Stavridis and Captain Mark Hagerott explained in their recent Naval War College Review article, "… challenges are transnational and nontraditional, the joint commander of today needs to be able to integrate the efforts of a wider and more disparate set of organizations than ever before …"
I expect that the fight against Somali piracy is only now beginning to take shape. If this planned hostage rescue operation provides us with any indication, the navies and special operations forces of the world, already stretched thin by wars in Iraq and Afghanistan, should not expect much rest in the years to come.
 Eric Wertheim
Naval Institute Guide to Combat Fleets of the World
Photo credits: US Navy
A few articles and some thoughts for the week …Eighteen U.S. Navy ships have the capability to engage ballistic missiles
With the important and continuing discussion of China's new anti-ship ballistic missiles being discussed on the U.S. Navy Institute Blog and elsewhere (special thanks to Raymond Pritchett -AKA galrahn- for bringing this subject to the public's attention) it's also important to remember that these weapons haven't exactly caught the U.S. Navy defenseless. In fact, as fellow Naval Institute author Norman Polmar correctly explained this past January, there are 18 U.S. Navy ships with the ability to engage ballistic missiles — and these capabilities are growing.
Lockheed Martin has even sent out some rather informative press releases on the subject of Aegis ballistic missile defense …
So while the threat from China's anti-ship ballistic missiles are indeed serious, it's also important to highlight the fact that U.S. and allied forces have placed a very high priority on defending against ballistic and cruise missiles – some even argue that this has been done at the expense of other equally important (if somewhat more conventional) threats that include anti-submarine, mine countermeasures, anti-surface warfare, etc.
Perhaps the real question is … what is the right balance for defending against all of the many threats faced by our naval forces?
And not far away in India …
India has always had high hopes for its Navy. As I wrote in my March 2008 Proceedings article on World Navies in Review, India had previously announced plans to expand its current fleet of roughly 140 warships to 185 by 2017. Just today, however, I read an article that indicates India may be scaling back some of these blue water dreams and is now aiming for a force of some 160 warships by 2022.
I'm not sure if either goal will be met, but as with all things related to the budget … only time will tell.
And this week's international navies photos is … The Russian destroyer Admiral Vinogradov
Some articles and a few thoughts for the weekend …Release of the Annual DoD Report on the Military Power of the People's Republic of China
http://www.defenselink.mil/news/newsarticle.aspx?id=53642
Though it doesn't specifically mention the recent harassment of USNS Impeccable by Chinese ships in international waters http://news.bbc.co.uk/2/hi/asia-pacific/7933171.stm, the new Department of Defense report, released on 25 March 2009, does provide some interesting insight on the Chinese armed forces, also known as the People's Liberation Army (PLA). For example, the document acknowledges press reports of the new naval base under construction on Hainan Island, explaining …
"The base appears large enough to accommodate a mix of attack and ballistic missile submarines and advanced surface combatant ships. The port, which has underground facilities, would provide the PLA Navy with direct access to vital international sea lanes, and offers the potential for stealthy deployment of submarines into the deep waters of the South China Sea."
On a broader scale, the report also urges China to increase transparency and suggests caution by stating that, "China continues to promulgate incomplete defense expenditure figures and engage in actions that appear inconsistent with its declaratory policies."
Check out and comment on the full DoD report, available here:
http://www.defenselink.mil/pubs/pdfs/China_Military_Power_Report_2009.pdf
And perhaps readers missed some other interesting news last week concerning the Russian military aircraft that flew within 500 feet of a U.S. aircraft carrier during military exercises …
http://www.cnn.com/2009/WORLD/asiapcf/03/19/us.russia.planes/index.html?iref=newssearch
This was actually reported more than a week ago, but it hasn't gotten much traction. It's been over a year since the Russians last did an over-flight like this, but it is worth noting that the aircraft were detected early and escorted by F/A-18s from 70 miles out. According to the article, two Russian IL-38s flew 500 feet over the aircraft carrier John C. Stennis (CVN 74) on 16 March, and then the following day two Bear bombers flew 2,000 feet over the command ship Blue Ridge (LCC 19). Both vessels were taking part in military exercises with South Korean forces.
And this week's international navies photos is …
Update: Listen to the WTOP radio interview with Eric: Danger on the High Seas
Happy New Year to the USNI Blogosphere!
Here's an International holiday update for all of our Across the Water readers …
From Brazil: New Defense Strategy Announced : On 23 December 2008 Brazil and France signed a $12 billion arms deal that included Brazil's purchase of fifty EC-725 transport helicopters, four Franco-Spanish designed Scorpène-class submarines and additional French assistance with the non-nuclear portions of a long planned Brazilian nuclear attack submarine. Just a few days before the deal with France was announced, Brazilian President Luiz Inacio Lula da Silva unveiled the requirement for a new National Defense Strategy. 
From Russia: Warships Conclude Cuba Visit : The Russian Udaloy-II-class destroyer Admiral Chabanenko, along with the Boris Chilikin-class replenishment oiler Ivan Bubnov and Silva-class tug SB-406 departed Cuban waters on 23 December following the first such Russian visit there since the collapse of the Soviet Union. The three ships formed part of a larger Russian naval tour in the Caribbean that also included warship visits to Venezuela, Panama and Nicaragua.
And this edition's international navies photos is …
An Iraqi coastal patrol boat patroling Persian Gulf waters as the Republic of Singapore Tank Landing Ship RSS Resolution (LST 208) can be seen underway in the background. Photo credit: U.S. Navy.
Till next time and Happy New Year!
Time for another weekly Across The Water international navies update …
From China: warships to fight piracy
With so much piracy news floating around the web lately, it's easy to overlook the international significance of China's decision to send warships to the Horn of Africa region. The Financial Times has pointed out that the deployment marks China's, "first significant long-range naval combat mission since the 15th century." A Chinese source recently informed me that the decision was not taken lightly and was only arrived at following much internal debate among government, military and academic officials. The source also informed me that the warships will come from China's South Sea Fleet, and that officers and sailors are already lining up to volunteer for the anti-piracy missions.
On 17 December, China acknowledged the successful rescue of a Chinese ship and its crew by members of the multi-national anti-piracy force.
 In South Korea: first of new missile boats commissioned
This past week in South Korea theYoon Young Ha entered service. Commissioned on 17 December, this vessel is the first of a new class of guided missile patrol boats to join the South Korean fleet. Launched on 28 June 2007 the warship is named for a South Korean patrol boat commander who was killed six years ago while fighting against North Korean naval forces in the Yellow Sea. The 450-ton (full load) vessels are also known in naval circles as the Gumdoksuri or PKM X-class.
 Additional information on the class was detailed here after the ship's 2007 launch.
 And finally, our international photo of the week … You might have missed this one a few month's back, but here's a photo of the first South African Navy helicopter to land aboard a U.S. Navy carrier. Photo credit goes to the U.S. Navy and Mass Communication Specialist 2nd Class John M. Stratton. Enjoy!
Welcome to our very first Across the Water post of the Naval Institute Blog!
As Editor of the Naval Institute Guide to Combat Fleets of the World, I specialize in international navies. Thus starting today, and hopefully once a week from here on out, I'll be posting a couple of international naval news items that I (and hopefully you) find interesting and noteworthy. The purpose of these posts is to inform, discuss and most importantly, whet your appetite to get the discussions started.
Not just news …In this section of the blog, we'll also try and maintain focus on maritime photography, so each week I'll select, highlight and link to one photo from the U.S. Navy's foreign photo gallery. The great thing about this gallery is that the photos are all considered, "public information and may be distributed or copied unless otherwise specified." So feel free to click, save and use lawfully.
Have fun and be sure to write in. Thanks for reading and contributing!
From the United Kingdom:  "Royal Navy Admiral to lead EU anti piracy mission"
 An interesting article describing the European Union's "Operation ATALANTA," a major EU effort to counter piracy off the coast of Somalia. Let's hope it helps …
And from Russia this week: "Russian naval task force heads for Indian Ocean"
You can expect to see lots of Russian naval news here during the coming months. As Russia seeks to regain its global sea legs, the news should prove quite interesting.
 And finally, this week's International Navy photo is …The Japan Maritime Self-Defense Force submarine JS Mochishio (SS 600) underway in the Pacific Ocean at the culmination of ANNUALEX 2008. Taken last month by Mass Communication Specialist Seaman Brendan Morgan.