Author Archive
The following appeared under the heading "Answering the Call" in the January 2009 issue of Proceedings. It is based on an interview conducted by Senior Editor Fred Schultz, who pointed out that the two were fellow Pennsylvanians—Palmer from Latrobe and Schultz from Gettysburg. Palmer replied, "One of my best friends lived in Gettysburg. His name was "Ike."
---
'To Mature and Grow into a Man'

Since joining the professional ranks after winning the U.S. Amateur Championship in 1954, he has won 92 national or international golf competitions, 61 of which—including four Masters—have come on the PGA tour. Voted Athlete of the Decade for the 1960s in an Associated Press poll, Arnold Palmer has won every major except the PGA Championship, having finished second in that annual tournament three times. Even though his devoted and extensive tournament fan gallery is known as Arnie's Army, Palmer recently received the U.S. Navy Memorial's Lone Sailor Award for his service in the U.S. Coast Guard and subsequent success as a pro golfer. Here's what he remembers about that service and what it meant to him.
I can't say it was my destiny to join the Coast Guard. It just happened. When I was in high school, I had a great friend named Bud Worsham. We had become close pals playing the junior golf circuit across the United States. Before we graduated from high school, he asked me one day where I was going to go to college. I told him I hadn't really thought much about it, and he said, "Why don't you go to Wake Forest?" I thought that was a great idea.
So we both ended up in North Carolina at Wake Forest and played on its golf team. He and I were there for three years before a tragic event changed everything. In our senior year, Bud was killed in an automobile accident on the way home from our homecoming dance in Durham. Up to that time, that was probably the toughest thing that ever happened to me. We were very, very close. I tried to stick it out and stay in school, but I just couldn't do it. In fact, I lost it. Consequently, I decided I needed to change the scenery and after finishing the fall semester signed up for three years in the Coast Guard.
There were numerous things I liked about the Coast Guard. First, I enjoyed boating and I liked the water. And in the back of my mind I had worked up an appetite for flight. I thought flying in the Coast Guard would be the greatest thing that could ever happen, other than playing golf, of course. So I reported to Cape May, New Jersey, for boot camp. Physical fitness was pretty much my bag, and I became an instructor. I was also a lifeguard on the ocean beach while I was there and helped train recruits.
I even managed to get involved in golf at boot camp, but not in the way one might expect. The commanding officer one day commissioned me to build a golf course. But he didn't provide any equipment, which was a major hindrance. We did manage to build a sort of rudimentary, haphazard course, but it was not a pretty sight.
I volunteered at Cape May for something I thought would be interesting but turned out to be an ordeal. I signed up to train for the honor guard at the Washington premiere of the 1951 movie, The Fighting Coast Guard. The training was extensive and it was all on the cold, windy Cape May runways. We were still in boot camp, and it was hard. We had an old Marine drill sergeant as our company commander, and he was one tough character. When I volunteered to do this, I thought it would be a chance for me to get to see some of my friends and my sister, all who lived in Washington. But it almost wasn't worth it. We trained for 60 days, and it was damned cold. They had started with about 400 men and ended up with 60. I made the final 60, and I'm still pretty proud of that. I never did get to visit with my friends or my sister in Washington.
I was transferred after almost a year at Cape May to Cleveland and to a job with the Coast Guard Auxiliary. My commanding officer was the son of former Commandant of the Coast Guard Admiral Russel Waesche. At that time, and I guess it's still true today, the Auxiliary in Cleveland trained civilians to help police the boats on the Great Lakes, teaching them how to keep a boat fit for sailing. That was part of my job.
After about six months in Cleveland, I went to Groton, Connecticut, where I enrolled in my first Coast Guard school and became a yeoman. I was assigned to the 9th Coast Guard District, and my job was to travel to all the district's stations and take identification photos of everyone. This was how Coast Guard personnel received their security clearances. I was in charge of taking the photos, bringing them back, developing them, and organizing them. After this, I had to distribute both IDs and security clearances to all whose pictures I had taken at each station. It was a long, tedious job.
Even though I've since taken up flying, I never did get to fly in the Coast Guard. What happened was that the admiral who was my boss suggested that I could be a Coast Guard aviator, but I had to sign up for another three years and go to flight school. I could then go into naval or Coast Guard aviation training. I decided then that I really wanted to play on the PGA tour, and that superseded any notion of flying. When I completed my last semester at Wake Forest after leaving the service, I went back to Cleveland and worked as a manufacturer's rep just before winning the national Amateur Championship. Shortly after that, I got married and went on tour.
But I've never forgotten my Coast Guard service and have retained many things from it. It provided good discipline and opportunities for me to mature and grow into a man. The Coast Guard was very important in helping me understand things I didn't quite understand when I went in. It gave me the confidence that I was going to be able to do what I needed to do in my life. And it allowed me the opportunity to take a little time to understand myself and the outside world.
A number of my friends have had Coast Guard connections. I played golf quite a bit with the famous pro football player and coach Otto Graham, and he became a very good friend. Otto was a captain in the Coast Guard and the football coach at the Coast Guard Academy. We communicated regularly up until his death. Another person in my life with a Coast Guard connection is the former Governor of Pennsylvania, my friend Tom Ridge. He was the first Secretary of the Department of Homeland Security, which includes the Coast Guard. He is one of the great people in this country.
On a final note, I want to say how important I think it is to serve your country. Too many people in leadership positions today do not know what it means to serve. It's actually very sad. Every person in the United States of America, all people who are born here, should at some point in their life serve their country for at least one year in some fashion. That should be compulsory. If they're physically fit, they should serve. Such a requirement would benefit both the nation and the individual.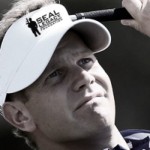 Billy Hurley discusses his time at the Naval Academy, his best moment in the U.S. Navy navigating the Suez Canal, his strong ties to his PGA sponsors and fellow players who support the military.
To the 2015 graduating class, "It's just beginning now…as a Division Officer on a ship…how can you lead them…inspire them…how can you improve them?"
Did he hit golf balls off of a ship?
For the 150th anniversary of the U.S. Naval Academy, the Naval Institute's Proceedings compiled memories of midshipmen who went on to prominence later in their lives. The following is from Captain Edward L. "Ned" Beach Jr., who recalled Orson Welles' 1938 (75 years ago today) radio broadcast of "The War of the Worlds." Though he remembers it to have happened on "Halloween night," it actually took place the night before. The Naval Institute's headquarters in Annapolis, Beach Hall, is named after Ned and his father, Captain Edward L. Beach Sr. Murray Frazee, the midshipman who tipped Ned off about the "invasion," went on to become the Executive Officer of the USS Tang in World War II under Richard H. O'Kane.
—Fred Schultz, Managing Editor, Proceedings
Hat tip Claude Berube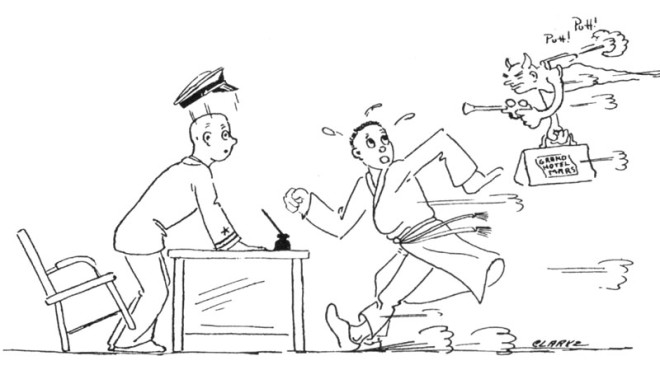 Godspeed Commander Carpenter
Naval History Magazine, August 2001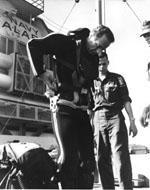 In his Aurora 7 spacecraft on 24 May 1962, one of the original Mercury 7 space pioneers became the second American to orbit the Earth. After a rather rocky flight, overshooting his splashdown target by 250 miles, he was assigned to monitor the design and development of the lunar module for the Apollo project. He then took leave from the space program in the spring of 1965 to serve as an aquanaut in the U.S. Navy's SeaLab II project, spending 30 days 205 feet below the surface off the coast of La Jolla, California. "The first person to explore both of humanity's great remaining frontiers" talked recently withNaval History editor Fred L. Schultz between sessions of a Naval Forces Under the Sea symposium sponsored by the Office of Naval Research and the U.S. Naval Academy.
Naval History : I'll start with the inevitable question. How would you compare deep-sea exploration to space flight?
Carpenter : In the near term, and maybe for an extended term, deep-sea exploration is much more important. In the long term, space is the last frontier. But in the near term, the ocean needs better attention and a clearer understanding. And that's what we are trying to achieve. It used to be that deep-sea exploration was primarily a defense-oriented project. In a way, it's still defense-oriented; but we're trying to defend the planet now, instead of just this country.
Naval History : How important is public appreciation of what SeaLab accomplished, even though we're not doing the same things anymore?
Carpenter : Right. We're not doing it anymore. And I can't tell you how important it is. But I do feel comfortable saying it's more important than we realize. I have such an unbounded respect for the value of new knowledge, new truths. And that's what we're still trying to do, at all levels. I think it's vitally important for our ultimate survival.
Naval History : So you think deep-sea exploration is more important than the International Space Station, for instance?
Carpenter : I've always objected to having the two modes of exploration appear as competitive. I think they are complementary. And we're learning, from all of these experiments, more about where we are and who we are and where we're going. That sounds highfalutin, but it is all in an attempt to gain new knowledge, which is our salvation.
Naval History : Explain, if you would, the function of the SeaLab program.
Carpenter : In order to understand the ocean and the sea floor and life in the ocean, you have to spend time there. The deeper you go, the harder it is to spend time because of the diver's albatross, which is decompression. The goal was to provide a pressurized habitat on the ocean floor for a deep-sea diver—one where he could enter the water freely, work as long as possible, and come back and eat and get warm and sleep without paying the decompression penalty. That's a major advance in our ability to gain new knowledge from the ocean floor. And that's what SeaLab was.
It was postulated by [Captain] George Bond [U.S. Navy (Retired)], who was behind all of the early work done by Jacques Yves Cousteau, which drew interest from the United States. It came from U.S. Navy work at the hands of George Bond. [See Captain Bond's book, Papa Topside (Annapolis, MD: Naval Institute Press, 1993).] It just says that if a man in a high-pressure environment is in equilibrium with the pressure of the water outside, the longer he stays at that depth, the longer he must decompress—up to 24 hours, when his blood becomes saturated with the breathing atmosphere mix. After 24 hours, he can stay for 24 weeks and still need only the same decompression time. So it makes divers much more efficient in water. And that's what SeaLab proved.
Naval History : So SeaLab was more for diver efficiency than, perhaps, colonizing the ocean floor at some point?
Carpenter : Well, one leads to the other. I don't really see a need, at this time, for residential communities on the ocean floor; maybe one day industrial communities, but that's a long way down the road. But increased freedom in the deep ocean is valuable right now, and that's what we developed in SeaLab.
Naval History : In hindsight, how do you think SeaLab would be today, if it had been sustained, rather than canceled?
Carpenter : We would have discovered the same things we have discovered in the chambers of the experimental diving unit. We've run up against a brick wall because of this physiological limit of 2,000 feet. We can't really live and work at depths greater than 2,000 feet. And it's not clearly understood why.
You know, in the SeaLab II film, the narrator makes a statement something like—I'll paraphrase—"who knows, perhaps in some years we will be diving out of a sea lab at 20,000 feet." We all thought we were on an open-ended experiment that would go deeper and deeper as soon as we built the technology. We didn't know at that time that we had a physiological limit at 2,000 feet. So we're locked out of deeper water until the medics can figure out how to handle that.
Naval History : In light of the USS Greeneville (SSN-772) accident, how
important are visits to Navy ships and submarines to the Navy?
Carpenter : I think they are important, and I don't think we should do without them. We can, but I don't think we should. In light of the Greeneville episode, they must be more carefully monitored. I think we might have to be more selective about what we do while there are civilians on board; or maybe just monitor the whole thing more closely. That was human failure spread out all along the line. The whole thing, I think, needs to be reevaluated, but not discontinued.
Naval History : Which were you more interested in—flying or going deep?
Carpenter : My first interest was flying. I was inspired by the very popular war [World War II]. But that led to a fascination for the ocean, mainly because when I started flying for the Navy, I was in Hawaii and got acquainted with the coral reef, skin diving, and spear fishing. And I'd read everything that Cousteau had written and seen all he had produced on film. That was my second love. I am still fascinated by the underwater world. It has a fascination for me of a type that the atmosphere and space do not. But they're both addictive.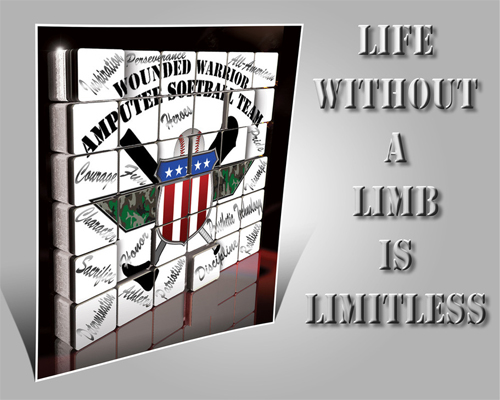 "Inspirational," said many in the crowd. "Amazing" was also a common sentiment. And some of the spectators were even heard to whisper: "Life-changing." The event, dubbed the First Annual NFL Players vs. Wounded Warrior Amputee Softball Classic, took place on Saturday night, 1 June, at Prince George's Stadium, home of the Baltimore Orioles' Class AA Eastern League affiliate Bowie Baysox, in suburban Maryland.
The field had been modified to softball specifications, with the pitcher's mound closer to home plate, the bases closer to each other than the big-league configuration of the Baysox infield, and the home-run fence brought in just a bit closer to home. Make no mistake, though. To hit one out of this park still required a prodigious blow, several of which were witnessed on this hot and humid night.
Billed as a chance "to showcase how technology is making prosthetic limbs better and is improving the quality of life for limb-loss veterans and to raise money for Wounded Warrior organizations," the game pitted a group of volunteer players from the National Football League against wounded warriors from across the country who lost extremities during the wars in Iraq and Afghanistan and the war on terrorism.
Fittingly, the event sponsor was Medical Center Orthotics and Prosthetics, which provides lower-limb prosthetics for Walter Reed Military Medical Center like the ones making it possible for the Wounded Warrior Amputee Softball Team to compete. Besides the team, beneficiaries from this fundraiser—which was aiming to raise $50,000—were the Yellow Ribbon Fund and the Wounded Warriors Project.
Among the football pros in attendance were co-hosts DeSean Jackson, two-time Pro Bowl wide receiver for the Philadelphia Eagles, and Washington Redskins wide receiver Josh Morgan. Others on the team were fan-favorite Torrey Smith, wide receiver for the 2013 Super Bowl Champion Baltimore Ravens, other members of the Ravens, Redskins, and Eagles, along with players from the New York Giants, New England Patriots, Dallas Cowboys, New York Jets, and Detroit Lions.
But even though a throng of fans were enticed here with promises of autographs from celebrity athletes, the real stars this night were the wounded warriors, who ended up signing nearly as many baseballs, footballs, softballs, photos, and posters as the people who play sports for a living.
Seated behind a printed sign that read "Kyle Earl" was a U.S. Marine from Kalamazoo, Michigan. The diminutive young man shook hands with his admirers with his left hand. His right forearm had been amputated after the Humvee he was driving in al Anbar Province, Iraq, succumbed to an improvised explosive device. Through his night-vision goggles, he noticed a bump in the road and immediately determined it was an IED. But rather than avoid it, he drove directly over it so that the Humvee behind him would not hit the device with Earl's unit commander on board.
So, how does one play softball without a hand? "I swing with one arm," he said. "No big deal." Sure enough, Lance Corporal Earl, the team's fleet-footed right fielder, steadies the bat handle with his right stump (he does have a prosthetic hand he's learning to master) and swings cleanly with his left arm, making solid contact with the ball almost every time.
Manuel Del Rio's sign at the autograph table mistakenly labeled him as having served in the U.S. Army. When the San Ramon, California, resident was seated, he immediately took out his pen and crossed out "Army" and inserted "Navy." Seaman Del Rio had been serving on board the USS Kitty Hawk (CV-63) in support of the war on terrorism, when a mishap on the carrier's flight deck pinned him under an aircraft, trapping him for 20 minutes. The incident caused him to lose much of his right leg.
Did he ever in his wildest dreams think he'd be sitting across a table from a long line of people wanting his autograph? "No, never," he said. After surveying the young men behind the table it was evident that the members of this group are not interested in attracting attention for their softball prowess. "We just want to show people what the possibilities are, even when you're faced with challenges like this," Del Rio stressed.
The action started soon after Bowie Mayor G. Frederick Robinson threw out the first pitch. Clearly, the NFL stars realized they should keep their day jobs in their professed sport, especially after the shellacking they took in the seven-inning game. The Wounded Warrior team won, 21-5, in a contest that was limited to a maximum of five runs per half-inning. But this was all about so much more than softball. Everyone in the stadium—including wounded-warrior spectators maneuvering up and down the stadium steps—held high hopes that, with the financial and moral backing of the American people, these brave veterans are also winning the game of life.
On the eve of the centennial of the Titanic disaster, Proceedings Managing Editor Fred Schultz caught up with Hollywood director and deep-sea explorer James Cameron. They talked about the history and current exploration of the deep ocean, modern construction of deep-submersibles, and the importance of Navy (and Naval Institute) involvement in all of it. He made it clear from the start that he was speaking to a Navy "forum."
Explorer- filmmaker James Cameron became the first person to dive solo into the Challenger Deep in the Marianas Trench, the deepest place on Earth. He completed the dive the night of 25 March, Eastern Daylight Time, off Guam. In light of his feat, we thought it appropriate to post an interview done for Naval History magazine in 2000 with Dr. Don Walsh, one of the two men who beat Cameron to it more than 52 years ago.
Fred L. Schultz
From Naval History Magazine, April 2000
In January 1960, he and Swiss copilot Jacques Piccard navigated the U.S. Navy's bathyscaphe Trieste into the Challenger Deep, the deepest spot in the World Ocean. At nearly seven miles, the record still stands. Retired U.S. Navy Captain Walsh also was a member of Operation Deep Freeze in 1971, spending more than a month on the ice in Antarctica and earning recognition for his contributions there by having an Antarctic mountain ridge named for him. Today, Captain Walsh is president of International Maritime, Inc., an Oregon-based consulting company that has completed projects in 20 nations. He is one of 20 living Honorary Members of the Explorers Club, an Honorary Life Member of the Adventurers Club, and a Fellow of England's Royal Geographic Society. Captain Walsh is a 1954 graduate of the U.S. Naval Academy and earned Master's and Doctorate degrees in Oceanography from Texas A&M University and a second Master's degree from California State University in San Diego. A technical advisor for such films as Gray Lady Down, Raise the Titanic, The Hunt for Red October, and The Abyss, Captain Walsh is scheduled to lead an expedition in April 2000 to HMS Breadalbane, the world's northernmost shipwreck, 350 feet beneath the ice off Beechey Island in the Canadian Arctic. He spoke recently about a variety of topics to Naval History Editor Fred L. Schultz.
Naval History: In a Naval History interview a few years ago, Jean-Michel Cousteau referred to you as the Buzz Aldrin of the ocean. What do you think he meant by that?
Captain Walsh: I've known the Cousteau family for many years. I know Jean-Michel well. I've been a guest in the Cousteau home. We go way back, so I believe that was a compliment and not a complaint.
Naval History: We thought he might have meant that Jacques Piccard received more of the credit for your expedition to the Challenger Deep, comparing you to Aldrin and Piccard to Neil Armstrong.
Captain Walsh: Well, it's a tad nationalistic. Europeans tend to favor the European, and Americans tend to favor the American. I think that's just human nature. The Piccards, of course, are a dynasty. I don't think any family in the history of exploration has had three generations who, essentially, all established world records. Auguste, of course, was a great balloonist. He was basically a physicist, but he set the world altitude record in the early 1930s in a balloon. And, of course, his son Jacques was with me in the Trieste. And now Jacques's son Bertrand is the first man to fly a balloon around the world.
So they're a dynasty of explorers and scientists in Europe, and, understandably, the press treatment would probably favor them. I don't think it's any kind of a deliberate spin; it's just the way people see the news and report it. It doesn't trouble me.
Naval History: What was it like competing against the space program at the time?
Captain Walsh: It was pretty tough, because the advent of the space program came at just about the time we brought the Trieste to the United States. We and this inner spaceship we had didn't even enjoy a year of primacy. NASA already was off and running. The Navy's entire undersea program has lived in the shadow of the space program. Of course, our project seemed to be under wraps from the beginning.
I remember presenting the program to Admiral Arleigh Burke. Of course, the Navy doesn't require lieutenants to go the Chief of Naval Operations to get approval for programs, but nobody wanted to make the decision. I kept getting handed up the chain until one day I ended up in front of Admiral Burke.
So I briefed him on the program. And he said, "How many of you are in this thing?"
And I replied, "It's just myself and Piccard."
Then he said, "Are there any other Navy people associated?"
And I said, "There's Lieutenant Larry Shumaker, who's the assistant officer in charge. He'll be in charge of the topside aspects."
The Admiral then said, "Well, if this thing doesn't come back up, you tell Shumaker that you're the lucky one, because I'm going to have his lower appendages." Arleigh Burke said what he meant and meant what he said. So I got the approval from him, but he put a condition on it. He said, "There'll be no publicity, none at all." I looked at him in surprise, because if we were successful, this was going to be quite a coup for the Navy.
"The science guys and the research and development engineers in the Navy," he said, "have been promising me spectacular things. We were going to put up the first earth-orbiting satellite." They had lit off a rocket at Cape Canaveral, and it shot into the ocean rather than into space. So Admiral Burke said that he didn't want any more of these promised science spectaculars that turn out to fizzle. "If you do it successfully," he said, "then we'll have the publicity. But until then, just keep your mouth shut and go do it."
So we didn't really have a ramp-up to this great event. There was no general knowledge of what we were doing. Although Life, National Geographic, and improbably, The London Daily Mail got a whiff of it, the Navy's Chief of Information bought their silence by saying they could go on the trip but they couldn't tell anybody. And they didn't. Does Macy's tell Gimball's? They were inside, and the door was shut. They essentially had scoops. And so, off we went to Guam. That was good coverage.
The London Daily Mail had a wonderful foreign correspondent, Noel Barber. He was out of the trench coat-Lowell Thomas school. When the Dalai Lama came out, Barber hired horses and rode a hundred miles into Tibet to greet him and get the scoop. He was a wonderful raconteur. During the evenings in Guam, when we'd all go out for dinner, we didn't talk about the Trieste, we sat around and listened to the reporters tell stories about their adventures. It was great fun.
Naval History: Were you at all trepidatious before your dive in the Marianas Trench to the Challenger Deep?
Captain Walsh: No. People say, "Well, you're just being modest." And my wife says I've got a lot to be modest about. But the fact is, the whole strategy of the testing of the Bathyscaph, over nearly a year, was to make increasingly deeper test dives. When we got it, it was configured for only 20,000-foot diving depths. We had to reengineer it, enlarge it, and buy a new cabin for it, to be able to go to 36,000 feet. And so we did a few test dives in San Diego, then shipped the whole thing to Guam.
At Guam, we started out at 400 feet in the harbor and worked our way offshore, in increasingly deeper water. And we actually brought the world's depth record home to the United States in November of 1959, when we made a dive to 18,000 feet. The previous record, of course, was held by the French Navy, at 12,500 feet, which actually is the average depth of the ocean. That was set in 1954. So we captured the record again in 1958, and by early January 1960 we dove to 24,000 feet. Then 12 days later we made the deep dive. It was all incremental.
So I say it was just a longer day at the office, and people think I'm trying to be clever. But that's the truth. All the manipulations we did to make it dive were the same whether we were diving 1,000 feet or 36,000 feet. And we got to know it intimately. I'd put on a boiler suit, scrape rust inside that tank, and help paint it. Everybody turned to. We were a small team—only 14 people. And we worked seven days a week, dawn to dusk, at Guam. You build a certain confidence in your equipment.