Author Archive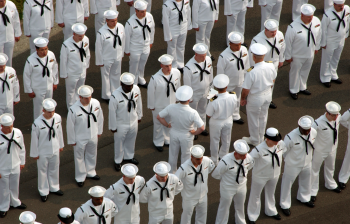 On March 7, 2014, a self-directed study was emailed to Vice Admiral Bill Moran, the U.S. Navy's Chief of Naval Personnel. Titled "Keep a Weather Eye on the Horizon: A Navy Officer Retention Study", the paper provided Vice Admiral Moran with a canary in the coal mine, describing a looming retention downturn using historical data and, perhaps most importantly, timely and relevant information based on primary source interviews with hundreds of U.S. Navy Sailors.
Within days, the paper leaked from the Navy's Personnel Command and made its way throughout the Navy. The message resonated with Sailors at the deck plates — officer and enlisted alike — and caught the attention of senior leaders throughout the U.S. Government. To their immense credit, Vice Admiral Moran and other senior Navy leaders have responded to decreasing retention indicators with personnel changes designed to improve morale and a Sailor's 'quality of service'. These changes provide commanding officers with greater flexibility to prescribe uniform wear, increase sea pay for Sailors on extended deployments, and reduce general military training requirements on commands, just to name a few.
Larger initiatives are in the works although they have not been publicly announced. Some initiatives, like expansion of the Career Intermission Pilot Program, require Congressional approval. There is also a desire to better understand the current retention downturn before acting. This is understandable. The Navy is a large, diverse, and dispersed organization and more information is required to ensure the next round of changes provide the greatest return on investment. However, the time to act is now.
So, how do you determine the right course of action to provide the greatest return on investment?
Senior decision makers are asking important questions. First, is there really a retention problem? Is it possible we are retaining the right quality of Sailor, just in fewer numbers? Are previously cited retention factors — an improving economy, significant operational tempo, perceived reductions in quality of life, among others — truly impacting our Sailor's "stay/go" decisions? If so, in what ways?
The desire to further expound on the tenets of the paper — in a thoughtful and deliberate way intended to benefit senior leaders — led to the creation of an independent 2014 Navy Retention Study Team in March 2014. The team is comprised of a volunteer group of high-performing active duty Sailors and select civilians who have dedicated their off-duty time to create a first of its kind retention survey — created by Sailors for Sailors. All of our members are upwardly mobile, highly-placed individuals who want to measurably contribute to the continued success of the U.S. Navy. The success of this initiative is due largely to their sense of ownership for the Navy and their correspondingly impressive efforts.
This report details the results of this year's survey, including a broad analysis of factors which are assessed to affect retention and additional recommendations to avoid the shoal waters of a multi-year retention shortfall for several communities. Further, it is important to provide relatively unfettered access to the survey data (as appendices in this report) with more raw data to be made available throughout Fall 2014.
While our analysis of the data is presented for your use, I suggest you don't take our word for it — read and assess the data for yourself.  Then read widely, think deeply, write passionately, and act decisively to help retain our most talented Sailors in uniform.
We must continue to cultivate a strong sense of ownership within the U.S. Navy. Reassuringly, many Sailors have stepped forward with innovative ideas to improve processes and policies, whether as a Yeoman, a Lieutenant in the F/A-18 community, or as a pre-major command surface warfare officer. In the end, no matter your rank or position, it's about asking ourselves what type of Navy we want to dedicate some portion of our lives to … and what type of Navy we want to leave for those that join 5, 10, 15 years into the future and beyond. It's easy to lay problems at the feet of our senior leaders, however it's incumbent upon all of us to take part in solving this issue.
At the end of the day, the Navy cannot directly hire uniformed personnel into positions of responsibility, nor can it surge leadership, trust, and confidence.  Instead, we must explore changes to legal statutes and internal policies in order to retain our very best, brightest, and most talented — the continued success of the U.S. Navy depends on nothing less.
The 2014 Navy Retention Study report may be downloaded at: www.dodretention.org/results  beginning Sept 1, 2014.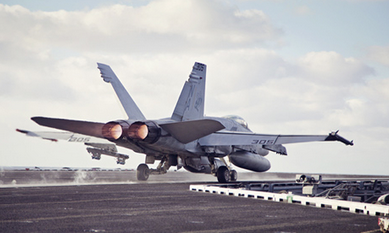 A heartfelt thanks to all of you who've followed the journey of the "Keep a Weather Eye on the Horizon" paper and for the thoughtful conversations that have followed in its wake. The upcoming survey and study on retention presents an opportunity to get at the heart of what YOU think, and help provide that relevant information to senior decision makers, our Navy family, and the American public.
I've been humbled to have had many positive interactions with our Navy's leaders over the past few weeks — officer and enlisted alike, and from all communities. Please know that this effort is being watched by many, and the outcome — and your support — has the potential to foster a climate where our best, brightest, and most talented men and women choose to remain in uniform.
In many ways the continuing conversation is about two things: What it means to serve, and the importance of nurturing a sense of ownership throughout the fleet. "Service" isn't just wearing the cloth of our nation or collecting a paycheck from the government … it's about putting the good of the Navy before yourself. The paper has also helped reveal that many throughout the Navy, and at all levels, share a strong sense of ownership. Many have stepped forward with innovative ideas to improve processes and policies at their level of the organization, whether as a Yeoman, a Lieutenant in the F/A-18 community, or as a pre-major command surface warfare officer.
Luckily, there are many in senior leadership who openly support the potential for positive change, including Vice Admiral Bill Moran, the Chief of Naval Personnel. He has made the time for several "all hands calls" with the fleet since the release of the paper, and is truly interested in hearing from those of us at the deckplate — what inspires sailors to remain in uniform and, just as importantly, what is pushing sailors away. We're incredibly lucky to be having this conversation with a Chief of Naval Personnel, among other senior leaders, who are willing to listen intently, think deeply, and act boldly in support of our Navy.
In the end, no matter your rank or position, it's about asking ourselves what type of Navy do we want to dedicate some portion of our lives to … and what type of Navy do we want to leave for those that join 5, 10, 15 years into the future and beyond?
Again, my most humble and sincere thanks. The support for the paper and for the 2014 Navy Retention Study has been tremendous. If you haven't visited the website, please consider following our progress at http://navy.dodretention.org. Keep the constructive feedback and ideas coming!
All my best,
Bus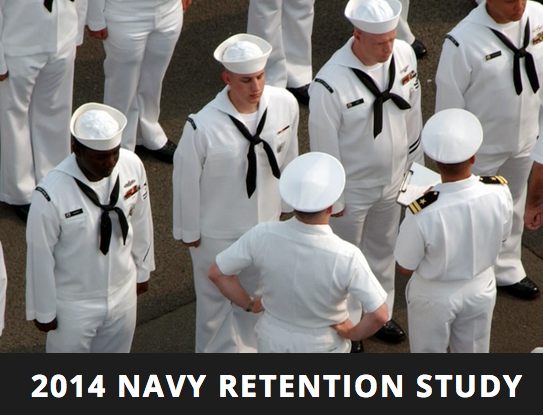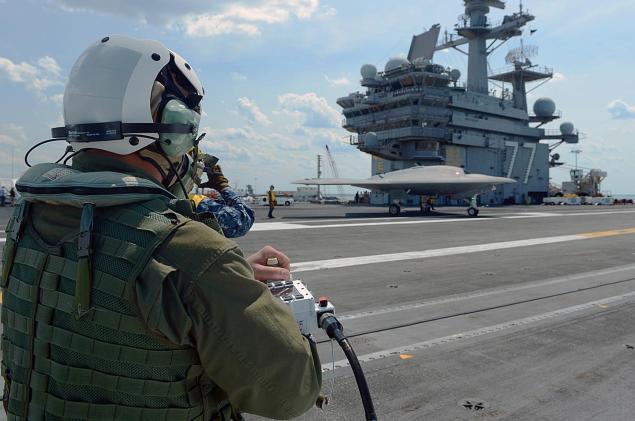 Today's successful launch of an X-47B Unmanned Combat Air System (UCAS) demonstrator marks a significant turning point for Naval Aviation, as much for its cultural acceptance by the community as for its technological significance.
As a newly minted Naval Aviator in 2002, the mere mention of unmanned aerial vehicles (UAVs) in the ready room was enough to send most discussions into overdrive. The Navy, after all, would never have a need for drones, especially not ones launched from an aircraft carrier or a surface combatant. When a leading aircraft manufacturer's UAV team joined us during a cruise in 2003 to measure the GEORGE WASHINGTON's flight deck, the response was a mixture of mild curiosity and more than a little negativity.
The passing of Neil Armstrong, an American treasure and icon, seems lost in the steady drumbeat of electoral rhetoric and the 24-hour news cycle. How unfortunate, since he serves as a standard-bearer for what has been so good and right about America. The accomplishment that he represents, the once inconceivable act of landing a man on the moon, demonstrates that even during a period of international tension and national despair we can still rise to meet the greatest of challenges. In so doing, Armstrong personified two incredible ideals: A nation's ability to unite for the accomplishment of a grand achievement and an individual who remains selfless, putting service to one's country before personal gains.
Yesterday's memorial service at the Washington National Cathedral was a fitting send off for one of our Nation's finest, a naval aviator and true patriot who proudly served his country. The tone was set from the very start, with the playback of President Kennedy's 1962 address at Rice University in which he committed the Nation to landing a man on the moon. President Kennedy's speech recalled the monumental challenges that existed in going to the moon but, as he so famously put it, that we choose to do these things "not because they are easy, but because they are hard." Technical hurdles were only one part of the problem, as the Nation would require individuals with a truly unique skill set to go safely to the moon and back. NASA Administrator Charles Bolden and Astronaut Gene Cernan both pointed out that while many were capable of landing on the moon, in retrospect only Armstrong could carry the hopes, dreams, and aspirations of a Nation on his shoulders and then, having accomplished such a lofty endeavor, could portray himself as simply an ambassador who represented the hard work and dedication of others.
During the service my thoughts drifted back to elementary school, when teachers would wheel TVs on roller carts into the cafeteria so that students could watch the space shuttle launch. I'll never forget the palpable silence in the room as everyone collectively held their breath when the last few seconds of the countdown started, only to be broken by the thunderous applause of hundreds of children clapping and cheering with a successful ignition of the booster rockets. These moments resonated around the world. A friend and fellow aviator who attended the service, but who grew up Asia, recounted how his school in Taiwan played a tape of Neil Armstrong's first footsteps on the moon as an example of a historic achievement for the world. These were the events that assured so many of us that great achievements were possible. He, like I, learned to dream just a little bit bigger because of Neil Armstrong.
In a time of self-promotion, when our Nation's youth look to rock stars and celebrities for role models, we should not pass up this opportunity to champion an American Hero who always declined to champion himself.