Author Archive
I found this piece by Thomas Friedman on the Navy's decision to "go green" very interesting: http://www.nytimes.com/2010/12/19/opinion/19friedman.html?_r=1&partner=rssnyt&emc=rss
Relying more on bio-fuels and nuclear power doesn't just look good from a public policy perspective. It saves lives and money. Energy efficient outposts require less fuel, in turn, requiring less supply convoys. Limiting the number of convoys limits the number of opportunities the Taliban have to ambush our troops.
On the other hand, oil hit $90/barrel yesterday, the highest it's been since the start of the Financial Crisis. Even though Iraq will (hopefully) drastically increase oil production in the coming years, China and other developing nations are consuming a larger share of the world's oil. The "non-clean" fuel prices will increase in the long run. The SecNav has made a prudent decision to create a green fleet.
Last Wednesday, the 1/C midshipmen at the U.S. Naval Academy found out the community that they will become a part of after graduation. The 1/C entered the company wardroom, and one-by-one, nervously opened up the intimidating manila envelope detailing whether they would report to a ship, sub, flight school, The Basic School, or BUD/s after graduation. Waiting out the wardroom, we underclass could here cheers coming from the other side of the door- obviously a good sign. "Tradition" has it that each 1/C going Marine Corps gets his head shaved by the Plebes, and each 1/C going SEALs or EOD gets his head and eyebrows shaved. My company had six midshipmen go Marines, four go SEALs, and one go EOD; the Plebes had their work cut out for them.
The process for service assignments has changed in recent years. In the past, each community would have a set number of slots. The 1/C ranked in the top 100 of their class would pick first, then the next 100, and so on, until the anchorman picked. This process left little choice for those in the bottom quarter. Now, senior officers help midshipmen find the best match for them. For example, a higher ranked midshipman enters aviation as their first choice and surface warfare as their second. This midshipman would be okay with either aviation or surface warfare. A lower ranked midshipman enters the same choices, but has always wanted to be a naval aviator. The selection board would attempt to sway the higher ranked midshipman towards the surface community. Rankings still matter, but the new process does a better job at factoring in preferences. From an economic perspective, this maximizes utility for the entire class of 2011.
In my company, every midshipman was satisfied with their assignments. As the 1/C filed out from the company wardroom, I realized something… I only had one more year.
"In such a state of society, all property is held directly by main force. Every man is a soldier. Either he is the retainer of some khan — the man-at-arms of some feudal baron as it were — or he is a unit in the armed force of his village — the burgher of mediaeval history." – Winston Churchill on Afghanistan, 1898 
Earlier this week, I had the opportunity to hear Mr. Jason Alexander, a former Marine infantryman who currently serves in the USAID's Office for Afghanistan-Pakistan Affairs. He presented several intruiging ideas as to how the United States could improve its strategy for winning the "hearts and minds" of the Afghan people.
He began by stating that our strategy in Afghanistan up till now was not working. From 2001 to now, we had increased the immunization rate, the number of children in school, and had built hospitals. Even though USAID and other organizations had made strides in the overall quality of life, the violence continued to worsen. Our problem was that we thought we could fix the country with good deeds.
While we spent boatloads of money carrying out these good deeds, throwing money at a problem does not necessarily solve anything. In fact, the money we give to locals may spur corruption and may disrupt the Afghans' traditional way of doing things. Mr. Alexander gave the example of the water system in Afghanistan. Before 2001, each tribe or village would send a few brave men to manually clean the water pipes. This job was extremely dangerous because the tunnels used to transport water routinely caved in. Because of the high risk, the Afghans considered cleaning these pipes an honorable professional. When the U.S. entered in 2001, we gave the Afghans machines to clean the water lines- machines that we had to maintain ourselves. Now, the Afghans no longer have men trained to clean the water pipes, so we are stuck doing the task for them.
This example demonstrates the need to know the people. The quickest, simplest approach to a local problem isn't always the quickest, simplest approach to the larger problem, winning over the people. Mr. Alexander gave another example about a Marine captain in Iraq who did know the people. This captain took it upon himself to dine with local Iraqis every night. Thus, he learned firsthand the Iraqis problems, needs, and, most importantly, how the U.S. could constructively help. By constructively helping the Iraqis, he reduced the level of violence in his area of operations.
Lastly, many shrewd tribal elders will play both sides and reap money from both the insurgents and the Coalition Forces. These locals do not subscribe to President Bush's quote, "You're either with us or against us." They do not care about defeating the Taliban or defeating America, nor do they care about supporting the (democratic) government in far-away Kabul. They are looking out for their own interests. And they will play us for suckers, unless we learn their ways.
No one wants to pick a loser; we have to convince the Afghan people that the Taliban will lose. Doing so won't be easy in a place dubbed the "Graveyard of Empires."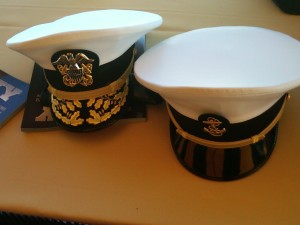 Walking into the banquet room at the Annapolis Marriot Hotel, I realized I was the only person below 0-3. Slightly outranked, I mingled my way to the cheese and crackers. With the Superintendent of the U.S. Naval Academy, the SACEUR, the Commandant of the Coast Guard, and a host of flag and general officers present, I didn't exactly want to draw too much attention to myself. Where was I? The Naval Institute's Honors Dinner, which I was fortunate enough to attend. But, I must admit, I didn't know what to expect.
After devouring some of the delicious food, I began talking with the other guests about life at the Academy and general naval issues. I met dozens of successful active and retired officers- all dedicated to our country and our Navy. During the dinner, I sat next to "he who must not be named," a former naval aviator.
During the dinner, ADM Stavridis, SACEUR, delivered the keynote address. I had the chance to interview ADM Stavridis a month ago and very much looked forward to meeting him. He gave me his coin, an autographed copy of his book Destroyer Captain (a very interesting read), and a shout-out in his speech. We midshipmen rarely interact with any flag officer, much less the SACEUR, so I feel extremely lucky to have had the opportunity to both interview and meet him.
After the event, I fully comprehended the importance of the Institute's work. Any organization entrusted with the responsibility of defending a nation should have an independent think-tank to stimulate ideas and encourage innovation. The Institute receiving too many articles to print highlights an important and positive fact. For naval officers, the possibility of publishing their own articles encourages them to reflect on ways to better our Navy. Even if their articles never make it into Proceedings, they still benefit by writing about original solutions to complex problems.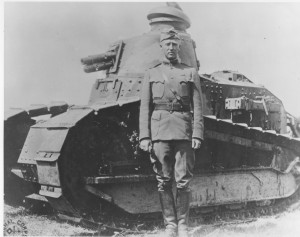 General Patton, the Army's Halsey, was one of the most energetic and colorful officers in WWII. From rescuing the 101st Airborne Division at the Battle of the Bulge to turning around the U.S. campaign in North Africa, Patton succeeded as a combat leader. Patton's success as a military officer and leader laid in his enthusiasm. Patton wanted to lead men into combat and devoted every ounce of energy to better his ability to do so.
Where does one get enthusiasm? Patton certainly developed his at an early age. As a boy, Patton learned cavalry tactics from none other than Colonel John Mosby, CSA. Col. Mosby, a Confederate cavalry officer, established his own unit, "Mosby's Rangers," and waged guerrilla warfare against Federal troops in western Virginia. Mosby re-enacted his battles on horseback with the young Patton, teaching Patton the value of a quick, aggressive attack against your enemy. This interaction inspired Patton to eventually lead his own cavalry units in combat. And Patton would, just with mechanized cavalry. In North Africa, Patton adapted Mosby's tactics to tank warfare against the infamous "Desert Fox."
Of course, we don't all have the opportunity to learn from famous Civil War officers. Most enthusiasm stems from wanting to do a job well, not necessarily from job satisfaction (though that helps). You may hate your actual job, but you can still stay enthusiastic if you want to do that miserable job well. Patton believed his destiny was to lead men into battle, but during the inter-war years, he didn't get that opportunity. Even so, his enthusiasm for the military caused him to stay enthusiastic during this "off" period and prepare himself for possible future battles. He published innovative ways to employ the Army's new armored units, studied heroism citations to figure out how to instill heroism, and lobbied Congress for more funding for armored units. Again, this research was not Patton's real passion; he wanted to employ his tank tactics, write heroism citations for his own men, and maneuver his army in the tanks Congress appropriated. But the knowledge Patton acquired during this time certainly paid great dividends during the WWII.
Admiral James G. Stavridis currently serves as Commander, U.S. European Command, and NATO's Supreme Allied Commander, Europe. A 1976 Naval Academy graduate and surface warfare officer, ADM Stavridis skippered a destroyer, the U.S.S. Barry, and commanded Destroyer Squadron 21. From 2006 to 2009, he commanded U.S. Southern Command.
Career Questions:
Out of each USNA class, only a small number graduates achieve flag rank. What did you do differently to command two geographic unified commands?
Simply persistence. Although I spent my first five years thinking quite seriously about getting out of the navy to go to law school, I always looked honestly at all my options both in and out of uniform. In the end, what kept me in was the great people I was able to work with every day, both USNA graduates and other colleagues. So much else is luck and timing.
Do you have any advice to current midshipmen or junior officers?
Read lots of novels. Every time you imagine another life, you expand your own. And learn another language—to learn another person's language is to learn their life.
How did your experience at the Naval Academy help you throughout your career? Was there anything the Academy did not prepare you for?
Overall, my time at Annapolis gave me a cadre of close friends, a sense of humor, a grounding in French and Spanish, and a lifetime of memories. Nothing can really prepare a person for life after college, but the academy came close.
Any memorable or notable stories from your time at the Academy? 
I was a proud editor of the Log Magazine and Salty Sam, class of 1976. The editor of the west point equivalent, the pointer, was recently retired general and close friend Stan McChrystal. We remain good friends today—it is a perfect reminder of how the relationships forged at the academy transcend career and time.
How do your graduate degree in international relations and your PhD in law and diplomacy help you in your current command?
 International affairs is the novel that never ends. Every single day we all get to read the next chapter on the front pages of the newspaper (downloaded to our iPads). To be involved in that daily, from serving in the crew of a ballistic missile destroyer to being a combatant commander or the leader of NATO operations globally is fascinating and an honor.
On your facebook page, you have a varsity letterman jacket with three gold stars. What sport did you play at the Academy and do you believe that athletics helps develop military officers?
I played varsity squash and tennis. Our squash team finished in the top five nationally each year. The travel and interaction was invaluable and the chance to play both sports all over the world in the years since has been wonderful.
Policy Questions:
EUCOM was originally created in 1952 to streamline America's defense of Soviet aggression. What would you consider EUCOM's current purpose?
Supporting our NATO allies as we work together in Afghanistan, Russia, the Balkans, piracy, narcotics, and defense reform. The vast majority of our allies come from EUCOM and NATO, and together we are far stronger than any of us along. We are also working hard on interagency and private-public partnerships.
How is EUCOM adapting to China's rise in military power?
 Working with them in piracy off the horn of Africa and seeking zones of cooperation in other global security challenges, e.g. in Iran and Afghanistan, for example.
As Supreme Allied Commander, NATO, what are the difficulties in aligning the goals and needs of twenty-eight separate militaries?
The challenge is connecting all the different cultures, languages, and national approaches—but the only thing harder than tackling security challenge with allies is trying to solve them alone.
General Alexander, Commander, U.S. Cyber Command, recently spoke to the Brigade of Midshipmen about cyber warfare. You successfully "hacked in" to General Alexander's power-point presentation. Do you believe cyber warfare is the future of warfare, and how prepared is the United States and NATO to win a cyber war?
I do believe two important areas of future engagement for all of us are in cyber and alliance engagement. Keith is a good friend and a brilliant strategic thinker, and our nation is lucky to have him leading the new cyber command.
How has the recent entry of former Soviet states into NATO affected the dynamics of NATO?
 It is a very positive development, expanding the alliance from a dozen countries to 28 today—all dedicated to common defense, operations in Afghanistan and the Balkans, and focused on defending freedom, democracy, and individual liberty.
How is EUCOM supporting the Global War on Terror as well as Operation Enduring Freedom and Operation Iraqi Freedom?
We send 30% of our 100,000 people forward to Iraq and Afghanistan at any given time, we help train the 40+ countries in our region that are part of the coalitions there, we work closely with the interagency partners from the drug enforcement agency to the agency for international development, and we sustain the diplomatic pressure in concert with state department.
On a more serious note, how badly will Navy beat Army this year?
Seriously, let me say that in 1976, my senior year, we beat them 51-0. This year, we're going to beat them easily (again); but when the final whistle blows, there won't be another group of people in the world with whom we are more proud to stand shoulder to shoulder in defense of this nation.
ADM Stavridis, Thank you for taking time out of your busy schedule to answer these interview questions.
After graduating from the U.S. Naval Academy in 1962, then-ENS Galanti reported to fighter jet training, learning to fly the A-4C Skyhawk. In November 1965, he deployed on the carrier USS Hancock to South East Asia. On his 98th combat mission in Vietnam, he was shot down and captured by the North Vietnamese. He spent almost seven years, from 17 June 1966 to 12 February 1973, interned in the infamous Vietnamese prison camp dubbed the "Hanoi Hilton." After retiring from the Navy in 1982, he has served as Executive Director of the Virginia Pharmaceutical Association , Medical Society of Virginia's CEO, and Executive Director of the Science Museum of Virginia Foundation. He currently serves as Commissioner of Veterans Services for the Commonwealth of Virginia.
JJ: Mr. Galanti, I heard there's an interesting story about you giving the finger to the Vietcong. What happened?
PG: In June 1967, several of us were moved to a camp that was obviously being prepared as a propaganda camp. We named the camp "The Plantation. It had been used as a film studio at some point. When they tried to get mw to submit to an interview with German journalists I said I'd tell about all the torture and bad treatment. The camp commander said I was to sit and look happy and not say anything in my cell. Here are some of the photos. The unadulterated photos were on display in every intelligence center in DOD. My classmates and squadronmates knew I wasn't cooperating.
JJ: Did your training at the Academy help you overcome captivity in Vietnam?
PG: Yes. Many of the leaders in Hanoi were Naval Academy graduates. Admirals Jim Stockdale and Jeremiah Denton ('47), Bill Lawrence ('51) and others.
I often refer to my Hanoi experience as Plebe Years Bravo through Hotel. Admiral Stockdale said the same thing. He lamented the softening of plebe year and the over-emphasis on computer and other people unfriendly endeavors. Our old "Jack of all trades master of none" USNA B.S. degree was the best "major" in existence then. When USNA decided to do the "Major" thing and join the academic standards rules of the majority of colleges and universities, the experience went downhill in my opinion.
Why? Our degree was 160 semester hours almost equally divided between Hard Sciences and Humanities. We all had classes on Saturdays and the curriculum was identical. We were engineers who could write. The degree was good for grad school in nearly any discipline. We all took two years of a language which, more than anything else, improved our English. I am, frankly, appalled by the inability of many midshipmen and USNA graduate officers to express themselves beyond a vocabulary of only a few hundred words. In informal conversations with mids when I visit the yard, the many seem barely literate.
JJ: Why did you decide to remain in the service after Vietnam?
PG: Why??? Why not? All my friends were there. Had I not been medically retired (as a Battalion Officer at USNA in 1982) I'd still be there.
JJ: From 1979 to 1982, you served as the officer representative to the Midshipmen Honor Committee. From your experiences there, do you believe the Academy should go back to separating midshipmen for a single honor violation (the single-sanction policy)?
PG: Yes. Equivocating honor is dumb. Stupid. And sends hundreds of wrong messages.
JJ: Medal of Honor recipient VADM Stockdale said that Stoicism helped him overcome his internment. Did Stoicism help you get through the Hanoi Hilton?
PG: VADM Stockdale is the only one who said that. He was a true philosopher who honestly believed his mission in life was to lead in adversity. Many stories, nearly all favorable, about "CAG" Stockdale. A true "Man's Man."
JJ: If you could do it over again, would you still chose naval aviation after graduating from the Academy?
PG: Of course. Without hesitation.
JJ: How did your seven years in captivity change you as a person?
PG: It didn't. The world changed for the worse, IMNSHO [In my not so humble opinion].
JJ: Where you ever offered repatriation before 1973?
PG: I think that's what the photo shoot was all about. I didn't make the cut due to a decidedly "bad attitude." Immediately after the Germans went away I was moved to a filthy cell sleeping on the ground in about an inch of coal dust. Its bloc of cells was located next to the Hanoi Thermal Power Plant.
JJ: Other Vietnam POWs called the day they were shot down/captured the "day I died." Did you feel this way?
PG: I don't ever remember feeling that I died on 17 June 1966 although torture, beatings and solitary confinement made me wish I had gone down with airplane on several occasions.
JJ: In your capacity as commissioner of Veterans' Services for the Commonwealth of Virginia, how can our government better handle veterans' services?
PG: Uncle Sam can't afford to do all it should actually do for the veterans – particularly those who are disabled.
JJ: Do you have any career advice for current midshipmen or junior officers?
PG: Press on. Don't let the bastards grind you down. Keep your chin up and always do the absolute best you can on any assigned task – and seek out every opportunity you can find to excel. Hey, it'll work. I promise.
I'd like to thank CDR Galanti again for this interview and for his extraordinary service.
After driving from Camp Lejuene, NC, we arrived at our Naval Station Norfolk penthouses- I mean rooms. Checking in to our individual carpeted rooms was a sea-change from the cement-floored squad bay in North Carolina.
Even though we know had hotel like quarters, we weren't in Norfolk for vacation. The OICs assigned thirty midshipmen from our company to the DDG-75 Donald Cook. Colonel (then Capt) Cook, the first Marine captured by the Viet Cong, gave his fellow prisoners his medicine while allowing himself to weaken. He died after three years in captivity. His selflessness posthumously earned him the Medal of Honor and promotion to Colonel. Although the U.S. Military has its faults, citations from heroes like Col. Cook remind me about the honor in our profession.
We spent four days underway. The officers in charge of us midshipmen wasted no time getting us wet; our first exercise was the Damage Control Olympics. In the U.S. Navy, everyone must know the basics of damage control. Thus, the damage control-men taught us how to plug a broken pipe, pump water out of the ship, and don fire-fighting equipment; all while a very happy second-class petty officer sprayed us with water.
The ship did not go underway just for us mids. While underway, the crew simulated fighting an aggressive rogue nation, completed an underway replenishment from a U.S. Naval Service Ship, practiced man-overboards (no, nobody actually got to go overboard), and prepared for helicopter landings.
The skipper of the ship, CDR Bennett, invited the midshipmen to eat one meal in the wardroom in groups of four. Dining in the wardroom averred the Academy bond in the fleet. To break the initial awkward silence between the senior officers and midshipmen, we swapped stories of recent and old black N's from Annapolis and listened to the officers brag about how much harder Academy life was "back in the day." I'm sure this conversation has played out in every wardroom on every ship.
On Friday, we arrived back in Norfolk ready to do the same thing again next week, just underwater.
Expecting a full-metal jacket style greeting, we midshipmen arrived at Camp Geiger, a subset of Camp Lejuene, N.C. Instead, the sergeants issued us Kevlar helmets, flak jackets, camping gear, and canteens with a "we want to yell at you but we're not allowed to" attitude.
The Lieutenant in charge of Professional Training-Midshipmen (PROTRAMID) told us that we would sleep well during Marine week. He was right. Every day we woke up at 0530 or earlier for morning formation. After forming up in platoons, we marched over to the chow hall- eliciting bad Plebe Summer memories. We then commenced the day's evolutions. The officers worked hard planning Marine week. We stomached the Hercules, Hornet, and Prowler simulators; saw every artillery piece in the Marines' arsenal; rode on a Sea Stallion and an Amphibious Assault Vehicle; fought with pugil sticks; ran the obstacle course; and scaled the rappelling tower.
However, the highlight of Marine week was the firing range. After the Marines fired a dozen mortar rounds, the midshipmen fired the MK 19 automatic grenade launcher, M240G machine gun, M249 SAW, M203 grenade launcher, and the M16 rifle. The Marines recruited many more midshipmen that day, as midshipmen found firing these weapons in real life way better than firing them on a video game.
While we certainly enjoyed our time, we realized that the Marines had a war to fight. Camp Geiger houses the Marines School of Infantry (SOI). Marines who chose infantry out of boot camp report to SOI for more advanced infantryman training. Many of those newly-minted PFCs would deploy to Afghanistan after their 59 days at the SOI. Whenever I would consider complaining about the early morning wake-ups or the seemingly needless hurry-up-and-waits, I would look at those PFCs and stop all my complaints. I think a lot of midshipmen experienced a wake-up call when these young Marines called us Sir/Ma'am.
On the last day, the Marines inspected every piece of gear issued to us upon arrival, from the canteen pouches to the kevlar helmets. Naturally, one mid misplaced his canteen on the last day. The Marines made us go back in the barracks and look in every nook and cranny for the missing piece of gear. While we midshipmen griped about losing one canteen, we learned that Marines don't mess around with accountability and will never leave anyone or anything behind. We ultimately found the canteen.
Overall, Marine week gave us a good understanding as to how Marines operate and what Marines expect out of their officers. Our PROTRAMID Company will spend this upcoming week on a ship in Norfolk, Va., and train with the SEALs one morning.
Newer Entries »