Author Archive
We are part of the CNO's Rapid Innovation Cell, a group of junior personnel charged to bring rapid prototypes and emerging technology to the fleet. Part of the job is acting as agents for innovation, and as a result, we meet with organizations in the civilian world and government who are pushing boundaries, building new tools, and making the tech of tomorrow a reality today. When we visit new companies and organizations, we try to capture the principles and characteristics that make them effective.
On our most recent trip we visited Scaled Composites, a small aerospace engineering company based in Mojave, California that produces custom aircraft from concept to flight. Our key takeaway was that the company's value proposition is built on a passion for aviation, and using bold materials and groundbreaking design engineering to overcome technical challenges. This has been the company's passion since the beginning, resulting in a number of innovative projects, including winning the $10 million Ansari X-Prize in 2004 for a suborbital space flight in SpaceShipOne, the first privately built manned spacecraft. We liked that they do not limit themselves to traditional aircraft designs and construction techniques, as shown by one of their ongoing projects, the StratoLauncher. Designed to launch a payload into low earth orbit with more flexibility than traditional launch systems StratoLauncher will be the biggest airplane ever built.
From the beginning, it was clear that we were dealing with something different. We met the President of the company, Kevin Mickey, early on a workday, and most of us didn't realize who we were talking to, until he passed out his business card and showed us a company overview slideshow with his title on it. The contrast to our own naval culture was readily apparent. There was no entourage, no aide or executive assistant hovering around to serve his every need, and he insisted on talking on a first name basis, making us feel completely at home.
After an hour-long discussion on the company, its mission and culture, and how they are pushing the limits of aircraft material and design, we toured the factory floor and saw their unique corporate culture in action. The company's corporate values showed through, from Kevin knowing his employees by first name and greeting every one we passed, to the close working relationships and collaboration we saw between the shop workers and engineers. This was clearly a company that places its people first, in pursuit of solving big technical challenges.
Walking the floor and observing the manufacturing process, the group asked whether given the name, the company and its employees had a special passion for building with composites. Surprisingly, the answer was no. The materials used by Scaled Composites are actually conventional in the world of composite engineering. The company uses composites for the simple reason that building with them is the quickest pathway from design to flight, and allows rapid progress in short timelines.
Mojave is a desolate place. The town is dry, windswept, and has a population of fewer than 4,000. Scaled Composites attracts employees by giving them interesting problems to solve, and keeps them by continuing to challenge them with rewarding projects. Of the 550 employees in the company, over 60% are pilots themselves, and work on aircraft as a hobby. After building and fling aircraft all day, it is very common for employees to then go home and continue building and flying their own personal projects. Project teams are purpose-built around customer problems, and deliberately small and collaborative. There is a large amount of latitude for individual employees, based on a trust that they are trying their best to work for the company and to deliver a high quality product for the customer.
The company's management exists to keep barriers away from the employees on the factory floor doing the actual work of the company, and serving the needs of its people, in order to put out a better product, more quickly. An interesting concept we discussed was the idea of the company being successful because of all the things it is not doing. This includes eliminating unnecessary process and oversight, preventing too much of an employee's time from being spent in meetings, and undue reporting requirements to the corporate management. They quickly get rid of anything that gets in the way of employees designing and building aircraft.
In discussing oversight, questions of risk tolerance and failure came up. Kevin related that in building inventive aircraft and in providing latitude to engineers and floor workers, failure does occur. But what differentiates them from traditional development processes in, say, the government, is that they focus not on elimination of failure, but rather on ensuring they fail early in a project, and for the right reasons. An honest mistake is not punished, with the idea that an employee who makes a mistake for the right reasons is actually very unlikely to fail that way again. Negligence can't be tolerated, but whole-scale risk aversion is toxic for a group. A key reminder for us was that if progress is going to be made, a healthy culture of risk tolerance is critical. At Scaled Composites, the atmosphere is anything but "zero defect."
Overall, what lessons did we learn, and how can we in the Navy and Marine Corps apply them? This is an interesting question, since Scaled Composites is a for-profit company, with a mission of financial gain through deliverance of the best product it can. Meanwhile the military exists to win our nation's wars, without a commercial profit motive. But there is one overriding commonality we observed: in both of these seemingly disparate missions, the people should come first. If you encourage a culture that questions boundaries, provides an intellectual challenge, is willing to reward boldness and even encourages failure in the pursuit of overcoming challenges, you attract and develop the kinds of people who dare to fail and drive outsized success when they win. This culture develops boldness, creativity and audacity that lead to considering more and bigger ideas, and cultivates people willing to try these ideas. As a result of this focus on people, Scaled Composites has been able to deliver a consistently high level of quality and breadth of products. For a military organization, a focus on people will result in enlisted and officers who aren't afraid to act boldly and accept risk in accomplishing a mission. This will enable the capability and capacity to ensure we are building combat-ready forces in peacetime in order to win decisively in times of conflict.
In the military, we put our people first. Said another way, our people are the most important tool for winning wars, ideas are next, and the technology we use serves both. This is an oft-repeated paradigm, and while we aren't perfect in following it, it has been proven true time and time again, throughout history. We must ensure we keep this focus. Wars are won by commanders with the vision and boldness to make hard decisions, and by Sailors, Airmen, Soldiers and Marines with the courage to carry those actions out. This paradigm is hardly unique to the military however, and we can learn much from people and organizations outside the DoD who share this commitment. In Scaled Composites, we saw just that. The company's bold vision, failure tolerant and risk accepting culture attracts, and more importantly, develops and retains the type of employees who are comfortable with risk. Inculcated in a "dream big" culture, employees are encouraged to think boldly and pursue radical ideas. From this milieu of people and ideas, new technologies and airplanes are born, with many failures, but with enough successes that the company remains on the leading edge of the aeronautical field. The big successes that have put the company on the map, such as introducing manned spaceflight to the private market, are a testament to the philosophy of supporting and challenging their people. Scaled Composites is a model that is hard to ignore, and a valuable example to the Navy.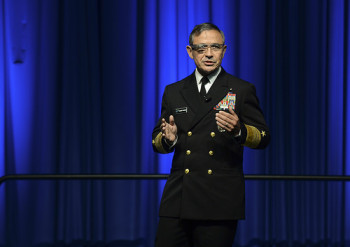 Innovation is about more than just coming up with new ideas. It is about personal interactions and developing relationships between people and organizations who have a desire to improve warfighter capabilities. Forward thinking organizations cannot exist in a vacuum but must learn from each other in both substance and style.
Last week, the CNO's Rapid Innovation Cell (CRIC) traveled to San Diego, and met various some groups of disruptive thinkers and doers in the area. They visited a number of different innovative organizations and met men and women who had the courage to think and act differently from the status quo. These included a Grassroots science and technology (S&T) organization of young scientists and engineers at SPAWAR Systems Center, Pacific (SSC PAC) and an innovation forum organized by the sailors of the USS BENFOLD known as the Athena Project. In each of these organizations the CRIC saw individuals who had a vision and the courage to act on it, able to effect a positive and beneficial change to whatever field they were working in.
SSC PAC is the premier organization for developing naval command, control, communications, computers, intelligence, surveillance, and reconnaissance (C4ISR) technologies. They have some of the best minds in the country advancing this field, but they are often not directly aware of warfighter needs. Along the same lines, warfighters are not technologists. They do not necessarily know what is within the realm of the possible from a scientific standpoint, and so might not fully understand what they can ask for. Under the leadership of Dr. Josh Kvavle, SSC PAC's recently created Grassroots S&T group is working to bridge this technologist-to-warfighter gap and bring solutions to the Fleet faster.
The CRIC was also able to showcase a project led by LT Josh Steinman at the AFCEA West Conference. LT Steinman is working with Google to develop shipboard applications for Google Glass, and leverage its ease and portability to allow sailors easy access to information while performing tasks onboard ship. ADM Harris, Commander Pacific Fleet, utilized the Google Glass owned by the CRIC and SSCPAC as a prompter during his keynote address at AFCEA West. He demonstrated the ease of use and its wide range of applicability, and addressed the need for the Navy to develop and incorporate new technologies and ideas.
Another event the CRIC attended was the Athena Project. The Athena Project is an ongoing innovation forum started by the officers and sailors of the USS BENFOLD aimed at providing junior leaders on the ship the opportunity to present ideas and solutions to problems they are passionate about. The goal is to provide a venue where anyone, regardless of rank or position, can present their idea and be given serious consideration by an engaged audience. A set number of presenters are each given five minutes to present their idea to the audience, followed by a five minute question and answer period. At the end of each presentation, the audience votes on the idea, judging its quality, actionability, and presentation.
After presentations are finished, the votes are tallied, and the winner is awarded the Admiral Sim's Award for Intellectual Courage. Recognition alone is not the reason behind the Athena Project. The real reward is the winner being given full permission and command backing to form a small functional team to put the idea into action during the following quarter. Since the Athena Project has started hosting innovation forums, they have grown from a mere 20 participants from a single ship's company to an event with over 100 participants from multiple commands with onlookers from industry and academia.
The level of initiative and professionalism shown by the presenters was inspiring. Each one had taken time to research an idea they were passionate about and present it, understanding the possibility of failure., the winner of the Admiral Sim's award at this event was an idea presented by LT Nobles and LTJG O'Donnell to pair sailors and scientists in order to foster direct communication between warfighters and the developers of their equipment. This was perfectly aligned with the goals of SSC PAC's Grassroots S&T group. LT Nobles and LTJG O'Donnell will be developing their idea over the next quarter.
The Athena Project and other initiatives such as SPAWAR's Grassroots S&T Group constitute the some of the best junior leaders currently in the Navy. These Sailors and civilians are forming themselves and making connections together now that will serve them as they become the future senior leadership in the Navy. These initiatives are not only important now, but are a key to ensuring the future of the Navy as an adaptable, mobile fighting force.