Author Archive
Via ryanerickson.com
I honestly try not to dwell on the casualties of war. Not that I don't have a heart; in fact, the exact opposite is true… I probably care too much. Nor have I given any serious thought to the wars beyond the current conflicts we've all watched unfold on the television since 2001.
However, this changed as of yesterday morning while I was listening to my wife try to explain to my daughters what a door gunner does; the job my father-in-law had as a helicopter mechanic in Vietnam. This came about when a vet walked past our van, which has a Virginia Coast Guard license plate, saying thank you for my service to which my wife and swiftly returned the thank you.
As we continued our day I continued thinking about what Memorial Day really was? Sure we know it's the day we take pause and thank those who've given their lives for their country. Or perhaps it's simply a three-day weekend for others. I'm guessing most outside of the military centric world of which I reside don't give much thought as to why they are getting a three-day weekend. I don't fault them though. The U.S. has fallen short on remembering our fallen. That, of course, is my own opinion.
I didn't have to think too long though in terms of its meaning to Ryan. I didn't lose any family members to the wars of past. I know of three family members who've fought in wars since World War II/Vietnam and they retuned. The combined U.S. deaths of these two wars alone was: 463,608. That equates to 463,608 people, and their families, I should be thanking for the safe return of two Grandfathers and a father-in-law. More so that is 463,608 people I should be thanking for the freedoms afforded to the people of the United States and other free nations of the era.
Memorial Day is not about the long weekend, nor the day itself. It's about those who've died in battle to ensure you can live the way you do; to vote the way you do; to wake up knowing that you are in a free county- the way you do. I'm tempted to go on a rant as to how this county has seemingly given up on caring about those who've perished… but I won't. Not today.
Monday, 28 May 2012 is Memorial Day. I'm not asking you to visit military grave sites to see the numbers yourself, nor am I asking you to go out and find a veteran who may have lost their best friend in battle. What I am asking, however, is that you and your family reflect for only a moment- whether in silence or discussion- as to what Memorial Day is and means. It doesn't matter if you know someone who died or not… don't let the reason for the day be lost on that fact that you don't think it directly affects you today. Though you know it or not- it has.
To lean more about Memorial Day check out these links: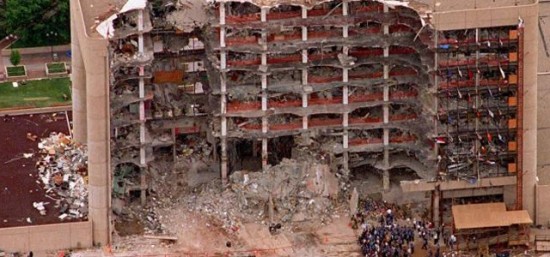 As a Coastie I can say I take pride in my seagoing duties. No, I'm not a sailor but I work in the coastal zones for a seagoing service (it's an association thing). However, we have Coast Guard personnel stationed all over the world; though 95% of those are near, if not on, the water there are those who work in the midst of- well- a place I thought was too flat and dry when I went there: Oklahoma City. There is little, well actually no, coastline there. But we have Coasties there and wherever we have Coasties they're always ready.
19 April 1995 – A rental truck filled with explosives blew up half of the Murrah Federal Building in Oklahoma City, Oklahoma. Coast Guardsmen from the Coast Guard Institute and a Coast Guard reservist responded soon after the explosion and helped set up security zones, directed traffic, searched for survivors, and whatever else was needed. They also took over a church kitchen and opened what later became nicknamed "Cafe Coast Guard." A rotating nine-person team worked around the clock to provide meals for the volunteer workers.
Always Ready.
Cross-posted from [re] ryan erickson
Newer Entries »