Author Archive
Last Friday marked National POW-MIA Day and Richmond, Virginia, commemorated the day by dedicating a new education center at the Virginia War Memorial to a former Vietnam POW and his wife, Cdr. Paul Galanti, USN (Ret.), and his wife Phyllis. The POW and larger veterans' communities are well familiar with the Galantis, as Commander Galanti now serves as the commissioner of the Virginia Department of Veterans Affairs. But the couple's service and activism started back during his captivity: he was notorious for raising a certain finger in protest to his North Vietnamese captors in a photo shoot for Life magazine and she was tireless in her very public campaign to win his release. (As Henry Kissinger told Paul at the White House dinner thrown for the returning POWs, "Your vife, Paul, she caused me so much trouble.")
But many people do not realize how forceful Paul and Phyllis have been as community advocates in their adopted home of Richmond, particularly in the revitalization of the Virginia War Memorial. This outdoor memorial pays tribute to all Virginians who lost their lives in war. Built after World War II, it suffered benign neglect for many years until a group of concerned citizens in the Richmond community, including the Galantis, led an effort to restore it. It soon became a popular venue for hosting military and veterans events and commemorations. Numerous educational programs for teachers, students and the general public soon followed. But the small, antiquated multi-purpose room and small office space that stood adjacent to the memorial was not sufficient to meet the growing need for space.
Through a public-private partnership (a combination of state money and private donations from individuals and corporations), the campaign to build the Paul and Phyllis Galanti Education Center got underway and the center broke ground in 2007. This weekend, the center opened to the public for the first time – with a black tie gala headlined by Gov. Robert McDonnell and Ross Perot, and a weekend of concerts, children's activities and facility tours. The facility adds an additional 18,000 square feet of space to the Memorial and boasts new exhibit and special event space, plus a conference room, a theater, a research library, and an 800-seat outdoor amphitheater.
He didn't set out to make history. Joining the Navy just seemed like a good way out of the racist South. But fate and circumstance deposited Lanier Phillips on the frigid coast of Newfoundland when his ship, USS Truxtun (DD-229), ran aground in a vicious storm in 1942. As one of few African-American crewmembers, he was the only one of his fellow mess attendants to abandon ship. They were afraid to go ashore for fear of being lynched. But Phillips took his chances and jumped aboard a life boat. Beached at the base of terrifying cliffs that looked impossible to breach, Phillips and 45 other survivors had no choice but to wait for rescue or die of hypothermia.
Much to this desperate group's dismay, a team of enterprising Newfoundlanders from the small village of St. Lawrence repelled down the cliffs, hauled the men up and proceeded to nurse them back to health – including Phillips. In working to wash and warm up the men, the villagers were convinced the oil that coated the shipwrecked survivors had seeped into Phillips' skin. Wounded, frozen and helpless, Phillips was terrified to identify himself as a black man, but he had no choice.
Despite having never seen a black person, they treated him just as well as the other surviving crewmembers. Indeed, the Newfoundlanders treated him like family: giving him their beds in which to recuperate, feeding him like a child and personally nursing him back to health. They gave him the best care they knew how to give. "Not only did they save my life," Phillips said, "they gave me a sense of value I had never had before." As he described the experience, being treated as an equal encouraged him to start acting like an equal. He returned home, vowing to challenge the Navy's prejudice and to return the kindness he had experienced in Newfoundland.
From that point forward, he was emboldened and determined to be in the vanguard of the civil rights movement. He wanted to challenge himself and to resist the professional barriers that were in front of him. He became the first African-American Navy sonar technician – despite his lack of higher education. He marched with Dr. King. He worked on the ALVIN deep-water submersible team and with the pioneer of undersea exploration, Jacques Cousteau, on the development of deep sea lamp technology.
And he made good on his promise to the villagers in Newfoundland. He started a scholarship program for the residents and built a playground for the town's families. Until his health started to deteriorate, he traveled extensively to tell his story and spread the word about the good and kind people of St. Lawrence, Newfoundland. He is their de facto ambassador. "Whatever I can do for St. Lawrence is not enough. They changed my entire philosophy on life." I'm sure he changed theirs, too.
On September 15 in Washington, D.C., the United States Navy Memorial will honor Lanier Phillips with the Lone Sailor Award, along with entertainer Bill Cosby and former Washington Redskin and Dallas Cowboy Eddie LeBaron. Cosby served in the Navy and LeBaron served in the Marine Corps. Learn more about the Award, the honorees and the Awards Ceremony at
www.navymemorial.org
and
www.navytv.org
.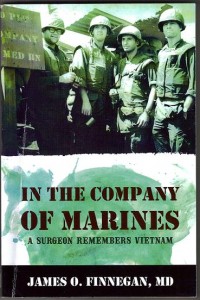 Four doctors and 26 corpsmen treated 2,500 injured men – many severely – over a three-month period in a medical facility that was under constant barrage from enemy rounds in a remote province of South Vietnam just south of the DMZ. The year was 1968 and the bloody siege of Khe Sanh was raging all around them. They took the casualties as they came – in a steady stream of "M*A*S*H"-like helicopter deliveries, patched the wounded up as best they could and shipped them to the flank – when the battle waned – or back to the front. In most cases, they never learned the names of their patients. There were too many and time was not on their side. 
It is hard to imagine providing critical medical care under these circumstances, but they did. It seems that adrenaline is what kept them going. When asked how they kept up the pace and sustained the sheer volume of cases and dealt with the emotional aftermath, they didn't really have a solid answer – other than they had a job to do and they really had no choice but to keep going.
One of the surgeons, Dr. Jim Finnegan, wrote a book about it. In The Company Of Marines: A Surgeon Remembers Vietnam chronicles his 12-month tour in Vietnam that happened to coincide with some of the fiercest fighting of the entire war: the Tet Offensive and the ensuing battle at Khe Sanh. He and three other Navy surgeons and 26 Navy Hospital Corpsmen were assembled at the base erected to defend this northernmost province. 
His book quotes Marine intelligence sources that state that more than 3,000 rounds per day were lobbed against the Marines, accounting for the majority of the injuries. They were overwhelming. One of the doctors, Dr. Ed Feldman, volunteered to remove a live round from the abdomen of an injured Marine. He received the Silver Star for his heroic efforts – both the Marine and everyone else on the base survived. The live round was detonated soon after it was removed from the Marine's body.
In The Company Of Marines is a very personal tale of one doctor's experience in Vietnam over the course of 12 months during that decade-long war. According to him, his Vietnam was not that remarkable. Hard to believe that so many men like him were subjected to such extraordinary circumstances, survived and returned to highly productive lives. But history has shown that men rise to the challenges of combat time and time again…and return home scathed, but sane. Khe Sanh was clearly a seminal experience in the lives of these Navy surgeons and one that bonded them indelibly. In some ways, it has defined them as men. But, they say they refuse to let it define the rest of their lives – a significant distinction. To hear it in their own words, watch a video of a recent interview with Drs. Jim Finnegan and Ed Feldman.  
We're always told that life is short and we should appreciate each and every day we have on this earth. But, sometimes we are reminded that a lifetime can be very long, and that the daily stresses of our lives today will eventually fade into a distant memory. Spending some time at retirement home, especially one that cares for veterans, reinforces that lesson.
The Armed Forces Retirement Home is a pastoral oasis nestled in the heart of urban D.C. It has a storied past that dates back to 1851, when it was established as the "U.S. Military Asylum" in what was then a rural area of Washington, D.C. Among its historic buildings is a cottage that was used by President Lincoln as a summer getaway. But some of the best stories at the Home come from its residents. This week, the oldest one celebrated his 105th birthday. Navy Chief Steward Lorenzo Senires, who was born on August 10, 1905, was joined at a ceremony attended by his sons, grandchildren and Master Chief Petty Officer of the Navy Rick West, as well as a team of Seabees who were on hand to dedicate a ship's anchor they recently planted on the grounds of the Home. Lauding this Navy veteran's longevity, the story of his life was recounted by David Watkins, director of the Home's Washington campus. A Philippine immigrant who came to the U.S. as a stowaway on a cruise ship, Senires was hired by an American housewife to be a "houseboy" for her. Her husband, a naval officer, was either overtly or obliquely influential because Senires enlisted in the Navy in 1926. He failed his first medical entrance exam because he did not weigh at least 100 pounds.
Senires served under Adm. John McCain on USS Nitro (AE-2) 1932-33 and says that he voted for Senator McCain for president because he had so much respect for his grandfather. He also served on USS Indianapolis (CA-35) before Pearl Harbor and lost many shipmates when the ship was sunk several years later. He was later assigned as a steward to a naval officer in Washington, D.C., and remained there for the majority of World War II. Senires obviously made a strong professional impression during this stint, as his son Dave Senires recalls his dad telling him that he later spent some time working for President Truman, fishing with him on the presidential yacht Sequoia and at Truman's "Little White House" in Key West.
For those of us who have lived for less than a century, centenarians like Senires give us some perspective on our own lives. Think about how much change he has seen in his life: World War I and World War II, Pearl Harbor and 9-11, the advent of flight, computers, changes in race relations, the women's movement, rock 'n' roll – the list is endless. What does it feel like to look back on a century of living? Senires is a bit hard of hearing now, but seems to have most of his faculties and certainly has retained his sense of humor – something many elderly people say is the key to surviving old age. When his son asked him what he wanted for his birthday, he answered unequivocally that he wanted a young woman and his driver's license.
I visited Norway last summer and was struck by the unanimous kindness of every single Norwegian I met. It was truly remarkable that every stranger on the street, behind the counter and in the next seat was friendly, helpful and politely deferential to me and my fellow traveling companions. It was amazing. So it was not surprising to me to read a true story about a Norwegian resistance fighter in World War II who was saved from capture and certain death – solely by the kindness of Norwegian strangers.
Norwegian exile Jan Baalsrud volunteered for a military mission in World War II that had only a small chance of success. And all 12 of the men who volunteered with him knew that failure meant a certain death. They were tasked with sailing from northern England to Nazi-occupied Norway to train resistance fighters and stage resistance operations in-country – behind enemy lines. The most challenging and dangerous part of the operation was the landing. Unfortunately, their cover as fishermen was blown and they were ambushed by the Nazis. Jan was the only survivor and his harrowing tale of surviving, foiling the Nazis and crossing to neutral territory in Sweden on foot is the stuff of legends. But, his story is all true.
Despite being shot at and chased by a small army of Nazis, he evaded capture on the coast by enlisting the help of some village children who stumbled onto his worn out body. Amazingly, the children and their family took him in and revived him – much to their own peril. This family was the first of many who risked their lives to save his and to ensure his safe crossing to Sweden. Each of several families would patch him up, stuff provisions in his pockets and send him on his way – until he became incapacitated and had to be carried.
Frostbitten and snowblind by an avalanche, he literally stumbled into a house of Norwegians who happened to be friendly to the resistance movement. This family hid him in a remote cabin and then physically carried him on a gurney up a mountain to be passed off to another group of resistance fighters who lived in the village on the other side of the mountain plateau. Through a variety of circumstances, he was forced to remain on the plateau for more than a month, while the weather improved and an adequate team could be assembled to transport the crippled Jan to Sweden. His stories of self-amputation in order to prevent gangrene from killing him, abating his hunger and warding off severe depression during this period of isolation in the wintry tundra are unfathomable. But, his survival could never have happened without the good Samaritans and Norwegian "neighbors" he encountered on his journey. It reminded me of the Underground Railroad in our own country, although I wonder if the risk to the Railroad hosts was as high as it was during World War II. Resistance fighters who were discovered by the Nazis were swiftly sent to concentration camps, tortured and killed. After meeting so many Norwegians from a variety of backgrounds last summer, I am not surprised by their daring attempt to save him and transport him to safety.
We Die Alone was first published in 1955 by a World War II veteran who ran a spy ring, David Howarth. A prolific writer of more than two dozen books, he died in 1991. The book was reprinted in 1999 with an introduction by Stephen Ambrose, which undoubtedly gave the book a bit more notoriety and reintroduced this unbelievable story of pluck, determination and survival to a new audience. But why isn't Jan Baalsrud's survival story more well known?
The aviation exploits of pilots in World War II and Vietnam have been well documented and glorified in books, documentaries and movies. But the daring missions performed by pilots in the Korean War have been largely overshadowed by the ground pounders who toiled in the brutal peninsula of South Korea for the three years of the war.
This war was never declared – it was simply deemed a U.N. police action," a deadly conflict that claimed more than one million military casualties and three million civilian casualties. U.S. military deaths totaled 170,000, a staggering amount when you compare it to the Vietnam conflict and today's dual wars in Iraq and Afghanistan. And yet, far fewer books and films have been created about it. At best, the war created a stalemate between the South Koreans and the communist North Koreans. Continued provocative behavior by the despotic North Korean regime only antagonizes this stalemate and reminds the rest of the world that a resolution of the 38th parallel was never achieved.
This year marks the 60th anniversary of the start of this deadly war and author David Sears has written a book, Such Men as These, to shine a spotlight on the brave naval aviators who were sent on aerial missions over the icy waters and the unforgiving mountainous terrain of Korea. In addition to detailing the heroic actions of these pilots – many of whom had also distinguished themselves in aerial combat in World War II a little more than five years prior, Sears makes a point of recognizing the social progress that had been made in these five short years. Featured in this book are the groundbreaking careers of Jess LeRoy Brown, the first African-American naval pilot, and Joe Akagi, the first Japanese-American naval pilot. Both of these men would never have been given the opportunity to fly as Navy pilots for their country in World War II.
Such Men As These was inspired by James Michener's historic novel The Bridges at Toko-Ri, a bestselling book about these men (which also inspired an Academy Award-winning Hollywood film of the same name). It was based on his real-life research on assignment for Readers' Digest. He was "embedded" aboard an aircraft carrier in the region during the war. Sears obtained Michener's notes from the Library of Congress and was able to ascertain on whom Michener based his fictional characters. He tracked them down and interviewed 20 of them for this book.
The Bridges at Toko-Ri was written just after Michener was asked to author a promotional article for Hemingway's The Old Man and the Sea in Life magazine. (At the time, Michener was a more well-known author than Hemingway.) Sears alleges that Michener was significantly influenced by the themes of this book while writing The Bridges at Toko-Ri. Indeed, he identifies compelling similarities between the two books, highlighting the fact that the protagonists in both books were strong individuals facing seemingly "implacable enemies and the unforgiving elements to achieve personal (although virtually anonymous) vindication." They were, in Michener's and Sears' minds, the epitome of manhood.
Sears, a Navy Vietnam veteran, is the author of many books about the military. He says that he enjoys writing about ordinary Americans and their contributions to historic events. Such Men as These is an important and necessary complement to the library of works about the Korean War. It is the actions of these men that Michener and Sears chronicle in these two works detailing a rarely told aspect of a rarely told war.
For more information about this book and author David Sears, go to Sears' web site.
His nickname was Jackie Fe. I immediately thought of the chemical symbol for iron. Isn't it FE? Indeed it is. Despite Captain Fellowes's penchant for off-color humor and his flirtatious personality, his DNA was pure strength. He was a big, strapping man — looked like a football player to me. Along with his fellow prisoners, Fellowes endured unimaginable physical and emotional tests in North Vietnam. But he survived and returned home to his family and his career. When he retired, he wasn't entirely sure what he would do with the rest of his life. But his wife made it clear that it wasn't going to happen at home. "She asked me, 'What are you doing at home?' I said, 'I live here.' She said, 'Not during the day.'" What struck me about Jack Fellowes was his self-deprecating, dry humor — a trait that can mask depression or a lack of self esteem. But not with him. He truly loved to watch people laugh and he loved nothing more than sharing a good joke and seeing his audience's reaction (I think he missed his calling as a stand-up comedian). His sense of humor probably aided his survival in captivity. Many of the POWs said that a positive outlook and maintaining hope in the midst of tremendous adversity made the difference between life and death.
But he also had a serious side to him — one that kept him focused during his POW experience and one that helped him rebuild his relationships with his family when he returned home. It wasn't easy. He left a wife and four children at home. After 6 1/2 years away, he had to reestablish himself as a husband and a father, when his family's household had functioned for years without him. He had to be patient, kind, gentle and tolerant — especially with his sons. When he returned home, they were almost all in their teenage years — tough enough for a dad who has been around to parent. They eventually warmed up to him again, but it wasn't easy. (Many of the POWs' kids tell similar readjustment stories.) I always thought it was a tremendous testament to the total manhood of this group of men: they fought, they suffered in silence in North Vietnam, they honorably returned home and quietly rebuilt their lives — as servicemen, as husbands, as fathers, as sons, and as civic neighbors. They didn't wallow in victimhood or demand special treatment. They continued to serve. Rest in peace, Jackie Fe. I'll miss you…and your jokes.
It seemed innocuous enough, although a bit weird: an inflatable, life-sized, anatomically-correct doll was found at the site of a fierce battle that pitted the 101st Airborne against the North Vietnamese in late 1965. The colonel in charge of the North Vietnamese unit was intrigued. It revealed to him a particularly obvious "Achilles Heel" of the American fighting forces. Unlike the North Vietnamese who expected to leave home and family for the fight for months or years on end, the American soldier could literally count down the days until he left Vietnam, a country that was physically and culturally thousands of miles away. The American soldier's mind was frequently not on the battlefield.
This colonel recognized that the American soldier was not as invested in the war as his troops were, as the Americans were not fighting for the survival of their homeland or family or lifestyle. Indeed, the American soldier could not quite grasp (or buy into) the "domino theory" as clearly as our political leaders did. This insight was an epiphany for the colonel and he passed along this most unusual piece of intelligence to make a point to his superiors: Despite the Americans' clear military superiority, they could be defeated. The North Vietnamese just needed to be patient and wear down their will.
This is just one of the anecdotes revealed in a compelling new book written by Lt. Col. James G. Zumwalt, Bare Feet, Iron Will: Stories from the Other Side of Vietnam's Battlefields. The son of former CNO Adm. Elmo Zumwalt, and one of many in the Zumwalt family who has served in the military through multiple conflicts, Zumwalt embarked on an odyssey more than 15 years ago. That was when he accompanied his father on a trip to Vietnam in an attempt to convince the Vietnamese government to participate in a joint study on the effects of Agent Orange. The defoliant that Admiral Zumwalt ordered used was highly successful in reducing casualties in the dense jungles of Vietnam, but the chemical proved to be deadly to humans – including the younger Zumwalt's brother, who succumbed to cancer in 1988.
At first angry at the enemy and bitter about the outcome of the war, Zumwalt's assumptions about our nation's former enemy were turned upside down in the first few days of that initial visit, as he met a major general in the North Vietnamese medical corps who had lost a father to the French and a brother to the Americans. In interviewing the North Vietnamese doctor, Zumwalt recognized for the first time the immense human toll the enemy suffered during that war.
That 1994 trip Zumwalt made with his father turned into a personally cathartic one. Over the next 15 years, he traveled throughout the country and interviewed more than 200 North Vietnamese. He was granted unfettered access to the veterans he interviewed, but he also secured help from a fellow Vietnam veteran who resides in Vietnam, Charles Searcy, and from a man he calls his Vietnamese brother, Phu Van Nguyen. Nguyen, a member of a Vietnamese immigrant family the Zumwalts helped resettle in the United States, accompanied Zumwalt on his sojourns in-country and ran interference for him with the government.
The result is a detailed, intimate and fascinating look at the entire Vietnamese experience from that conflict. It runs the gamut from personal perspectives and first-person accounts to their strategy behind the building of the Ho Chi Minh Trail to their extensive Cu Chi tunnel system. It examines their innovative anti-aircraft defense systems, their special operations forces' preparations for major offensives, their battlefield medicine improvisation, and the flexibility, innovation and determination of the nation's populace.
Many American combat veterans of the Vietnam War may find this book too sympathetic to the North Vietnamese. Our veterans saw atrocities and brutality committed by the enemy on the battlefield (and our POWs were repeatedly tortured and mistreated while incarcerated). These atrocities are not minimized with this book. Rather, Zumwalt makes a very pointed defense against this expected criticism: "It is important to clarify what this book is about and what it is not about," Lieutenant Colonel Zumwalt explained. "This [book was not intended] to glamorize the enemy, but to humanize the enemy."
So, perhaps even the most hardened and embittered Vietnam veteran – not unlike Zumwalt was 15 years ago – can experience his own personal catharsis upon reading Bare Feet, Iron Will. At the very least, he will walk away with a better understanding of this enemy. And, as we all know now, a better understanding of history will prevent its repetition.
I was 21 years old and given a college history class assignment on World War II. For a student in the 1980s, World War II seemed like ancient history. But, I also had a personal connection. My grandfather had served as an amphibious task force commander in World War II, and saw combat in the Battle of Guadalcanal. He earned the Navy Cross, the service's second-highest award, for his actions in the battle. And he was still alive and coherent at 92 years old. So, I decided to interview him.
I had a video camera, but I didn't have a tripod. I did not have a film crew, but I did have a girlfriend, Liz Dyer, who was willing to help. She had a grandfather who served in the Navy, too, so she was eager about the project. I wore jeans, a college sweatshirt and electric blue mascara (it was the 80s!). Grandaddy wore his California resort wear – a short-sleeved, collared polyester shirt and polyester pants with the belt cinched tightly and pulled up high above his waist. Even though it was spring break in southern California, he wore a sweater. He was always cold, which surprised me – given how much time he spent on the ocean. But he was 92 and thin-skinned at this point and kept the heat on all year round.
Liz sneezed halfway through the interview, making the camera bounce up and down. She became tired holding the camera; you could hear her heavy breathing as she became more weary and her muscles started to cramp. A few neighbors stopped by and rang the doorbell; you can hear my mom whispering to them about the "big interview" in the background, asking them to come back later.
Despite the distractions and the amateur production job Liz and I were doing, it was a bonding moment for Grandaddy and me (and nostalgic for Liz, since her grandfather had already died). He knew I was going to be commissioned an officer in the Navy in about a year and that he and my father were my inspiration for doing so, but he didn't know what kind of interest I had in his service…until then. I did my homework and studied the ship's log, the charts and the award citation. But, I didn't know how he thought – strategically and tactically…until then. I didn't know what kind of a manager and leader he was…until then. And this is what I learned:
As the newly appointed commander of a unit of APAs, Grandaddy was in charge of a group of ships that were responsible for ferrying troops from Australia, New Zealand, and Noumea to the smaller islands in the Solomons. On the evening of February 17, 1943, they were given a heads-up that they had been targeted by the Japanese. In this interview, he made it very clear that the attack he and his crew sustained was expected. While this can allow for some planning, it can also raise anxiety levels to an unbearable level. I attended a reunion of some of Grandaddy's crew from USS Crescent City (APA-21) in 2004 and they recounted his speech on the eve of the assault. They said he made it clear that they were about to be attacked and that not all of them would survive. He indicated that "this moment" – February 17, 1943, could be the seminal experience for them in this war. His stoicism was memorable and left an indelible impression on them. And his unflinching strength provided an example for the crew to follow, even if they quivered inside. I will never know if Grandaddy felt scared. He never, ever showed it. The unwavering example he set for his Sailors is a powerful lesson for leaders of all stripes. But, it has consequences, for he was an emotionally absent person with most of his immediate family. He was soft and affectionate with me, a granddaughter who took interest in his career. But that was an anomaly.
Grandaddy was not a leader who hammered his leadership style into his crew – he was a bit more subtle, and surprisingly so. Not to say he didn't have a temper or a well-formed opinion – many people have attested to his outbursts and his soliloquies. But, he was somewhat indirect in his teachings and in his dictums. He recounted in this interview that, after the 90-minute attack by Japanese fighter pilots, there was some crew banter on the ships' radio circuit about the surviving Japanese aviators who were floating in the ocean nearby awaiting rescue. Some of the crewmembers wanted to throw them some provisions. Grandaddy grabbed control of the radio and demanded that the airwaves be kept clear for more critical transmissions. His edict obviously silenced the more humanitarian Sailors. While I do not agree with his moral decision, I have some respect for his tack. He didn't prohibit his crew from providing some humanitarian assistance, but he made his priorities clear without a direct order. It was creative, to say the least.
I hope I learned something from Grandaddy professionally. I adored him personally, as he showered affection on me and mentored me professionally – his only granddaughter who arrived very late in his life and who was enamored with his career. But I'm not sure I can adopt his stoic, rigid, hermetically-sealed professional style. It may have worked in World War II, but I'm not so certain it would work today. For that insight, I would have to ask today's combat veterans. Certainly the principles still apply, but the style probably needs to be adapted. I'm sure he had similar sentiments when he attended my college graduation and commissioning as a (female) naval officer. Same principles, but very different look. Rest in peace, Grandaddy. You served hard and well. I love you.
Watch my 24-minute video interview with Grandaddy from 1988 here: http://www.navytv.org/media.cfm?c=366&m=3156
*********************
Bunny is a former naval officer, the third generation in her family to serve. Since HBO's The Pacific is spending a significant amount of its air time covering the Battle of Guadalcanal, she dusted off an old video interview she hosted with her grandfather, a Navy Cross recipient from the battle. He died in 1992 on the eve of his 97th birthday and is buried at Arlington with his wife. Watch the entire video (24 minutes long) of her 1988 interview with her grandfather on Navy TV at: http://www.navytv.org/media.cfm?c=366&m=3156.
Click here to see the video interview of VADM Ingolf N. Kiland.
Today marks the 37th anniversary of the homecoming of our POWs from Vietnam — still the longest-held group of POWs in our nation's history. No other POWs from any other conflict have been held as long as these 600+ men were. Surprisingly, despite their unprecedented ordeal, only four percent of them have experienced long-term Post-Traumatic Stress Disorder, or PTSD, according to a study conducted by the Mitchell Center for POW Studies in Pensacola, Florida, and the Pennsylvania State University Population Research Institute. By comparison, the general Vietnam veteran population experienced a rate of PTSD of more than 30 percent. Why is that? Despite being held in isolation for months or years at a time, despite being physically tortured on a regular basis, despite not knowing when they would be released — if ever, these men returned home mostly intact physically and psychologically.
It is instructive to note that the POWs' average age was over 30, much older than the average soldier serving in Vietnam. They were also more educated and more specially trained. These factors do not predetermine mental health, but age and maturity can provide better mental "shock absorbers" against life's traumas. In addition, this group of men was given an unusual amount of attention upon returning from Vietnam. Most of the soldiers, sailors and Marines returning from Vietnam did not receive homecoming parades, keys to their hometown cities or a White House dinner in their honor. But the POWs did. Many of them were thrust into the spotlight and became their hometown heroes. This undoubtedly aided their healing process. However, after the parades and parties were over, these men returned to relatively "normal" and private lives — as fathers, sons, husbands, neighbors and co-workers…not unlike the soldiers, sailors and Marines who are coming home from Afghanistan and Iraq today. How will these returning servicemen and women fare physically and emotionally over the next few decades? The experience of these POWs and their long-term health may be a helpful indicator and could be a source of advice for those responsible for the long-term care of our recently returned warriors.
According to a number of studies, the human body is amazingly resilient and copes well with trauma — both physical and emotional. In a November 2004 New Yorker article, best-selling author and cutlure watcher Malcolm Gladwell analyzed the survivors of World War II combat trauma and compared them to the victims of childhood sexual abuse (CSA) and to those who had recently lost a spouse or a child. He found that the majority of victims of severe trauma like that experienced in bloody combat, the betrayal of CSA or the loss of an immediate family member usually get on with their lives and do not experience long-term negative effects of PTSD.
Tom Collins, a former Air Force pilot who was held as a POW in North Vietnam for more than seven years, has also survived the untimely loss of a child. A medical doctor, his son died of hepatitis contracted at work at the age of 34. Asked which was harder to endure — the loss of his son or the POW experience, both Tom and his wife Donnie say the loss of their son was the hardest experience of their lives. But these multiple hardships have not destroyed them or their marriage. They seem to enjoy retirement, their grandchildren and each other.
Gladwell summarizes human coping mechanisms in this way: "By far the most common response [to trauma] was resilience: the majority of those who had just suffered from one of the most painful experiences of their lives never lapsed into serious depression, experienced a relatively brief period of grief symptoms, and soon returned to normal functioning. These people were not necessarily the hardiest or the healthiest. They just managed, by one means or another, to muddle through."
Indeed, there is a phenomenon called "post-traumatic growth" that psychological experts are only recently recognizing and defining. This is a condition where victims of trauma actually experience a type of psychological enhancement as a result of the experience. While hard to articulate and rationalize — given the plethora of research on the devastating effects of PTSD, post-traumatic growth is evident in anecdotes cited by combat veterans from many wars, including our current conflict. In a Washington Post article from November of 2005, staff writer Michael Ruane reported on this trend: "Eighteen months after [Hilbert] Caesar's right leg was mangled by a roadside bomb near Baghdad, and after weeks of coming to terms with what he thought was the end of his life, the former Army staff sergeant believes he has emerged a richer person — wiser, more compassionate and more appreciative of life. Asked whether he would endure it all again, he replied, 'The guys I served with were awesome guys….I would go through it again — for the guys that I served with. Yes. Absolutely. I wouldn't change it for the world.'"
This sentiment is echoed repeatedly by the Vietnam POWs. They experienced a different type of trauma. After their violent shoot-downs during aerial attacks over North Vietnam, these men — most of whom were combat aviators — were largely shielded from field combat, as they were isolated in a decripit prison in downtown Hanoi. However, the uncertainty of when they would next be tortured and when they would be released — if ever — brought its own psychological horrors.
Most of them say they would not like to repeat the experience. But would they trade the experience? No. The same Washington Post article cited a 1980 study of the Vietnam POWs, indicating that 61 percent of those surveyed "believed their experience was ultimately beneficial. Tom McNish, a former Air Force pilot who was a prisoner in North Vietnam for six years, said, 'There is no question in my mind that the experience I had in Vietnam has had an overall very positive effect on my life. But I don't recommend it for anybody else. And I don't want to have to do it again.'"
So, what does this teach us? Given time, good physical and mental health care, and continued appreciation for their service and sacrifice, most of our returning veterans will not just survive, but they will thrive. This generation of veterans is only beginning to show us their mettle. We need only look at the generations before us for examples.
To read more about how the Vietnam POWs rebuilt their lives after those prison doors opened and more accounts of their resiliency, go to www.opendoorsbook.com.
« Older Entries
Newer Entries »