Archive for the '70th Anniversary of the Battle of Midway' Tag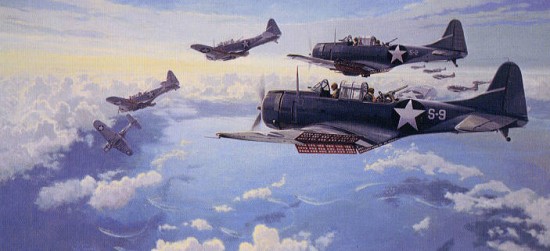 In every battle there is a moment when the combatants, and the world, seem to catch their breath. It is a fleeting moment, lost in the blink of an eye. But in that same blink, everything changes. Such moments are borne of desperation, of courage, of plain dumb luck. But they are pivotal – for what was before is forever changed afterwards. – SJS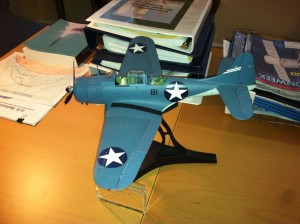 Of the 200-some odd models that populate my study and other places around the house, there is but one on my desk. It isn't a plane that I have flown (though not for a lack of desire), nor is it even one I have had a working relationship with when I was on active duty. Indeed, it is one I have yet to even see in person except in a museum. That plane? It is an SBD-3 Dauntless – but not just any Dauntless. It is in the colors and markings of the VB-5 "Black B1" Dauntless flown by LT Dick Best at Midway. The reasons I have it there are manifold and it serves as a daily reminder thereto and are compiled and summed below.
"As you know, you go to war with the Army you have. They're not the Army you might want or wish to have at a later time." – Former Defense Secretary Donald Rumsfeld, December 2004
The Navy in 1942 was very much that kind of Navy — the one "you have." Ships and aircraft that were in transition from an earlier age of technology and warfighting that hadn't quite got the kinks worked out, whose replacements that did were still on the drafting boards or just now beginning construction and were months, if not years away from combat. Tactics that had been developed by "disruptive" innovators that had, as yet, to be fully tested in battle. A command structure that suddenly found itself engaged in worldwide fleet and joint operations. In light of these conditions, several actions had to occur prior to 4 June 1942 to enable the American victory at Midway.