Archive for the '9/11' Tag
On Sept. 11, 2001 Michael P. Murphy was an ensign in Basic Underwater Demolition/SEAL training.
Michael Murphy, a graduate of Penn State University, who grew up in Patchogue, Long Island, New York, internalized and personalized what happened on 9/11, according to colleagues, mentors and writer Gary Williams, author of "SEAL of Honor: Operation Red Wings and the Life of Michael P. Murphy, USN."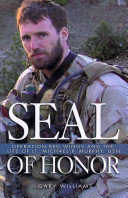 The book is on Adm. Greenert's bookshelf as an essential Warfighting First selection of the CNO Professional Reading Program.
Murphy led a SEAL team into Afghanistan in 2005 where he faced a profound ethical dilemma after capturing some civilian non-combatants. (His dilemma and moral decision is examined in detail in another book about Operation Red Wings, "Lone Survivor" by Marcus Luttrell.)
The team then endured a prolonged firefight against a larger Taliban force. At the end of the terrifying and deadly fight, Murphy faced a second, more personal moral choice. At great personal risk, he put himself directly in the path of enemy fire in order to call in help for his team.
In "SEAL of Honor" Williams introduces us to Murphy's family, shows in detail his training regimen as a Navy SEAL, describes the mission Murphy led in Afghanistan during Operation Red Wings, and shows the honors paid to Murphy and his family after he was killed. "SEAL of Honor" preserves history and offers a well-documented biography of an American hero.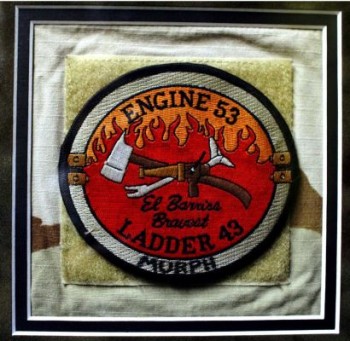 Murphy's bond with first responders from his home state is legendary. He had his unit wear the bright orange patch of FDNY Engine Co. 54, Ladder Co. 43 — "El Barrio's Bravest" — on their uniforms as a team symbol and constant reminder of 9/11 and why the SEALs were in Afghanistan, according to Williams.
Marcus Luttrell also refers to the patch several times in "Lone Survivor."
Like Williams's "SEAL of Honor," Luttrell's book is understandably an autobiographical account. Before describing Operation Red Wings, "Lone Survivor" explores Luttrell's upbringing in Texas, his SEAL training in San Diego and a mission in Iraq desperately searching in vain for weapons of mass destruction: "chasing shadows out there in that burning hot, sandy wilderness."
Luttrell's telling of the firefight with the Taliban in Operation Red Wings is gripping and graphic, but at the end of Luttrell's book the reader is left with a hunger to know more about the hero, leading protagonist Michael P. Murphy.
"Seal of Honor" shows us how Murphy's qualifications as a leader developed starting in early childhood. As a toddler, Michael's favorite book was Wally Piper's "The Little Engine that Could." He was a voracious reader at Canaan Elementary School.
According to Williams, Murphy's favorite book as an adult was "Gates of Fire" by Steven Pressfield, a historical fiction novel about the 480 B.C. Battle of Thermopylae, in which 300 brave Spartans protected their homeland and democracy from an invading Persian Army. Greek warrior culture is part of the SEAL tradition.
The never-give-up attitude, willingness to sacrifice for a cause and strong personal ethos all contribute to what makes a Navy SEAL, provided the individual can tough it through BUD/S training, described in detail by Williams.
"Despite the brutal training, Michael soon realized that almost anyone could meet the physical requirements of the SEALs, but the unending challenge from day-one would be the mental toughness, that never-ending inner drive that pushes you forward when every nerve and muscle fiber in your body tells you to stop — to quit. That warrior mind-set — the mental toughness — is what separates a Navy SEAL…"
"SEAL of Honor" includes inspiring SEAL Creed excerpts or, in some cases, complete remarks from SEAL leaders like Adm. Eric T. Olson, Chief Warrant Officer Mike Loo and Commodore Pete Van Hooser. All focus on leadership expectations and maintaining high standards.
Williams describes the tragic rescue attempt in which Lt. Cmdr. Erik S. Kristensen and 15 other would-be rescuers were killed when their MH-47E Chinook helo, call sign Turbine 33, was shot down by the Taliban.
Both "Lone Survivor" and "SEAL of Honor" showcase the importance of the concept: "no one left behind."
Near the end of "SEAL of Honor," Williams lists each of the warriors who died trying to rescue Murphy and his team.
He describes the many tributes to Lt. Michael P. Murphy, including the awarding of the Medal of Honor by then President George W. Bush. One of the most significant tributes, especially as far as Sailors are concerned, is the naming of an Arleigh Burke-class guided-missile destroyer for him, dedicated May 7, 2008.
During his remarks, then Secretary Donald C. Winter predicted, "Every Sailor who crosses the bow, every Sailor who hears the officer of the deck announce the arrival of the commanding officer, and every Sailor who enters a foreign land representing our great nation will do so as an honored member of the USS Michael Murphy," writes Williams.
Osama bin Laden haunts both books, written prior to President Barack Obama's authorization to kill or capture the terrorist leader of al-Qaeda, the group responsible for the attacks of Sept. 11, 2001. After a Muslim ceremony, bin Laden was buried at sea from USS Carl Vinson (CVN 70) just days before the USS Michael Murphy christening.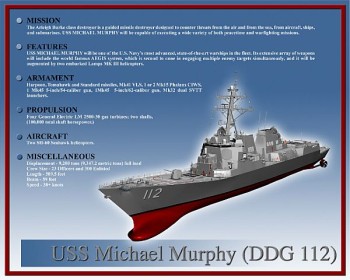 USS Michael Murphy (DDG 112) was christened at Bath Iron Works, Maine on May 7, 2011 (after publication of Williams's book), on what would have been Murphy's 35th birthday.
"It is my sincere belief that this ship will build on the momentum gained by our special operations forces in the fight against extremism and sail the seas in a world made more peaceful by sustained American vigilance, power and dignity," said then Chief of Naval Operations Adm. Gary Roughead. "This ship will carry Michael's legacy and values to Sailors several decades from now and to a new generation of Americans…"
USS Michael Murphy's homeport is Pearl Harbor.
(A version of this review was originally published Sept. 10, 2011 on Navy Reads.)
Eleven years. Typing that out makes it seem much longer than it feels. I've written several accounts over the years regarding "where I was, what was I doing" on 11 September 2001; however, most of those accounts have been removed for one reason or another. So…
Where were you and what were you doing on 9/11/01?
I was sitting in class at the Coast Guard's C-130 Navigator course in Elizabeth City, NC preparing for my first test of the four-week instructional period. I remember having a chart on my desk going over some last-minute cramming on way point designations and search planning plots.
We were just finishing filling out our answer sheets when someone stuck their head in the door telling us a plane hit one of the WTC towers. It was more of a nonchalant "by the way" telling us so and not a "by the way… OMG there are terrorists taking over the nation!" tone. A fellow classmate, appropriately suited for the moment, quickly blurts out "what kind of idiot hits a building in New York?" Again, perfectly suited given the situation and environment of being in an aviation navigation course.
Not thinking anything about it we finished our tests and went on break. As we were walking out to the designated smoking area (I was still chewing at the time) we passed by the teacher's lounge which had quickly overfilled with people trying to watch the television. My moment of pause to gawk at the TV too resulted in my witnessing the second plane hitting the second World Trade Center tower. Only this time it was obviously not a little plane- but a passenger jet.
I was kind of taken back for a moment. 'How does someone accidentally run into a high-rise on the skyline of NY?' It's obvious now of course, but at that moment it wasn't.
My classmates and I continued to the smoke deck; but the mood had changed from the relief of finishing a test to wondering if what we just watched was done on purpose? Our ten minute break easily turned into a 45 minute one as all of the schools instructors were called to a meeting. By the time they returned we'd already figured out what was happening. The instructors only validated it.
"The United States is under attack. We're not sure how bad it is yet but we do know that two planes hit the WTC towers and one has hit the Pentagon; more attacks could be coming." Said our lead instructor.
It wasn't a moment that any of us thought we'd witness in our career. This is the United States after all. Sure we've had our issues with pseudo-terrorism before (e.g. Oklahoma City bombing) but nothing like what was being discussed here.
Later in the morning we'd learn that all commercial flights throughout the U.S. were being grounded until further notice and the base was temporarily on lockdown. The immediate thought in my head at the time was something along the lines of 'um… we're in Elizabeth City… what could happen here?' However, by lunch time my imagination began to go wild- along with everyone else- and I was wondering if something really could happen in this sleepy town?
When lunch rolled around I had an opportunity to finally call my wife who was in Kodiak, AK at the time as that was where we were stationed. She was just waking up (recall it's a four-hour time difference) and had yet to turn on the news. I explained what I knew and wasn't sure how or when I'd be home. In reality I still had three and a half weeks of school left anyway but nobody was sure when planes would fly again. I don't think our TV changed from any news channels for the next several months.
When we got back from lunch the base has begun planning for a major shift in base protection. They were asking who was recently qualified in small-arms who had previous combat training. Odd as it may seem this is/was the Coast Guard… and an aviation centric base so not too many people would have fit the bill. For better, or worse, the call-to-arms never amounted to much. The security contractors, however, were increased and time to get onto base went from about 20 seconds to about 2 minutes.
The days following the attack were weird as nobody knew if there would be more attacks or not- everyone was on edge.
It goes without saying- though I'll say it anyway- this nation has changed over the last eleven years; without a doubt. Whether you think for the better, or worse, is dependent on your point of view. For me it doesn't really matter. I'm here to defend this nation; for better, or worse.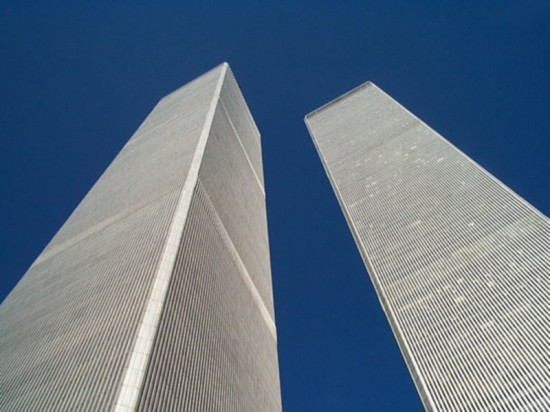 I remember, a sky so blue it burned your eyes to look up . . .and smoke that scarred your lungs;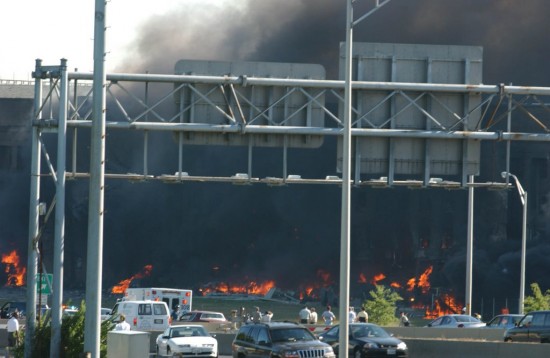 I remember shipmates . . . and a piece of notebook paper listing for whom the bell had tolled;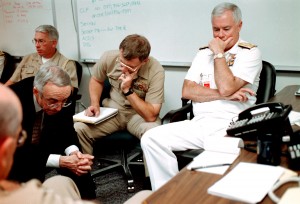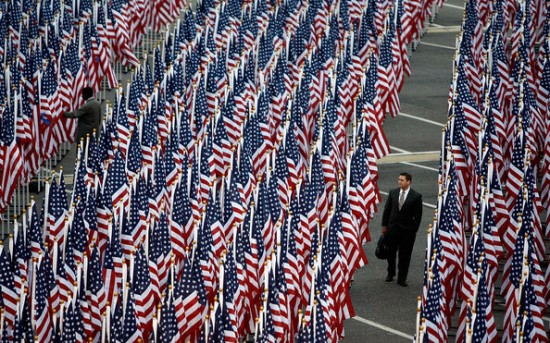 We remember that for one brief moment it wasn't New Yorkers, or Washingtonians, or businessmen or civil servants or Sailors or Soldiers or firemen or police who were attacked …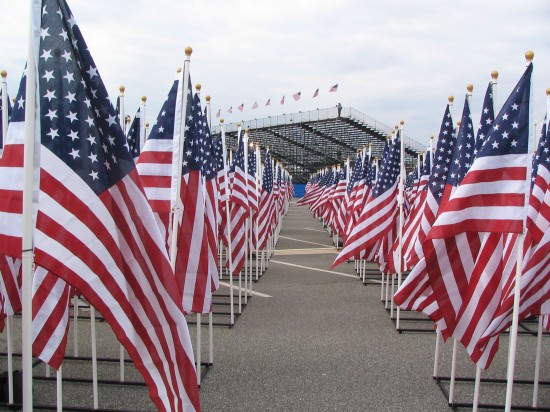 … it was America.
And whether transfixed in frozen horror at the incomprehensible images on our TVs or fleeing fire and rubble for our lives, we still came together as one nation, one people united…
Under a sky that was so blue it burned your eyes to look up …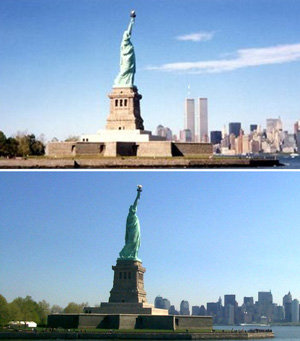 There is a time for everything,
and a season for every activity under the heavens:
a time to be born and a time to die,
a time to plant and a time to uproot,
a time to kill and a time to heal,
a time to tear down and a time to build,
a time to weep and a time to laugh,
a time to mourn and a time to dance,
a time to scatter stones and a time to gather them,
a time to embrace and a time to refrain from embracing,
a time to search and a time to give up,
a time to keep and a time to throw away,
a time to tear and a time to mend,
a time to be silent and a time to speak,
a time to love and a time to hate,
a time for war and a time for peace.
Whatever is has already been,
and what will be has been before;
and God will call the past to account.
I said to myself, "God will bring into judgment
both the righteous and the wicked,
for there will be a time for every activity,
a time to judge every deed." – Ecclesiastes 3
Cross-posted at steeljawscribe.com