Archive for the 'A2/AD' Tag
"In the context of the Anti-Access/Area Denial (A2/AD) challenge, does what we are seeing unfolding with BALTOPS represent a credible, operational scenario, really?" Mr. Nick Childs, of the International Institute of Strategic Studies in London, asked me this question last week in a phone interview via satellite while on board USS Mount Whitney (LCC-20), the command ship for BALTOPS 2016. Great question! To answer it, you have to consider the elements of an adversary's A2/AD strategy.
First of all, it is easier to keep someone out of an area in the maritime domain than it is gain access. The proliferation of asymmetric weapons systems, easily obtainable on the open arms market, exacerbate the problem. An A2/AD network may consist of a series of radars situated along a coastline to provide early warning and cueing to a variety of anti-ship cruise missiles with ranges far exceeding recognized territorial limits of 12 nautical miles. Likewise, we have seen a rise in asymmetric weapons systems such as diesel electric submarines, unmanned underwater vehicles, and "smart" mines that pose a significant and unseen threat in the underwater domain.
To get to at least one aspect of Nick's question in the time allotted, I chose to focus on the proliferation of the mines as a pillar of A2/AD. I was reminded of a recent post in this venue by MNCS Jacob Mazurek: "Ten Mining Campaigns That Shaped Mine Warfare."
In his piece, Senior Chief Mazurek states: "History tells a different story about naval mine warfare. When naval powers fight, mines can be a game changer. They can keep enemy warships locked in port, they can restrict an enemy's movements, and they can destroy an enemy's shipping. When the enemy depends on the sea for supplies, mines can be used to choke their industry and to drive them out of a war." That is truly the essence of an A2/AD strategy.
While the threat of mines at sea may seem far, far away to the general public, the fact is that the danger is actually very close. In fact, right here in the Baltic Sea, there exists a host of historic minefields from World War I and World War II. Naval mining can happen everywhere from rivers to deep water, and in all kinds of environments. Should the enemy succeed in laying a major minefield, mine countermeasure (MCM) forces can expect to work for months or years clearing mines. In the course of long, dangerous operations, ships will be lost and the job will become much harder.
While practicing to deter future conflicts, the mine countermeasures portion of the BALTOPS has had the opportunity to clear both exercise and actual historic ordnance—real threats that are here right now. During a portion of BALTOPS 16, meant to simulate the clearing of a beach before an amphibious landing, German, Norwegian, and Estonian MCM units not only found the dummy mines intentionally laid for training, but also real-world historic unexploded ordnance including aircraft bombs, old maritime mines, an anti-submarine depth charge, and a torpedo.
Photos show that the weapons have remained largely intact for the better part of a century—a German commander joked that he immediately recognized the fine engineering of his countrymen from a different era. The observation articulates the progress we've made with allies and partners over the last six decades and displays ideals inherent in NATO. Now former belligerents are working together as Allies and Partners to dismantle the mines laid by both sides of past wars, practicing skills that will ensure the communication lanes are open for all in the Baltic Sea.
There is a saying in the mine warfare community: "Our wake is the fleet's path . . ." MCM operations during BALTOPS 16 are no different. 15 MCM ships from 11 countries with over 700 sailors have worked diligently over the course of the first phase of this exercise to clear approximately 40 square nautical miles of water space leading up to planned large-scale amphibious operations. Clearing the path of mines is a critical precursor to mitigate risk of any naval operation, exercise or otherwise. We used some dummy mines in the simulation, but for the mine countermeasure vessels, this isn't just an exercise…the consequences of overlooking historical ordinance could be very real indeed.
Mines are also an economic weapon. Often their desired effect is multi-faceted and not only the destruction or disabling of warships, but also the disruption of commercial shipping. NATO has been down this road before. During the 2011 Libya campaign, Gaddafi's special forces sewed four mines in the approaches to the port of Misurata and closed the besieged city to humanitarian aid for two weeks as NATO mustered the right capability to eradicate the threat.
The technique was not sophisticated. The Libyans had no mine laying ship. They simply floated the Cold War era mines into position inside Rigid Hull Inflatable Boats (RHIBS) and then the frogmen slashed the sides of the hulls to sink the boats and deploy the mines.
Now multiply those four mines by 2,500 and you have an idea of the known historical ordnance that remains in Baltic waters. Imagine what those four mines could do if placed somewhere like the Straits of Hormuz or Malacca or the Danish Straits and you get a sense of how integral BALTOPS MCM training is in defeating A2/AD strategies.
Mines protect coastlines and often fit into a country's greater scheme of maritime defense in order to deny access to or control a region. Repeatedly, history has proven that due to their low cost, high availability, and deadly outcomes, mines are effective force multipliers and battle space shapers. Mine warfare has progressed significantly from the simplest contact mines; modern mines use acoustic, magnetic, and pressure sensors and can fire rockets or torpedoes against ships or submarines. Any future naval war will involve maritime mines. Minesweeping goes back to the basic functions of the Navy: keeping the sea lanes of communication open. It is my view that, as an Alliance, we cannot let the skills of mine warfare atrophy or it will be at our own peril.
For Minemen, it is not enough to have a myopic perspective on their warfare area. They must operate in conjunction with each phase of an operation. During BALTOPS, MCM is in lock-step with amphibious and surface warfare operations. Among the different disciplines, though, Mine Countermeasures is an underestimated warfare area. Within most navies around the world, mine warfare is a specialized career path, often undermanned. Mine countermeasure vessels are smaller and often overshadowed by their larger surface counterparts. The substantial MCM footprint at BALTOPS 2016 bucks this trend, representing the third biggest task group in the exercise. MCM must remain a critical element in our planning for any contingency operations worldwide.
MCM is an excellent example of how we are stronger together. By combining resources and dividing responsibilities the BALTOPS flotilla has been exponentially more effective than each unit would have been alone. Together, differences in expertise and budget difficulties are overcome, a simple but powerful example of the strength of the NATO Alliance and Partnerships.
The Standing NATO Mine Countermeasures Group One (SNMCMG-1) has been operating in these waters since its inception in 1973. As an example of the effectiveness of NATO MCM efforts in the Baltic, during the international NATO maneuver Open Spirit 2015, in which SNMCMG-1 participated, 172 mines were found and 38 countermined.
There work has continued as part of BALTOPS. I recently observed a demonstration of the MCM capabilities led by SNMCMG-1 and was blown away. The capabilities these ships bring to the fight are incredible—ships that practically hover over the water to reduce their pressure signature, unmanned drones as large as a small ship under computer control, electronic arrays, robots that can set underwater charges. The technology is being put to good use. When an officer of Danish command operating mine-hunting Unmanned Surface Vehicles (USVs) was asked how often his ships found historical ordnance the answer was "every time we go out."
Speaking at the Association of the United States Army on the 12th, Admiral James Winnefeld, the Vice Chairman of the Joint Chiefs of Staff, told the audience that in future ground wars the tempo will be "shorter, faster-paced and much harder" because America's adversaries will work to create a "fog of war." Thus, the Admiral suggested that the Army "place more emphasis on the growth industry…of protecting American citizens abroad" in order to adapt to the fluid geostrategic environment.
Indeed, since the sequestration went into effect in March, many defense experts have been debating what the future may hold for the Army, the Marine Corps and the Special Operations Command (SOCOM). Whatever their respective views may be on the utility of landpower in future wars, all seem to agree on one thing: that in the sequestration era, the ground components must fight leaner and smarter.
For John R. Deni, a research professor at the U.S. Army War College's Strategic Studies Institute, the answer seems to lie in the "Army-led military-to-military activities" which may provide stability in politically volatile regions "if only because most military forces around the globe are army-centric."
Others beg to differ. Generals James Amos and Raymond Odierno and Admiral William McRaven seem to second Admiral Winnefeld's claim when they argue that today "the need to conduct large-scale aid and consequence management missions, both within the United States and internationally, is certain to grow." General James Amos, the Marine Corps Commandant, also recently echoes this view when he advocates a lighter but mobile Marine Corps because he believes tomorrow's conflicts will likely involve "violent extremism, battles for influence, disruptive societal transitions, natural disaster, extremist messages and manipulative politics."
However, if the United States Armed Forces is truly concerned about raising a cost-efficient and versatile ground force, it can merge the Army, the SOCOM and the Marine Corps into one unified service branch. This idea is not new. As far back as 1994, the late Colonel David Hackworth advocated the merger of the Army and the Marine Corps because their missions seemed to overlap. He went so far as to claim that the Department of Defense (DoD) could save "around $20 billion a year." Nevertheless, absent in Hackworth's column was a coherent blueprint for how the DoD could effectively unify its ground components into a cohesive service because Hackworth did not flesh out his strategic vision for what 21st Century wars may look like.
Which raises a very salient question as to what America's strategic priorities should be. In a perceptive op-ed, Mark Fitzgerald, David Deptula and Gian P. Gentile aver that the United States must choose to go to "war as a last resort and not a policy option of first choice." To this must be added another imperative. The United States Armed Forces must prioritize homeland defense as its primary mission and rethink the mistaken belief that the United States can somehow secure its interests through "lengthy military occupations of foreign lands."
Thus, this newly merged service must redirect its focus towards countering cyber warfare and CBRNe (Chemical, Biological, Radiation, Nuclear and explosives) attacks and should work towards bolstering its counterterrorism (CT) capabilities. This is because, due to the convergence of the global community, the United States may be vulnerable to attacks from within by homegrown terrorists and drug cartels—all of which may wreak havoc and may even cripple America's domestic infrastructures.
Reorientation of its mission focus may also require that the new service reconfigure its size. After all, as Chairman of the Joint Chiefs of Staff, General Martin Dempsey wrote in Foreign Affairs, "Washington should remember that the size of the armed forces is not the most telling metric of their strength." One solution is to adopt the so-called "Macgregor Transformation Model (MTM)" centered around the combat group concept which may reduce the strength of the new service "yet in the end produce a force that has greater combat capability…[and] more sustainable." This model may provide the United States with a deployable fire brigade in the event of a national emergency or an international crisis. Already, the bases from which to adopt this viable model exist in the form of Army brigade combat teams (BCTs) and Marine Air-Ground Task Forces (MAGTFs) of various sizes.
Should the United States decide that it needs to project its hard power abroad to guard its interests, it could deploy the Special Operations Forces (SOF) components of the new service in tandem with UAV (Unmanned Aerial Vehicles) to selectively target and neutralize potential threats. While the SOF and UAV surgical raids should not be viewed as substitutes for deft diplomacy, they can provide cheaper and selective power projection capabilities. Moreover, doing so could minimize the risks inherent in power projection and anti-access/area denial (A2/AD) missions which may potentially mire the United States in messy and protracted conflicts.
Last but not least, this new service could buttress interoperability and capabilities of allied forces around the globe through military-to-military exchanges. Although Deni was referring specifically to the Army-led initiatives when he suggested this, he may be correct that military-to-military engagements may help to promote America's image abroad as a trusted guarantor of peace. But even more important, such activities may "mean fewer American boots on the ground." However, implementing what the retired Marine General James Mattis refers to as the "proxy strategy" may be a better means by which the United States could "lead from behind." Under this arrangement, while "America's general visibility would decline," its allies and proxies would police the trouble spots on its behalf.
Contrary to what many in the defense establishment believe, the austerity measures wrought by the sequestration have not been entirely negative. If anything, this perceived "crisis" has provided the much-needed impetus for innovative approaches to national defense. The proposed merger of the ground forces may provide the United States with most cost-effective and versatile service branch to defend the homeland and safeguard its interests abroad.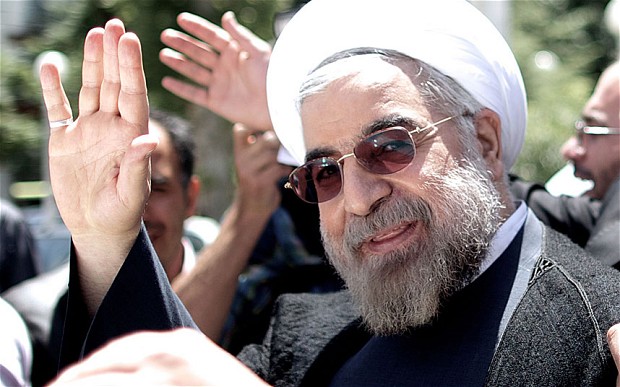 In the wake of Hassan Rowhani's landslide victory as Iran's new president, some foreign policy mavens now believe that Rowhani's presidency may augur a positive shift in Iran's hitherto hostile policy towards the West. However, despite a glimmer of hope that Rowhani's election may translate into moderate policies towards the West, others have "adopted a cautious 'wait-and-see' posture," citing Rowhani's past affiliation with the Ayatollah.
For East Asian experts, Rowhani's election warrants attention because it remains to be seen whether Iran will retain its current alliance with Kim Jŏng-ŭn even if it chooses to reconcile with the West. After all, some have alleged that Iran has played a major role in the DPRK's successful testing of its Ŭnha-3 rocket last December. More importantly, Rowhani's future stance towards the West deserves attention because it may determine whether or not the United States must revise its strategy to adapt to new geostrategic realities. Indeed, it can be argued that the aforementioned factors are not mutually exclusive but intricately intertwined.

"In the information age we substitute mass for speed, a high degree of simultaneity for sequential action," he said. "And access is highly valued: access to information, access to ideas, access to the domains of conflict. The Streetfighter concepts are meant to secure access and achieve high speed. That is, to be able to alter initial conditions, develop very high rates of change, stop things before they start…that's what the military is paid to do." – VADM Cebrowski (13 Mar 200)
Asymmetric forces and anti-access/area denial have been getting an increasing share of press of late – and for good cause. In the past year or so the poster child for the latest thing in A2/AD, the DF-21D has netted a good portion of that press, a pretty impressive feat for something that by all accounts is somewhere between the final stages of development and IOC. Still, when racking/stacking threats in the present and near future, the reality of the present threats to our naval forces is that the burden falls on cruise missiles, which have seen operational use in a variety of theaters and conditions. Cruise missile capabilities have advanced on par with their supporting technologies — engines, materials, navigation, seekers, etc. From relatively large, slow and medium-altitude threats they have progressed to smaller, faster, longer-range weapons with complex seekers, sophisticated navigation systems and challenging profiles from launch to terminal stages. Concurrent with the improvement in technology has come proliferation across a large number of delivery platforms operating from the shore and above, under and on the surface. In-line with this development, some delivery platforms have emerged, evolved or morphed into optimal platforms for delivering cruise missiles. Among these are the Type 22 Houbei fast attack craft being fielded by the PLAN.
In a separate fora, I received the following brief, which turns out to be a pretty comprehensive look — all from sources on both sides of the Bamboo Curtain of what is rapidly becoming yet another A2/AD challenge for naval planners and commanders in the region. It's author, George Root (a former Midway-sailor) passes:
"The PLAN's emphasis on building a very large number of Type 22 Houbei Fast Attack Craft needs more emphasis in Navy and allied thinking. According to in country open sources, by February of last year, the PLAN had fielded over 80 of these vessels and the number is growing. As illustrated in the attached Type 22 focused presentation, just four of these C-803 missile shooters could provide double shooter coverage over the entire Taiwan Strait from the relative tactical safety of the Chinese coastal islands.
In my view, the fact that today, the PLAN could field over 640 mobile 100+nm missiles (80 vessels x 8 C-803s each) in the Chinese mainland littorals should give those interested in China's growing anti-access capabilities some serious cause for concern."
PLAN's Type 22 Houbei FAC _July11_R1
"Streetfighter is alive, and well, and is an inevitability" – VADM Cebrowski
Indeed — but not where originally intended it seems… Your thoughts?
crossposted at steeljawscribe.com