Archive for the 'Accident' Tag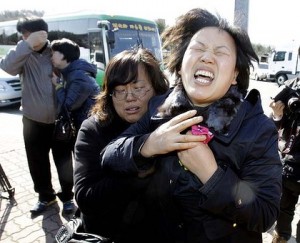 It seems the South Korean patrol ship Cheonan split into two pieces. After the explosion, the stern sank immediately, while the other half took three hours to go down, floating about four miles before sinking. The stern has yet to be found.
That news in itself might suggest damage akin to a mine or torpedo, but some family members say the vessel was in poor condition:
Some families vented anger at the military, accusing authorities of a cover-up and saying survivors told them the Cheonan was leaky and in need of repair. They jumped on a car carrying the rescued captain of the Cheonan.
Details are sketchy, but it seems U.S. assets may be on the way to the incident site. According to the JoongAng Daily, a vessel that appears to be the USNS Salvor (T-ARS 52) will soon arrive to help:
Defense Ministry spokesman Won Tae-jae said that the United States 3,000-ton salvation ship Salvo is scheduled to arrive this morning at the area of the sinking to support the search and rescue missions. Specially trained U.S. military divers will join the operations.
US sources say the Salvor is standing by:
U.S. Navy vessels including the USNS Salvor rescue and salvage ship are standing by to help in the event South Korea requests assistance, said Lt. Anthony Falvo, a spokesman for the U.S. Seventh Fleet, based in Japan. The American ships were wrapping up a joint training exercise nearby with South Korea.

"Should our forces be requested to provide assistance, that would be one of our main units," Falvo said in a telephone interview.
It will be interesting to see how the investigation plays out. And as to North Korea's response to the presence of a U.S. naval vessel near the contested sea border? Their response is anyone's guess.
Korea's "Remember the Maine" moment may still arrive.
Not many details yet, but the Navy is now confirming that two F/A-18E collided last night:
One pilot ejected after the 10 p.m. incident and was recovered by a search-and-rescue team near the crash scene about 100 miles east of Fallon in the Mount Callaghan area, according to Fallon Naval Air Station spokesman Zip Upham.

The pilot was treated and released from a Fallon hospital.

The other aircraft safely returned to Fallon NAS.

Both aircraft are assigned to Strike Fighter Squadron One Three Seven (VFA 137) based in Californiat at Lemoore Naval Air Station.

The cause of the collision remains under investigation.