Archive for the 'Add new tag' Tag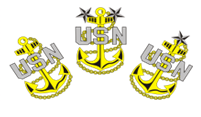 Today is the 116th Birthday of the U.S. Navy Chief Petty Officer. Established 1 April 1893 by U.S. Navy Regulation Circular No. 1, dated 13 March 1893, the rank of Chief Petty Officer holds a special place among military ranks. The Chief Petty Officer Creed very effectively tells the story of what it means to be a Chief, and much of it can be summed up with these words from The Creed: "… only in the United States Navy does E-7 carry unique responsibilities no other armed force throughout the world carries, nor which grants privileges to it's enlisted personnel comparable to the privileges and responsibilities you are now bound to observe and are expected to fulfill."
A very brief history of the Chief Petty Officer, marking the 100th birthday, is available here.
So, just as we honor our Marine brothers and sisters with a hearty Happy Birthday each November 10th, it is appropriate, and a much-appreciated gesture, to wish every Chief, Senior Chief, and Master Chief a Happy Birthday on April 1st. This is one of the many days in our Navy's history that should not – but too often does – pass without acknowledgment.
Happy Birthday to every Chief Petty Officer past and present.
Happy New Year to the USNI Blogosphere!
Here's an International holiday update for all of our Across the Water readers …
From Brazil: New Defense Strategy Announced : On 23 December 2008 Brazil and France signed a $12 billion arms deal that included Brazil's purchase of fifty EC-725 transport helicopters, four Franco-Spanish designed Scorpène-class submarines and additional French assistance with the non-nuclear portions of a long planned Brazilian nuclear attack submarine. Just a few days before the deal with France was announced, Brazilian President Luiz Inacio Lula da Silva unveiled the requirement for a new National Defense Strategy. 
From Russia: Warships Conclude Cuba Visit : The Russian Udaloy-II-class destroyer Admiral Chabanenko, along with the Boris Chilikin-class replenishment oiler Ivan Bubnov and Silva-class tug SB-406 departed Cuban waters on 23 December following the first such Russian visit there since the collapse of the Soviet Union. The three ships formed part of a larger Russian naval tour in the Caribbean that also included warship visits to Venezuela, Panama and Nicaragua.
And this edition's international navies photos is …
An Iraqi coastal patrol boat patroling Persian Gulf waters as the Republic of Singapore Tank Landing Ship RSS Resolution (LST 208) can be seen underway in the background. Photo credit: U.S. Navy.
Till next time and Happy New Year!