Archive for the 'Aircraft Carrier' Tag
The ongoing discussion of the meaning of "distributed Lethality" and methods of achieving it at sea is a welcome return to a more forward leaning posture. By its nature, it assumes a more aggressive navy – as all successful navies have been. There is another side to this posture, something that is always there but becomes more apparent with a stronger light thrown on the subject. As the cliche goes, the enemy gets a vote. The enemy gets to shoot back.
There are certain timeless fundamentals of the naval service that historically applied to the US Navy in its operations; offensive punch, forward through the fight, and an acceptance that we will lose ships and Sailors, yet complete our mission in spite of it.
Besides the small isolated incident or skirmish, the realities of war at sea have not been known in the present generations' living memory – only on the edge of rapidly evaporating national memory is it there. As such, do we really have an understanding of what it means to put your ships, your capital ships, in harm's way? That is what "forward deployed" means. That is what "From the Sea" implies. That is what "presence" requires. Have we become too comfortable, complacent, and entitled in our maritime dominance to think that Neptune's Copybook Headings no longer apply?
In all the wargames we go through, in our discussions about the next conflict at sea with a peer or near-peer challenger – have we fully hoisted onboard what this means?
What does it mean to lose a capital ship? First, we must define a capital ship. In WWII, the capital ship was the battleship and the large-deck aircraft carrier. The German battleship BISMARCK, the British battlecruiser HMS HOOD, the American heavy cruiser USS HOUSTON (CA 30), and the aircraft carrier USS FRANKLIN (CV 13) all met that war's rough definition of a capital ship. Three of the above were lost in combat, and the 4th, the FRANKLIN, just survived sinking from same.
War at sea is brutal, often fast, and the destruction of men and material shockingly extensive. It does not matter if it was 31 BC, 1942 AD or 2020 AD, this will be the same. As it was, as it is, as it will be.
What is a capital ship today? For the sake of argument, let me pick two that most of you would agree is if not a capital ship, then at least a High Value Unit. First, the USS RONALD REAGAN (CVN 76) and the USS BATAAN (LHD 5). For planning purposes, let's assume that the REAGAN's ship company and attached airwing composes 5,680 souls. The BATAAN, fully loaded with Marines, 3,002.
Let's look at the average loss rates from our selection of WWII capital ships. Not the worst, just the average. What would that mean today? What loss of life in one day? A loss that cannot stop operations or shock anyone – indeed must be planned for as we know it will happen at one point?
Well, here is the graph that tells the butcher's bill.

One could argue that the most difficult part of the loss of a CVN or LHD with a full wartime complement on par with other capital ships lost at sea would not be the operational or tactical implications, but the political implications. Do we have the PAO, INFO OPS, and even PSYOPS pre-planned responses well rehearsed and, yes, focus grouped to deal with such an immediate loss? If not, we are at national strategic risk poking our nose anywhere.
Look at the LHD numbers; 2,183 dead in one day. That is just a little more than all the losses of the USA and UK in Iraq during the three years bounded by 2006, 2007, & 2008 – combined.
The loss of a carrier? That would be roughly the same as all the USA and UK losses in Iraq in 2004, 2005, 2006, 2007, 2008, & 2009 – combined.
In almost any scenario such a loss would take place, there would be no time to pause, consider, or debate. You have to fight on – indeed, you need to assume such losses and plan around it.
Are we prepared for this as a Navy? Has the Navy properly prepared our political bosses? Are they prepared to respond to the citizens' reaction?
We should all hope so, as history tells us that is not a matter of if, but when.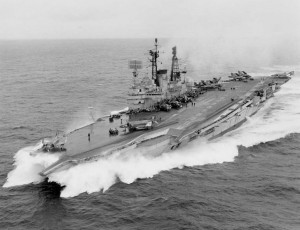 With the Big E coming home for good, the NIMITZ acting a bit old and busted, there has been a lot of discussion as of late about the ability of the US Navy to do what she has become accustomed to doing; projecting power globally from the sea with almost impunity – and the large-deck carrier being the tool primarily used to do so.
Through gross program mismanagement, myopic POM-centric rice bowl games, and simple parochialism – much of the nuance, depth, and flexibility of what was on those decks are gone as well, most notably the loss of the S-3, ES-3, organic tanking (fighters tanking don't count, silly goose), and independent long range strike – gone and replaced with a deck of jack-of-all-trades-master-of-none RW and light fighters with AEW thrown in for character.
Add to that the ongoing "to the right" extended deployment of our Amphib "small deck" carriers (yes, I know, I know, I know) and their ARGs, funkyesque methods of Fleet number counting, and the expected contraction in shipbuilding budgets that all but this ordered to say otherwise accept will be the new norm – then more and more smart people are trying to step back and get the larger view.
What exactly are the larger Strategic implications of the clear decline in the US Navy's global reach?
As is often the case, to help break the intellectual gridlock, it is helpful to bring in outside views. Over at the UK blog Thin Pinstiped Line, Sir Huphrey speaks with big medicine. The whole post is worth a read – but everyone should ponder the below a bit.
The reality is that the USN now is probably in the same place as the RN found itself in the mid-1960s – mid 1970s. Reduced budgets, elderly vessels still in service, while the new designs (T42s, 22s) were taking longer than planned to come into service, and yet operationally committed across the globe.

The ability of the USN to operate with impunity across the globe, steaming where it wanted on its terms, and able to stand its ground against almost any aggressor has gone forever. Todays' USN remains a fiercely capable and strong navy, but its ability to exert unlimited and unchallenged control of the high seas has gone, probably forever. Instead it would be more realistic to judge that the future USN will provide a capability to deploy power into some areas, but only at the cost of reducing capability and influence in others.
In a classic, "over to you" moment as the Royal Navy slowly retreated West of Suez after the late 1950's unpleasantness, and with the final moment by Prime Minister Wilson in the annus horribilis that was 1968 – the world approaching mid-21st Century is stuck with a quandary.
The British at least were handing things off, indirectly, to her daughter; a relatively smooth transition to a nation that was cut from the same cloth and whose interests were more often than not those interests of Britain.
If, as Sir Humphrey states, we face a future where the global capability of the US will decline in proportion to her navy – then who will be there to fill the gap? Multiple smaller regional powers? A rising power? Status quo, but thinner? Nothing?
None of those three are in the interests of the US.
Willfully abandoning territory – enough of the "global commons" PR stunts, please – to the whims of whatever power has the will to take it, is a classic description of a nation in decline. In our case, that would be a willful decline – but almost all declines are willful.
Is everyone on board with that? It is a choice.
Hat tip BJ.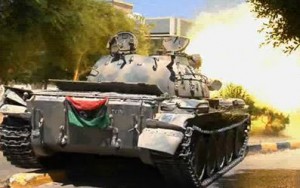 At this moment of flux, it is really pointless to try to make anything about the tactical level in Libya. The Battle of Tripoli will work itself out, as will the conflict over time. We can pick it apart then in reasoned hindsight. There are other things a few levels out at the POL/MIL level that are a lot clearer and worth discussing. The Top-4 that come to mind:
1. R2P theory vs. facts: Something that came out at the beginning; "Responsibility to Protect" known by the shorter, R2P. The concept has been embraced by decision makers such as US Ambassador to the UN Susan Rice. A form of "Humanitarian Imperialism" – it is something that over the last few months we have heard less of. The reasons are clear; Libya still isn't worth the bones of a Pomeranian Grenadier, and both sides are responsible for the deaths of untold numbers of civilians. So much was heard early that we were there to "protect civilians," but time has shown that some civilians are more important than others. There is no appetite anywhere for Western boots on the ground to execute "R2P" in Libya's cities. As long as African migrants are kept in Africa and the oil flows – NATO will be more than willing to move from R2P to NMP – Not My Problem. Few really believed that was the reason for intervention anyway – at least the serious.
2. Gendarmerie Military: Our NATO allies simply cannot execute significant kinetic operations without American assistance from a material perspective. When sustainable logistics and baseline C4ISR are defined as "unique capabilities" – then the facts of NATO non-USA military capacity should be very clear. Beyond the short-tour mentality of many – in the expected budgetary challenges as the Western welfare state collapses in front of our eyes, their capabilities will only diminish more with time.
3. Got Carrier? As was covered well in last month's Proceedings by Dr. Norman Friedman, the essential effectiveness and efficiency of the CV/S/N once again has been proven. Land based air has its place – but any distance makes the ability to provide persistent effects from the air over the battlespace prohibitively expensive compared to a carrier off shore. We'll talk about that more this Sunday on Midrats with Dr. Friedman, tune in.
4. Semper Realpolitic: Along the Mediterranean coastline, there are two Muslim nation that have been run by autocratic families for decades. Over those decades, these nations supported terrorists soaked with the blood of thousands, including Americans. Within the last decade – motivated after the US-led invasion of Iraq – one of those nations decided to get rid of its entire inventory and development programs of weapons of mass destruction. It decided to help with migration problems, and generally tried to move from menace to moderate.
The other took the a different path. It fed and actively supported foreign fighters in to Iraq, directly responsible for the death and maiming of thousands of American men and women. It expanded its WMD programs including an aggressive nuclear weapons programs.
In 2011, they both experienced popular uprisings and killed their own citizens while trying to put down these uprisings. One of these nations though was not a highway for African migrants and it did not have oil. One nation was attacked, the other not. Lesson to despots everywhere: trying to work with the West and playing nice will do you no good if you have oil or have a migrant highway through your land. It is better to be closed, brutal, and contemptible of the West regardless of what you have. Just look at the West's actions towards Libya vs. Syria – and the lesson is clear.
Whatever happens in Libya will happen. No one outside a few fringe-types will light a candle for the Gadaffi family of thugs. They have been a blight on the planet for decades. What happens next will be up to the Libyan people. We should all wish them luck and hope that something positive can come out of this. From the West's end, we should call the dethroning of Gadaffi "victory" and leave it at that. Everyone should support that effort. Victor Davis Hanson said it well,
… the only thing worse than a unwise war is losing an unwise war …
We are not there yet – but let us hope soon that we can drift away to let the Libyan people sort it out. Less Powell Doctrine; more George Pollock.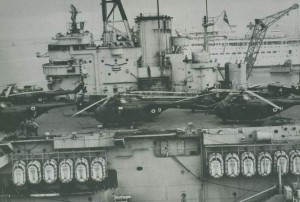 It is a steady, unending – yet poetic chant.
Analysts say the French military is in crisis, strained by restructuring and budget cuts, and tested by three simultaneous conflicts abroad.

Not since the early 1990s, with Bosnia and Rwanda, has the French military been so stretched. "France no longer has the military means to match its political ambitions," ran a front-page headline in newspaper Le Monde. And recently, a French admiral was admonished for saying the country's only aircraft carrier could be nonoperational for all of 2012 if it did not return from the Libyan coast for maintenance.

That's an exaggeration, says Jean-Pierre Maulny, of the Paris-based International Strategic Research Institute. But Maulny says it will be hard to keep this momentum up for the long or even the medium term.

"It's true that the Charles de Gaulle needs routine maintenance, and while we have enough pilots to continue flying sorties over Libya, we cannot for the moment train new ones," Maulny says. "The intervention in Libya is led by the Europeans, and countries will start dropping out and public support eroding if we do not find a political solution soon."
Stalemate and political crisis. Never a good combo for European military adventures. Didn't I mention a "whiff of the Suez Crisis" five months ago? Nevermind.
There were two things that surprised me early on in this whateverwearecallingit; 1-we would hit ground targets early and often – eliminating a need to even worry about the Libyan Air Force after a few days; 2-that the French would go in at such a heavy level. I think we can thank SECDEF Gates for making sure this went strong early – and the French for showing leadership.
BZ to the French, but the French Admiral in question, Admiral Pierre-François Forissier, is exactly right. The Spanish carrier is enjoying tapas somewhere, the British no longer have that capability, and after a strong start the Italians have left for coffee. The American aircraft carriers are off doing other things.
That leaves one French carrier to do the heavy lifting. As anyone who has been on a carrier knows – you need to come in after awhile. No one is there to take her place with a French flag.
A good reminder to all as we look to cut – one carrier isn't really one carrier. For any kind of sustained operation – it is but a fraction of a carrier presence. If a nation needs a sustained presence, especially any one that has a respectable operational tempo, you need a bench.
The French have done well, no one should think anything of Big Charles leaving station when she does. As for the Libyan muddle itself, I'll let Admiral Mullen, repeating what he has said since April, speak for me,
"We are, generally, in a stalemate," Joint Chiefs of Staff Chairman Mullen told a press briefing in Washington billed as his last before retirement.
As the Europeans one-by-one fall off and the Gadaffi family holds on through SEP – then what does that stalemate become? Where does "luck" go in one of our Lines of Operation?
Rhyme. Always rhymes.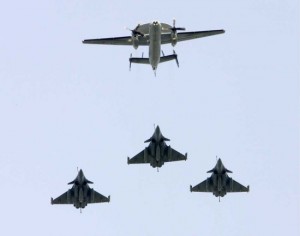 As things have picked up as of late WRT the No-Fly Zone over Libya (NFZ-L) – I think it is time to update the post from 17 days ago.
We have a "go" – in a fashion – for a NFZ-L. CONOPS, COA, ROE, etc; the most important things we really don't know what we will have. What we do know at the moment is what nations are already throwing their hat in.
CAN: 6 CF-18.
GBR: Unknown number of Tornado and Typhoon fighters. Possible E-3D and tanker support, perhaps others. Frigates HMS CUMBERLAND and HMS WESTMINSTER.
FRA: Bases in southern France & Corsica. CVN FS CHARLES DE GAULLE with 35 aircraft perhaps.
USA: We can bring the the multitude or European based aircraft to bear; if we want to. We have the KEARSARGE ESG in the area. The Big E and her CSG are within reach in a few days; if we want it to. BATAAN ESG will deploy early and can lean in; if we want it to.
ESP: Access to airbases and unspecified aircraft and navy ships.
ITA: Accesses to airbases and support "without reserve" – whatever that means.
BEL: 6 F-16.
QAT: Unspecified support – the only Arab nation so far that I can see coming out post NFZ-L approval.
DEU, I guess, decided they had enough of the Libyan desert a few decades ago – and our other allies I presume were out of OPTAR or some other excuse. As for the rest of NATO – well, this sounds about par.
Before Friday's meeting, NATO allies were still divided on whether to impose a no-fly zone. While the United States, Britain and France strongly backed the idea, Germany remained cautious and Turkey expressed opposition.

A diplomat said that NATO nations reached consensus on Friday on the imposition of a no-fly zone over Libya, but failed to fix details about how partners will take part in.

NATO ambassadors are expected to meet over the weekend, the diplomat added.

Meanwhile, some NATO nations have expressed their willingness to participate in the deployment of a no-fly zone over Libya.
We shouldn't expect more from them. Those who could, have. The rest will take a couple of months to figure out how they can do enough to get their flag outside the headquarters – but not enough to take any blame if things should go wrong.
We also know that there is hard math at work here. Physics and engineering cannot be successfully fudged for long. Almost all the viable non-USN particiapation is shore based. Distance is not your friend, especially with the short legs of many of the fighters being offered. Tanker support will be a huge requirement in money and material if you want a serious NFZ-L – as will heavy AEW. If you want, as some have mentioned, a "No-Drive Zone Libya" (NDZ-L), then you are asking for dramatic increase in the Combined Joint Statement of Requirements (CJSOR) – and will need boots on the ground to do it right.
The role and participation by the USA is still behind closed doors, but unless something unusual happens, we know how this will happen in broad terms;
Michael O'Hanlon, a defense expert at the Brookings Institution, said the United States "frankly might wind up playing the biggest role" because Britain and France may be unable to get sufficient aircraft to Libya quickly enough.

"A key part of the role the U.S. is going to play here is going to be like one of President Obama's previous jobs: community organizer," said Brian Katulis, a Middle East expert at the Center for American Progress.
Frank knows time-distance it seems; Brian is a cheeky monkey.
With the atrophied military capability and shaky will of the European nations – not to mention their budget "issues" – any type of significant military action in the Maghreb will require the USA to do the heavy lifting. We are the indispensable nation – and when it comes to any sustained action from the sea, the USN is the indispensable Navy.
If you have to project any type of power ashore with ranges such as here (see post from 01MAR) – the CVN is the indispensable ship. As we have waited to the 11th hour to do anything, I still stand by my statements from 17 days ago; without more than 1 CVN you will not have an effective NFZ-L. We don't have that yet, and may never.
So, if that is where we stand; are we just relying on hope and best case scenarios? Is the NFZ-L just for show and a half-hearted effort? Are we ready for the time and effort for a sustained NFZ-L? Are our allies? Are we going to just let the Europeans fail as they did in AFG from '06-'08 and then try to fix it later?
Finally there is this questions that many seem to want to avoid. We set up a NFZ-L and Gadaffi still wins in the face of it; what is our Branch Plan, or Sequel? What are the second and third order effects of an ineffective NFZ-L that results in a Gadaffi win?
Well – hopefully we won't have to figure that out. Smart professionals are working that – but before everyone starts moving their little-bits around the map – listen to SECDEF Gates one more time.
Another dark room – let's all step in together.
UPDATE: NOR and DNK are in … as tanks start to enter Benghazi. Tic, toc; tic, toc.
UPDATE II: Pictures are important and tell the story of the costs of delay. A couple of weeks ago, Gadaffi only had the area around Tripoli and a scattered town or two. The facts on the ground have changes significantly. Quite the challenge (click for larger).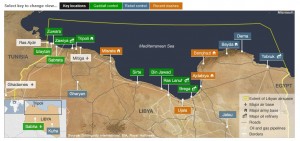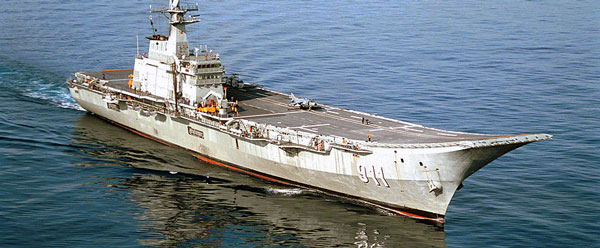 In late October and early November, Thailand's southern provinces were hit by major flooding. The flooding, triggered by a tropical depression, affected around 100,000 people by one account, with waters up to three meter high.
In response, the Thai government sent the Royal Thai Navy vessel that is an oddball of world navies. While most coastal nations maintain naval forces, only handful operate aircraft carriers (Brazil, France, India, Italy, Russia, Spain, Thailand, UK, US). The vessel, HTMS Chakri Naruebet, is the flagship of the Royal Thai Navy and is the smallest aircraft carrier in operation. Since being built by Spain in the mid-90s, the carrier has been most famous for rarely leaving port (one source claims the ship only has funding to lease port one day a month). However, it does deploy sometimes. Since coming into service the ship has taken part in four disaster relief missions. This makes disaster relief a (if not the most) common mission for the ship.
However, you'd be wrong to compare the HTMS Chakri Naruebet's disaster relief mission with those of the United States Navy. Based on an article in the Pattaya Daily News, the aircraft carrier contribution to the relief effort was limited to single truck load of supplies (mostly bottled water, according to the photos in the article) and a few helicopter flights over the disaster area. Far from being the nations knight in grey armor, the carrier's mission seems to be mostly disaster relief theater on the part of the Thai leadership. This is not the first time Thai military has been used to provide token disaster relief, in mid-october Thai Royal Highness Princess Soamsavali ordered two Amphibious Assault Vehicles to assist flood victims in Thai's northeast region. Two! You'd probably be better off hiring some local fishing boats.