Archive for the 'Alfred Thayer Mahan' Tag
Benjamin "BJ" Armstrong, editor of our just-published 21st Century Mahan, is the 2013 recipient of the Navy League's Alfred Thayer Mahan Award for Literary Achievement, a highly prestigious award for an officer at the rank of Lieutenant Commander.
The Alfred Thayer Mahan Award is named for the famous naval theorist who, through his writing, provided vital stimulus and guidance to those who share in the defense of the nation. Presented since 1957, this award for literary achievement is awarded to a Navy officer, Marine Corps officer, enlisted service member, or civilian who has made a notable literary contribution that has advanced the knowledge of the importance of sea power in the United States. BJ follows in the footsteps of many notable Naval Institute authors…including ADM James G. Stavridis, USN, CAPT Henry (Jerry) H. Hendrix, USN, CAPT Edward L. Beach Jr., USN, VADM William P. Mack, USN, LtGen Victor Krulak, USMC, Dr. Jack Sweetman, LCDR Thomas J. Cutler, USN, Dr. John T. Mason Jr., Paul Stillwell, Col Joseph H. Alexander, USMC (Ret.), BGen Edwin H. Simmons, USMC (Ret.), Col John G. Miller, USMC (Ret.), and ADM James L. Holloway III, USN to name just a few.
LCDR "BJ" Armstrong is a Mahan enthusiast, for whom the award is named, and has published numerous posts about him in The Proceedings, Naval History Magazine, and on the USNI blog. He is also a recipient of the Naval HIstory and Heritage Command's Samuel Eliot Morison Supplemental Scholarship, named after Rear Adm. Samuel Eliot Morison, USNR, an eminent naval and maritime historian and winner of the Pulitzer Prize.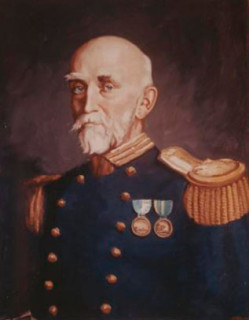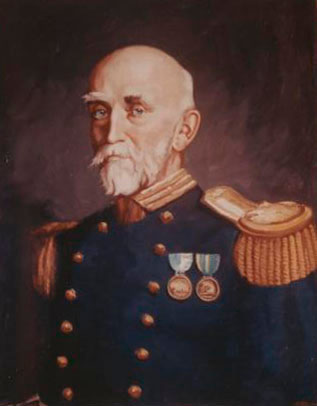 The new Naval Institute Press book "21st Century Mahan: Sound Military Conclusions for the Modern Era" was released over the weekend. It is available at our bookstore, as well as Amazon and Barnes & Noble. Ebook editions will soon be available. But why should readers care "What would Alfred Thayer Mahan Do?" Over the last century a few folks have made some suggestions.
"Captain Mahan has done more than write a new book upon naval history. He has even done more than write the best book that has ever been written upon naval history, though he has done that likewise; for he has written a book which, to use a somewhat objectionable phrase, may be regarded as founding a new school of naval historical writing. … His books are not only remarkable because of the philosophic standpoint from which they are written, because of his grasp of the subject and familiarity with all the facts bearing upon it, great and small; but they are remarkable also for the beauty of their style and the skill with which he has subordinated the lesser to the main points of interest." – Theodore Roosevelt.

"There is no doubt that Mahan laid the foundation for a theoretical understanding of navies as well as contributed to the rise of the U.S. Navy to great power status." – John Hattendorf

"After his death in 1914 he gained renewed stature as the high priest of American navalism, whose strategic writings were its holy writ." – Russell Weigley

"No other single person has so directly and profoundly influenced the theory of sea power and naval strategy as Alfred Thayer Mahan." – Margaret Sprout

"It remains to be seen whether readers exist with the mind and will to accept [Mahan's] guidance on what necessarily is an arduous intellectual and moral voyage into the realms of war and politics." – Jon Sumida

"He asked his Navy and his nation some very difficult and pertinent questions, questions still relevant, questions each generation must ask and answer anew: What exactly is the nature of America's 'national interests'? How shall the U.S. Navy best be used as an 'instrument of national policy'? What is the proper relationship between a nation's sea power and its diplomatic objectives? What are the 'moral' dimensions of the employment of military force? How shall the U.S. ships and fleets be best armed, supplied, and deployed? How much navy is enough navy?" – Robert Seager II
As an introduction to Alfred Thayer Mahan, before you start reading "21st Century Mahan: Sound Military Conclusions for the Modern Era", here at USNI Blog we offer the obituary and "In Memoriam" article published in Proceedings in January, 1915.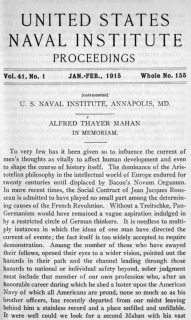 To very few has it been given so to influence the current of men's thoughts as vitally to affect human development and even to shape the course of history itself. The dominance of the Aristotelian philosophy in the intellectual world of Europe endured for twenty centuries until .displaced by Bacon's Novum Organum. In more recent times, the Social Contract of Jean Jacques Rousseau is admitted to have played no small part among the determining causes of the French Revolution. Without a Treitschke, Pan-Germanism would have remained a vague aspiration indulged in by a restricted circle of German thinkers. It is needless to multiply instances in which the ideas of one man have directed the current of events; the fact itself is too widely accepted to require demonstration. Among the number of those who have swayed their fellows, opened their eyes to a wider vision, pointed out the hazards in their path and the channel leading through those hazards to national or individual safety beyond, sober judgment must include that member of our own profession who, after an honorable career during which he shed a luster upon the American Navy of which all Americans are proud, none so much so as his brother officers, has recently departed from our midst leaving behind him a stainless record and a place unfilled and unfillable. It were well could we look for a second Mahan with his vast knowledge and accurate logic, but candor forbids us to expect. We are only permitted to hope-and in how many doubts that hope is shrouded-that as time goes on another may arise endowed with like passion for truth, like ability and the like gift of making clear and obvious what all have gazed upon without seeing.
Three natures were combined in this exceptional personality. First of all was the Christian gentleman, devout and earnest, giving daily, practical, outward expression to an inward conviction at once sincere and fundamental. His belief in Christ's mission and in the world to come as revealed in Holy Writ was without shadow or question. Things earthly and material might not be what they seemed. Errare est humanum. Even so well poised a mind as his might be mistaken in its findings, but no possible chance of going astray existed or could exist in complete reliance on the promises of his Lord and Master to all those who truly follow Him. And follow Him Mahan did loyally throughout his years from youth to age. His abiding sense of duty, the keynote of his character, forbade a merely perfunctory compliance with ecclesiastical requirements and forced him to take active part in the management of the religious communities to which, from time to time and in various places, he belonged and to represent them at annual conventions of the Protestant Episcopal Church. For many years he was connected with its Board of Missions and with the Church Institute for Seamen. During a shorter period he was a member of the Church Institute and of the Church Mission for Help. All his charitable interests lay in the church through which alone, to the extent of his means, he sought to aid his fellow men. This devotion to his church was the manifestation of a faith which controlled every thought and every act of his life. All his serious undertakings, all his important letters even, were preceded by an appeal for Divine guidance. It is impossible to understand Mahan unless this mental attitude is recognized in its full power. Those ignorant of this side of his character may read his little book, "The Harvest Within," and in the reading find profit to their own souls.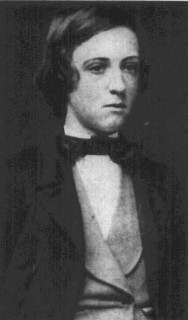 This is the first post in a weekly series about the writing and thinking of Captain Alfred Thayer Mahan, leading up to the release of "21st Century Mahan: Sound Military Conclusions for the Modern Era" by The Naval Institute Press.
This week is Commissioning Week at The U.S. Naval Academy. It's an exciting time of ceremonies, balls, parties, and obelisk climbing. At this year's ceremony the new Ensigns and Second Lieutenants will hear advice from many, including the CNO, SECNAV, Governor of Maryland, and the Commander-in-Chief. Ultimately much of it comes down to the central question: What are the skills, the requirements, the qualifications, of a good naval officer? Or to put it another way: What does it take to earn that "Special Trust and Confidence" from the President of the United States?
It is well known that the passage memorized by Plebes at the Academy entitled "The Qualifications of a Naval Officer" never actually flowed from the pen of Captain John Paul Jones. The story is well documented in an article from Naval History, debunked by a writing team of a Midshipman and an Academy Professor. However, the ideals listed in the passage are worth considering as a benchmark and sometimes we still see them in official Navy documents.
James Holmes and Toshi Yoshihara of the Jamestown Foundation conducted a recent analysis of Chinese naval goals that's worth reading and considering in full. In short, China appears to have a resurgent interest in the work of Mahan, but Beijing is clearly still digesting the details and trying to square Mahan's theories with their developing strategic goals. Here are the key conclusions:
An Asymmetric Yet Mahanian PLAN

Even if China does interpret Mahan in warlike fashion, it need not construct a navy symmetrical to the U.S. Navy to achieve its maritime goals, such as upholding territorial claims around the Chinese nautical periphery, commanding East Asian seas and skies, and safeguarding distant sea lines of communication. Beijing could accept Mahan's general logic of naval strategy while seeking to command vital sea areas with weaponry and methods quite different from anything Mahan foresaw. If the much-discussed anti-ship ballistic missile pans out, for instance, the PLA could hold U.S. Navy carrier strike groups at a distance. Medium-sized Chinese aircraft carriers could operate freely behind that defensive shield, sparing the PLAN the technical and doctrinal headaches associated with constructing big-deck carriers comparable to the U.S. Navy's Nimitz or Ford classes. Beijing would fulfill its Mahanian goal of local sea control at a modest cost—an eminently sensible approach, and one that Mahan would have applauded. Thus, Western observers should avoid projecting their own assumptions onto Chinese strategic thinkers.

Strategic theory, then, gives Westerners an instrument to track China's maritime rise, complementing more traditional techniques of net assessment. If Chinese scholars and seafarers continue ignoring the cooperative strands of Mahanian thought, mistaking his writings for (or misrepresenting them as) bloody-minded advocacy of naval battle, Chinese strategy will incline toward naval competition and conflict. On the other hand, a China whose leadership fully grasps the logic governing Mahanian theory may prove less contentious.
I, like many current thinkers, am unconvinced that the United States and China must out of necessity become strategic adversaries. Indeed, given the ever-expanding economic interdependency between our two nations, an adversarial relationship would likely benefit neither. However, the ambiguity in the relationship and China's strategic goals remain the key problems. And of course, U.S. naval planning and force structure will and must continue to consider the PLAN a potential threat to access until the ambiguity is resolved.