Archive for the 'amphibs' Tag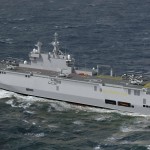 As reported by our friend Sam last week, there is a answer to the quandry about the French sale of the two MISTRAL amphibious assault ships to the Russians. It really is the most logical and face saving option for the French. This time it was brought up by Admiral James G. Stavridis, USN (Ret.),
"France has made a good decision stopping the sale process — it would be absurd for NATO to be providing assistance to Ukraine on the one hand while selling arms to Russia on the other," said retired James G. Stavridis — U.S. Naval Institute's Chair of the Board of Directors — said in a statement to USNI News.

"If the [Russian] arms embargo continues, then the idea of NATO purchasing one or even two as part of a rapid reaction force might make sense… "[But] it is too soon to tell, given discussion today about ceasefires and political settlement."
Let's work through a few assumptions here:
1. NATO could hobble together the funding and agree to the purchase.
2. The French are willing to handle the blowback from the Russian.
3. We have a spark of imagination.
If 1-3 are taken care of, what would NATO do with them? Stavridis is close … but there is a more perfect answer, and it is closer than you would think.
The intellectual and practical structure is already in place. Let's look at the closest enabling supports of a successful structure inside NATO that would need to be in place to make this happen. We have two.
First, can NATO run a tactical and operational unit with personnel from multiple nations working together at a practical level? Sure, they already are. Let's look to the air;
The E-3A Component's three flying squadrons are structured essentially the same, yet each carries its own traditions and character. The squadrons operate the Component's 17 E-3A Airborne Warning and Control System (AWACS) aircraft.

Military personnel from 16 of the 17 E-3A Component participating countries man the Component's squadrons. Most of the personnel are aircrew on the E-3A and a few work full time in support. ….

Crew

In order to operate the complex equipment on an AWACS, the E-3A has a crew of 16 drawn from a variety of branches, trades and nationalities, all of whom are extensively trained in their respective roles.
NATO has been making it happen in the air for a quarter of a century in the air, why not the sea?
Does that structure exist? Well, in a fashion, yes;
Standing NATO Maritime Group 1 and 2

The Standing NATO Maritime Groups are a multinational, integrated maritime force made up of vessels from various allied countries. These vessels are permanently available to NATO to perform different tasks ranging from participating in exercises to actually intervening in operational missions. These groups provide NATO with a continuous maritime capability for NATO Response Force (NRF) operations, non-NRF operations and other activities in peacetime and in periods of crisis and conflict. They also help to establish Alliance presence, demonstrate solidarity, conduct routine diplomatic visits to different countries, support transformation and provide a variety of maritime military capabilities to ongoing missions.

SNMG1 and SNMG2 alternate according to the operational needs of the Alliance, therefore helping to maintain optimal flexibility.

SNMG1
SNMG1 is usually employed in the Eastern Atlantic area, but it can deploy anywhere NATO requires. It is made up of vessels from different member countries. Those that routinely contribute to SNMG1 are Canada, Denmark, Germany, The Netherlands, Norway, Portugal, Spain and the United States. Other countries have occasionally contributed.
…
SNMG 2
SNMG2 is usually employed in the Mediterranean area, but it can deploy anywhere NATO requires. It is made up of vessels from different member countries. Those that routinely contribute to SNMG2 are Germany, Greece, Italy, The Netherlands, Spain, Turkey, the United Kingdom and the United States. Other countries have occasionally contributed.
…
SNMG1 comes under the command of Allied Maritime Component Command Headquarters Northwood, in the United Kingdom, which is one of the three Component Commands of Allied Joint Force Command Brunssum.

Normally, SNMG2 comes under the command of Allied Maritime Component Command (CC-Mar) Naples, which is one of the three Component Commands of Allied Joint Force Command Naples.
There's your structure – something that just needs a little modification and updating. You know what SNMG1 and SMNG2 need? That's right – Flag Ships; standing permanent LCCesque Flag Ships. Two SNMG, two Mistral; a match made if not in heaven, then at least in Brussels.
Think about what the SNMG do, ponder a multi-national crew (even sweeten the deal by promising the French they will always have command of the SNMG2 Flag Ship), and look at what the MISTRAL Class brings to the fight. A bit larger than the old IWO JIMA LPH with a well deck to boot, MISTRAL provides;
The flight deck of each ship is approximately 6,400 square metres (69,000 sq ft). The deck has six helicopter landing spots, one of which is capable of supporting a 33 tonne helicopter. … According to Mistral's first commanding officer, Capitaine de vaisseau Gilles Humeau, the size of the flight and hangar decks would allow the operation of up to thirty helicopters.
…
Mistral-class ships can accommodate up to 450 soldiers, … The 2,650-square-metre (28,500 sq ft) vehicle hangar can carry a 40-strong Leclerc tank battalion, or a 13-strong Leclerc tank company and 46 other vehicles.
…
The 885-square-metre (9,530 sq ft) well deck can accommodate four landing craft. The ships are capable of operating two LCAC hovercraft … a 850-square-metre (9,100 sq ft) command centre which can host up to 150 personnel. … Each ship carries a NATO Role 3 medical facility … The 900 m² hospital provides 20 rooms and 69 hospitalisation beds, of which 7 are fit for intensive care.
A little NATO common funding and we have two NATO LCC and then some. Problem solved. Understanding that it will require a fair bit of turnip squeezing to keep funded at a proper level, but there is a lot of win here – and to be a bit more realpolitic – it may be the only way to peel these away from the Russians.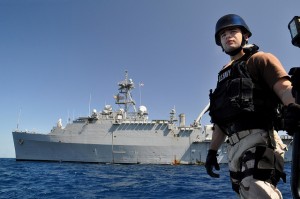 Over the weekend, it was interesting to watch the various outlets report the plans for USS PONCE (LPD-15). The old girl has served her nation well for 41 years and is about to give some more.
I think the best quote to use as a starting point is here;
The Pentagon's new budget proposals, unveiled Thursday, included money to turn a freighter hull into a full-time floating base that could be moved around the world for military operations or humanitarian missions.

But the fiscal year does not begin until October and, to meet a standing request from American military commanders in the Middle East, Pentagon and Navy officials decided to convert the Ponce to serve as a floating base in the meantime.

"This is a longstanding request that, with the opportunity now before us, we are fulfilling," said Capt. John Kirby, the Pentagon spokesman.

… Navy officials acknowledged that they were moving with unusual haste to complete the conversion and send the mothership to the region by early summer.
Longstanding. Yes. The request is:
… the staging base would allow commandos, helicopters, speedboats and even aircraft with a short-takeoff capability to operate in regions where the United States does not have access to installations on land.

While its value as a staging base for combat operations would be a priority, it also could be moved near an area suffering from natural disaster, to provide full logistics for the military to carry out relief missions for a region left without power, food or potable water.
Let that soak in. Read it again. Ponder – hasn't this been a requirement for at least my lifespan? Haven't we had such things before? Yes. Don't we have a lot of platforms easily converted to do such things? Yes. Does it require a big deck to do it? No. Do we have ships already configured as such – yes. Why has it taken so long ……
To simplify things – let's not even look at piracy for now and what the PONCE could bring to that game. In the broader sense, we have been at war with a non-state terrorist group, its affiliates and supporters for over a decade. This is a war that relies to an exceptional extent on Special Operations Forces. This we know.
As a navy at war, what have we "restructured" to support this outside deployment schedules, itty-bits in NECC, NSW, and certain "special" programs? Look back at the infrastructure that supported special operations in Vietnam and the very short turn around time they had from requirement to shadows pierside. This is not new. This is not radical. This does not require a technological breakthrough. Hey – maybe, ahem, that is/was the problem.
An "Afloat Forward Staging Base" or "mothership" is not a new concept. It is not sexy (to the non-professional), it doesn't go real fast, but it does do something – it supports the warfighter and his ability to project power ashore and at sea. It multiplies the effect of smaller, more nimble forces to do their job with endurance and a greater sense of autonomy. MIW – sure. NSW – no problem … etc … but why PONCE now – why late – and why USS now?
Ships matter – ships that have enough "white space" to put in to them what you need, take them where they need to go, and have the endurance to stay long enough to make a difference. Not the too-clever-by-half mission module concept – but the inherent utility of "being there" with room to enable others – and to do so with nuance. The multi-purpose amphib, which the PONCE is – is more than simply an amphib – it has always been so – and will be again.
All the above leads to a simple question: through all the "fat" years in a decade of war with plenty of discussions of the need and utility of a "mothership" to meet the needs of this type of war, we did little. Now that we find ourselves in a shrinking budget, why do we panic like, grab the duct tape, bailing wire, and vice grips and rush out to the pier to coax the old girl to give just some more?
Are we that broken that with all our technology, communications, and armadas of Admirals – we find ourselves with this decision point? Are our priorities so out of whack – our processes so blinkered – our leadership so hidebound – that we find ourselves with this lash-up?
Don't get me wrong – I fully support, encourage, and praise the modification and deployment of PONCE and present/planned follow on AFSB. Many happy returns – but really. This is how we do it?
"This is a longstanding request that, with the opportunity now before us, we are fulfilling … Navy officials acknowledged that they were moving with unusual haste to complete the conversion and send the mothership to the region by early summer.
It's not like there weren't other opportunities to do this to other ships over the last decade.
The interesting story would be – inside the "longstanding" timeline – who held back this decision, why, and what are they doing now? What was holding it back – and what finally broke the seal to let it go forward?
I know, call it an accountability review.
Once we do that – then we can have fun discussion about long range plans for the concept WRT active duty/reserve/CIVMAR/USS/USNS etc. There will be a long range plan right? We wouldn't want to have someone else re-invent this later on will we? We do understand that this is a capability that will be needed for a long time – right? We are planning for the ability to have this "effect" in place longer than one ship's deployment … right?
Well, of course they can. I'm not even sure how that became the question. The real question, which I hope the Navy's study and pilot program will show, is should they and, if they do so, what the long term impact is to the rest of the fleet.
There is an interesting study worth locating written by the Center for Naval Analyses – "Applying Civilian Manning Practice to USN Ships".
Here are some salient points from the Executive Summary:
"No evidence that the smaller crews on MSC ships resulted in degraded performance. In fact, for all metrics examined (replenishment quantities and rates, readiness, injuries, collisions, fires, grounding, and oil spills), MSC civilian crew performance was equal to or better than that of USN military crews."
"MSC Seagoing workforce is older and more experienced. Its members have more time at sea than USN military officers and enlisted personnel with comparable years of service."
"…more focused education and practical training of civilian mariners."
"If the Navy were to decrease its crew turnover by as little as 10 percent on all ships, we estimate that crew sizes could be reduced by about 1.4 percent without affecting readiness."
"We observed that the Navy, unlike the private sector, assigns menial gallery and laundry tasks to technically trained enlisted personnel for as many as 3 to 4 months after their first arrival aboard ship…we estimate that the cost to the Navy of diverting skilled sailors to menial tasks on surface ships is in excess of $30 million annually."
"…such programs as the Optimum Manning Experiment and Smart Ship have helped reduce the number of watchstanders and enlisted billets aboard USN ships, but more can be done to reduce crew sizes and improve the quality of USN ship operation and maintenance overall."
Recommend changes:
Stop assigning insufficiently trained officers t engineering departments aboard ship.
Implement a two-track career path for SWOs (engineering and command/deck).
Shift the USN SWO culture to expect hands on participation of officers in ship engineering departments.
Increase emphasis on lateral entry and workforce pyramid reduction to achieve a more optimal workforce profile.
End the practice of assigning technically trained enlisted personnel to menial tasks aboard ship for laundry and galley duty.
Minimize frequent watchstanding rotations, to allow adequate periods of uninterrupted sleep for watchstanders.
Increase at-sea tours of key personnel, such as Commanding Officer and Chief Engineer, and other careerists with 10 to 20 years' service to gain maximum benefit from their service.
Consider changing ship requirements documentation to require manning suitable to "fight or save the ship" rather than "fight and save the ship".
"Before adopting these changes, the Navy should initiate one or two pilot programs, as described in detail in appendices F and G."
 The overall report is an interesting read, but fraught with unsupported opinions, improperly used facts, and is obviously slanted in its approach and conclusions. None of which are what I want to write about today.
 Now, did I mention that the report was written in 2005?
Yep. FIVE years ago.
So, here is a report, five years old, that Navy paid for, has 170 pages of detailed (if flawed) study of steam, diesel, and gas turbine engineering plants operated by Military Sealift Command. Yet, we are only now looking at implementing a pilot program – and doing so for a class of ship that was not reviewed in the study. Why?
Because someone without practical and relevant experience thinks that a diesel engine is a diesel engine, and convinced CNO of the same idea…and either ignores, or is ignorant of, a study that laid out in detail (40pages!) a pilot program that used FFGs and DDGs to implement MSC crewing and manning practice.
YN2 Gauthier eloquently addresses the cultural impacts and other issues of this move, and any Naval Officer worth his salt will also recognize that simply painting a blue and gold strip on the stacks and crewing a ship with civilians – no matter if they are older or more narrowly trained – will solve the Navy's maintenance and readiness problems. At best they will just move the peanut under another shell.
At its core, the pilot program that Navy leadership has proposed has little to do with readiness, and far more to do with a culture that ignores both operational realities and changed strategic landscape in favor of protecting and nurturing the idea that we will one day face fleet combat. While we may do so, we cannot, and should not, continue divesting ourselves of the capabilities that are used over and over again in peacetime.
As a final note, if there is any one thing that the Balisle Report showed it was the inability of the Surface Navy leadership to do holistic and strategic planning. Perhaps with a five year old study, and almost two years worth of internal review and debate on the operations of the Navy's amphibs we can see a plan that makes sense and actually addresses the root causes of failure, rather than just another attempt at budgetary theater.