Archive for the 'Annapolis' Tag
I, as many alumni, believe that USNA is a national treasure and should continue. BUT – to do so, it must be able to continue to demonstrate USNA is required. It must demonstrate that it is effective in carrying out its primary mission – to "graduate leaders dedicated to a career of naval service."
Recently, in response to a FOIA request, after almost 3 months, USNA has been unable to provide even the definition of "a career of naval service," let alone an evaluation of its mission effectiveness.
Captain Westbrook's article does not, unfortunately, support his premise that USNA is needed. In his response, he fails to provide the proof he says he will. His article does not prove:
That USNA accomplishes its mission;
That USNA produces, in the long term, better officers than NROTC or OCS;
That USNA provides officers who have (using Westbrook's quote of Huntington's 1950 tenets) more expertise, are better able to execute their responsibilities or have more "corporateness."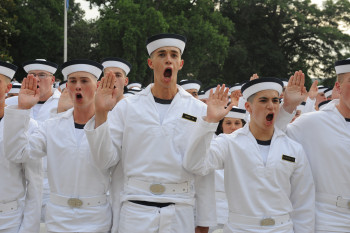 Westbrook's cost analysis is flawed. One must compare the total cost to the Navy to produce a commissioned officer. He rejects that concept, seemingly because it costs the Navy significantly more, as Fleming pointed out, to provide a commissioned officer from USNA than from any other source.
If USNA is cost effective and mission effective – if its officers are better and stay in longer – then the higher total cost to produce a graduate can be accepted. Unfortunately, neither Westbrook nor USNA has provided the data to substantiate that.
One can tell when one's argument is unconvincing. Westbrook resorts to ad hominem attacks – such as inferring Fleming is a "charlatan." That's what one does when one's "facts" don't support his premise.
The measure of whether or not the taxpayers are getting their money's worth is whether or not, compared to other officer accession programs, USNA is graduating leaders who are more dedicated to a career of naval service and are more competent officers throughout their career. Unfortunately, Westbrook's article provides no proof of either.
I think USNA should continue – want it to – but taxpayers need for USNA to demonstrate that the officers produced are worth the additional "fully burdened" cost to operate USNA.
I hope it will – and soon!
As naval aviation was under development, so was another pivotal early 20th century invention, the radio. The Navy was a very early adopter of wireless communication, and the outbreak of World War I necessitated an alternative to the transatlantic telegraph. The massive radio complex at Greenbury Point across the river from the Naval Academy filled this need. The three towers remaining today help us discuss the birth of radio, and the incredibly rapid evolution of wireless communications in the Navy.