Archive for the 'anti-piracy' Tag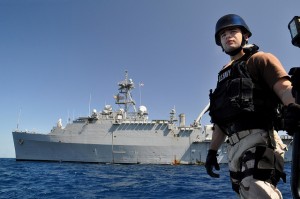 Over the weekend, it was interesting to watch the various outlets report the plans for USS PONCE (LPD-15). The old girl has served her nation well for 41 years and is about to give some more.
I think the best quote to use as a starting point is here;
The Pentagon's new budget proposals, unveiled Thursday, included money to turn a freighter hull into a full-time floating base that could be moved around the world for military operations or humanitarian missions.

But the fiscal year does not begin until October and, to meet a standing request from American military commanders in the Middle East, Pentagon and Navy officials decided to convert the Ponce to serve as a floating base in the meantime.

"This is a longstanding request that, with the opportunity now before us, we are fulfilling," said Capt. John Kirby, the Pentagon spokesman.

… Navy officials acknowledged that they were moving with unusual haste to complete the conversion and send the mothership to the region by early summer.
Longstanding. Yes. The request is:
… the staging base would allow commandos, helicopters, speedboats and even aircraft with a short-takeoff capability to operate in regions where the United States does not have access to installations on land.

While its value as a staging base for combat operations would be a priority, it also could be moved near an area suffering from natural disaster, to provide full logistics for the military to carry out relief missions for a region left without power, food or potable water.
Let that soak in. Read it again. Ponder – hasn't this been a requirement for at least my lifespan? Haven't we had such things before? Yes. Don't we have a lot of platforms easily converted to do such things? Yes. Does it require a big deck to do it? No. Do we have ships already configured as such – yes. Why has it taken so long ……
To simplify things – let's not even look at piracy for now and what the PONCE could bring to that game. In the broader sense, we have been at war with a non-state terrorist group, its affiliates and supporters for over a decade. This is a war that relies to an exceptional extent on Special Operations Forces. This we know.
As a navy at war, what have we "restructured" to support this outside deployment schedules, itty-bits in NECC, NSW, and certain "special" programs? Look back at the infrastructure that supported special operations in Vietnam and the very short turn around time they had from requirement to shadows pierside. This is not new. This is not radical. This does not require a technological breakthrough. Hey – maybe, ahem, that is/was the problem.
An "Afloat Forward Staging Base" or "mothership" is not a new concept. It is not sexy (to the non-professional), it doesn't go real fast, but it does do something – it supports the warfighter and his ability to project power ashore and at sea. It multiplies the effect of smaller, more nimble forces to do their job with endurance and a greater sense of autonomy. MIW – sure. NSW – no problem … etc … but why PONCE now – why late – and why USS now?
Ships matter – ships that have enough "white space" to put in to them what you need, take them where they need to go, and have the endurance to stay long enough to make a difference. Not the too-clever-by-half mission module concept – but the inherent utility of "being there" with room to enable others – and to do so with nuance. The multi-purpose amphib, which the PONCE is – is more than simply an amphib – it has always been so – and will be again.
All the above leads to a simple question: through all the "fat" years in a decade of war with plenty of discussions of the need and utility of a "mothership" to meet the needs of this type of war, we did little. Now that we find ourselves in a shrinking budget, why do we panic like, grab the duct tape, bailing wire, and vice grips and rush out to the pier to coax the old girl to give just some more?
Are we that broken that with all our technology, communications, and armadas of Admirals – we find ourselves with this decision point? Are our priorities so out of whack – our processes so blinkered – our leadership so hidebound – that we find ourselves with this lash-up?
Don't get me wrong – I fully support, encourage, and praise the modification and deployment of PONCE and present/planned follow on AFSB. Many happy returns – but really. This is how we do it?
"This is a longstanding request that, with the opportunity now before us, we are fulfilling … Navy officials acknowledged that they were moving with unusual haste to complete the conversion and send the mothership to the region by early summer.
It's not like there weren't other opportunities to do this to other ships over the last decade.
The interesting story would be – inside the "longstanding" timeline – who held back this decision, why, and what are they doing now? What was holding it back – and what finally broke the seal to let it go forward?
I know, call it an accountability review.
Once we do that – then we can have fun discussion about long range plans for the concept WRT active duty/reserve/CIVMAR/USS/USNS etc. There will be a long range plan right? We wouldn't want to have someone else re-invent this later on will we? We do understand that this is a capability that will be needed for a long time – right? We are planning for the ability to have this "effect" in place longer than one ship's deployment … right?
There is good news on the piracy front as a pirate attack is foiled through the use of a 'Citadel Room'. Here is the story as found on Fairplay Shipping News:
Beluga crew evades pirates

THE GERMAN multipurpose ship Beluga Fortune has resumed its voyage to South Africa after a failed hijacking attempt by Somali pirates.

The pirates boarded the 12,744dwt vessel about 1,200 n-miles off Kenya on 24 October, but were unable to navigate the ship towards the African coast, the ship's owner Beluga said. The engine and bunker feed systems had been shut down by the ship's 16 Filipino, Russian and German crew members, who were hiding in a citadel room.

The attackers fled yesterday when the British frigate Monrose arrived at the scene.

Beluga managing partner Niels Stolberg lauded the crew for its "cool-headed" behaviour and for undertaking professional safety measures.

"We are very proud of our team aboard the ship. It confirms our strategic view that investments into safety are good investments," he said. – Fairplay
As you can imagine, a 'Citadel Room' is a secure hiding place for the crew. This space gives naval forces the time needed to get to the scene of the attack. As the old saying goes, when seconds count, the police are only minutes away. Traditionally naval forces have declined to intervene once pirates have boarded a ship out of concern for harming crew members in any action to retake the vessel. This has been a problem because it was almost impossible for naval forces to respond in time given that it only takes a couple of minutes for pirates to board vessels and help is often at least 30 minutes away. However, when the pirates fail to capture crew members, they are left exposed to attack by the next passing naval force. And in this case all it took was the appearance of a naval vessel, and the inability to navigate the vessel, to convince the pirates to abandon their catch.
Merchant ships have a guide they can use to prepare for transiting pirate-infested waters. It is called the Best Management Practices 3.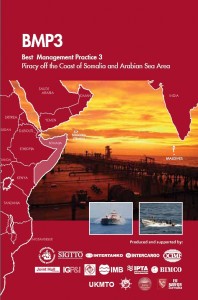 Best Management Practices 3 (BMP3) is now available for the public in booklets and on www.mschoa.org. It represents a real step change; the booklet will significantly encourage wider adoption of self protection measures by ships transiting the High Risk Areas and ultimately help reduce the number of pirated ships off the coast of Somalia.

The purpose of the Industry Best Management Practices (BMP) is to assist ships to avoid, deter or delay piracy attacks off the coast of Somalia, the Gulf of Aden (GoA) and the Arabian Sea. Experience, supported by data collected by Counter Piracy Forces, shows that the application of the recommendations contained within this booklet can and will make a significant difference in preventing a ship becoming a victim of piracy.

BMP has become fully recognized as the standard for guidance and protection for shipping from piracy off the coast of Somalia across the Global Maritime Community. 25,000 copies of the booklet will be published and the intentions of Industry are to make the booklet freely available and ensure wide and effective distribution of this booklet is achieved so that the booklet will become standard documentation on the bridge of all Merchant Ships. Where possible, this booklet should be read with reference to the Maritime Security Centre – Horn of Africa website (www.mschoa.org), which provides additional and updated advice. As intelligence has been gathered and lessons learned evaluated, industry has been able to update and revise this guidance, which has been harmonised and coordinated by all concerned parties during the revision process. – EU NAVFOR Somalia
You can view the manual here: http://www.mschoa.org/bmp3/Documents/BMP3%20Final_low.pdf
The guide comments on Citadels as follows:
(ii) Citadel Guidelines:
A Citadel is a designated pre-planned area purpose built into the ship where, in the event of imminent boarding by pirates, all crew will seek protection. A Citadel is designed and constructed to resist a determined pirate trying to gain entry. Such a space would probably have, but not be limited to, its own self-contained air-conditioning, emergency rations, water supply, good external communications, emergency shut-down capability for the main and auxiliary engines,
and remotely operated CCTV cameras.

A Citadel is to provide longer term protection of the crew.

Ship Operators and Masters are strongly advised to check directly with MSCHOA regarding the use of Citadels (see contact details in Annex A).

The whole concept of the Citadel approach is lost if any crew member is left outside before it is secured.
The ability to communicate is very important as the crew needs to be able to confirm that they are all in a secured space and that anyone a potential boarding party encounters can safely be assumed to be hostile.
The guide is negative on the use of defensive force such as weapons and pyrotechnics, which I disagree with (As noted here 'Armed Merchant Ship Crews Will Not Escalate The Pirate Problem' and here 'On Defending Unarmed Merchant Ships Against Pirates'), but otherwise it is a good guide and resource for vessels transiting the area to reduce their risk of being taken over by pirates.
One of the unresolved issues with dealing with the pirate problem off Somalia is what do you do with pirates that you capture?
Kenya has stood up and offered to try pirates in their courts. However, as a result their court system is now trying to deal with over 100 pirates captured at sea and deposited on their shores and now they are resisting the pressure to accept more of them.
A number of pirates have been simply released, either back ashore or back to their boats, after being disarmed of any weapons that they didn't already throw overboard themselves prior to capture.
The Russians have come up with a nastier version of this tactic, basically abandoning the pirates far at sea with only the most basic of supplies. Oddly enough, they did want to prosecute the pirates back in Russia, but abandoned that idea because the ship's crew of the attacked vessel, were not able to directly identify the pirates, given that they were holed up in a secure room, unable to negate the pirate claims that they too were victims of other pirates who got away.
Russia frees suspected pirates

RUSSIA has freed a group of suspected pirates captured when its navy stormed a hijacked tanker in the Indian Ocean.

One pirate was killed and 10 suspects seized when marines from the destroyer Marshal Shaposhnikov recaptured the 106,474dwt Moscow University yesterday, a day after it was seized.

The detainees were expected to be tried in Russia. But after a day of contradictory public announcements and debate among prosecutors, military officers and the Kremlin, the navy was ordered to cast the suspected pirates adrift.

Their release took place after a source at the defence ministry announced: "Unfortunately … legal rules for the prosecution of pirates operating in Somalia did not exist, and thus they [the suspects] do not fall under the jurisdiction of any state and international law."

Defence ministry spokesman Colonel Alexei Kuznetsov later said the release was required "due to the imperfection of the international legal framework".

There were no witnesses to substantiate the identities and actions of the suspects because the tanker's 23 Russian crew members had secured themselves in a safe-room.

And after they were captured, the suspects reportedly claimed that they were not pirates but rather hostages of the real attackers.

In June, the chief Russian prosecutor in charge of piracy, Alexander Zvyagintsev, told Fairplay that Russian law clearly allows for military action against pirates, but it was less clear what could be done if pirates were captured.

"The problem of what to do with the pirates who have been arrested remains undecided for the majority of countries," he explained. "That adds to the confidence of the pirates that they can go on acting with impunity." – Fairplay News
Not mentioned in the article is that apparently the Russians stripped the boat of any navigational equipment before setting them free with a tank of fuel. There are also apparently concerns in the media that the Russians simply did away with the pirates and provided this cover story, all because there were no press to witness the freeing of the pirates. Personally, I do not believe that the Russian Navy would do such a thing, given that what they had admitted to doing already gives the pirates a poor chance of survival. And I do not blame the Russians for not inviting the press to document this form of punishment. Actually, I would hope that they marked the sides of the vessel with 'DANGER – PIRATES' so as to warn passing ships of the risk of assisting them. One thing is for sure, pirates will not mess around with the Russians once word gets out about what happened to their fellow bandits.
Question is, is this a solution that other Navies can employ? The EU has been targeting motherships. The effect is similar for any pirates at sea dependent on those captured motherships for fuel and food. Going after supply lines is a classic military strategy. However, those at the end of a disrupted supply line at sea are as doomed as the pirates the Russians 'freed' at sea. The only difference is that the Russians caught them and then let them go.
UPDATE – 11 May:
Here is the latest news noting that the pirates did not appear to have gotten very far:
Freed Pirates May Have Drowned

Ten pirates released from a Russian warship 300 miles out to sea may have drowned, according to Russian officials and colleagues of the pirates, raising fears of retaliation against other vessels plying East African waters.

The pirates were captured last week after they hijacked the Moscow University, a Liberian-flagged, Russian-operated oil tanker sailing off the Somali coast. A Russian warship came to the ship's rescue and apprehended the pirates. But after determining it would be too difficult to obtain a conviction, Russian officials said that they dropped plans to take the pirates to Moscow for trial.

Instead, like many other warships that have intercepted pirate skiffs, the Russian marines released the pirates — but not before removing weapons and navigation equipment from the boat several hundred miles from shore. Russian officials gave no explanation for removing the navigation equipment.

A Russian Defense Ministry spokesperson said radio signals from the boat disappeared about an hour after the release. "That could mean that they are dead," the spokesperson said.

Fellow pirates in Somalia also said they lost contact with the boat after their separation from the Russian warship. "We will hold Russia responsible if any harm comes to them," said a pirate commander, Abdi Dhagaweyne, in a telephone interview. "I'm not sure of their safety now because we have since lost contact." – Wall Street Journal
Last week, USNI Blog covered the shooting death of a pirate by private security guards protecting a Panama Flag cargo ship in the post 'Pirate Walks The Plank; Legal Scholars Baffled'.
Private security contractors killed a Somali pirate Wednesday–and no one seems to know how to react.

Roger Middleton from the British think tank Chatham House commented that there's currently no regulation of private security on board ships, no guidelines about who is responsible in case of an attack, and no industrywide standards. So what's next? – Link
Today via Fairplay Shipping News comes an answer to the 'what's next?' question and I am not surprised:
Pirate suspects released

EU NAVFOR has told Fairplay that it has freed six pirate suspects detained after a deadly gunfight because there was no chance of conviction.

A pirate suspect was shot dead by guards during the attempted hijacking of Panama-flagged, 2,886dwt general cargo ship Almezaan off Somalia on 23 March. It was the first known slaying by such guards on a ship since the piracy crisis began.

Six others suspected of involvement in the attack were later detained by a team from EU NAVFOR's Spanish warship Navarra. Spain began talks with Kenya and the Seychelles yesterday to negotiate a hand-over of the six pirate suspects for trial.

But EU NAVFOR spokesman Commander John Harbour told Fairplay today that the anti-piracy force had freed the suspects after 24 hours of intense investigation.

"We made the decision not to prosecute as the master refused to testify, and there was no case against the pirates," he said.

The guard accused of shooting the suspect who died also refused to talk to authorities, Harbour added.

The six suspects who were freed had one of their skiffs returned and were provided with fuel to return to shore. – Fairplay
Here is what I think is relevant:
A shipping company went through the trouble and expense to protect their ship with armed guards.
It is possible to arrange for arms to be placed onboard commercial vessels for use by private security forces.
Their investment contributed to the successful defense of their ship.
The defense of the ship resulted in the death of a pirate.
Navel forces in the area arrived too late to assist the vessel under attack.
The surviving pirates were caught and quickly released.
The vessel crew and contractors refused to testify, probably out of fear of legal action against them as a result of the death of the pirate.
To me, this is a simple issue. The cargo ships are the 'high value targets'. To properly protect them requires placing defenses between the ships and the pirates. The best way to do that is to have the defenders onboard, not just over the horizon. In fact, I am starting to wonder if the naval forces are providing a false sense of security. For the moment at least they seem to be doing their best anti-pirate operations when pirates have the misfortune to attack them directly.
Note: Be sure to check out the conversation in the comments section of the previous post linked above.
Related:
Armed Merchant Ship Crews Will Not Escalate The Pirate Problem
Fellow USNIBlog Shipmates Galrahn, EagleOne and myself dedicated yesterday's Midrats radio show to the subject of piracy.
We had as our guest for most of the hour Claude Berube, a teacher at the U.S. Naval Academy with a background in naval research and development, acquisition, and intelligence. He is also co-author of two books, a former Senate Staffer, and as a LCDR in the USNR has experience in maritime interception operations, humanitarian relief, and anti-piracy.
If you missed the live show, you can hear in archived here.
The saga of America's private-sector pirate-hunting Navy is over. That's right. Blackwater's (Or Xe's) Navy is up for sale–in Spain, no less!
Make an offer! Blackwater's former flagship, the McArthur, is a modified 183′ Norfolk Shipbuilding Expeditionary Yacht. And it can be yours for $3.7 million dollars–so put your money down! There's been a "Major Price Reduction" already, so this ship won't last long! Here's what you'd get:
The "McArthur" is totally self-contained, makes her own water, and has satellite communications systems that provide for continuous broadband service and satellite telephone. The vessel has a two bed hospital and carries adequate stores of food and supplies to support her crew and 30 additional personnel for 45 days without re-supply. She has the ability to land and fuel small and medium size helicopters and store, launch and retrieve 3 small craft up to 15 tons and 36 ft. in length. She has temporary sheltering for over 100 survivors from disasters.
Now, all this must come as a rude shock to those in the milblogosphere who happily regurgitated Blackwater propaganda or credulously promoted Blackwater's anti-pirate Navy. Here's an example of the irrational press-release-fuelled exuberance:
"…The French are already using private contractors for these purposes. This is the next logical step based on those calls. Unless the citizens of the US are ready to push the US Navy to make this a top priority, something that requires political action, this is seen as one of the limited but cost effective ways for the shipping industry to respond…"
Blah, blah…The only thing was that nobody in the shipping business saw Blackwater as a cost-effective means to fight piracy. And few in the blogosphere bothered to do their due diligence–most just joined in the hype and began braying away (it's a distressing habit that extends to the latest topic-of-the-day–be it ASBMs, piracy, or whatever–beware those who constantly hype the popular programs and suck up to the powerful people).
Sadly, blog-hype was unable to compensate for a platform that just was inappropriate for the job at hand.
I didn't join in. Rather than pass on media releases, I began covering the hype in October 2007, after Wired's Sharon Weinberger broke the McArthur story. In April 2008, I noted the ship had been sitting for about a year, unengaged in anti-piracy operations, and by October 2008 began wondering why milbloggers still fawned all over the concept when it just wasn't working. It all got worse last year, when, in January 2009, I found McArthur fighting pirates from a Norfolk berth.
And by May 2009, the ship had dissolved into something more akin to Animal House than a buttoned-down pirate fighter. But then what does one expect from a company run by a boss who, after reaping a political windfall, cries like a baby once the going gets hard?
Maybe, one day, a company somewhat like Xe might get it right. But in the meantime, let's raise a glass to a defunct Navy, and hope that our navies (whatever nations you readers might hail from) can avoid a similar fate…
h/t Moose! (BTW–what are you doing shopping for multi-million dollar yachts?)