Archive for the 'Asia' Tag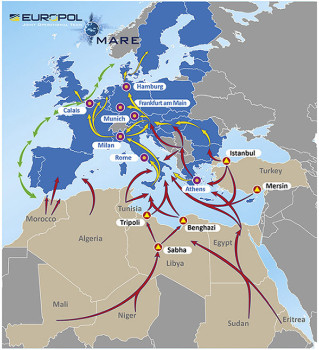 Take a moment and look at this map, what do you see?
At first glance, what you see is an invasion. That is exactly what it is.
Throughout human history, masses of people have been pushed out of one area, or attracted in to another. Trying to escape a more determined foe, a homeland that can no longer support its population, or simply attracted by a weaker neighbor that inhabits more desirable territory – people move.
Small scale migrations are always happening – what moves history are large scale migrations.
There are three things that need to exist in order to trigger large scale migrations; (a) a drive to leave a present home; (b) a more attractive location to move to; (c) a manageable barrier of entry that is less of a concern than the forces producing the drive in (a).
If (a+b)>c, then you have then entering arguments set to trigger a migration. The greater the magnitude of a & b, the stronger flux of the migration.
That is the reason that North-Central Asian Finns, Estonians, and Hungarians now reside in Central Europe. Why the Goths from Southern Scandinavia wound up taking a long route to North Africa. Why the people of Madagascar are ethnically closer to the people of Indonesia than right across the channel to mainland Africa. That is why you have Englishmen in the North Pacific, Germans in the South Atlantic, and every soccer team in Asia has someone related to Genghis Khan.
With the exception of the Goths, the Mongols, and the more recent events in the Western Hemisphere, all the major migrations through we know of occurred in pre-history. We can guess how these went, but let's stick to those we know.
There are three different migration themes on how migrations start.
On two extremes are:
-The Dove: the peaceful migration of the initial waves of the Polynesian through Pacific – peaceful because in their islands from New Zealand to Easter Hawaii, there were no other humans (though the second wave to Hawaii by Polynesians was far from peaceful). This is the most rare.
– The Wolf: Red in tooth and claw Mongol invasions of, well everyone. The Iberian colonization of South America. Australian colonization. Magyar invasions of Europe. This is more common, but not the majority.
In the middle, and the one that is the most common in the way it starts, is;
-The Other: economic, ecological, or political migrants; North American colonization from Europe. New Zealand colonization from Britain. Gothic/Germanic population of the Western Roman Empire.
Those are the major examples of the most disruptive of The Other. There is a subset of The Other that is minor, bur as a result are not very disruptive and mostly positive and integrative to the host nation; the Jewish diaspera; French Protestant migrations following their expulsion from France; 19th & 20th Century Italian immigration to the USA.
The Other is the most common and the most successful. It usually starts with small populations of migrants who get a foothold and then grow as the host population, for a variety of demographic, economic, cultural, or political reasons, grows weaker. More migrants come attracted to the land, or given more reason to escape from their homeland – or more often a combination of the two.
In time, one of two things happen, once a critical mass is reached, either the host and migrant cultures blend together and almost without notice become one. The previously mentioned Italian, French and Jewish examples are like this. You could also add in the 19th Century German migrations to the USA – one of the more under told stories locally.
If the two cultures for religious, cultural, or more often political reasons cannot become one – then there is conflict, usurpation, and a new host culture take control. The Germanic populations in the Western Roman Empire, the Reconquista of the Iberian peninsula, and parts of the former Yugoslavia are variations of this.
That is also why Spanish was and now English is the language of Comancheria.
There is your broad, sliding scale; from Dove, to The Other, to Wolf. Just because something starts as one, does not mean it stays there.
The N. American pattern went from Other to Wolf inside a generation. New Zealand at one point or another saw all three. The normal result of mass migration is conflict – the exception is peaceful integration.
One would think that the historical example would lead to host nations to promote integration-centric policies. Sadly, that is largely not the case.
The largest barrier to this era's migration success is a cultural malfunction where assimilation – a process that blends people together – is not the predominate mindset in the host nation, and as a result, encourages the sectarian tendencies of large groups of The Other. It is apartness, multiculturalism, and the – to use a very accurate description of the problem – Balkanization of land and people that will warp the trends toward conflict.
This is why nations are, in different ways, pushing back against this rising tide of migration. They know where this ends. The era of plenty of open land and expanding economic resources is long gone. More people after finite resources; this social science historical dynamic is well known.
The push back is relatively weak but growing stronger in Europe – but strong and getting stronger in Asia and other parts of the world.
Now that the table is set – look again at the map at the opening of this post. As most of the news reports reflect – there is a maritime crisis in the Mediterranean. This is only going to grow, and not just in the Mediterranean.
Australia has known for a long time and now the rest of Southeast Asia are seeing the problem in Asia is also largely a maritime one.
Clashes in 2012 between the state's Buddhist community and Rohingya Muslims, a long-oppressed linguistic and ethnic minority in this majority Buddhist country, left hundreds dead and more than 140,000 people homeless.

The United Nations estimates more than 100,000 Rohingya have fled Myanmar by sea since ethnic and sectarian violence erupted.
…
"I feel so sorry for them," Kraiwut said. "It's so different to when you see these refugees on land, and the conditions are so terrible."

Late last week, residents on Koh Lipe Island in southern Thailand could be seen collecting food, water and clothes to take to the migrants on board the boats, but since then the military has told them not to take supplies out to the boats, or to talk to journalists about the situation.
…
A top Malaysian official has said the surge of migrants from Myanmar and Bangladesh seeking asylum in his country and neighboring Indonesia in recent days is unwelcome — and despite a U.N. appeal, his government will turn back any illegal arrivals.

"We cannot welcome them here," Malaysian Deputy Home Minister Wan Junaidi Jaafar told CNN by phone last week.

"If we continue to welcome them, then hundreds of thousands will come from Myanmar and Bangladesh."
Last night, Malaysia and Indonesia, predominately Muslim nations, have agreed to temporarily take in these desperate people, but for nations already struggling with their own ethnic conflict, and knowing the dangers of opening the door, it is unlikely to be a permanent solution.
When you look at the dual force of demographics and poor economics in the nations the migrants are coming from – and combine that with a growing "no thanks, we're full" mindset in already overcrowded developed and developing nations – are the world's maritime powers ready to respond to the masses at sea?
When pulses of desperate migrants surge forth as conflict occurs in these tottering and dusty edges of modernity – what will be the response as the walls grow and thicken while the oceanic commons fill with the boats and bodies of migrants?
The politicians will eventually decide on a path. Any path will require the tools of national will – military, paramilitary, legal, and police power – to respond and act. That requires training, equipment, and procedures – all done in a multinational environment.
We might as well start increasing this part of our toolbox; the requirement is only going to grow. The mission you may not want, but may get anyway.
– Will we just block, send back and watch as more ships founder and drift?
– Will we intercept, tow, and divert?
– If the pressure-valve of migration is stopped, then the stress for resources and justice in the source nations can only lead in one direction – conflict. Will we be in the consequence management business even more – or like the international fleet off Smyrna (now Izmir), just hang out and watch the bloodbath?
A final note: why not mention the issue of immigration to the USA? Different problem in both geography, culture and scale. Much easier for a diluted majority Anglo-Saxon-Germanic culture to absorb migrants from mostly Catholic Iberianesque cultures than what the rest of the world if facing. As I grew up in just that environment – I don't see the issue. We're fine. Also, more of a land and as a result police issue. I'll let the Army and law enforcement side of the house address that if they wish.
I have also lived at the edges of the unassimilated masses of N. Africans, Turks, and S. Asians that are swelling in Europe – I see the huge challenge those nations will have to learn to deal with one way or the other. The trend lines speak for themselves.
While we're focused on Russia and Ukraine, recent events in Asia may have slipped under the radar. Taiwan is considering signing a major free trade agreement with China. Nationalized Chinese companies may soon be able to make major investments in sectors such as banking and transit.
That may seem underwhelming, but in naval literature, when we think of Chinese expansionism, the various Taiwan scenarios dominate the conversation. In the eight articles of the most recent China's Near Seas Combat Capabilities journal published by the Naval War College, "Taiwan," is used 109 times. Are we spending too much time thinking about and planning for a cross-strait conflict?
Taiwan isn't the prime mover for PLAN development. Bryan McGrath and Timothy Walton neatly unpack this in "China's Surface Fleet Trajectory: Implications for the U.S. Navy," predicting the PLAN will continue towards "regionally dominant and globally capable navy in the next decade." They've moved beyond Taiwan. Moreover, "the versatility (and thus utility) of the People's Liberation Army's A2/AD capabilities" is well above what's required to impede US intervention in a cross-strait conflict. If not Taiwan, what then is China's objective?
Trying to predict world events is extremely difficult as noted in a recent post by CDR Salamander. However, some thought experiments can be useful to help us consider the range of possibilities and their likelihoods. Let say at some point, the Communist Party and China, destabilized by internal problems, turn to an outward show of force. Is anyone going to stop them from beating on Vietnam over water rights or access to oil reserves? Doubtful. Would someone intervene in a conflict with Taiwan? Maybe. Probably? Either way, I'd bet that US intervention is much more likely in a China/Taiwan conflict than a China/Vietnam conflict. I think that China would make the same bet.
I'm just using Vietnam to illustrate that Taiwan is not the natural starting point when we broadly consider the use of China's naval power. It's hard to build a fleet to counter all the possibilities of conflict in Asia; perhaps the key, as noted by McGrath and Walton, is "to maximize cooperation with allied and partner states…'penning in' the Chinese fleet."
Much has been said in this forum and others about the U.S. Navy's rebalance to Asia-Pacific as well as current and impending fiscal constraints. Less has been said about how these two significant challenges might simultaneously impact the Navy's operating paradigm and investment strategy. As the Navy rebalances, we face a challenge of simultaneously maintaining a forward and ready posture—where it matters, when it matters—while continuing to invest in the capabilities that are necessary for addressing present and future challenges to America's national interests. This challenge is neither easy nor without precedent, but it is imperative as current fiscal constraints drive the Navy to be even more judicious in directing resources. To that end, an integrated and thoughtful force design is essential if the Navy is to invest in the force of tomorrow while ensuring our current employment is scaled and configured to affordably accomplish all of our missions today. I believe there are two primary pillars to this force design – creating an affordable operating paradigm for today's force and investing in the force of the future. I would like to address here the first pillar under a concept I call tailored global presence.
Tailored global presence is an approach to how the Navy organizes, prepares, and deploys forces. The Asia-Pacific rebalance, already underway, is part of that approach: by 2020 the Navy will have rebalanced 60 percent of its forces to this critical region. As we shift the bulk of our forces to Asia-Pacific we will continue to maintain a robust capability in the Middle East with rotational deployments of aircraft carrier strike groups and amphibious ready groups as a bulwark in this volatile region. In Europe the Navy will emphasize our unique contributions to the NATO alliance through specific capabilities such as maritime ballistic missile defense using our most advanced destroyers. In the Western Hemisphere our primary focus will be on lower-cost, small footprint missions aimed at protecting the approaches to the homeland. Innovative employment of inherently flexible ships such as Littoral Combat Ships (LCS) and Joint High-Speed Vessels (JHSV) will prove invaluable to maritime security and cooperative efforts in Africa and South America – an alternative to sending large amphibious ships or destroyers.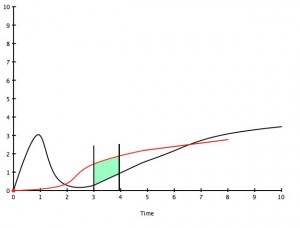 The Center for Naval Analyses built their new report, "The Navy at a Tipping Point: maritime Dominance at Stake?" on a comforting trellis of assumptions:
"First, there will be a continued demand for a safe and secure global maritime environment. Advantages to having an open world economy and trade for all major powers are growing…Increasingly, nations are trying to formulate a set of maritime rules to support local/regional development and maritime policing of illicit activities."
How nice! This vanilla-flavored assumption is positive, doesn't challenge status quo, and, in addition, makes excellent consultancy fodder for high-paying corporate audiences.
But is this assumption valid? A recent bulletin from Inside the Pentagon (subscription, sorry) suggests otherwise:
"U.S. and Chinese officials agreed last December to hold the next plenary meeting under the 1998 bilateral Military Maritime Consultative Agreement (MMCA) in March or April of this year. But China subsequently suspended a range of military-to-military activities to protest the Pentagon's planned arms sales to Taiwan. And now PACOM is confirming the safety talks are a casualty of that row."
Oops. Other countries (particularly Asian navies that seem to have a higher tolerance for settling maritime disputes via intimidation and, often, gunfire) may not fully subscribe to the U.S. vision of maritime safety.
Here's CNA's second set of assumptions:
"Second, no other country (or combination of countries) will create the forces required for a navy with global influence…[other] navies can also conduct short-term surges for uses of force against low end threats or act as supporters to USN-led naval operations; however persistent out-of-area operations (even by a low number of assets) would quickly deplete their resources and political support at home."
New navies, when well used, pay enormous domestic political dividends. Remember the Maine? Or the year-long voyage of the Great White Fleet? What about Imperial Germany's use of their growing fleet to build/bolster a colonial empire? Wasn't Germany's acquisition of Tsingatao (done after the murder of German Catholic priests) rather…popular?
So..with history in mind, how might China (given its self-acknowledged internal domestic weaknesses) use their fleet? To forge a better sense of national unity, maybe?
Which brings us to CNA's third assumption-set:
"…China is behaving exactly as every growing nation has behaved since the dawn of the Maritime Age in the 1400s…"
Hey, they got one right (two out of three ain't bad)…but, hey…Didn't those new navies ultimately make the seas less safe? Did they not lead to increased conflict at sea? To wider naval conflict?
Seems that the CNA researchers don't think so.
To be blunt: Other nations may share U.S. appreciation for a "safe and secure global maritime environment." The problem is that other nations may define "safe and secure" somewhat differently than America does.
U.S. defense thinkers must stop assuming the rest of the world shares our world view. You heard it here first…America's habit of mirror-imaging (a symptom of having a rather poor grasp of history) is a well-known point of exploitation.
Read more at NEXTNAVY.COM. Subscribe here.