Archive for the 'by Ryan Erickson' Tag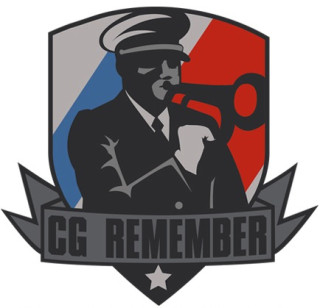 I still remember the first time ME1 (formerly MK1) Sean Lawler called me up to tell me about this guy who decided he was going to run the Keys 100 (in Key West, FL) in remembrance of Coast Guard members who'd fallen in the line of duty. To put it bluntly I thought it was a crazy idea- ambitious- but crazy. However, as I started to work with ME1 on getting the word out, the more I realized that I actually knew little about those who've died in the line of duty. Short of Douglas Munro, and the smattering of Shipmates lost during the 2011 timeframe, I was ill equipped to know who they were.
LT Brian Bruns, that ambitious individual, had a goal of not only bringing awareness to those who've fallen in the line of duty but was also looking for a way to bring awareness to the Coast Guard Foundation's Fallen Heroes Scholarship Fund. Bruns' and Lawler's plan worked. Enter the 2011 Coast Guard Run2Remember; in the end LT Bruns ran the 100 mile ultra marathon in memory of 90+ Shipmates who had fallen since 9/11. Donated funds came in at around $2,000 all of which were donated to the Fallen Heroes Scholarship Fund. Not too bad for a single runner and a few followers.
Last year's second annual Coast Guard Run2Remember (2012) got a whole lot bigger, and LT Lucy Love entered into the coordinator's seat. After seeing the impact the first event had on the families of the fallen, LT Love stepped up and took the initiative to ensure a 2nd event took place. With LT Bruns deployed, she assumed the reins and transformed a one-man event into a movement. She continued to work with ME1 Lawler and together they renewed a campaign to bring further awareness to the Foundation's scholarship fund and the Coasties we've lost.
Their hard work paid off. LT Love involved not only some 93 people to run the Keys 100 but also individual events at units throughout the Coast Guard. Units from Virginia to Washington, Alaska, Hawaii, and even Kuwait were holding their own Run2Remeber events. While Love worked to coordinate the actual running in Key West (yes, another crazy one!) and help the individual event holders at units around the globe, Lawler was (and still is) hard at work getting the word out via their Facebook page, unit event pages, Twitter, and in general online social interactions. Lawler is also the designer, three years running, of their logos and images. It's a lot of work on top of their day jobs.
As a member of the Coast Guard, I was part of our local Run2Remember here in Juneau, AK last year. We had a turnout of about 50 or so people all wearing the t-shirts with the names of the fallen on the back. I still wear mine knowing someone is reading the back. At the end of the 2012 campaign, LT Love and ME1 Lawler's work enabled them to donate $12,000 dollar to the Fallen Heroes Scholarship Fund. Awesome!
The event has kind of taken a life of its own without a doubt. I admit I never saw it getting as big as it has. With that in mind I wondered if the Coast Guard as an organization would have taken notice- they have. Though the event isn't sponsored by the Coast Guard it definitely is supported. Which is good enough for me.
The 2013 campaign has changed a little. After listening to both participants and wishful participants of last year's event the duo set in motion a change of name and a change of participation. Starting this year the formerly named Run2Remember has officially been changed to CG Remember (it will be held 17 & 18 May 2013).
Why the change to such a successful event? Well, in short, not everyone runs or can run. So the name change opens up the event to not only runners but also bikers, rowers, rollers skaters, house sitters, and your backyard Bar-B-Q. "Virtually any event can be used as a remembrance event. It's not about the exercise or running, it never was, it's about remembering." says ME1 Lawler.
The goal hasn't change though. The event is still here to help the Fallen Heroes Scholarship Fund. What has changed, along with the name, are the t-shirts. Over the past two years the shirts have listed the names of the fallen since September 11, 2001; 90+. This year that number has risen to 126 fallen Shipmates going back to 1982 1978. It will also include the most fallen Shipmate, [Senior] Chief Petty Officer Terrell Horne III, who died in 2012.
ME1 Sean Lawler said it well in a letter to 2012 participants writing, "To the families of the fallen members, we know that nothing will ever ease the pain you have from losing a loved one, but you need to know that every member of the Coast Guard is with you, thanks you, and will always remember your sacrifice. Our uniforms have our names on the right side, but bear the words [U.S.] Coast Guard on the left…and that makes us all family. We will always remember our family."
I look at the work that is being done here as Coasties helping Coasties. We're known as an organization that is always there to help the public; however, we're also just as capable with helping each other.
Now the easy part: getting involved. If you're in the Coast Guard it's likely that your unit is already planning something. Check the list of participating units at event page which will have your local point of contact.
If you're not in the Coast Guard, or you'd rather not participate in an event but still want to help Coast Guard Foundation Fallen Hero Scholarship fund, you can purchase your own t-shirt for $20. The best part is 100% of the proceeds go to the scholarship fund. If you'd rather just donate without anything in return you'll also find the address to mail donation on that same page. Either way it's a great cause.
Thank you LT Love and ME1 Lawler for keeping this annual remembrance in motion.
LT Lucy Love was the Coast Guard's Shipmate of the Week on 15 March 2013.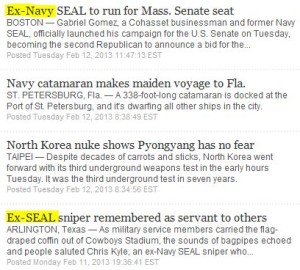 There needs to be some discussion on the use of "ex" in news stories concerning military members across the board.
However, the big offender on the list today (actually yesterday now…) is Navy Times. Yesterday on the site's news pages I read two headlines stating "Ex-Navy SEAL" and "Ex-SEAL…" both are differing subjects (screen shot right). However, within the article they correct themselves to use the proper label of "former." Yes, there is a difference.
Perhaps those at Navy Times know there is a difference and they're only link-baiting… maybe not. Matters not if they are link-baiting to get your attention- they should at least give the individuals they're discussing the respect of proper labels.
So what's the difference? Well, if you ask a Marine they can tell you outright; however, for some reason it's not as prevalent in the other services. The label "ex" (e.g. ex-Coastie) should lead one to believe that this person was once a Coastie but it no longer because they were discharged for wrongdoing or some other ill thing (actual title: Ex-Coastie commits wire-fraud). Whereas the label of "former" spells out that the individual was once a member of said service and left on good terms (good conduct discharge, retired. etc.). For example the Navy Times had a story of an "Ex-Coast Guard member" who wrote a book (I'm reading it with a review soon); however, this was NOT an "ex" Coastie but, in fact, a "former" member of this great service.
The soapbox was there, I stood up and said my piece, now I'll get down.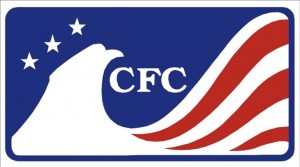 I admit that in the past I've dreaded this time of year. Not because of Halloween, the fall season, or even the nearing of winter. Nope, I feared the annual arrival of the Combined Federal Campaign (CFC) leaflet that, without fail, shows up on my desk- even with the door locked- like magic.
The fear isn't of giving money to a cause but instead the act of doing so. I find that actually filling in the form with a pen is somewhat cumbersome and, well, outdated. In fact, while attempting to fill out the form just today I had some trepidation of doing so for the fact that I may be doing it wrong. If there were only a website I could use…
Enter the modern age of the world wide web and the CFC site CFC Nexus. This was so much easier. The site touts that it only takes about 10 minutes to complete the process- I did it in seven. The hardest part(s) was finding your local donation site on the map or perhaps finding a worthy charity… which is fairly easy (might I suggest the Coast Guard Foundation (10514) or perhaps the Wounded Warrior Project (11425)).
CFC Nexus still allows you to do payroll deduction as most of us have done in the past or you can do a lump sum credit card gift.
So if you haven't given yet I'd suggest giving the site a try. It's easy. It's time saving. It's the season to give (no, really, it is.)
Eleven years. Typing that out makes it seem much longer than it feels. I've written several accounts over the years regarding "where I was, what was I doing" on 11 September 2001; however, most of those accounts have been removed for one reason or another. So…
Where were you and what were you doing on 9/11/01?
I was sitting in class at the Coast Guard's C-130 Navigator course in Elizabeth City, NC preparing for my first test of the four-week instructional period. I remember having a chart on my desk going over some last-minute cramming on way point designations and search planning plots.
We were just finishing filling out our answer sheets when someone stuck their head in the door telling us a plane hit one of the WTC towers. It was more of a nonchalant "by the way" telling us so and not a "by the way… OMG there are terrorists taking over the nation!" tone. A fellow classmate, appropriately suited for the moment, quickly blurts out "what kind of idiot hits a building in New York?" Again, perfectly suited given the situation and environment of being in an aviation navigation course.
Not thinking anything about it we finished our tests and went on break. As we were walking out to the designated smoking area (I was still chewing at the time) we passed by the teacher's lounge which had quickly overfilled with people trying to watch the television. My moment of pause to gawk at the TV too resulted in my witnessing the second plane hitting the second World Trade Center tower. Only this time it was obviously not a little plane- but a passenger jet.
I was kind of taken back for a moment. 'How does someone accidentally run into a high-rise on the skyline of NY?' It's obvious now of course, but at that moment it wasn't.
My classmates and I continued to the smoke deck; but the mood had changed from the relief of finishing a test to wondering if what we just watched was done on purpose? Our ten minute break easily turned into a 45 minute one as all of the schools instructors were called to a meeting. By the time they returned we'd already figured out what was happening. The instructors only validated it.
"The United States is under attack. We're not sure how bad it is yet but we do know that two planes hit the WTC towers and one has hit the Pentagon; more attacks could be coming." Said our lead instructor.
It wasn't a moment that any of us thought we'd witness in our career. This is the United States after all. Sure we've had our issues with pseudo-terrorism before (e.g. Oklahoma City bombing) but nothing like what was being discussed here.
Later in the morning we'd learn that all commercial flights throughout the U.S. were being grounded until further notice and the base was temporarily on lockdown. The immediate thought in my head at the time was something along the lines of 'um… we're in Elizabeth City… what could happen here?' However, by lunch time my imagination began to go wild- along with everyone else- and I was wondering if something really could happen in this sleepy town?
When lunch rolled around I had an opportunity to finally call my wife who was in Kodiak, AK at the time as that was where we were stationed. She was just waking up (recall it's a four-hour time difference) and had yet to turn on the news. I explained what I knew and wasn't sure how or when I'd be home. In reality I still had three and a half weeks of school left anyway but nobody was sure when planes would fly again. I don't think our TV changed from any news channels for the next several months.
When we got back from lunch the base has begun planning for a major shift in base protection. They were asking who was recently qualified in small-arms who had previous combat training. Odd as it may seem this is/was the Coast Guard… and an aviation centric base so not too many people would have fit the bill. For better, or worse, the call-to-arms never amounted to much. The security contractors, however, were increased and time to get onto base went from about 20 seconds to about 2 minutes.
The days following the attack were weird as nobody knew if there would be more attacks or not- everyone was on edge.
It goes without saying- though I'll say it anyway- this nation has changed over the last eleven years; without a doubt. Whether you think for the better, or worse, is dependent on your point of view. For me it doesn't really matter. I'm here to defend this nation; for better, or worse.
During my busy day I had a little time to think about the ruling that was just handed down from the U.S. Supreme Court citing that the Stolen Valor Act shall be struck down as being unconstitutional. In the end I came to the determination that the decision, made by our highest court- though sound, is wrong.
The basis of the 6-3 judgment is a sound one based on the oldest laws of the land; the first amendment may indeed have been violated. However, the spirit of the violation is really what was at stake here. As a blogger I am, by default, for our first amendment rights of free speech. On the same note I'm also a member of the U.S. Coast Guard and a former member of the U.S. Army- two of our five military branches; this is where I begin to cringe.
The First Amendment, as read in the Bill of Rights, and interpreted by Cornell Law states (as it pertains to free speech):
The right to freedom of speech allows individuals to express themselves without interference or constraint by the government. The Supreme Court requires the government to provide substantial justification for the interference with the right of free speech where it attempts to regulate the content of the speech.
If need-be, reread that and pay attention to the second sentence in particular. The words "substantial justification" can be clearly articulated in nearly all the cases involved with bringing charges against individuals under the Stolen Valor Act. I'm kind of confused on how bringing charges against someone isn't justified if that someone lies about their military services and/or decorations, and there is substantial proof via an individuals military record, or lack thereof?
I've heard people tout that people pretending to be military heroes is akin to those who dress up in those costumes at Disneyland; after all it's just pretend right?
Wrong.
Impersonating a hero of war, or any current or former military member in general, is of the utmost disrespect to the service members of this nation. Those who've sacrificed their daily freedom to be part of a military force, and those who've died as part of the same forces have an extreme level of pride in what they do (or did) as the case may be. They've worked hard to obtain their position, from E-1 to O-10, they've all had to work to get to that place in their lives. For someone to simply walk into their local Ranger Joes or Army/Navy store and buy their way into the service is as low as one can be. If you want a Purple Heart join the military, go to war and get one (that's from my 9 year-old daughter).
The Supreme Court has taken the side of the people, as they are supposed to. But in doing so they've alienated those who protect the freedoms of the United States. They've allowed the liars, heart-breakers, thieves, and con-artists of the U.S. win. While they win the service men and women of the United States have seen their sacrifices being lessened. If anyone can claim to have a Medal of Honor what's the point of even being presented with one (No, I don't really belive this but I'm trying to make a point). I'm grateful for people like those who run This Ain't Hell for watching out for the rest of us.
Via ryanerickson.com
I honestly try not to dwell on the casualties of war. Not that I don't have a heart; in fact, the exact opposite is true… I probably care too much. Nor have I given any serious thought to the wars beyond the current conflicts we've all watched unfold on the television since 2001.
However, this changed as of yesterday morning while I was listening to my wife try to explain to my daughters what a door gunner does; the job my father-in-law had as a helicopter mechanic in Vietnam. This came about when a vet walked past our van, which has a Virginia Coast Guard license plate, saying thank you for my service to which my wife and swiftly returned the thank you.
As we continued our day I continued thinking about what Memorial Day really was? Sure we know it's the day we take pause and thank those who've given their lives for their country. Or perhaps it's simply a three-day weekend for others. I'm guessing most outside of the military centric world of which I reside don't give much thought as to why they are getting a three-day weekend. I don't fault them though. The U.S. has fallen short on remembering our fallen. That, of course, is my own opinion.
I didn't have to think too long though in terms of its meaning to Ryan. I didn't lose any family members to the wars of past. I know of three family members who've fought in wars since World War II/Vietnam and they retuned. The combined U.S. deaths of these two wars alone was: 463,608. That equates to 463,608 people, and their families, I should be thanking for the safe return of two Grandfathers and a father-in-law. More so that is 463,608 people I should be thanking for the freedoms afforded to the people of the United States and other free nations of the era.
Memorial Day is not about the long weekend, nor the day itself. It's about those who've died in battle to ensure you can live the way you do; to vote the way you do; to wake up knowing that you are in a free county- the way you do. I'm tempted to go on a rant as to how this county has seemingly given up on caring about those who've perished… but I won't. Not today.
Monday, 28 May 2012 is Memorial Day. I'm not asking you to visit military grave sites to see the numbers yourself, nor am I asking you to go out and find a veteran who may have lost their best friend in battle. What I am asking, however, is that you and your family reflect for only a moment- whether in silence or discussion- as to what Memorial Day is and means. It doesn't matter if you know someone who died or not… don't let the reason for the day be lost on that fact that you don't think it directly affects you today. Though you know it or not- it has.
To lean more about Memorial Day check out these links: