Archive for the 'CNO' Tag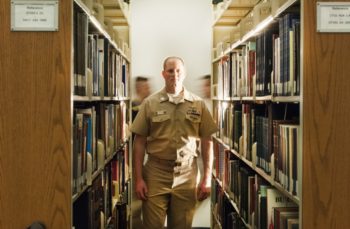 Writing professional articles has a long history in all the U.S. military services. American naval publications date as far back as the 1830s. While military personnel are commonly lauded for their willingness to take physical risks in defense of the nation, sometimes we are less open to taking the intellectual risks involved in the betterment of our profession. In #RTSW 2 we discussed the fear some writers have that they might embarrass themselves through a small mistake or problem in a professional article. Taking an intellectual or academic risk is far different than strapping into an aircraft, rigging to dive the boat, or free-falling out of a perfectly good airplane.
The reality is there are a number of things military authors do which are sort of embarrassing from an editor's perspective. Military personnel hold themselves up as professionals, but occasionally behave like inexperienced freshman undergraduates when it comes time to submit an article for publication. Most of the issues can be addressed by acting like the professional we all claim to be. These are not actually hard things to do, but generally fall into the GI Joe category of knowledge.
Article Length
Follow the contributors guidelines. Seriously. If the journal or publication says they take feature articles with a maximum word count of 3000 words, do not send them 4500 words. Some will give you some latitude, maybe 10% overage, but not always. It is not the editor's job to turn your over-length piece into something appropriate. You are telling them either you could not be bothered to check the guidelines, you have never read their publication, you just don't care, or you think you are so brilliant the rules don't apply to your ideas. None of these interpretations will help you impress anyone.
From my experience as an editor this is an across the board issue. Frankly, most junior personnel tend to follow the rules, but sometimes they don't understand the difference between "departments" at some journals. Some mid-grade officers, senior officers, and Flags, however, have issues understanding the rules apply to them. One would hope the professors from our PME institutions who encourage officers to use their school papers for articles would help them understand how it works. Yet, I have also seen PME professors who submit articles which are thousands of words over maximum, so sometimes they are part of the problem.
PME/Academic Papers
Papers and assignments written in the professional military education system, or from academic work, are a great source of material for articles. I have used the work I wrote for class in a number of articles I have published. But, a school paper and an article are not the same thing. We've already covered the length issue, but this is a common problem with academic papers. There are also differences in style and tone, occasionally in formatting, and in the types of arguments that will fit at certain publications. Do not simply send your PME paper to an editor. Always rewrite and reformat the paper to ensure it fits the publication you are sending it to. The editors will still help you make it better, but it is on the author to make the first effort of getting it right for the publication in question. It should not require mentioning, but the editor is also not interested with the grade you got on the paper. No need to share, the work should stand on its own.
Individualized Submissions
Ensure you are sending the right submission to the right publication. If a certain publication has a name for a "department," or type of article, don't use that same name at a different publication. For example, Proceedings has opinion pieces called "Nobody Asked Me But…" An author who sends a commentary submission to War on the Rocks or The Bridge "for your Nobody Asked Me But section" is immediately off on the wrong foot.
Manuscript Format
Simple freelance manuscript format is the best way to approach an editor. Do not try and impress with multiple fonts, complicated formatting, etc. Depending on what software they are working with, your fancy format may get thrown off anyway. You aren't applying for a job in desktop publishing, the words in the article are what matter and speak for themselves. Name, contact info, word count, title, one font, double spaced, simple paragraph format. Use bold, underline, or italics to set things off, but only sparingly. It is designed for fiction authors, but William Shunn's website gives a good image of how to set things up. Avoid pdf's to the best of your ability, because the editor will probably want to digitally mark up the piece.
Authorship
The concept of authorship is directly tied to the question of personal integrity in the academic world. Almost every university or institution of higher learning has an authorship policy statement (read Yale's here). Fundamentally "authorship" is the question: who belongs on the byline of an article? Who should get credit? This is a question every senior officer looking to publish an article must ask themselves when they think about the staff process which might have helped them produce the article. Senior officers and civilian leaders sometimes have speechwriters who help them. At what point, and in what venues, should they get mentioned for written work? Is a shared byline proper? Or is a mention in the author bio at the end of the article the right place? "LCDR Jones contributed to the writing of this article." Perhaps a junior officer on the staff amassed the research and wrote the first draft of sections of the piece. Do they deserve some credit? These questions don't always apply, but in colleges and universities this is a key ethical question. If we are going to pursue professional integrity in the military services, and consider it intellectually, it makes sense for us to examine authorship as well.
Be Cordial
Professional articles on military subjects are not the place for personal attacks or for antagonism. Even if the spark which got you writing was disagreement with someone else's idea, take a step back and make sure you are writing about ideas and content and you are not being antagonistic. Sometimes this is unintentional, and requires you to look at your own work closely. Also, some publications do not publish this kind of tit-for-tat writing, so expect rejections if you are writing something focused on being critical. You should be focused on new ideas and solutions. It is ok to be constructively critical of another writer, thinker, or publication, but avoid personal or professional antagonism: try and follow Dennett's rules. Aim at the ideas, not the people, and give credit where credit is due.
Cite Your Work
Footnotes, endnotes, hyperlinks…they matter. They help prove you have done the research and reading discussed earlier in this series. More importantly, perhaps, they acknowledge the hard work of others who have tackled the same or similar subjects and on whose shoulders your work stands. They offer the editor and the reader a chance to check up on you. None of us form our ideas or opinions in a vacuum. Even senior officers haven't come to all their knowledge through experience or epiphany. We should acknowledge that through good use of notes and links. This does not mean every article must be peppered with quotes from Clausewitz or Mahan. You do not have to tackle the great masters. Sometimes it makes you look silly. I know from experience.
So What?
Say something in your article. Identifying a problem is certainly a contribution, but often times it is not enough. It only becomes a good article when you also suggest a solution or a path to a solution. You have to argue for something, not just report on a situation. In the first post in this series we talked about John Adams' call to "dare to read, think, speak, and write." Professional articles are at their best when they remember that first word. Writers must dare.
Take It or Leave It
This series of three posts has tried to offer a starting point for military professionals and members of the national security community who want to take up the call to contribute to our profession, all call which was recently echoed by the CNO and Lt O'Keefe. The observations offered are intended as a little bit of what naval folks call gouge to get started. Like all gouge, the advice offered is worth exactly what you have paid to read it. These are simple observations from my past several years both writing and editing on military and naval subjects. Individual experience will vary. As we say in the navy, if you live by the gouge you'll likely die by the gouge. But it least it gives us somewhere to start.
This post is the third in a three part series where the author shares lessons learned from a decade of his own professional writing, almost four years on the editorial board of the U.S. Naval Institute, as a Senior Editor with War on the Rocks, and as series editor of the 21st Century Foundations books from the Naval Institute Press. The opinions expressed are offered in the author's personal capacity and do not represent the policy of the US Navy, Department of Defense, or any government agency.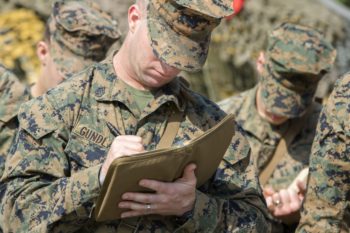 Chief of Naval Operations Richardson has put out a call for more naval professionals to contribute to their profession through writing. Other Flag Officers have followed his lead and there is a rising movement across the joint force. The first post in this series examined how someone can develop an idea into a professional article. The next two posts will look to offer a clearer picture of what a writer should expect once their article is written: from submission to when it is out in print or online.
The advice in this series is based on professional writing for a print or online magazine/journal. People interested in blogging can certainly also learn from these ideas. But blogging has a slightly different place in our digital society, and frequently has different (sometimes looser) standards. As seen from the fact this series is published on a pair of blogs (USNI and the Military Writer's Guild), I see a lot of value in both approaches.
One of the most intimidating things about publishing a professional contribution is fear the author will get something wrong, or embarrass themselves through small mistakes. The reality is a typo, an improperly used italics formatting, or a misspelled name is not something most editors care about. If the problems are repeated and glaring, that is different, but a couple of small mistakes are not very important.
Personally, this is why I like working with journals and magazines more than unedited blogs, or blogs run from personal websites. My work always benefits from the critical eye of a dedicated editor, whether a paid employee of a publication or sometimes a volunteer. That kind of sanity check has kept me from embarrassing myself when the editor asks "hey, are you sure that is right?" or "what is your citation or link for this fact?" From fixing typos, to helping improve the writing in terms of style or house format, and challenging flawed logic or argument, editors have always made my work better. Once the article or essay has made it through them, or their editorial board, there's a much smaller chance I am embarrassing myself.
Finding a Publication
With a completed draft on the computer screen, it is time to decide where to submit the article. There are many, many options. For naval writers there are the big time naval professional journals like Proceedings and Naval War College Review, to the magazines published by community organizations like Tailhook and the Naval Helicopter Association. The other services have similar venues like Military Review, The Gazette, or branch publications like Armor. There are also the online publications about defense and national security issues. Authors must realize each and every publication has its own niche and its own style. Your manuscript should aim to fit their unique niche and style.
There are two good rules of thumb for selecting where to send the article. First, make sure you've read articles from the publication you want to target and ensure your article is the kind of thing they publish. Second, find the publication's "contributor guidelines." They all have them, and the editors actually put hard work into getting them just right. Here is the link to Proceedings, and here is War on the Rocks, to give you an idea of what they include. Frequently, these pages are also a wealth of advice on good writing. FOLLOW THE GUIDELINES. (Yes, I just stomped my foot and yelled at you.) Do not let the word "guidelines" fool you, these are the rules for the publication. The quickest way to get rejected by an editor is to send them something clearly violating the rules they have put out in the open. And don't blast the article out to multiple publications at the same time. Pick one, submit, and be patient. Give the editors a couple days to acknowledge your submission, and even more time before you demand an answer. Some have review processes which take months. Even if the article is rejected, you frequently will get constructive feedback that will help you make it better before sending it to the next publication.
You may decide you are interested in a less formal arrangement, and go with a blog such as USNI Blog or work with junior folks like at CIMSEC. But deciding where to send your article should be a conscious choice based on knowledge of what they publish and how you fit into their corner of national security or professional discussion. You do not need a personal introduction to an editor. Find the email address for submissions, write a brief introductory email (include who you are, title of the article, length, and where you see it fitting into the publication), attach the article (or just make a pitch if that is what the guidelines say), and hit send.
Working with Editors
Editors are here to make our work better. Sometimes, we don't like to hear their criticism, but it is really crucial we listen and consider it. You can push back against an editor's changes or suggestions, but you should be able to explain why. Also, you can ask an editor to explain the reasons they have made or suggested a certain change. The writer-editor relationship should have plenty of back and forth, with give and take from both sides.
A professional editor will also never talk about the details of the work they do with you. For example, the Editorial Board at the Naval Institute has very strict privilege rules covering what is discussed in the boardroom. Some new writers fear editors will bad mouth them to other publications or with other writers, but that has never been my experience. In fact, I've had many editors try and help me by suggesting other publications which might be a "better fit" if they have rejected my work. Editors have also offered to make introductions to other publications for me. While talking with an editor isn't quite like talking with a Chaplain, respected outlets are run by respectable people. Publishers always want you to come back with good material, because it is how they keep their journal up and running.
Incoming Fire
The vast majority of material published today ends up online. Even print journals like Proceedings place their articles on their website. Along with this comes the dreaded "comments section." Realize there is no obligation for you to read the comments section. Frankly, most of the time I try and ignore it. For each ego stroking reassurance you have offered a brilliant analysis, there's a troll looking for a fight or a pedantic fact checker ignoring the actual point. Sometimes, a genuine expert in your subject might respond with good insight. When I am tempted to look, and I discover someone like that, I have been known to contact them directly to learn more, but not engage in the furball of likes and unlikes and replies. Most publications want their authors to engage, on more than one occasion staff at USNI have suggested I dive in. However, the key for any author is to realize engaging with commenters is entirely a personal choice. There is no requirement to do it, and there is no requirement you ignore it.
Pen Names
A number of professional naval journals have had a history of allowing the use of pen names. Many excellent digital commentators, like our friend Cdr Salamander, use them with skill and for excellent reasons. The first thing to realize is most publications have a specific policy on the use of pseudonyms. They probably are not going to break their own rules for you, and you better know what they are before you try and submit as "W.T. Door" or "Sailor Timmy." Many blogs also have a policy on it as well. If you decide you need to use a pen name to protect yourself, you may be limiting how seriously your work will be taken and limiting the kinds of publications you can approach.
Personally, I have also found my writing is far better when I do it under my own name. There is less of a temptation to resort to snark and sarcasm and greater incentive to make sure the research is fully and rigorously sourced. Since we have been talking about writing for professional journals and magazines, it is uncommon for them to resort to pen names. If you are publishing in a respected journal or online publication the odds are you want some credit for your ideas, and for having the guts to get them out there, anyway.
This post is the second in a three part series where the author shares lessons learned from a decade of his own professional writing, almost four years on the editorial board of the U.S. Naval Institute, as a Senior Editor with War on the Rocks, and as series editor of the 21st Century Foundations books from the Naval Institute Press. The advice contained is worth exactly what you have paid to read it and individual experience will vary. The opinions expressed are offered in the author's personal capacity and do not represent the policy of the US Navy, Department of Defense, or any government agency.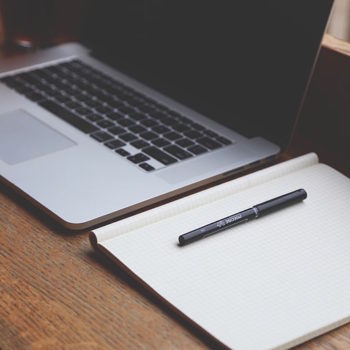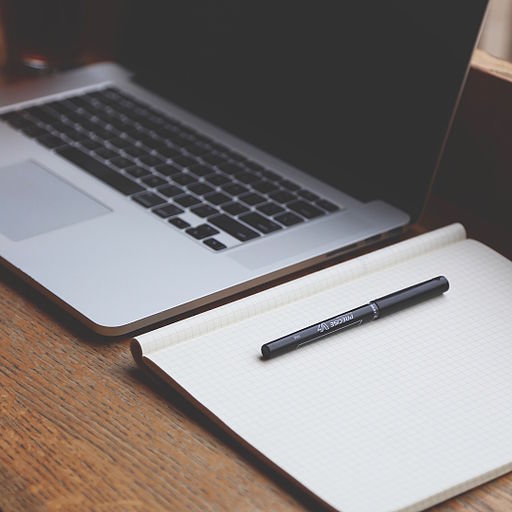 The June issue of Proceedings offered a call from CNO Admiral Richardson, and his speechwriter Lt. Ashley O'Keefe, encouraging naval professionals to engage with their service through the act of professional writing. The CNO has not discovered a new idea, but instead lends his voice to something a number of recent senior officers have called for, from Stavridis to Winnefeld. Even some "not so senior" officers have suggested the same. Others have written indications and warnings about the risks the voyage entails.
There have been a long list of professionals throughout our history who have participated in the development of naval affairs in this way, from Maury to Mahan, Nimitz to Zumwalt. And while the spark for this post came from the CNO and the Navy, the other services have a history here too: from soldiers in the 19th century to leaders like Patton in the 20th century. However, the repeated calls to arms over time, or perhaps calls to pens, have missed something. How do you do it?
Our Navy is a technically oriented service. This is also generally true of the other services to greater or lesser degrees. Our educational policies focus on engineering and technical study, and rarely encourage us to learn how to communicate in writing beyond a bare minimum. In our staff positions we use briefing slides and other communication methods which inspire partial thoughts, quick hits, and incomplete sentences and no concept of paragraph structure or style. For cultures raised on procedural compliance and powerpoint, what is the procedure for writing a professional article? Some simple steps inspired by the words in the Naval Institute's mission can help set our course.
R…T…S…W
The mission of USNI is to:
Provide an independent forum for those who dare to read, think, speak, and write to advance the professional, literary, and scientific understanding of sea power and other issues critical to global security. [emphasis added]
The bold words are borrowed from President John Adams. In his 1765 pamphlet "Dissertation on the Canon and Feudal Law," Adams examined monarchy and feudalism and compared them to the growing movement for freedom and liberty in the American colonies. The future president called for Americans who valued liberty to develop their knowledge, and their argument, by daring to read, think, speak, and write on the subject. It was a clarion call, but it also hinted at a certain amount of process. Adams was a careful writer and it is quite possible he put these words in a very specific order. Following his counsel can help professionals chart their process for developing an article which contributes to understanding of our profession.
Read.
In order to make a contribution to the field of military, naval, or national security knowledge, you have to know the state of the field. The way to do this is by reading. If you have come up with an interesting analogy for a current debate the only way to know if someone has made the argument before is by reading the field. If you wonder what counter-arguments may be against your position, that also comes with reading the field. Articles in journals like Proceedings, Military Review, or Naval War College Review, online publications like War on the Rocks and The Bridge, blogs like Next War, all contribute to the state of the field. Not only will reading them give you new information, and new ideas, but they also tell you what others have said before. It can save you from the embarrassing retort: "yeah, Lieutenant Commander Jones said it six months ago and had a better argument." (Not that you have to be entirely original, but knowing the field helps you understand where you fit.)

It is not just articles and online posts we should be reading. Books have long given us the deep knowledge needed to understand where the profession has been and where it may head in the future. There is a common refrain in the modern world that we simply do not have time for books. The watch schedule keeps us too busy. Digital media has affected our attention span. Military service is demanding, and we need time with our families. Yet we find time for physical exercise, while we discount intellectual exercise. According to some studies the average college graduate reads around 300 words a minute. If we read 15 minutes each evening, it totals up to 18-20 books a year. The excuse there is "no time" would never be accepted when we failed the PFT. Accept the challenge to read more widely. Maybe this sounds "high brow" or too "egg headed" but as President Truman, a WWI Army veteran, said: "Not all readers are leaders, but all leaders are readers."
Think.
Once a servicemember or natsec professional has an idea of the subject they want to write about, has done some research and reading about it, and has come up with the initial kernel of an argument, they must spend some time thinking about it. This advice probably goes against the grain of what digital media incentivises, or what social media seems to encourage. However, the point of this effort is to make a contribution to the field of military and naval affairs or national security, not to rush into being a "thought leader" in the crashing tide of the blogosphere. Thinking hard about the subject you intend to tackle includes attempting to employ the skills of critical thinking.
Critical thinking gets a lot of attention these days and there are numerous competing definitions of what it means. Unfortunately, too many people seem to think "critical thinking" means "thinking about important or critical things." That's not the case. Instead we need level criticism at ourselves and our ideas. We need to examine our ideas with depth, and rigor, in order to get to the heart of whatever issue we want to write about. This includes becoming a critic of yourself and your own ideas, as well as the ideas of others. As you develop the concept for your article, be exacting and penetrating with the evidence you have amassed either through research or your own experience.
Speak.
Having researched, considered experience, and critically examined the subject in your own mind, it is important to get a sanity check from someone else. In the academic world, this is part of the reason there is peer review before journal articles are published. In the professional and popular press, editors and editorial boards will judge your work with a dispassionate eye. The best way to ensure your argument makes sense, and you have developed a sound approach before contacting an editor, is to talk about it with other people.
Speaking about your idea can take a number of forms. It can happen with a pint in your hand at a pub with a mentor or group of respected friends. In the lost days of our Officer Clubs this was actually a common way of helping people develop professional ideas. It could also involve a cup of coffee. Seek out a mentor who you trust, whether a senior officer or a former professor or co-worker, and see what sticks in your conversation with them. Speaking also does not have to be taken literally, even if some of us work better in the give and take of live conversation. It can take the form of an email or social media exchange. The goal is to introduce new criticisms the writer has not considered, or clarifying the way to express the ideas.
Write.
Sit down and write the article. Just do it. Don't allow the blank page on the computer screen to intimidate. One of the benefits of having thought through the idea systematically, and then spoken about it with a trusted friend or mentor, is you have already started to develop the words to express the idea. As many successful authors have told us, from Stephen King and Anne Lamott to Ernest Hemingway: the first draft is going to be bad. It does not matter. Sit at the keyboard and bang away until you have said everything you want to say.
Once the words are on the page, raw and terrible as they might be, the writer has crossed a major hurdle. After that, it is a matter of editing, organizing, and rewriting, which should be easier than putting the idea down the first time. The editing does not need to be rushed, and the mentor or friend you spoke with probably will be excited to take a look at the article and help make suggestions to improve it. You have already made them feel like a part of the process. When the draft is something which reads well, and you're happy with it, then it is time to start looking for a place to publish it. Good editors, strong editorial boards, and the review process they use will help strengthen the piece even more. Be ready to make more adjustments to help clarify any issues they discover.
The RTSW Loop
The steps of RTSW might be seen as a sort of OODA loop for professional writing. In some ways it is similar to Boyd's strato-tactical ideal. For example, each element can send you back to a previous spot. Speaking with a mentor may send you to a book or article you had not heard of before which you need to read, or the process of writing may cause you to return to your thinking and reorganize your approach. But there are also differences with Boyd's Observe-Orient-Decide-Act sequence, most notably speed. Speed can be your enemy when writing a good professional article. There is no hurry. Please do not try to beat the rush of modern media, this can lead to shallow writing, weak argument, and poorly sourced facts. Doing it right may take time, and multiple rounds of the "RTSW loop," but that only makes the article stronger and a better contribution.
Writing for publication can be a rewarding challenge. It is also something a legion of Sailors, Soldiers, Marines, Airmen, and security professionals have done throughout history. Many discover the process of writing clarifies their thinking. It also develops our communication skills, our critical faculties through practice, and our leadership ability. All of these make us better military professionals. Writing for publication is not something we should do because we need another FITREP or evaluation bullet, or because we think we can impress our boss. We don't do it simply because the CNO says so. It is something we do in order to move our profession forward and to improve our service or our nation's security. So, it is time to dare. Dare to read, think, speak, and write.
The author would like to thank Cdr Mike Flynn and his Naval Academy summer school class on "Professional Writing" for their invitation to join them for a day of class, where the author had a chance to speak about and refine some of these ideas.
This post is the first in a three part series where the author shares lessons learned from a decade of his own professional writing, almost four years on the editorial board of the U.S. Naval Institute, as a Senior Editor with War on the Rocks, and as series editor of the 21st Century Foundations books from the Naval Institute Press. The advice contained is worth exactly what you have paid to read it and individual experience will vary. The opinions expressed are offered in the author's personal capacity and do not represent the policy of the US Navy, Department of Defense, or any government agency.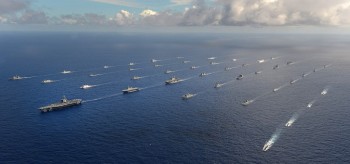 We have a new CNO, and now we have his view of where he sees the Navy and where he wants us to go; A Design for Maintaining Maritime Superiority.
Let's do something a bit different and go through it together. I don't feel like crafting a broad overview, and I don't want to Fisk the document either. Let's go Old School blogger and put this together as I read it.
Before we get started at page 1, let's define what it is not. If you are looking for a strategy paper, then this is not the publication you are looking for.
You can go to the embedded document below, or click here and open it in another tab, but let's get started.
The initiatives laid out in this Design represent initial steps along a future course to achieve the aims articulated in the Revised Cooperative Strategy for the 21st Century (CS-21R) in this new environment.
Oh no. Off the bat we have all sorts of staff failure. I am disheartened. As a recidivist staff weenie, I can be scrappy on such things, but really folks. From the "planning to plan" school, we lead with "initial steps" … following a MAR15 update to a 2007 document? This does not inspire confidence, but let's push though and assume that we have not been marching in place for eight years. We'll give you a mulligan.
Clunk. Just as we step forward, we clang our nogg'n in to the overhead; What was that again?
Revised Cooperative Strategy for the 21st Century
Oh no. It is actually "A Cooperative Strategy for 21st Century Seapower." Not good golf so far, but I'll try not to be too pedantic. After all, this is only from the staff of a 4-Star, ahem.
I really want to like this, so let's take a deep breath and see if we can make it to page 2.
Hey, we can call page 2 the BJ Armstrong memorial page, as we kick it off with Mahan. You can never go wrong quoting Mahan for a good review of the fundamentals … but … oh no again …
The essence of Mahan's vision still pertains: America's interests lie beyond our own shores. What was true in the late 19th century holds true today – America's success depends on our creativity, our entrepreneurism, and our access and relationships abroad. In an increasingly globalized world, America's success is even more reliant on the U.S. Navy.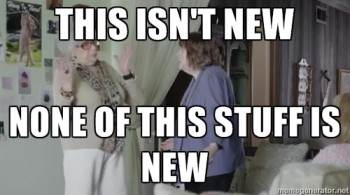 No, no, no. None of this is new and the tone here is a bit too excitable. There is a difference between enthusiasm and excitability. Harumph.
Wait, we're warming up;
this Design will address three major and interrelated global forces that are increasingly used, increasingly stressed, increasingly important, and increasingly contested. These three forces energize the quickly changing environment in which the Navy must operate, and if required, fight and win.
Good, increasingly.
The first global force is the traffic on the oceans, seas, and waterways, including the sea floor – the classic maritime system.
OK, standard.
A second increasingly influential force is the rise of the global information system – the information that rides on the servers, undersea cables, satellites, and wireless networks that increasingly envelop and connect the globe.
OK, standard as well.
The third interrelated force is the increasing rate of technological creation and adoption. This is not just in information technologies, where Gordon Moore's projections of exponential advances in processing, storage, and switches continue to be realized. Scientists are also unlocking new properties of commonplace materials and creating new materials altogether at astonishing speeds.
Helpful review, but let's keep going to the middle of page 3, and there it is.
For the first time in 25 years, the United States is facing a return to great power competition. Russia and China both have advanced their military capabilities to act as global powers.
…
Russia and China are not the only actors seeking to gain advantages in the emerging security environment in ways that threaten U.S. and global interests. Others are now pursuing advanced technology, including military technologies that were once the exclusive province of great powers – this trend will only continue.
We have named names. Excellent and the right call – and a solid departure from previous such documents. This brings focus to the mind.
On to page 4, we also have a very welcome datapoint,
There is also a fourth 'force' that shapes our security environment. Barring an unforeseen change, even as we face new challenges and an increasing pace, the Defense and Navy budgets likely will continue to be under pressure. We will not be able to "buy" our way out of the challenges that we face. The budget environment will force tough choices but must also inspire new thinking.
Bravo Zulu CNO. As we get within range of the Terrible 20s, an understanding of this will be essential for everyone to understand.
So far, we seem to have a King Cake of a new year's document. A fun little prize in the middle of a bunch of cake, but that is OK. I don't think this is designed for the maritime chattering classes, think tankers, or keyboard armed pontificators. This is an introductory document; a "Design."
As you get to page 5, you get the "Core Attributes;" Integrity, Accountability, Initiative, Toughness.
Do these seem like sound fundamentals? Sure, and welcome. These are refreshingly time tested, clearly delivered, and a absent some of the socio-political agenda checklist items found in previous such documents. These are solid items leaders in the field can build things around.
Sometimes the first duty of intelligent men is the restatement of the obvious.
George Orwell
Page 6 brings the Four Lines of Effort; 1;
Strengthen Naval Power and and From The Sea
Outstanding. All of this is related to projecting national will from the sea and builds off the previous CNO's "Warfighing First." More of this.
2;
Achieve High Velocity Education at All Levels
An education focus with four specifics on page 7. Fine, especially;
Understand the lessons of history so as not to relearn them
So, we will expand history requirements in line with STEM requirements? Asking for a friend.
3;
Strengthen Our Navy Team for the Future
Weak leaning towards fluff in the beginning, but strong at the end. Five points that mention leader/leadership five times … in the last two bullets. I do have some embedded issues with Sailor 2025 the first two bullets seem to be rubb'n on it like a dog on fresh deer skittles. 2025 is worm eaten with divisive, quota driven, Social Justice, and retrograde items in its "Culture" section – but I've always assumed much of it is harmless feeding of Vaal, so no deal killer.
4;
Expand and Strengthen our Network of Partners
A bit from the "take-charge-and-carry-out-the-plan-of-the-day" item bin, but in line with Orwell's quote above, workable.
That is about it.
As stated in the opening, if you expected more, you won't find it. This is good at what it is, a broad directional outline of what a leader wants you to keep in mind as you focus on your area of responsibility.
My takeaway?
– Focus on how you will project force in a more challenged sea, with more constrained resources.
– This is a service that has time tested fundamentals that you should use as a benchmark.
– Don't get distracted by shiny objects other have thrown in your way.
More to follow.
On Sept. 11, 2001 Michael P. Murphy was an ensign in Basic Underwater Demolition/SEAL training.
Michael Murphy, a graduate of Penn State University, who grew up in Patchogue, Long Island, New York, internalized and personalized what happened on 9/11, according to colleagues, mentors and writer Gary Williams, author of "SEAL of Honor: Operation Red Wings and the Life of Michael P. Murphy, USN."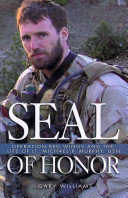 The book is on Adm. Greenert's bookshelf as an essential Warfighting First selection of the CNO Professional Reading Program.
Murphy led a SEAL team into Afghanistan in 2005 where he faced a profound ethical dilemma after capturing some civilian non-combatants. (His dilemma and moral decision is examined in detail in another book about Operation Red Wings, "Lone Survivor" by Marcus Luttrell.)
The team then endured a prolonged firefight against a larger Taliban force. At the end of the terrifying and deadly fight, Murphy faced a second, more personal moral choice. At great personal risk, he put himself directly in the path of enemy fire in order to call in help for his team.
In "SEAL of Honor" Williams introduces us to Murphy's family, shows in detail his training regimen as a Navy SEAL, describes the mission Murphy led in Afghanistan during Operation Red Wings, and shows the honors paid to Murphy and his family after he was killed. "SEAL of Honor" preserves history and offers a well-documented biography of an American hero.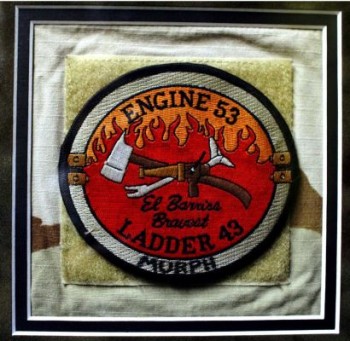 Murphy's bond with first responders from his home state is legendary. He had his unit wear the bright orange patch of FDNY Engine Co. 54, Ladder Co. 43 — "El Barrio's Bravest" — on their uniforms as a team symbol and constant reminder of 9/11 and why the SEALs were in Afghanistan, according to Williams.
Marcus Luttrell also refers to the patch several times in "Lone Survivor."
Like Williams's "SEAL of Honor," Luttrell's book is understandably an autobiographical account. Before describing Operation Red Wings, "Lone Survivor" explores Luttrell's upbringing in Texas, his SEAL training in San Diego and a mission in Iraq desperately searching in vain for weapons of mass destruction: "chasing shadows out there in that burning hot, sandy wilderness."
Luttrell's telling of the firefight with the Taliban in Operation Red Wings is gripping and graphic, but at the end of Luttrell's book the reader is left with a hunger to know more about the hero, leading protagonist Michael P. Murphy.
"Seal of Honor" shows us how Murphy's qualifications as a leader developed starting in early childhood. As a toddler, Michael's favorite book was Wally Piper's "The Little Engine that Could." He was a voracious reader at Canaan Elementary School.
According to Williams, Murphy's favorite book as an adult was "Gates of Fire" by Steven Pressfield, a historical fiction novel about the 480 B.C. Battle of Thermopylae, in which 300 brave Spartans protected their homeland and democracy from an invading Persian Army. Greek warrior culture is part of the SEAL tradition.
The never-give-up attitude, willingness to sacrifice for a cause and strong personal ethos all contribute to what makes a Navy SEAL, provided the individual can tough it through BUD/S training, described in detail by Williams.
"Despite the brutal training, Michael soon realized that almost anyone could meet the physical requirements of the SEALs, but the unending challenge from day-one would be the mental toughness, that never-ending inner drive that pushes you forward when every nerve and muscle fiber in your body tells you to stop — to quit. That warrior mind-set — the mental toughness — is what separates a Navy SEAL…"
"SEAL of Honor" includes inspiring SEAL Creed excerpts or, in some cases, complete remarks from SEAL leaders like Adm. Eric T. Olson, Chief Warrant Officer Mike Loo and Commodore Pete Van Hooser. All focus on leadership expectations and maintaining high standards.
Williams describes the tragic rescue attempt in which Lt. Cmdr. Erik S. Kristensen and 15 other would-be rescuers were killed when their MH-47E Chinook helo, call sign Turbine 33, was shot down by the Taliban.
Both "Lone Survivor" and "SEAL of Honor" showcase the importance of the concept: "no one left behind."
Near the end of "SEAL of Honor," Williams lists each of the warriors who died trying to rescue Murphy and his team.
He describes the many tributes to Lt. Michael P. Murphy, including the awarding of the Medal of Honor by then President George W. Bush. One of the most significant tributes, especially as far as Sailors are concerned, is the naming of an Arleigh Burke-class guided-missile destroyer for him, dedicated May 7, 2008.
During his remarks, then Secretary Donald C. Winter predicted, "Every Sailor who crosses the bow, every Sailor who hears the officer of the deck announce the arrival of the commanding officer, and every Sailor who enters a foreign land representing our great nation will do so as an honored member of the USS Michael Murphy," writes Williams.
Osama bin Laden haunts both books, written prior to President Barack Obama's authorization to kill or capture the terrorist leader of al-Qaeda, the group responsible for the attacks of Sept. 11, 2001. After a Muslim ceremony, bin Laden was buried at sea from USS Carl Vinson (CVN 70) just days before the USS Michael Murphy christening.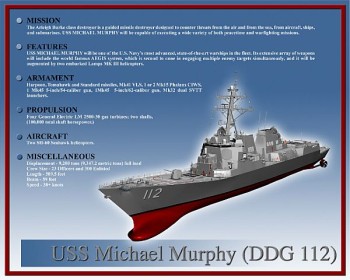 USS Michael Murphy (DDG 112) was christened at Bath Iron Works, Maine on May 7, 2011 (after publication of Williams's book), on what would have been Murphy's 35th birthday.
"It is my sincere belief that this ship will build on the momentum gained by our special operations forces in the fight against extremism and sail the seas in a world made more peaceful by sustained American vigilance, power and dignity," said then Chief of Naval Operations Adm. Gary Roughead. "This ship will carry Michael's legacy and values to Sailors several decades from now and to a new generation of Americans…"
USS Michael Murphy's homeport is Pearl Harbor.
(A version of this review was originally published Sept. 10, 2011 on Navy Reads.)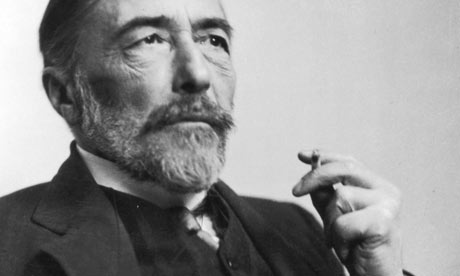 Adam Gopnik was recently on CNN with Fareed Zakaria discussing the place of the humanities in our world. It was a conversation that continues the recent debate aboutr the U.S. education system and the role of STEM. It also is a mirror to the discussion of officer education and training in the U.S. Navy, albeit somewhat inverted. While the discussion of U.S. education at large is one of too few science, technology, engineering, and math students and practitioners, in the Navy we face an officer corps where STEM educated officers are by far the majority, and according to policy will only become more dominant. But Gopnik said something that caught my attention: "We need the humanities … because we are human."
The statement reminded me of a conversation I recently had with a Captain in the Pentagon. Following the relief of yet another Commanding Officer, for a leadership mistake that seemed obvious to us, the Captain asked how come, after 238 years of naval history, we haven't figured this out? We all know what good leadership is, we all know not to be a toxic leader, and doesn't it all seem so simple? It's reminiscent of a letter Admiral Hyman Rickover wrote to the editor of Proceedings in 1981. For Rickover, the engineer's mind could not fathom why people didn't simply follow the procedure, put the inputs into the equation and get the guaranteed result. There was no need, he wrote, for Proceedings to ever publish another article on leadership. Good leadership was a settled matter.
The reason, of course, is that we're talking about human beings, complete with all of our frailties, failings, and free will. One of the great truisms of military leadership is that our people are our greatest strength, or our most valuable asset. It's repeated time and time again. Today Chief of Naval Operations Greenert tells us that "Our power comes from our folks, the attributes and their skill which they bring." A century ago Alfred Thayer Mahan wrote that having a good Navy "consists not so much in the building of ships and guns as it does in the possession of trained men." Is it true? I certainly think so. But if people matter, we're not talking simply about end-strength numbers or rack space in berthing. We're talking about humans. And because we're talking about leading, working with, partnering with, and eventually even fighting other humans…we need the humanities.
Cultural understanding, emotional intelligence and empathy are fundamental parts of good leadership, and also a part of modern naval concepts like international partnerships. They come from experience. It is my great hope, however, that I will never have to experience all of the trials and challenges my fellow sailors face in life in order to help them. What a tragic life that could be. Instead, I'd rather read my share of Shakespeare, Hemingway, or O'Brian, which might help me learn a thing or two about emotion and about the way people face different challenges in their lives, even at sea. Reading the biographies of great leaders, the histories of battles both large and small, and the classics of strategy, helps me learn from the mistakes and successes of others rather than have to learn only from my own multitude of mistakes.
Many of you right now are thinking, sure but will it give me practical answers? No. Will it help me on my next tactics quiz or NATOPS closed book test? No. And that's not the point. Empathy is not about perfect answers; it's about finding a place to begin understanding each other and finding a way to connect. Without that connection, leadership is purely a matter of positional authority. Of course, only barking out orders is one of the worst ways to be a leader. The goal is leadership where, as one of Lord Admiral Nelson's officers once said, "we all wish to do what he likes, without any kind of orders." And if you remember that the enemy gets a vote, then the human mind will also play a role in how they formulate that decision.
Admiral Harvey was simply wrong when he told CDR Salamander and Eagle One on Midrats that "this is not a business for poets." (Actually, his friend ADM James Stavridis, counters the idea directly since he studied English literature instead of engineering as a Midshipman.) It is true that we do need practical answers sometimes though. When running a nuclear plant, the Admiral is of course right that we need technical experts who can give the definite answer. But technical knowledge and execution are only a part of my job as an officer. (And, incidentally, something that Nuclear Power School has taught lots of historians and English majors.) If half of my job is working with other humans, why should I only study science and machines? Shouldn't we have balanced officers, able to integrate the human and the technical? In order to have that, we must educate in a balanced way as well.
In the critical scene in Lord Jim, Joseph Conrad's classic novel of the maritime world in the late 19th century, the Second Engineer of the tramp steamer Patna comes up to the bridge from below, long after dark as they head across the Gulf of Aden. The novel's anti-hero Jim repeatedly checks the clock, as the final minutes of his bridge watch tick down (a moment we all know and identify with). The Engineer and the Captain, who had just come to the bridge in his pajamas, begin to argue about the role that Engineers should play at sea. Without them the ship wouldn't even move, and they could pretty much take care of all the responsibilities aboard ship, exclaims the engineer. The Captain argues back about the importance of seamanship and command, both men likely having had a nip from the bottle. Jim, paying attention to the amusing give and take, feels the ship give a shudder. Patna struck something in the water. The officers, distracted by their argument and the sudden fear that Patna will sink, abandon ship.
I can't help feel like the scene tells us something about the debate over officer education. We need both. We need engineers to provide technical expertise and their particular way of approaching problems and we also need a balance of line officers who have studied humans and human interaction, who have studied the humanities. We need diversity. But maybe most importantly, we need both of them to stop arguing with each other and stop maneuvering for position. Stop making official policies that benefit their tribe and take us further out of balance. Stop thinking that only they and their type is what our navy and our nation need.
It's time to drive the ship. The issue is on the table, but instead of tribal preservation we must figure out how to bring balance back to the Navy, to educate officers and integrate the technical specialist's skills with the strategic thinking and leadership lessons of the humanities and social sciences. Instead of piecemeal decisions and salami slicing policy, we need a holistic vision. It is time for an official and comprehensive look at the kind of naval officer we need in the 21st century, and how our system develops those officers. If we neglect our professional responsibilities the tragic victims may not be our service, but instead the passengers we abandon: the American people. It's time to stop arguing at the back of the bridge and start looking outside. It's time to focus on our profession. We're headed toward a collision.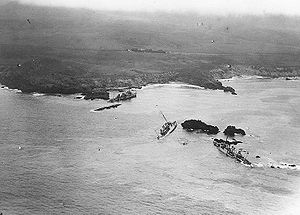 There is a difference between Mentorship and SeaDaddyism; one good, one bad – right?
Good people can argue yes or no if Mentorism is best left as an encouraged, but natural and informal process where junior personnel seek advice and example from more senior personnel who can help them understand what is needed to succeed. Many think that something so good as having a Mentor provides such a benefit that it should be mandatory. I happen to believe it works best when allowed to happen naturally – but support for formal Mentoring is a easily defended opinion. Either way – Mentorism is a net good for all involved, including the Navy.
SeaDaddyism, however, is a totally different animal. SeaDaddyism is a cancer in any organization, as one person is given special treatment based on being a golf buddy, son-in-law of a significant person, son of a good friend, daughter of a college roommate, etc. That is why smart leaders will do their best to keep any hint of favoritism away and beyond suggestion. Indeed, SeaDaddyism is best seen as straddling the fuzzy line where fraternization begins. Ugly and a net negative for the health of the Navy.
In the few cases where I saw real SeaDaddyism, conflict soon followed. Good thing about our PCS system though – in most cases the impact on a Command are mitigated by time, and things tend to self-correct for the Command degraded by the effects of a SeaDaddy on the fair and equal evaluation and treatment of subordinates.
What if we had a system of official SeaDaddyism – one that was supported all the way to the senior uniformed leadership of our Navy? What if mid-level leaders, the ones who write FITREPS and Detail officers, were held accountable if they did not practice SeaDaddyism? What if there was a by-name list of personnel who were to receive the benefits of open, aggressive, and trackable SeaDaddyism? Independent of any self-correcting PCS cycle – what if this SeaDaddyism was perpetual – unending.
Worse yet – most would know who was on the list, and who was not. What if every time someone was promoted or given a plum assignment – regardless of the possible exemplary performance of that individual – because it was known/assumed that the individual was on the SeaDaddy List, it would be assumed that the person didn't earn or deserve promotion or a plum assignment – that it was simply a gift from his SeaDaddy?
What if that list – and the strict enforcement of SeaDaddyism – was based on race or ethnicity? Am I wearing a AFDB? No, I am just reading the logical results of Operationalizing Diversity.
From one of my very trusted sources,
—–Original Message—–
From: XXXX, XXDM, N00
Sent: XXXday, July XX, 2010
To: XX RADM, N00; XXX, RDML, N00; XXX, RADM 00; XXX, RDML USN; XXX, RADM, N00; XXX RDML N00; XXX, RDML, XXX, RDML, N00; XXX, RADM, XXX, RDML, N00; XXX, RDML, XXX, RADM '
Cc: CAPT XXXX, Executive Assistant to ASN (XXX); XXX, N00; XXX, SES, N00; XXX, CAPT, N1

Subject: Diversity Accountability

XXXXXms,

In preparation for the annual Diversity Accountability Brief that I will be giving CNO next month, my N1 has put together the attached slides. The data, pulled from TWMS earlier this week, represents what is in the system but actual assignment of personnel in your XXXXXX may vary. Please review and submit changes as necessary.

A change in focus of this year's diversity brief is the desire to identify our key performers (by name) and provide insight on each of them. CNO is interested in who are the diverse officers with high potential and what is the plan for their career progression. He may ask what is being done within to ensure they are considered for key follow on billets within the Navy. This list must be held very closely but will provide ready reference to ensure we are carefully monitoring and supporting the careers of the best and the brightest the Navy has to offer.

Please review the data provided and report your concurrence or identify specific anomalies. Your insight to the diverse composition of your command will assist in my discussion with CNO. Additionally, provide your by name list including career insight for your top performers (03 and above) in those key positions. This reporting requirement will not be put into TV4 taskers due to the sensitive nature of the by name list. Input is due to me by 2 August 2010.

R/
So, back to the title of this post. Is this the Navy we want? A Navy where we track officers by a desired race and ethnicity, and demand – that pesky word accountability from a 4-Star is a demand – that they are ranked higher and detailed to better jobs than those of a different race and ethnicity?
Really? I take a slightly different angle on this over at my homeblog, head on over there if you want to read it and the response from the CNO's office on the above – but here is my final thought.
We have a great tradition in our Navy of "taking charge and carrying out the plan of the day." Those officers appointed over us are given the obedience their rank deserves and their orders are followed. That is built on a foundation of belief that those appointed over us got there on merit – they got there because they are the best. As a result, if we have to go in harm's way they will give us the best odds of achieving victory over our enemies, secure our nation's interests, and return our Sailors back to their families intact.
How does Diversity Accountability support this foundation? If it doesn't – when do you start to question it?
As professionals, when do we cross the line from following every order blindly to listening to that nagging voice in the back of our head telling us all is not well – that the assumptions in our track are all wrong? The further down this track we go, the more I think of the lessons of Honda Point.
If we want to encourage the already widespread problem of racial self-identification fraud, this is a great way to do it. If we want to move away from a goal of a color-blind and equal opportunity Navy, this is a great way to do it. If we want to encourage division based on the worst parts of human nature, this is a great way to do it.
The answer is simple. The solution is very simple.
---
UPDATE: The Washington Times has picked up on the story with an editorial; High seas segregation: The Navy is listing dangerously in politically correct water. They nail it.
In practice, the Navy will be creating a list of privileged "diverse" officers who will enjoy special benefits and career mentoring not available to people of the wrong race, as well as a virtual guarantee of fast-track access to the highest reaches of command. Fifty-six years after the Supreme Court struck down the concept of "separate but equal" treatment of races, the U.S. Navy is erecting a wall of segregation between what will amount to two parallel promotion systems: one for the "diverse" and another for the monotone. If this isn't illegal, it should be.
…
This type of backward, 20th-century, overtly racial thinking has no place in 21st-century post-racial America. The Navy leadership apparently believes the way to promote racial harmony is by engaging in blatant, invidious discrimination. In practice, however, this system will, in fact, relegate "diverse" sailors to a form of second-class status. Any nonwhite male sailor who – through intelligence, initiative and drive – builds a stellar career will simply be seen as just another special case, just one of "the Listers." Those sailors may achieve rank, but they will have to work twice as hard to command respect.
…
The suggested list of privileged officers is due Monday. The message states that the reporting requirement will not be put into the secretary of the Navy's TV4 Taskers tracking system "due to the sensitive nature of the by name list." No doubt, once the secret list leaks, as it surely will, there will be as much discomfort for the people on the list as for those not on it, especially those unfortunates who met the diversity requirement but for some reason did not make the cut. Maybe they can sue, charging discrimination. Either way, the Navy Department has run aground.