Archive for the 'Counter-Terrorism' Tag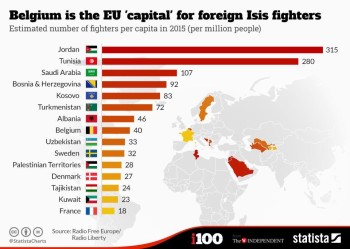 Everyone has their own name for the series of conflicts spinning off from the waxing of the most radical interpretation of Sunni Islamic Extremism, but with each passing incident, I become more and more comfortable with "The Long War."
At its core, this is a religious war, and those wars last the longest time as you are not fighting primarily for land, resources, power, or ego – but for ideas and the pursuit of a home for your immortal soul. Many are not comfortable with that concept, but they need to get over it. Regardless of what your motivations are, if any; if you are being attacked by someone motivated by a religion, then you are part of a religious war.
The latest attack on Brussels is just that, a tactical action in this phase of a war that pre-dates 11 September 2001. Others can argue the start date, but it is older than those fresh faces showing up at boot camp this summer.
Why Brussels this time? Simple, Brussels isn't just the capital of the small nation of 10-million souls, Belgium – it is the capital of Europe. In the mind of the Islamic State, Europe is the heart of the West. The West is the home of secularism, Christianity, and tolerance of Jews. It also happens to be a place where there are sanctuaries near targets where, relatively unmolested by authorities and under the protection of cowed co-religionists, they can plan, support, and if needed, hide after their operations.
There is ease of mobility and an ability to blend in that makes the most difficult part of any operation is gathering the weapons and explosives to do the killing. Basic OPSEC is all that is needed. Money is of little issue, nor is finding willing fighters.
After a half-century of an uninterrupted and failed experiment in multi-culturalism, Belgium and other Western nations now have a critical mass of unassimilated native born radicals. Even better, they have been recently reinforced by well over a million unaccompanied military aged males born and raised in even more radicalized cultures. The direction unaccompanied, unemployable, and alienated young men usually head points to one thing – there will be more and more attacks like we saw in Brussels. An attack, by the way, that is just another iteration of what has been seen in the USA, UK, France, Spain, Russia and other nations over the course of the last few decades. There is nothing new here, except that a few more people are noticing.
Besides the self-inflicted demographic foolishness Western Europe beclowned itself with over the last half-century, in Europe's near abroad forces are continuing that will drive more and more radicals their way to join the cells that are planning additional attacks.
From sectarian Iraq to the Madmaxistan that followed the Arab Spring from Libya to Syria, reality has hopefully put to bed any fevered dreams of democracy in North Africa through to the Middle East's Arab states. The least radical nations, and our best allies, are those who have a strong monarchy like Jordan, or that have a military strong man keeping a lid on the bubbling Islamists that are woven through their society, like Egypt. The best we can hope for is something like Tunisia where the political elite are doing their best, but as the graphic shows, they do not have a benign populous that can be relied on to create a civil society in mass for at least a generation – if then.
Even inside the Western umbrella, there are huge problems. Turkey continues to drift out of the Western orbit, by design. Their leadership's increasingly authoritarianism, handmaiden to the refugee crisis, and open flirtations with Islamism sends another clear signal that the once sick man of Europe is drifting to something not seen in the modern period. It isn't pleasant, but the facts are right there for all to see. The modern, secular West has lost the war of ideas in Turkey. That leaves them one way to go – and they are half-way there already.
The Gulf States are small, but important and fickle allies. Their security is balanced on their benefactor against Shia and Persian ascendency in the East – Saudi Arabia.
Lower oil prices has emphasized that the House of Saud's nation is held together with bailing wire and duct tape. They are rightfully focused on the problem in Yemen – a challenge that is beyond the scope of this post, but is more important than the press it gets.
OK. That is a lot of "what" and "so what;" what about "what's next?"
Two things. First, we need to look very seriously about which nations we allow visa free travel from. The UK, Belgium, Sweden, and Germany among others already have a significant critical mass of native born radical Islamists – and their numbers are about to increase dramatically.
Second; the Islamic State must be destroyed. If not, well … let's use as a planning assumption that it will be. Syria and her allies will push from the west. The Kurds will clean up their lines and serve as an anvil in the north. The Shia-led Iraqi forces with American help will squeeze the Islamic Forces out of Sunni Iraq. As that happens leading up to the inevitable fall of Raqqa, many of the thousands of Western passport holding Islamic State militants will return home. Some will try to just get back to a normal life, but many will not. They will be tasked to either move to other ungoverned areas of the world to continue the work of the Caliphate there, or will return home to attack from within with their fellow radicals who stayed home to build the logistics, intelligence and HUMINT needed to get the best effect from attacks inside the belly of the Western beast.
What about the USA and her navy? Regardless of the results of this year's election, this war will continue to come to us. As we have back away, it has followed us – and will continue to. As we saw in Brussels where Mormon missionaries and a USAF officer's family were wounded – they can kill American anywhere. Also know this; we will be attacked again here just like we were in Boston, San Bernardino, Ft. Hood, and Chattanooga. As you read this, there are multiple cells working on the next mass casualty attack in the USA.
There will be ungoverned areas in the world, or poorly governed areas, that will be sanctuaries and areas of expansion for radical Islamists. We will have to work with local forces where we can, and take independent action where we must. Though many want to re-focus on some imaginary possible future great power conflict on the high seas – and we must – or want to keep rejustifying the results of the CONOPS playsets of the 1990s with LCS/FF, but we must also man, train, and equip for what we have now and will have as an ongoing engagement – The Long War.
From high-volume, high-accuracy naval gunfire, to special operations, to land attack cruise missiles, to TACAIR, we will need to be able to project national will ashore from waters, airspace, and property that we alone control. We must be able to do it with no notice, or with great fanfare. A light footprint with as little risk to casualties as possible, or lighting punitive expeditions ashore that accepts losses.
That is the reminder from Brussels. This enemy gets a vote, and it is voting for war. To paraphrase Trotsky; we may not be interested in a religious war, but a religious war is interested in us.
Please join us at 5pm EDT, 27 April 14 for Midrats
Episode 225- "The Long War Becomes a Teenager," with Bill Roggio
It hasn't gone anywhere, the Long War, that is.

People may be suffering whiplash having to look back to Europe in the middle of a Pacific pivot, and the Arab spring wilted in to extremism and bloodshed – but the war against the West still goes on from lone wolf attacks at home, to drone strikes across the swath of southwest, south, and central Asia.

Coming back to Midrats for the full hour to discuss this and more will be Bill Roggio, senior fellow at the Foundation for Defense of Democracies. Bill is also the President of Public Multimedia Inc, a non-profit news organization; and the founder and Editor of The Long War Journal, a news site devoted to covering the war on terror. He has embedded with the US and the Iraqi military six times from 2005-08, and with the Canadian Army in Afghanistan in 2006. Bill served in the US Army and New Jersey National Guard from 1991-97.
Join us live if you can or pick the show up later by clicking here.
If you have questions for Bill, please join in the chat room and we'll pass on what we can.
Modern warfare and counter-terrorism bump up against international law and the "law of war" on a moment to moment basis – and that's the subject of this week's Midrats show – Episode 72 Lawfare and the Long War 05/22 by Midrats on Blog Talk Radio:
Never in our history have we fought a war where law, lawyers, and layers of legalese have impacted all levels of the war, Political, Strategic, Operational, and Tactical.

Why do we find ourselves here and in what direction are we going?

From Pakistan, Afghanistan, Iraq, Libya and even domestically, the legal definition of the use of military power is evolving.

To discuss the impact of Lawfare for the full hour with Sal from the blog "CDR Salamander" and EagleOne from "EagleSpeak" will be David Glazier, CDR USN (Ret.).

David is a Professor of Law at Loyola Law School in Los Angeles. Prior to Loyola, he was a lecturer at the University of Virginia School of Law and a research fellow at the Center for National Security Law, where he conducted research on national security, military justice and the law of war. He also served as a pro bono consultant to Human Rights First.

Before attending law school, Glazier served twenty-one years as a US Navy surface warfare officer. In that capacity, he commanded the USS George Philip (FFG-12), served as the Seventh Fleet staff officer responsible for the US Navy-Japan relationship, the Pacific Fleet officer responsible for the US Navy-PRC relationship, and participated in UN sanctions enforcement against Yugoslavia and Haiti.

Glazier has a JD from the University of Virginia School of Law, an MA from Georgetown University in government/national security studies, and holds a BA in history from Amherst College.
So, with experience ranging from warrior to law of war scholar, Professor Glazier has some interesting (and perhaps unexpected) views on the matters described above.
Join us this Sunday at 5pm Eastern as we delve into the world of "lawfare." I promise that the name of Hugo Grotius will be invoked somewhere along the way.
Link to the show page here.